POV Holder:
Elissa
Next POV
Aug 24th
POV Used
POV Ceremony
Aug 19th
HOH Winner:
Aaryn
Next HOH:
Aug 22nd
Original Nominations:
Elissa and Helen
Current Nominations:
Last Evicted Houseguest
David, Nick, Jeremy, Kaitlin, Howard, Candice, JUDD, Jessie
Have Nots (head cheese and habaneros)
GM, Amanda, Helen and Elissa
8:15am Big Brother wakes up the house guests. When the live feeds return – Helen and Ginamarie are in the bathroom. Helen talks about what happened last night. Helen says that she saw Amanda head out into the backyard and yell "It ain't going to happen!" (Amanda up as the replacement rather than Spencer) Gina says that she doesn't understand why Andy would tell her things. Helen says that Andy is the traitor. You can't tell him anything. Ginamarie says we have to call him out on it. What are we going to do about it. Helen says we were thinking of bringing everyone but Amanda/McCrae up there. Helen says she thought she could trust Andy. Gina says it pisses her off that everyone are such f**king pu$$ies. Helen says I think at this point Amanda would take Aaryn. It makes no sense. Ginamarie says I know. I hope he (Andy) isn't becoming a Candice because you know what I do to Candices. Helen says last night he was going to bed and then came back and said he didn't say he was going to bed. Gina says yeah he did. Ginamarie says Amanda said her and Aaryn fight like sisters, don't tell me you do, you boss her around. Helen says Andy will be my vote to stay and if he doesn't he is the rat. He is the f**king rat! Helen and Gina talk about how they don't trust Amanda.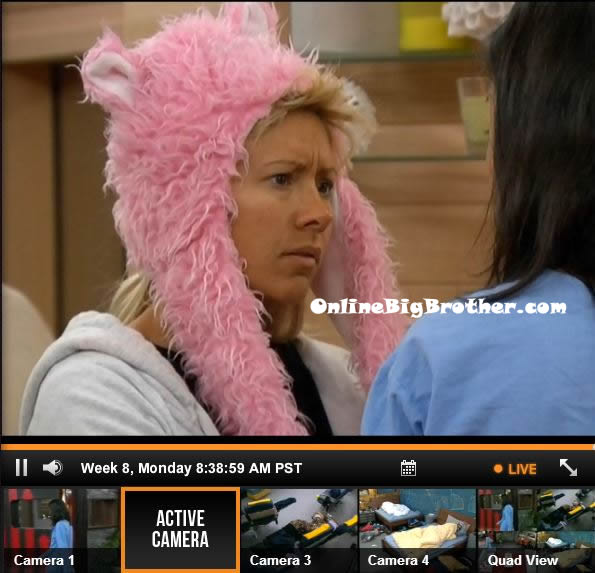 UP in the HOH room – Helen talks to Aaryn about how last night was really weird. She says that when Aaryn was in the diary room. It was me, Ginamarie, Andy and Spencer. Andy said he was going to go to bed and then didn't go. Helen says he is a rat. Aaryn says that Spencer said if Amanda goes on the block he is not voting her out, so he is working with them. Both Andy and Spencer are working with them. Helen says I can't believe it he is a rat. Aaryn tells Helen that she has a better chance of staying with Spencer on the block with her. Helen says I think we need to talk to him, why would he feel so comfortable to be on the block. Aaryn says he is just so comfortable being on the block that he knows he has the numbers to stay. Helen asks Andy told you that. Aaryn says yeah. Helen says I can't believe Andy! I can't believe Andy would side with Spencer than with me after everything. Helen wonders if Andy is just saying that to Spencer. Aaryn says that I would do this in a heartbeat if I knew at least one of them would do it but I can't risk it because if they both vote you out over Amanda then I would be f**ked. Helen says we need to talk to Andy and Spencer.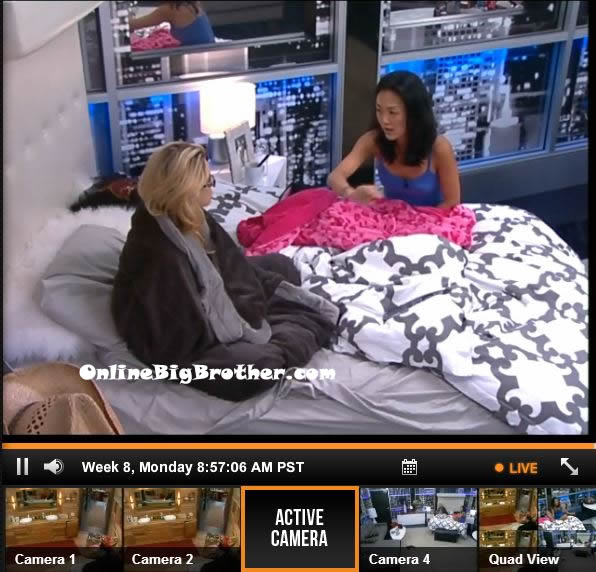 9am – 9:25am Aaryn says that she thinks Andy has a final two deal with everyone. Helen says doesn't Andy know they (Amanda/McCrae) won't take him to the final two. Aaryn says Amanda has even said that no one could win against Andy in the final two. Aaryn says I am going to talk to Andy and Spencer to see if they will do it but I can't even threaten then that I would come after them because I won't even have HOH next week. Helen says I know this is a wild card but McCrae cant win against Amanda in the end. So if he doesn't make a move he is going to lose and be made fun of for the rest of his life. Helen says they have been fighting more recently. I will talk to him and tell him that his guy friends are seeing him being di*ked around. You are going to look like a wet dog being dragged around by her. You will look like a fool. I think he will listen to that because he is a big BB fan and doesn't want to be seen like that. Helen says the two of them and Andy think that they have already won this game. Aaryn agrees. Helen says this is astonishing, I can't believe Andy. I need to talk to Elissa because she doesn't know any of this and I had told her before that if I go she needs to work with Andy but now I need to tell her to work with you and Ginamaire. Aaryn says that Elissa won't work with me and Gina. I think she is already working with Amanda. Helen says you need to just win HOH every other week or hope that you get a power like a diamond power of veto. Aaryn says that she fears Andy and Spencer will lie to her and then I will be voting with Elissa who is the person wanting me out. Helen talk about how Jessie is brainwashed now. Amanda will win in the end if she makes it because she has manipulated everyone and McCrae will look like the wet puppy dog. Aaryn brings up how she overheard awhile ago that Elissa said she would never ever work with me or Gina, so I just can't work with her. Aaryn says that Andy just doesn't see that its better for him to vote out Amanda. Aaryn says that if Elissa wins HOH she is putting me up, she already said she would. Helen says it's Ginamaires birthday on Thursday – let her win the HOH and go kamikaze on everyone. Helen says if Ginamarie wins HOH you need to get her to put up McCrae and Amanda so that they can't vote for each other. Helen gets called to the diary room. Aaryn says that she will talk to Andy and Spencer. Helen says I might hide up here if Amanda goes kamikaze style on the house.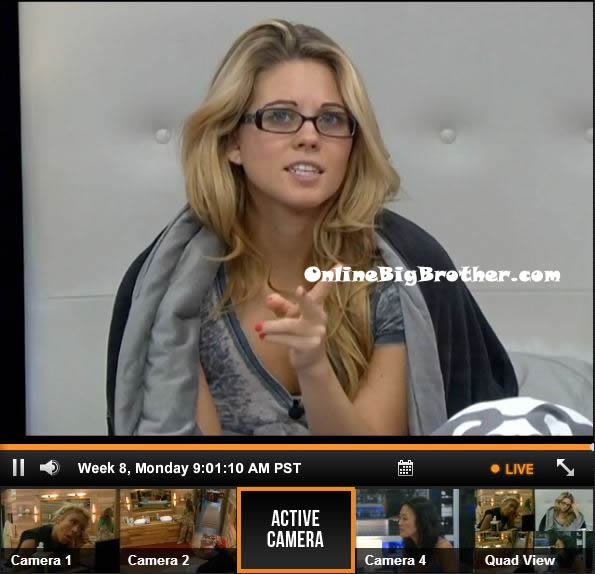 9:30am – 9:40am Elissa joins Aaryn in the HOH. She asks Aaryn if she knows what she is going to do. Aaryn says I am putting up Spencer. Aaryn says that Spencer has said that he is fine with being on the block because he knows he is safe. Aaryn says I am going to talk to Andy to see where he is at. I am just contemplating what to do because if Andy and Spencer are with them then I am screwed. I think Helen has a better shot against Spencer. Elissa says that would be amazing for your game if you put Amanda up. Aaryn says that Spencer already said he wont vote out Amanda. Elissa says that's scary because that means if he wins next week he would put us up. So you don't think you will put Amanda up? Aayrn says I don't think I have the votes. After I talk to Andy and Spencer if I get the vibe that they wont vote her (Amanda) out then I can't do it. Aaryn says Andy will be the deciding vote no matter who goes up on the block. Aaryn says Amanda got in a fight with me last night and I don't want to keep someone here that would treat me like that but when I heard Spencer would rather go on the block than vote out Amanda.. I know they are working together. Why the hell did we bring Spencer this far. Elissa says because they knew this would happen. Elissa says that McCrae is already starting to get vicious and wanting us to fight. They're scared if we worked together. Elissa says it's Amanda and McCrae's game and we are just living in it. Elissa says if it was you and McCrae in the end.. Aaryn says McCrae would win. Elissa says if it was Amanda and you.. Aaryn says Amanda would win because she would take credit for everything I have done. Aaryn heads down to the diary room. Elissa heads to the downstairs bathroom to do her hair.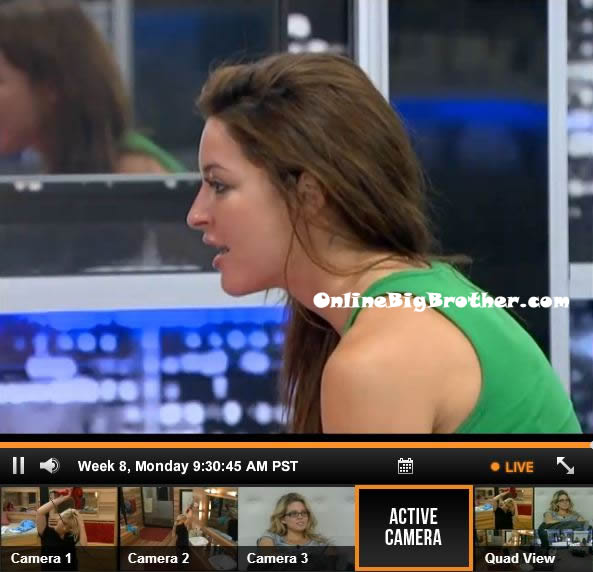 9:45am – 10am Helen talks to Elissa in the bathroom. Helen comments that someone told her that you don't even care if I am here or not. Elissa asks who said that? Helen says I don't even know. They are just trying to get us to fight against each other. Elissa says then lets let them think that, so that maybe they will work with you. Helen says they won't they already have Andy and Spencer. Helen says I still need Andy's vote. Elissa says they are manipulating him. I told Amanda that she has the best social game and she said no Andy does. They use him and throw him under the bus. We need to tell Andy. Helen tells Elissa I know you don't like Aaryn but you need to work with her. We need to go up there and talk to her. Elissa says I just need to look at her like she is Candice, like she is you. I just need to forget about everything that happened in the beginning. Helen says Amanda is going to try and get you to work with her but you can't. Elissa says I won't she is a master manipulator, I don't believe a word she says to me. Helen says we just need to talk to Aaryn and Gina so if I go you can work with them.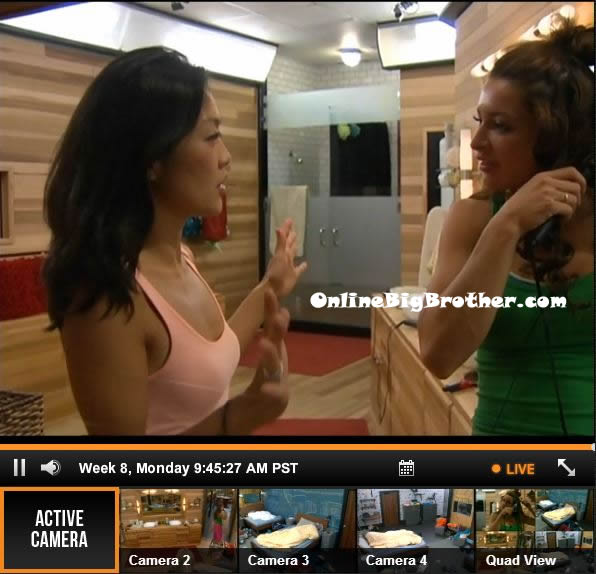 10:30am Big Brother calls Elissa to the diary room. Helen comments that it'll be happening soon. (Veto Meeting) Elissa says I am so dressed up and everyone else will be in jeans. Helen says but it's your veto meeting.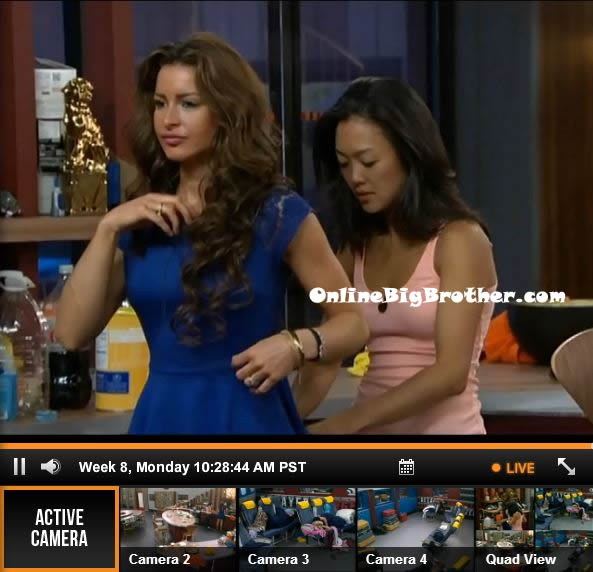 10:33am Big Brother switches the live feeds to TRIVIA..
Use the Big Brother Live Feeds to FLASHBACK to SEE what they can't show you on TV:
[polldaddy poll=7329443]