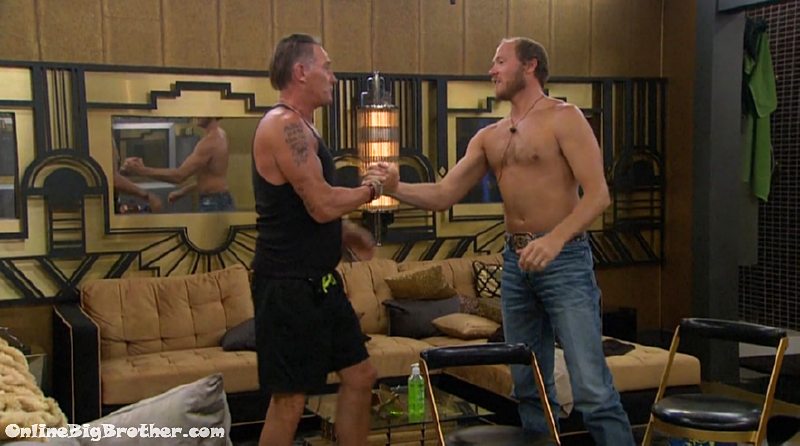 1:37pm Kevin and Jason..
Feed subscription lets you go back and re-watch everything we post here CBS All Access Live Feeds with a FREE 7 DAY trial.

Kevin – I never f* you Paul or Kevin..
Kevin saying they brought Josh up here to check in on them.
kevin – what we can't talk anymore..
Kevin explains that they were all outside sitting in the backyard and he was off on his own so he decided to come upstairs and talk to jason. AS soon as he does
Kevin – who's the sucker who do they send everywhere
jason – josh
Kevin – think about it
Jaso – why do they care what we talk about
Kevin – we're the oldest guys here.. family guys I can't talk to you. They want me out that bad then put me the f* out
Kevin -see what happens.. when I do go to the Jury you will f*ing win.
Kevin – they're all lying sneaks that pushed people around.
Kevin – I will never stop, I'll get into all their faces.. I'm trying to play the game on social game..
Jason – I don't think they want you out
Kevin says he'll go up as a pawn against Xmas – "I ain't no baby"
Jason – what happened is exactly what Alex said would happen.. She said if you don't put someone up in Raven's spot those two will hate your f*ing guts
Kevin – so what.. They hate one other person more than you, trust me the one that's telling everyone what to do
Kevin – don't be so fooled that you think unfortunately that's your best friend.
Kevin – everyone who's left here has talked about her Ja.. I'm not trying to get in between you you 2 I don't give a f*
Kevin – don't be fooled they are going to pick a father who's been nice to everyone over because they think you are being manipulated by her (alex) I'm Telling you
Kevin – you think when two weeks pass by they are going to hate you still.. It's just a game and who's the better person when we get to the end.. It's who the better person is that wins
Kevin – no the one that put them on the block… C'mon Ja
Jason – I wasn't lying (about not telling Raven that she's safe)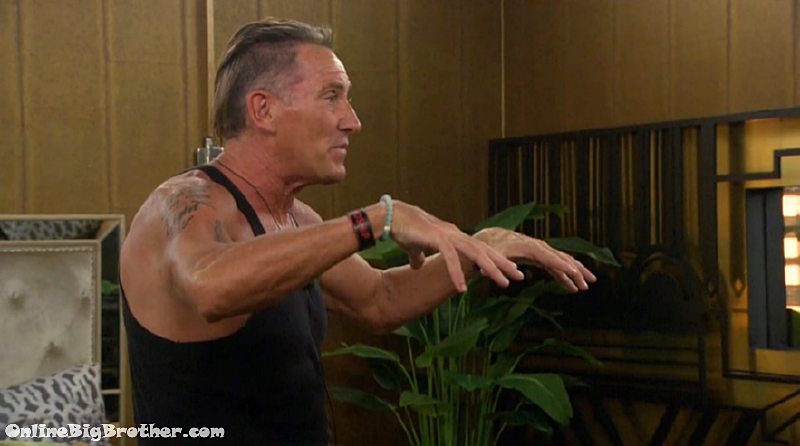 Kevin – Christmas and Josh are being like two little puppets.. They just do what is said.. So what you go out 5th or 4th what's the f*ing difference..
Kevin – i'm 56 I'm not going out before Josh that's f*ing embarrassing.. I don't care what he f*ing did I raised 7 f*ing kids that's more important than a f*ing game..
Kevin – I'm telling you, You get to final 2 ain't nobody going to vote against you..
Kevin – i've been watching Xmas teaching Josh the whole time..
Kevin – the only reason he came up here is because they told him..
Kevin – worried about the final 2 we still got 8 mother f*ers
Kevin – I'm not trying to get between you and Alex..
Kevin – in three weeks they won't be 1 hate jason..
Kevin – you're talking about the final2 f*ing vote that' s a month away
Kevin mentions how Alex keeps talking about the final 2 it's a bit early.
Kevin – you're my partner I'm never voting against you I won't do it.. I didn't know you were going to flip and vote out Matt..
Jason – you knew I voted out Matt I told ya
Kevin – yeah and I never told anyone just like you asked me (Jason knows Kevin told Paul)
Kevin asks Jason to help get Alex off his back..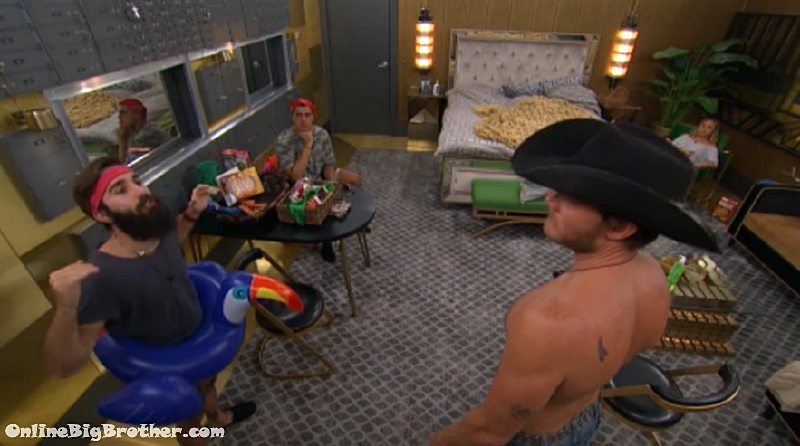 1:49pm HOH Paul, Jason, Alex and Josh
More shitting on Kevin headed by Alex, Paul and Josh.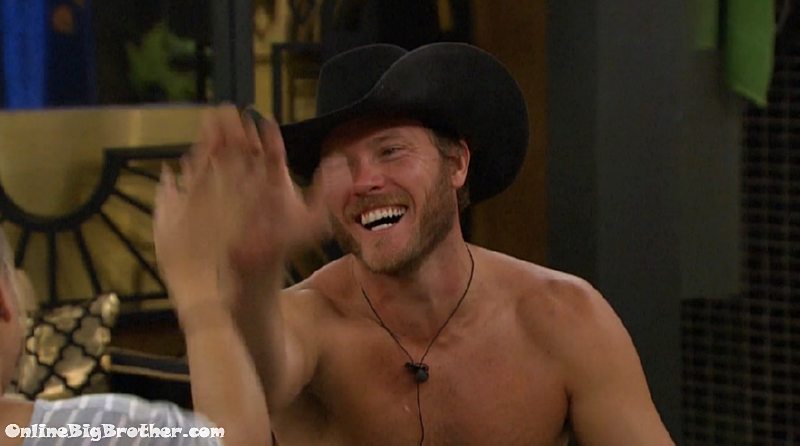 2:08pm Alex and Jason
Alex says the best thing ios for them to get Josh or Xmas to win the HOH so they can take Raven out. Then her, Paul or Jason wins teh HOH after that and take out Kevin.
Jason says Matt just wanted to look like a tough guy
Alex – it was his last chance..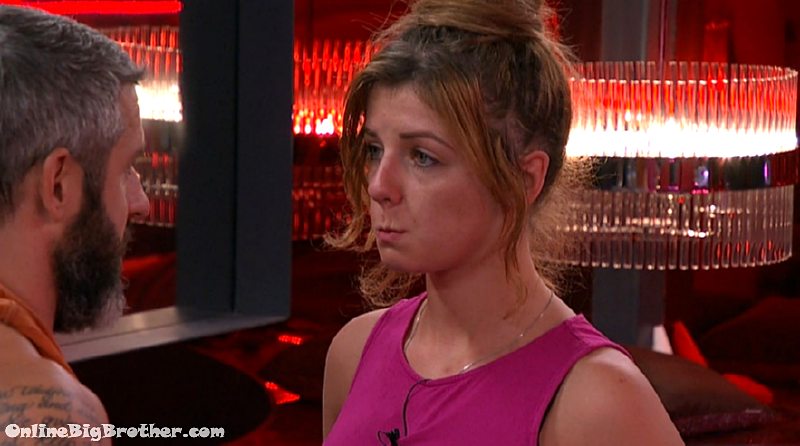 2:10pm MAtt tells Raven he's going to take the penalty vote by eating food as a have not. Xmas will aslo vote him out.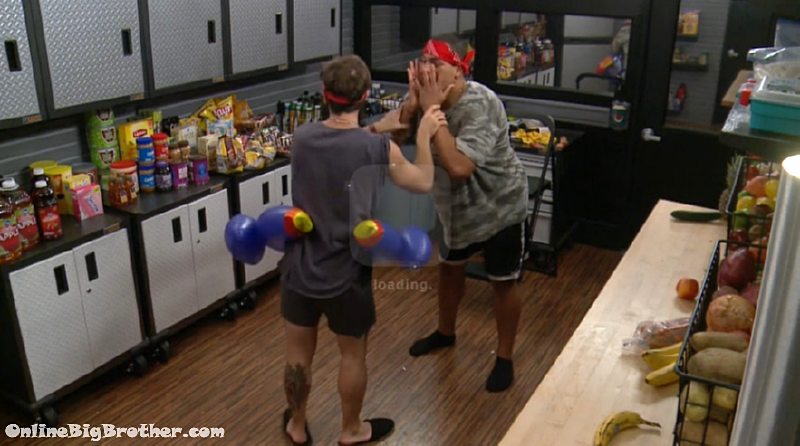 2:15pm Josh and Paul Dancing because Alex says she's throwing the HOH to him or Xmas. Once they win the HOH they are going to take out Jason or Alex.. (HAHAHAH)
Paul tells Josh Alex will throw the HOH. #BB19 @DawgsBigBrother pic.twitter.com/fr2FJH4liO

— OnlineBigBrother.com (@bigbspoilers) August 28, 2017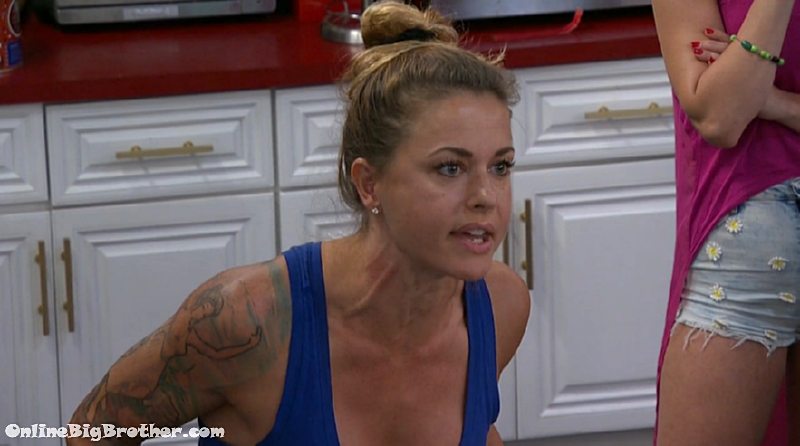 2:16pm Xmas yelling at Kevin for asking her if she's going to spend time at the side of the pool. She's also pissed that he asks questions that he already knows the answer to.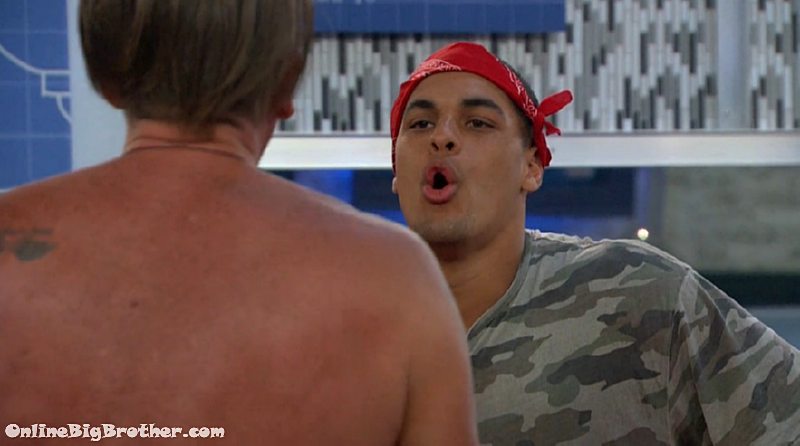 Josh jumps in starts screaming at Kevin calling him a liar..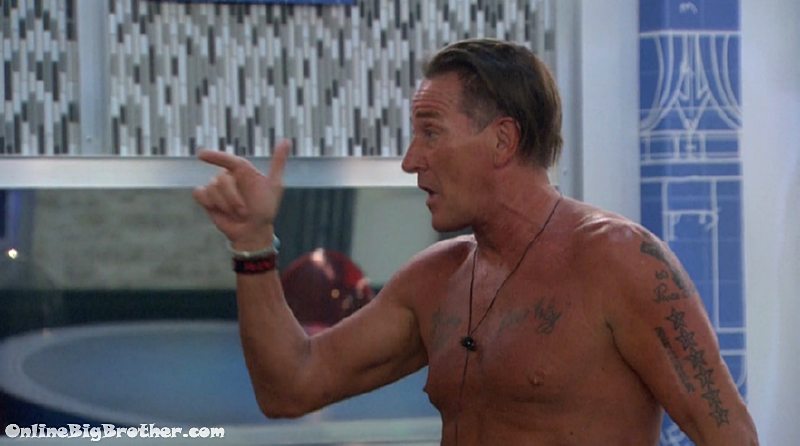 Kevin proves he wasn't lying.. Tells Josh to apologize..
Xmas continues to yell at Kevin in the background.
(it's their plan they are going to to to Kevin what they do to everyone)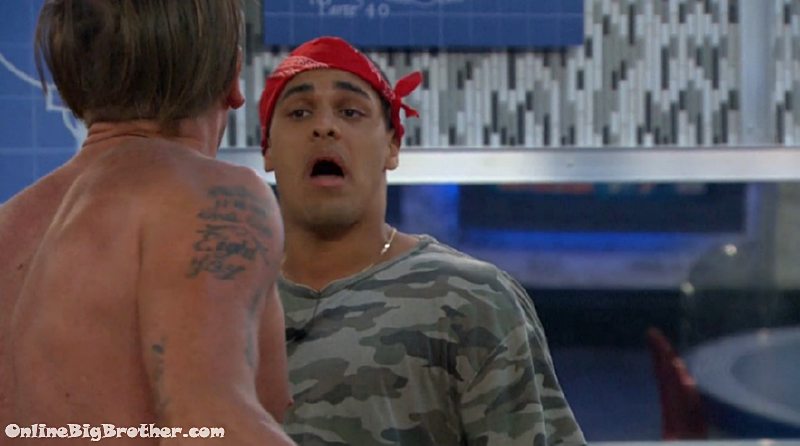 Josh continues to pester Kevin.. Kevin says he doesn't want to talk to
Josh says he's heard Kevin make comments.
Kevin – Josh, I don't talk about you don't flatter yourself.. don't make things up..
JOsh – You played yourself.. You're a liar..
Kevin – it doesn't matter to me Josh..
Kevin – You better be cool i'm telling you that, I don't give a f* about no mother f*ing game.. I'm telling you you'll be in the DR f*ing pouting like a f*ing baby
Kevin – call me a liar again..
Josh calls him out for lying about the 25 K. Josh tells him to swear on his kids
Kevin – don't bring my f*ing kids up mother f*er
Josh – Liar
Feeds cut
Kevin – I don't give a f* about you.. Shut the f* up.. shut the f* up
Josh – you're a liar
Kevin – you're a big mouth fool..
Kevin – shut your f*ing mouth.. Say something about one of my family members again.
"Shut your f*ing mouth.. Say something about one of my family members again GO AHEAD" #BB19 @DawgsBigBrother pic.twitter.com/tGUMVtPyQO

— OnlineBigBrother.com (@bigbspoilers) August 28, 2017
2:28pm Feeds cut.. (things were getting very heated)
3:00pm Feeds cut to pound puppies.. (OK this might mean something is up)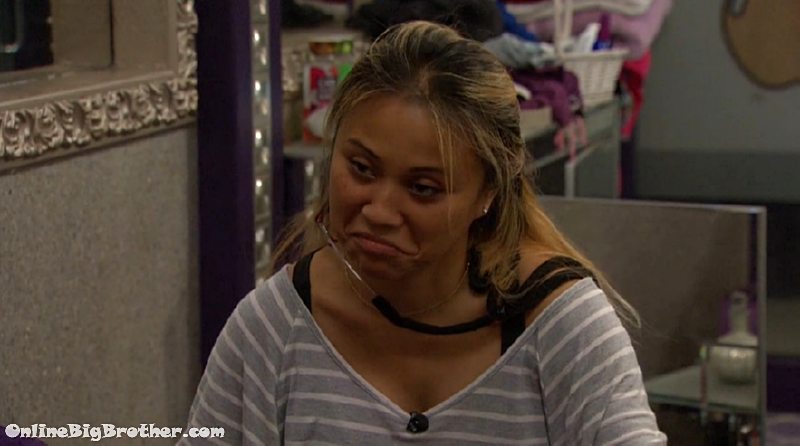 3:30pm Feeds back Josh, Alex and jason shitting on Kevin in the bathroom.
paul shines a light that Kevin already having 40 thousand dollars.
Jason says Kevin tolds him this is what the house does they sic Josh and Christmas onto people get them on the block then vote them out
Josh – who do he thinks we are
3:33:03pm Jason – I'll call that mother f8er every name in the book (kevin)
Jason – I'll f* your wife.. when I get out of here i'm going to tie all your daughters and make them f*ing watch, you piece of sh1t (hard to find someone to like this year)
They laugh that Jason crossed the line.
jason – i was trying to think of the worst craziest thing to say
Paul tells them they will have to blow up Kevin again.
Alex agrees there's going to be a round 2.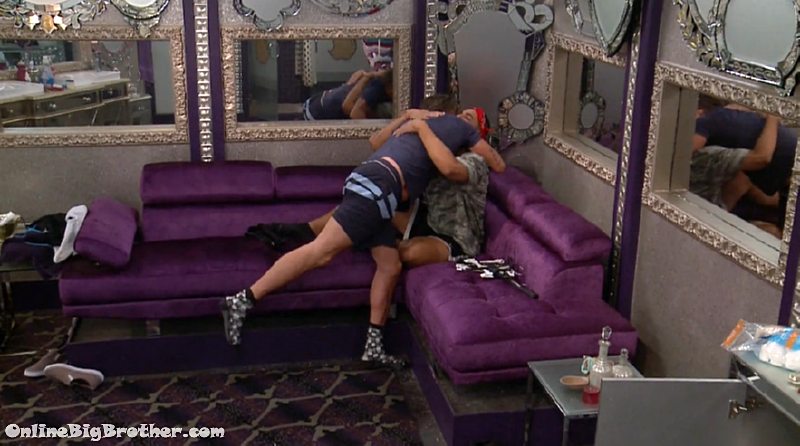 3:34pm For some f*ed up a reason Kevin is the one apologizing to Xmas and Josh for losing his cool. ( KRAKEN)
JOsh – Kevin i'm not gunning for you..
Kevin – I'll never touch you that's my word
Donations help keep the lights on. If you would like to support the site please consider donating.
Links to the ranking system
Rank your house guests here
For those of you that like Statistics here are some expanded reports.