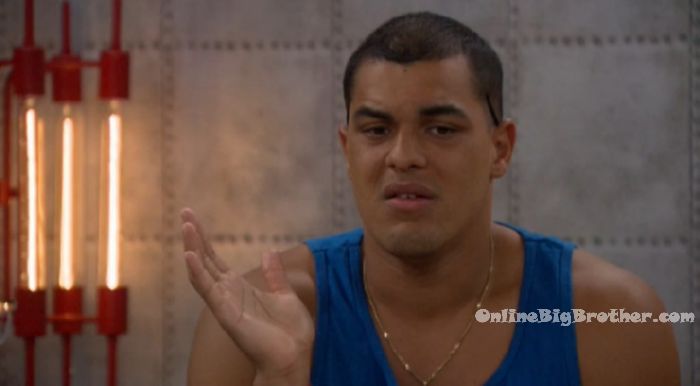 Check out our BB19 Ranking Grid. . rank your houseguests here

9:10pm Havenot room. Ramses and Josh.
Ramses – don't get your head in a bad head space. This is something we're all going to have to do. We signed up for this. This is something we knew was going to happen to each and everyone of us. Josh – yeah. (Josh is acting. Paul told him to talk to Ramses about how he knows he is going home.) My whole thing is .. I know that I'm going and I know that everybody has been waiting for this moment. I don't want to walk around and be miserable. I literally didn't want to get out of bed. I want to leave here being happy and enjoy my last few days here. Its hard and it f**king sucks. I am not going to say anything bad about you. I don't have anything bad to say about you and there is nothing bad I could say about you. I would rather go out with my head held high than sh*t on somebody that is considered a friend. You get me? They're not going to get that out of me. I've been crying and I've been miserable. I want my family to see me walk out with my head held high. When people are distancing themselves from you, stay strong in this house. Keep doing what you're doing, you're doing great. Be careful of who you trust. Kevin is a stud. Kevin is the f**king man.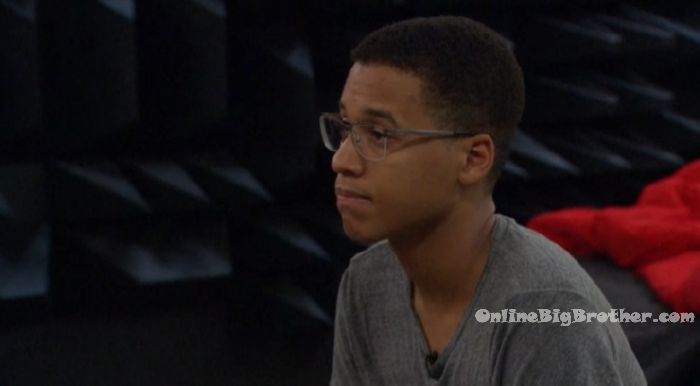 Ramses – I like Kevin. Josh – stay close to Kevin and you'll be fine. People are going to try and use you. I feel like there is this fog over me and I can't get rid of it. Ramses – I'm sorry dude. Josh – At this point I feel like I am ready to go. I am not going to give them that. I told you and two other people. I cried my a$$ off in this room, the bathroom … I'm not going to give them what they want. They don't even look at me or talk to me. I am just drained at this point and I'm f**king over it. Ramses – I know its hard. The experience is the best part of it. Go shower and go outside and get some air. Just chill and enjoy the experience. Don't let it get to you. Rest all ways helps too. Josh – I don't want my family to see me depressed. I will be rooting for you. Ramses – you don't know. The veto hasn't even happened yet. Josh – she isn't going to use it on me. I'm her target. Don't give nobody what they want. It sucks that they're so cold hearted. He (Mark) disrespected me. He called me names. And he still hasn't apologized to me. At this point I'm numb to it. It sucks dude! Cody went through this same thing but he hasn't even said anything .. that just shows what kind of person he is. Ramses hugs him and Ramses leaves the room.
9:15pm Backyard – Alex, Jason and Kevin.
Alex is helping Jason and Kevin study the days/events.

See what they can't show you on TV Try the live feeds for FREE!
10:24pm Lounge room. Josh talking to himself.
Josh – I love this house. This is such a mad house. And if I go … then F**K IT! But I am 85% sure I am staying. Anything can happen in the big brother house. I know the people that I can trust in this house. A word of advice to all the big brother players that are coming after me.. you don't have to be the strongest competitor, the strongest man or the most conniving best liar. Loyalty and letting people know that when you give your word you stick by it and you don't flip flop and back stab the person that you gave your loyalty to your alliance member … you'll make it. But guess what Mark you played yourself. You big meatball. You linguine! You're a f**king meatball! You suck! You're going home because when I stay this week, I'm targeting your big a$$!



You big block head meatball! I'm going to hit the cha cha slide when I stay on Thursday. Guys I am going crazy. I am talking to a camera. I am going bananas. For those of you that are just tuning in the whole house has a plan to get your boy out of here in Jessica and Cody's mind. But what they don't know is that the majority of the house is keeping your boy this week. And your boy is going to have a meatball fiesta all f**king week when we blindside them. And they think that I am going home but I just need to play my part so f**king hard. I just want to say F**K you meatballs I'm staying!! F**K YOU MEATBALLS I'M STAYING ANOTHER WEEK!!! I do not want to play nice with Mark! F**K him! I do not want to play nice with Cody! F**K you! I will have to play nice with Jessica. Cody and Mark F**K you!!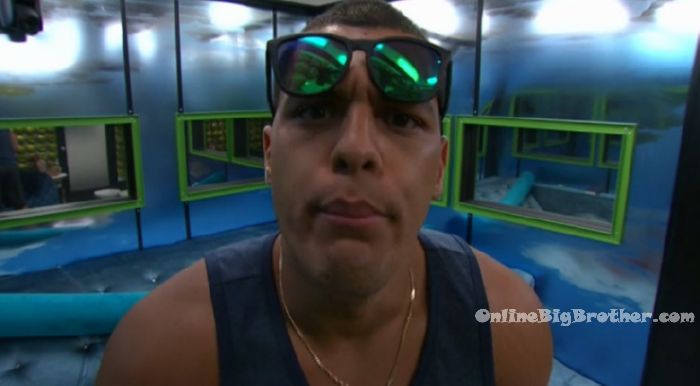 Josh "F**K YOU MEATBALLS! I'M STAYING ANOTHER WEEK!"@bigbspoilers #BB19 pic.twitter.com/oKbPnpq9R4

— Dawg (@DawgsBigBrother) July 24, 2017
FLASHBACK and watch everything you missed: Live Feed 7 day FREE Trial!
11:25pm – 12am Backyard – Mark and Cody playing pool.
Cody – I am not going to lie, I was banking on coming back with playing high risk in the beginning. Mark – I was so happy that you came back. Cody – I do not want Josh in jury. Mark – he is gone. No one wants him in this F**King house. Cody – I want him to get f**king BOO'd when he walks out of this house. The things that he has said to Jessica f**king boils my blood. If he shows that much disrespect to a woman openly that many times .. there is no way they (America) can't see that out there. Mark – I am twice his size … he just says sh*t because we're in this environment. IF I threw a drink in your face .. and I got as pissed as Josh did. I would at least push you back. He looked at me and did nothing! Cody – he's a damn coward. That's why he berates women. Did you hear what he called Jess .. everyone out there knows about her history.. it is the anniversary of her fathers death.. he said you need to beat that thing. He called Jess a f**king thing! DUDE! Mark – he is going to be out of this house! There is no way he is going to jury. Next week Ramses. Cody – I want to get HOH and then re-evaluate. I want the couples to be safe. Cody – people probably thought that she (Jess) jumped on me for safety but she is the one that saved me.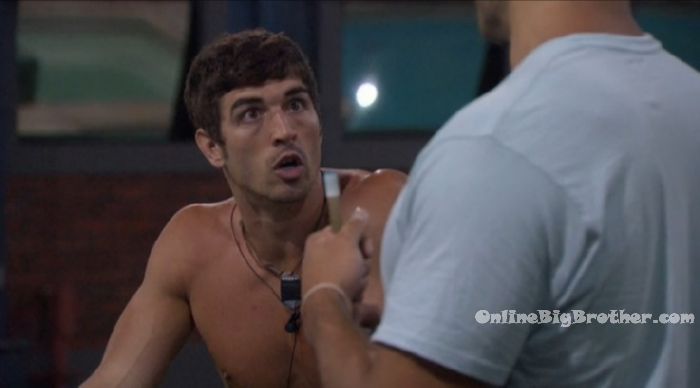 12:35am
Kevin – do you love her? Jason – No, I want her the f**k out of here. Kevin – they're all going nuts aren't they. Jason – I told her that I have a really hard time controlling myself around her because she's so pretty. Kevin – no you didn't?! That's a good one! Jason – yeah. Kevin – is it true? Jason – no. I mean she's a nice girl. Kevin – that has to be the healthiest sick girl (Raven) I have ever met in my life. She just jumped over that couch and then tomorrow she will be walking around deformed. Kevin – if they pull Ramses off the block we're just going to have to get rid of whoever they put up .. unless its one of us. Josh is the one that should be worried. If its one of us, he's gone. The biggest mistake they could make is put Matt or Mark, Raven or Elena and then take them out. They would fall to pieces. Jason – I feel bad about the whole Christmas situation. Kevin – why she is still going to jury. Jason – because of the cast.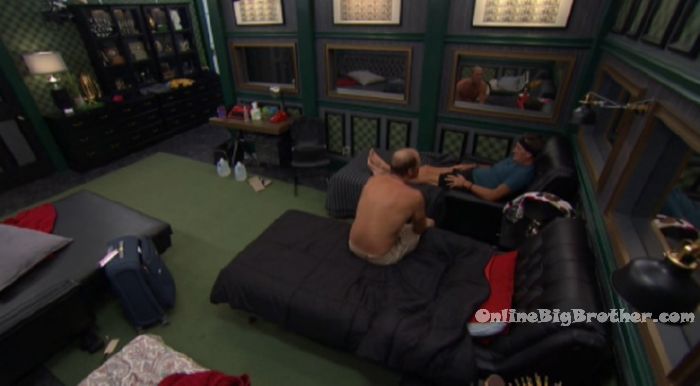 12:50am HOH room Cody and Jessica.
Cody – its day 34 and people have officially gone crazy. Jessica – we just need someone else to make themselves a really big target before next week. Jessica – when I talked to Elena she pretty much said that people will vote the way she tells them to vote because she has a good relationship in the house.
1:30am – 1:50am HOH room. Cody and Jessica head to bed. Jessica – I don't think I ever want to see your ex-girlfriends. Cody – you won't. You are the most attractive girl I have ever met. Way more attractive than the dogs I dated before. (Nice thing to say about the mother of your child?!) Jessica – okay now you're over selling it.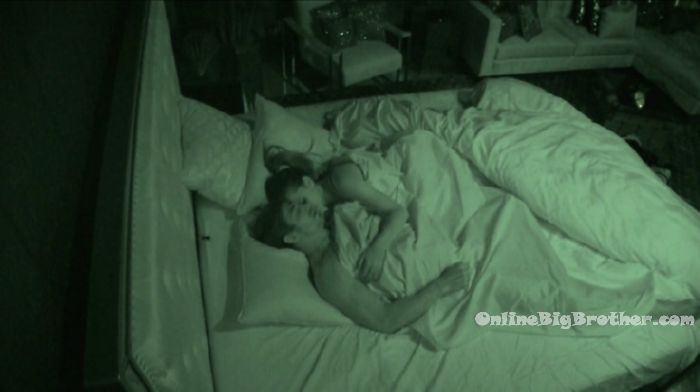 2:05am Matt is awake. He does some laundry and then stares at the memory wall before heading back to bed.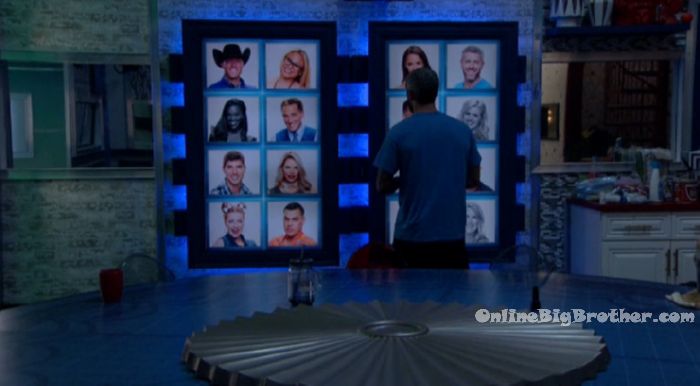 Links to the ranking system
Rank your house guests here
For those of you that like Statistics here are some expanded reports.