Check out our BB19 Ranking Grid. . rank your houseguests here

See what they can't show you on TV Try the live feeds for FREE!
2:50pm Mark and Elena in the bedroom.

Elena – I don't think we're they're (Matt and Raven) targets but they are easily manipulated. Mark tells Elena about his conversation with Matt. Elena – they would do what the house wants. Mark – its not the house its 4 vs 6. Elena – its really 4 vs 4 because Christmas and Josh are just blobs. Mark – they're in the middle but ..Josh and Christmas are coming after us not them. I want to sit down with ALex and make sure shes good with you. If you and Alex could just clear the air. Elena – she isn't going to clear the air. Mark – who is the worst person for my game right now. Elena – Josh. Mark – if you won HOH would you waste your HOH on him? Elena – no. Mark – I would rather see Paul go out the door over ALex. What if it was Paul vs Kevin and Matt and Raven were on our team. Elena – are you going to backdoor Paul. Mark – no, I'm going to put him on the block with Josh. If he wins veto, congrats. I would never backdoor Paul. I don't think I would backdoor anyone. Elena – would you backdoor me? Mark – yeah, but not in the game way. Elena – oh my god, I just remembered a weird part of my dream. Mark – about me an your backdoor? Elena – no. Mark – what was it about? Elena – Raven pooping in the sink. (LOL WTF) Elena – my longevity in this game… I know I'm not going to win. Mark – if we can secure Matt and Raven on our side before the HOH .. that's 4 out 9 people that could win. On the other side Christmas isn't going to win it. Kevin isn't going to try and win it. Jason is a wildcard. He surprised me with that mental comp. Elena – my longevity in this game .. I need to staying in this house as long as I can for my career outside of this house.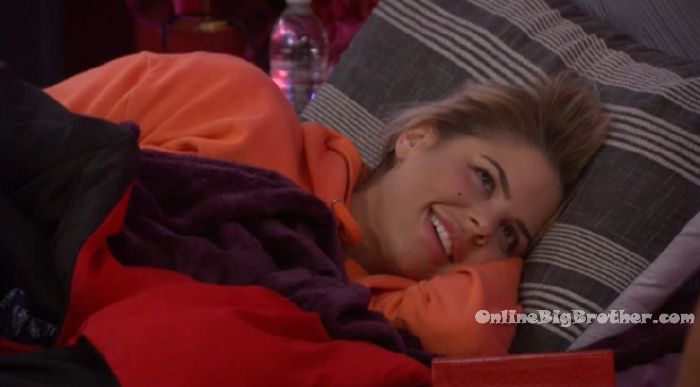 Matt – you don't need to win an HOH to get the votes in the final 2.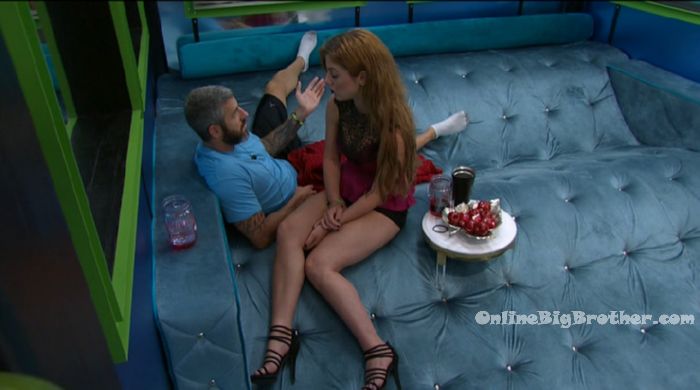 3:05pm Bedroom – Mark and Elena.
Mark – Paul needs to go. Unless he really has a serious conversation with me before the HOH. Elena – Paul attacking you in the s#x room.. Mark – That opened my eyes to everything. Elena – not chill. Mark – I was like Paul, I understand that you may not have meant it in the moment .. everything in this house is part of game. There were people in the room and you attacked me for not defending Josh. Elena – why would you ever defend Josh? I wouldn't have defended Josh. Mark – if he doesn't have a conversation with me before HOH .. I will be very forward with him. ..go for that veto. Elena – I like it. Mark – I am going to make a deal with ALex and Jason if I win HOH. I can't get rid of ALex for my game sake. Elena – why? Mark – because she is not coming after me. Mark – If I can make a deal to keep you safe for at least 1 week. Elena – 2 weeks. Mark – ok 2. She keeps her word. Elena – do you really think she would have taken the 5k? Mark – she would have taken my trip. She is very genuine. Elena – I just watched her lie in that mobsters game and he lies are the most interesting ones.
Watch the NEXT MONTH of the Live Feeds for FREE!
Click here for your: 1 Month FREE Trial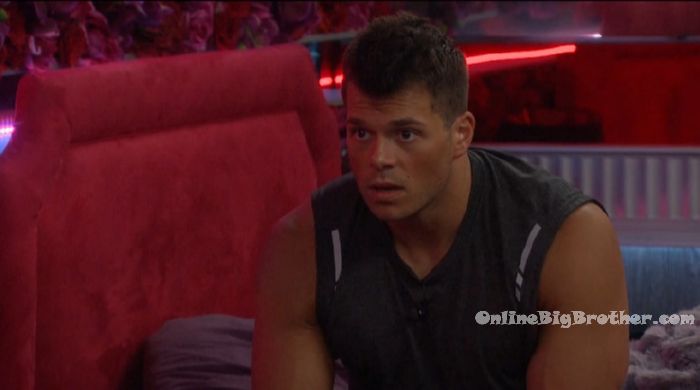 3:20pm -4:10pm Alex has to set up her campsite again.. Kevin, Jason, Josh, Cody, Paul and Christmas join her for the hot dogs. Alex then breaks down her campsite.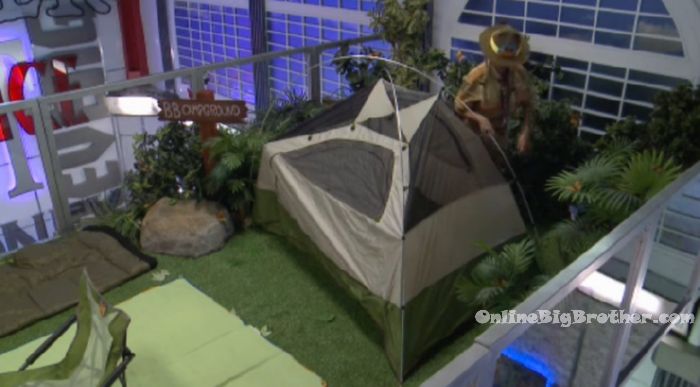 4:25pm The house guests are laying around chatting about random things..
Kevin to Jason – if I win HOH, I'm going to put up Mark and Elena just for what she did to Alex.

5:05pm Raven and Matt in the lounge room.
Matt – I didn't even want the damn veto. Raven – you should have picked the trip. Matt – I didn't want to get cursed because the way that it was supposed to work was I should have taken that trip. That's what they basically agreed to I think and then Elena would have taken the 5k. The top 3 aren't supposed to get cursed.. in theory.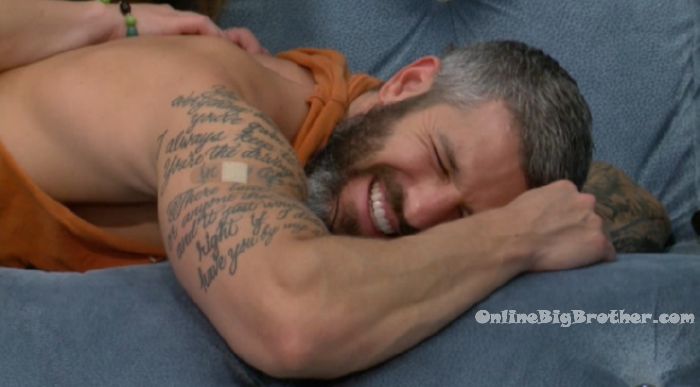 5:30pm Alex starts setting up the campsite … part way through BB tells her that it was a false alarm and she can take it down again.
If you plan on buying anything from Amazon. Use this link Amazon home
Doesn't cost you anything and we get a small cut.
Links to the ranking system
Rank your house guests here
For those of you that like Statistics here are some expanded reports.