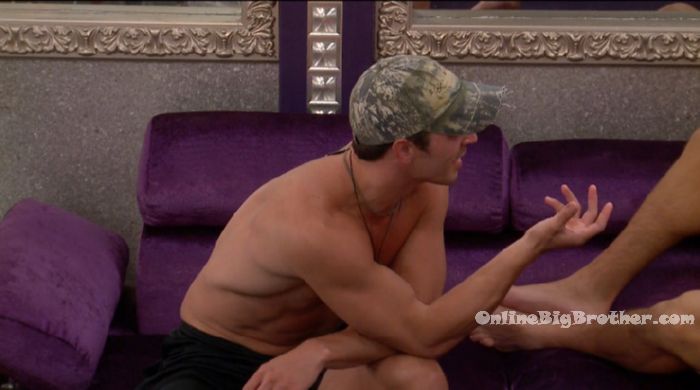 Check out our BB19 Ranking Grid. . rank your houseguests here
10:20am Bathroom. Cody, Mark and Elena. `
Cody – after the hot dog was brought to us I've been up. Elena – that was at 4:47am. They've been working on the backyard since 6am. Maybe its the Outback thing. Cody – you guys have got to win next week.

10:35am The bugle plays to get Alex set up her campsite. She sets it up inside just outside the HOH room because the backyard is locked down. After she finishes she heads down to the kitchen to make breakfast. Matt comments on how he doesn't want the backyard to be locked down all day just so we can have Outback. Alex – that's because you're not a greedy son of a b***h. She heads back up to the campsite and starts tearing it all down again. `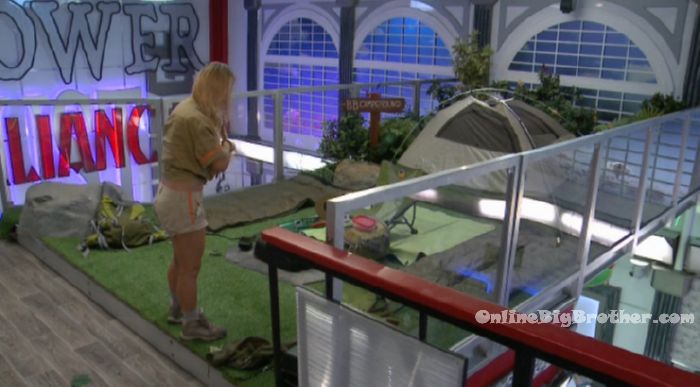 See what they can't show you on TV 1 Month FREE TRIAL!
10:55am Jason – I'm going to take a four hour shower… he eats the hot dog Alex brings him in the shower. Jason – this is X-treme showering. Winning!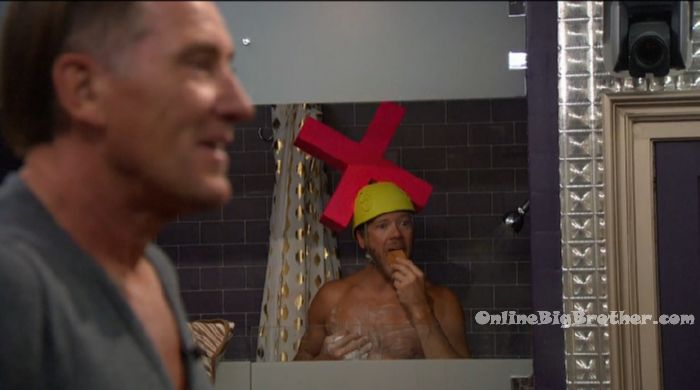 11:39am – 12:04pm Big Brother blocks the feeds. Alex – in honor of Elena's birthday I promised her I would not make her a havenot and because my promises are worth more than any dollar amount and I won't embarrass myself on national television by going against it. As promised you will not be a havenot. Happy early birthday, I hope you enjoy your week. Elena – thank you. Alex – down to the rest of the business, this weeks havenots are the four house guests that went out first in the hocus pocus HOH competition. That means Kevin, Mark, Paul and Jason you are havenots for the week. Jason – F**K!!!! Alex – and remember the havenot temptation is back in play. The first person to claim the key in the diary room can take the temptation. Paul and Christmas realize they have to sleep in the havenot room together. Paul – yeah but how!?!? Paul says that he is requesting the havenot temptation key. Paul says he's going for the orange box. Cody – Jessica and I did it. Paul – I'm not going to make Christmas do it. Lord knows I need the two week diet if I am wrong.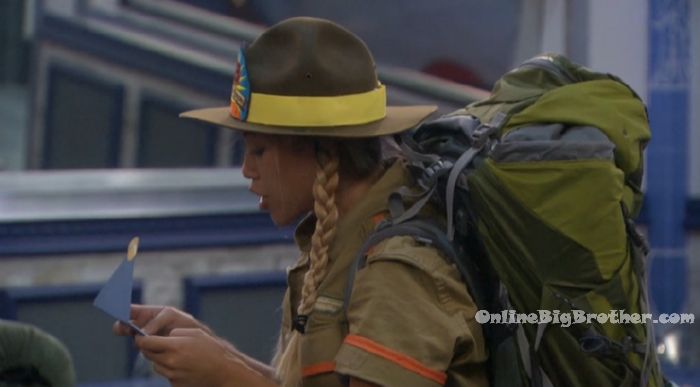 12:25pm – 12:45pm Bedroom – Elena and Mark.
Elena – This is absolutely ridiculous to me that now I am the bad person because I won a competition and took a prize that I have earned. Mark – people aren't really saying anything. Its just Alex. Its like when Paul talks. Its not like people are agreeing with her. I don't know what to say. I am in the middle. Mark – I want to say to her you said if Elena came in second you would take my prize . She is like I wanted you to keep your trip but I didn't want to take it from you. I wanted to be like take it. Elena – I wish people would say something. Mark laughs – yeah and I wish people would say something when Josh says things. Elena – I have had your back but I don't think you should say anything. Elena – are you incinerating people are sitll s**king your d**k? Elena – I am kind of already on the outs. I am kind of in a stage of my game where I want to just f**k sh*t up. Like I might do it just for fun. People have been disappointed in me since the beginning, so why not f**k sh*t up. Mark – this would be the week to do it. Paul is not keeping Cody in this house. Elena – you know what would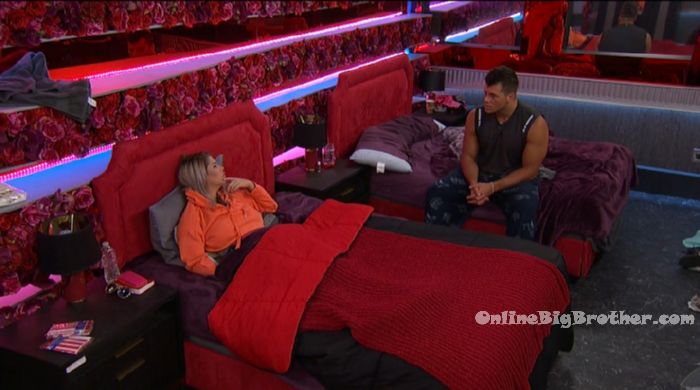 1:05pm HOH room – Alex, Paul, Josh, Kevin, Christmas Matt, Raven and Jason are sitting around chatting about random things. Alex – Matt what are you thinking. Matt – nothing. (big surprise there)
1:25pm Lounge room.
Mark – that group up there scare me. Kev, Paul, Jason, Alex…. and I don't really know where Josh and Christmas lie… but they're always with them. I'm not going after you or Raven. The only chance for longevity in the game is to go after one of them up there. If me and Elena are the targets or if you and Raven are the targets then as soon as you're out we're the targets. Matt agrees. Mark – if I'm looking at the numbers its 4 vs 6. Matt – I have no idea where Kevin stands. I haven't talked any game with him. Mark – Elena and I haven't talked game in 3 or 4 weeks. Matt – I'm trying to win but I've had no success in these HOH's. With the safety comp gone I am going to try and win it. … but I have no confidence in my winning anything. If Its a mental comp I have no chance. Mark – now that Alex doesn't like Elena .. that doesn't help anything at all. And then me and Christmas going at it.. and Josh getting in on it. Matt – its so funny to watch you and Josh. Mark – it took everything in my.. I am proud of myself in that moment.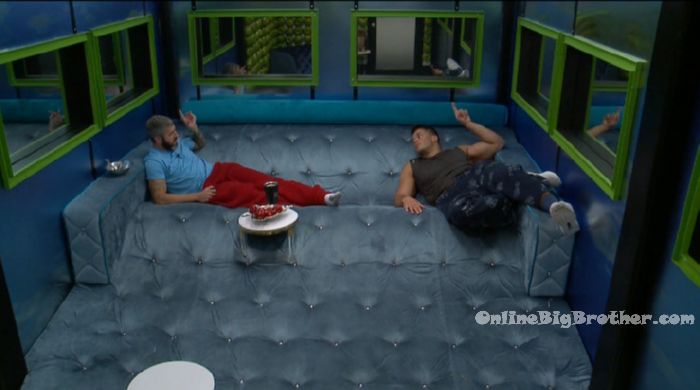 2:20pm Josh, Kevin, Jason are sitting around in the HOH room chatting about random things. Jason is doing some extreme napping on the HOH bed. Meanwhile in the Lounge room – Matt tells Raven about his conversation with Mark. Matt – we need to get rid of Kevin before he wins an HOH.
If you plan on buying anything from Amazon. Use this link Amazon home
Doesn't cost you anything and we get a small cut.
Links to the ranking system
Rank your house guests here
For those of you that like Statistics here are some expanded reports.