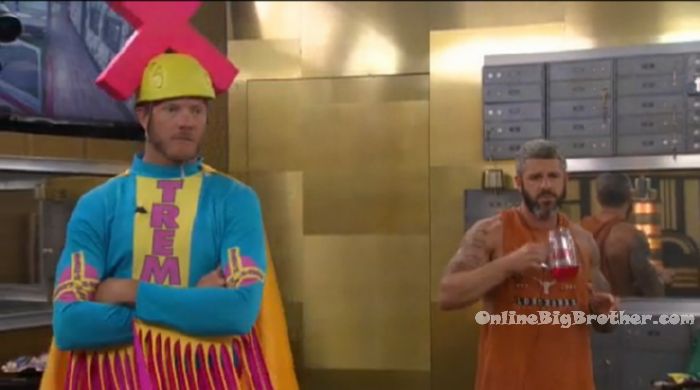 Check out our BB19 Ranking Grid. . rank your houseguests here

See what they can't show you on TV Try the live feeds for FREE!

5:45pm HOH room. Paul, Christmas, Kevin, Jason, Matt.
Paul – Raven is telling me that they're dropping my name. SO if I win HOH next week, I am going to draw that line in the sand. Kevin – so will I. Josh – same. Paul – now instead of them saying I'm caught in the middle.. I can say people have told me that you've said my name. Youre constantly caught in the middle of situations and now you've f**king lied in front of the whole house and f**Ked up. If we stick together .. we're final 8. Its been that way for weeks. Christmas – since week 2 they've been flip flopping. Big Brother blocks the feeds. When the feeds return – Christmas – if its a double eviction we should send Mark home first and Elena home second. He will preform better under pressure. She doesn't preform better under pressure. She will lose her sh*t. Paul – just so they don't know I will have a secret… Kevin – Dolphins in the jacuzzi. Paul – if I say dolphins in the jacuzzi it will mean its a double eviction. I will know because I know the signs. If it is a more or less comp.. half of us say more, the other half say less. This is the same for true / false. If you know the answer then answer it.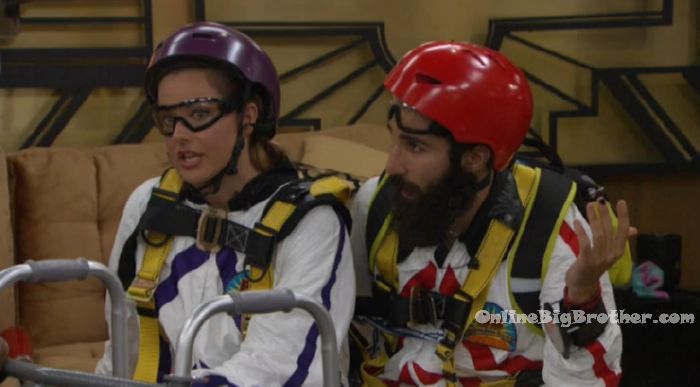 5:55pm Matt and Raven leave the HOH room. Alex joins them. Paul tells her the plan for the more or less comps. Josh tells Jason this is the HOH that you have to push through. You have to win it. Don't cut a deal with Elena. Paul – Matt and Raven think that we're in an alliance but they keep throwing my name out. I don't give a f**K. If I win HOH, I will call them both out. You constantly ask everyone if you're still good but I don't see anybody asking them the same question back to you. You question everyone trust. Josh – And quite frankly that makes us question you. Christmas – you (Alex) shouldn't be carrying around a 40lbs backpack, being second place and HOH. Josh – I don't care which one of them go home first. Mark is 100 times better competitor than her and smarter. She folded in OTEV.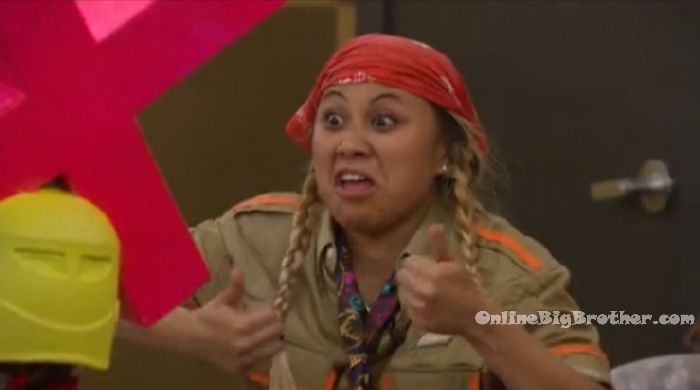 6:40pm HOH room – Cody, Jason, Alex.
Cody – if he (Matt) pulls you (Jason) off and I go up, I go home this week. Alex – I don't vote. We're just doing whatever keeps us safe. Cody – is there anyone else you could put up? Alex – it would have been Mark. Cody – I just don't understand why you guys wouldn't trust me to move forward with you. Alex – oh we trust you, we just don't have the numbers. If we take you on .. that's 3. Cody – Kevin's never said anything bad about you guys. Alex – but he's not very good at competitions and stuff. Yeah we are but if we don't get it they would just throw us back up again. Cody – so what happens if I go home and one of them wins and they still put you guys up? Alex – we're just playing it out following their game. Jason – that would be bad. Cody – when Jess was HOH we played it safe too. Alex – we're not on the pecking list .. right now no one is looking at us but if we start f**king around we'll get thrown up.



Jason – what do you have in your mind. Cody – we would be fighting the entire time. There would be no safe route. Alex – yeah you could help us win the game. Realistically if we go with someone else, they're not going to vote for us. Cody – how many more weeks can you do that though and when will you pull the trigger. Alex – after this double. Cody – at least if you keep me, I am at the bottom of the barrel and they will go after me. Regardless of if it raises any red flags for you guys, I am still the bottom of the barrel. Alex – still if you get to the end, they're not going to let you win. Cody – I don't want to go out this week. Alex – if you get HOH what would you do. Cody – Josh is the easy one for me. Alex – but he's the one that's kept us in the game. Cody – honestly I don't know who you are working with. Jason – everyone is terrified of you. Cody – I am NOT with Mark and Elena, they have been the most disloyal from the start. Anytime I am talking to them it is just to bullsh*t. Alex – we wanted you to go to jury. Cody – the worst case is I go home and then they say lets take a shot at Jason and Alex. And its like F**K! We could have f**king worked together and got the next HOH. If we do get the HOH then the numbers won't be a problem because we knock another one out. Alex – everyone has their distaste for Elena and I hope it would swing that way but everyone is scared of you. Cody – even Jess told me not to trust Mark and Elena. Alex – if someone implodes before tomorrow I would be more than happy to put them up. Cody – you have a good reason to get out Elena. Alex – yeah but I don't vote. Cody – you have a day to think about it.. just reach down into your soles. Alex – who would you take out first? Cody – I would take out Paul. Alex – that wouldn't work. Cody – because we wouldn't have the votes. Alex – its too early for that.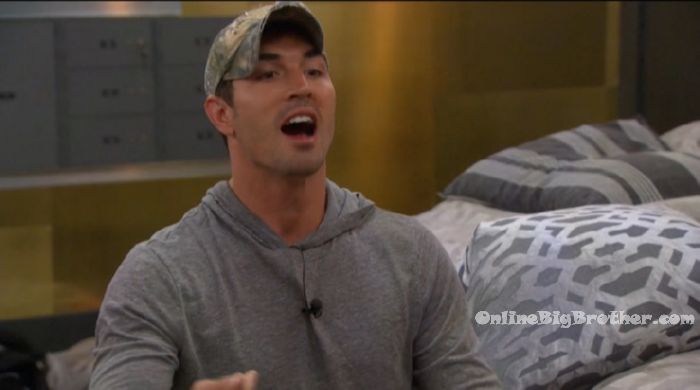 Havenot room – Kevin and Jason.
Kevin tells Jason about how Cody's brother died and he hasn't sees his daughter 2 months of the year during the summer.. and he gave up his chance to see her to come here. Jason – that's got to be f**King bullsh*t. That's got to be counterfeit. Kevin – I think he could have made it up to get sympathy.. because guys who's brother died.. mine and guess who has 6 daughters .. me. Jason – he's so full of sh*t. Kevin – if it is true he's an a$$hole and if it isn't he's… Jason – an a$$hole.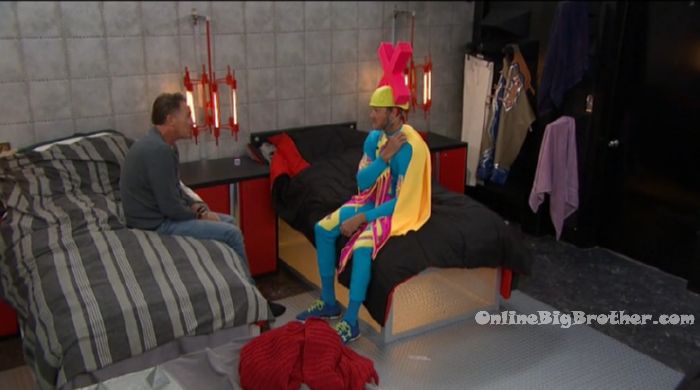 7:25pm HOH room – Alex, Matt, Raven, Paul, Christmas
Alex tells them about her conversation with Cody and how she said we're not going to throw away our game for you (Cody). The conversation was literally going in circles so I had to stop it. Paul – did he (Cody) ask you to use the veto on him. Matt laughs and says hell no. That would be the funniest conversation.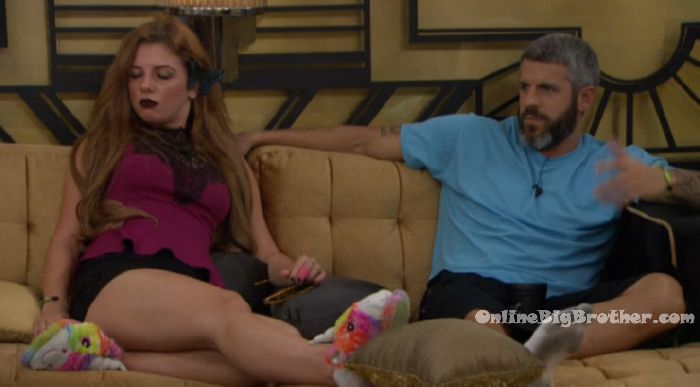 7:35pm – 8pm Big Brother blocks the feeds. .
Gypsy dance@bigbspoilers #BB19 pic.twitter.com/hrpcE84iab

— Dawg (@DawgsBigBrother) August 14, 2017

8pm Paul in the bedroom by himself without Christmas. (Christmas is out having the Outback Steakhouse dinner) He stretches some boxer/briefs and says that will do.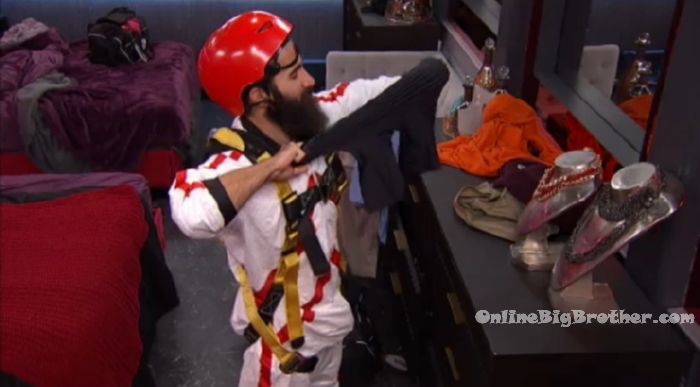 8:30pm – 8:40pm HOH room – Paul, Raven, Kevin and Josh.
They talk about how Cody farts and burps in front of everyone including Jessica.
If you plan on buying anything from Amazon. Use this link Amazon home
Doesn't cost you anything and we get a small cut.
Links to the ranking system
Rank your house guests here
For those of you that like Statistics here are some expanded reports.