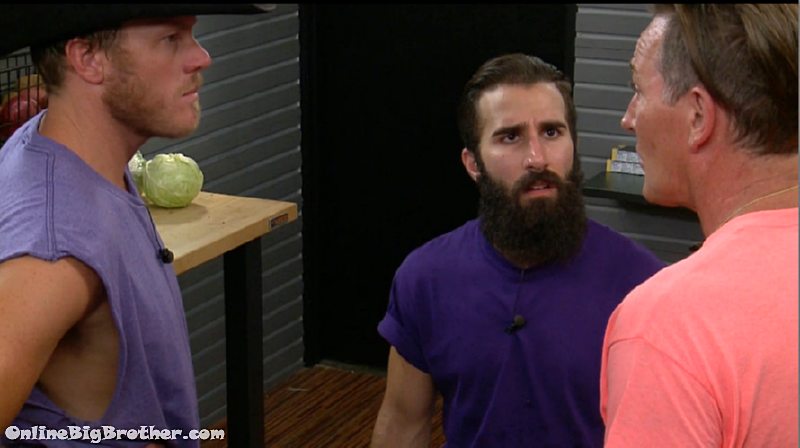 3:00pm Kevin who she's going to nominate know Mark f*ed things up…
Paul – no he didn't
Kevin – she was going to nominate Mark and Elena.
Paul – who cares he can put up Elena and someone else
Jason – yeah Elena and someone else.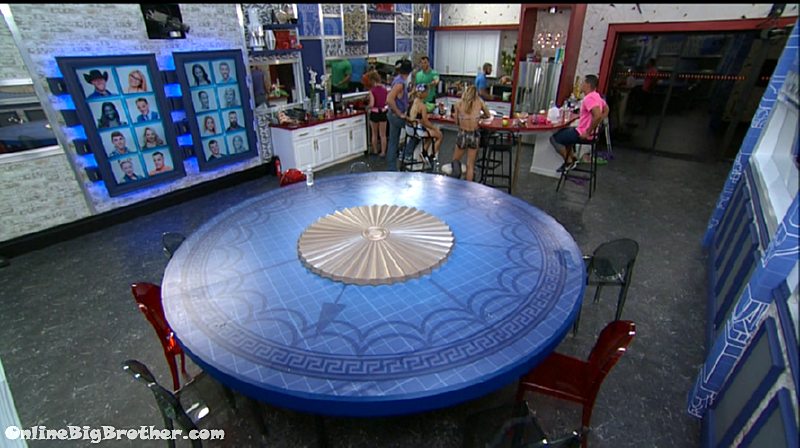 3:05pm Feeds back.. Pastel t-shirts.
Mark won the Temptation Matt Lost the temptation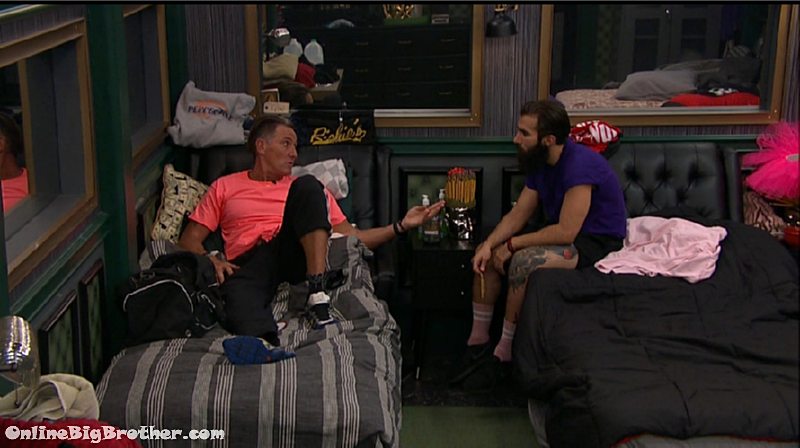 3:07pm Paul and Kevin
Paul asks why he's freaking out.. "what should we do what are you thinking"
Kevin – you have to put up a good player to win POV.. you have to put up a good player. (to beat Cody in the veto)
Paul- who
Kevin – I dunno ..
Kevin says you have to put Elena up "Just to f* with her.. make her pack her things again"
Kevin – you could play.. you wanna play
Paul – I'm not putting myself up
Kevin – We got 4 people we got Josh, Me, Jason, and Christmas there's only 7 voting
Paul- still… ahhh .. .after what happened.
Kevin – then put up the 2 girls again and hope he doesn't get picked again..
Kevin – if he (Cody) gets picked Matt's going home..
Paul – Elena
Kevin – you want another girl to go.. the TV is going to stop watching a bunch of bully guys
Paul – yeah..
Kevin – He's not going home he can go to Jury and drink
Kevin complains that Alex hasn't been talking to him much, points out that she always talks to Jason.
Kevin says Jason has Alex and Kevin has Paul..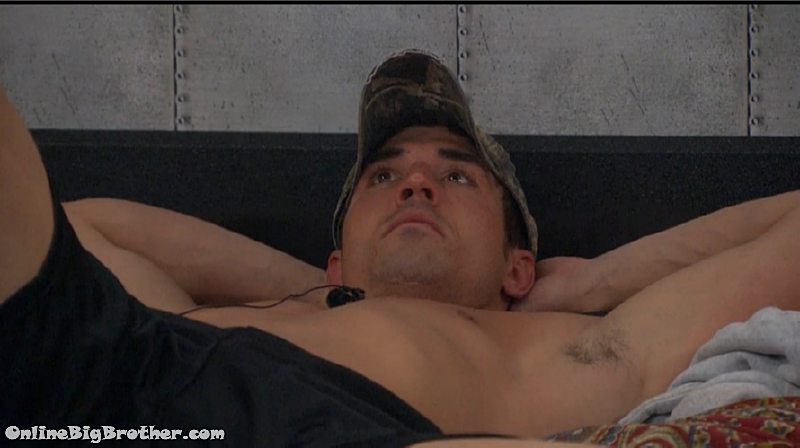 SAd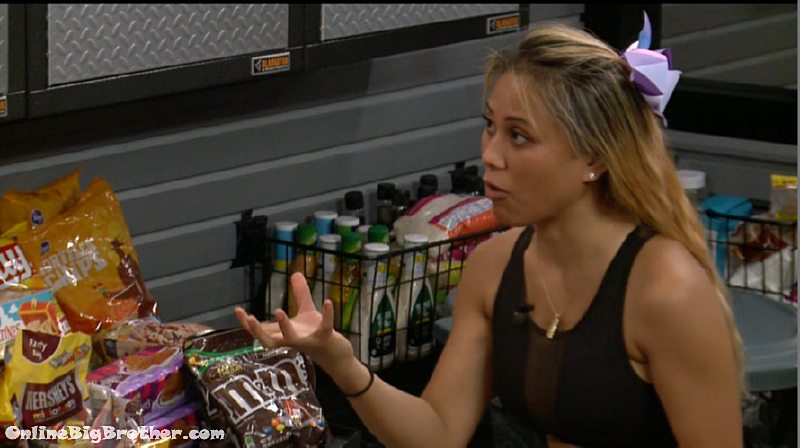 3:19pm Storage room Alex and Jason
Alex – should we put up Paul and Elena..
Alex says that's the best way to win the veto
Alex – that's the smartest bet put those 2 up.
Alex – if I put you on the block next to Elena it makes it looks fair.. (DIE )
Alex – we have two options what do you want to do..
Jason is worried "on of those f*er" would flip on Paul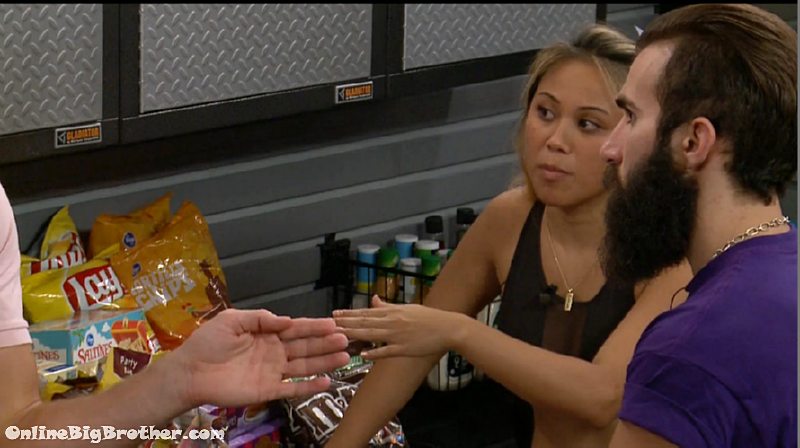 Paul comes in wants Josh up.. they tell him it has to be someone strong to win the Veto.
Paul wants Jason to go up.. "I'll owe you dude"
Paul warns them that Kevin is freaking out..
Alex – we need to know who's on the block this second.
Alex leaves..
Paul going back to warning him about Kevin..
Jason – the fool thinks he's going up.. why the f* would he be worried..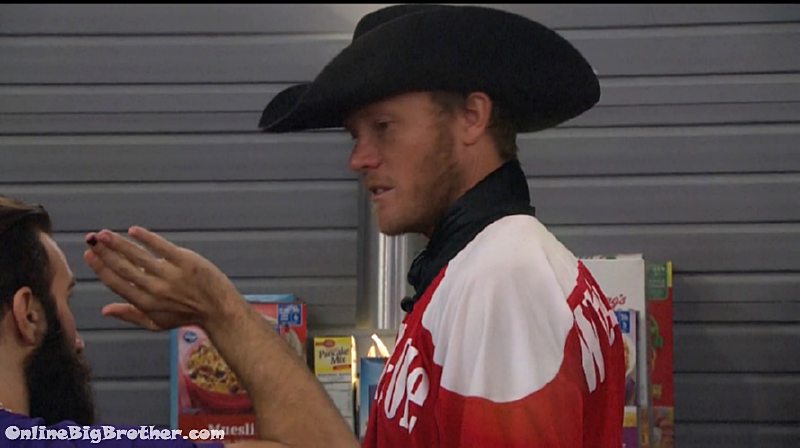 3:33pm Jason and Paul
Paul weaseling his way off the block..
Jason – if she puts me up that's fine.. so it'll be Matt.. Me and Her which I'm fine with..
Jason says he's 100% fine with going up..
Paul – you sure.. cause I don't give a fat f***
(is it Kraken time?)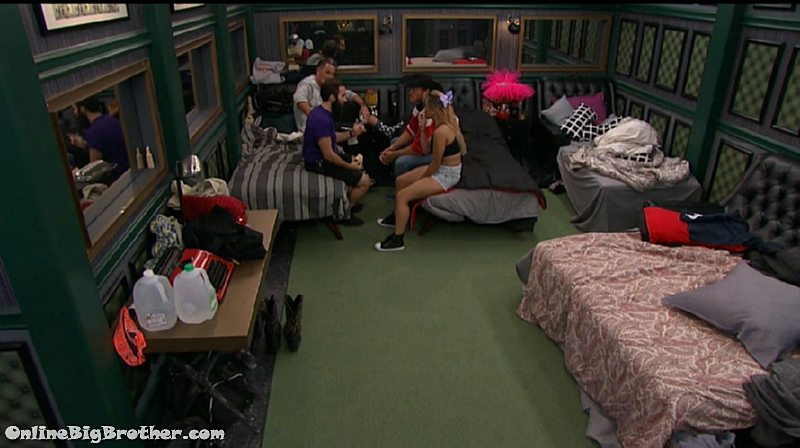 3:34pm
Paul – we talked about it and..
pretty much Paul wants Jason up instead of him because it will calm Elena down.
They decide Elena and Jason going up..
JOsh and his "team"
Josh – look what I got you
Paul – Josh, go over there YA just so it's not 5 people
Jason – watch the gap.. pic.twitter.com/UyMGBcjaSi

— OnlineBigBrother.com (@bigbspoilers) August 11, 2017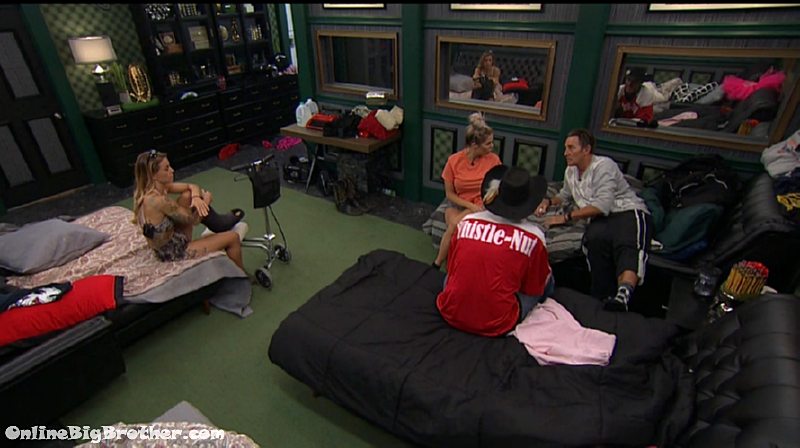 3:41pm
Elena says if she goes home this week she spends her birthday alone in Jury
Kevin tells her 100% Elena is not going home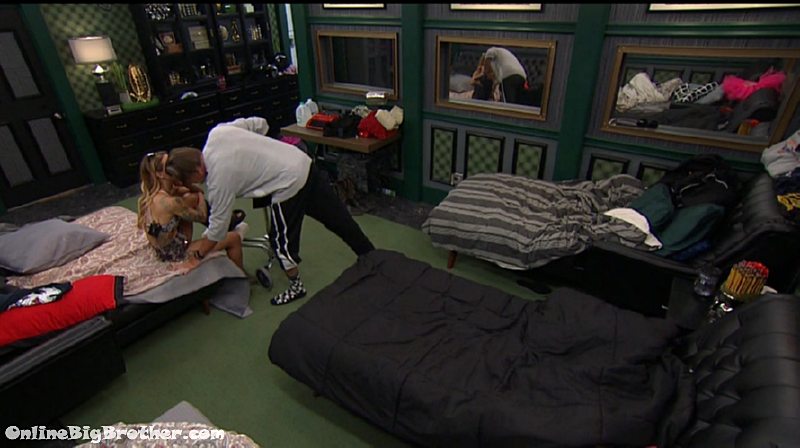 3:40pm Christmas and Kevin
Kevin – If Cody wins POV Matt is going home not Elena..
xmas says raven is pissed already because Matt threw the temptation competition.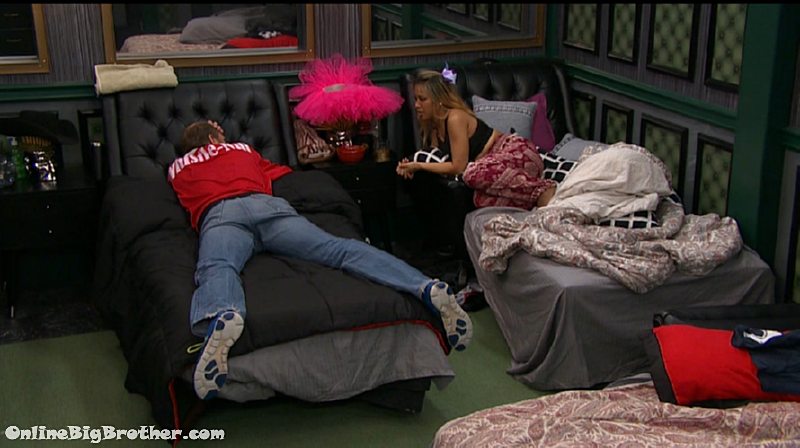 4:04pm Alex and Jason
Alex – this one time in band Camp..
Alex – Kevin isn't as good as we thought with Dates and stuff.. He can't remember sh1t
Alex – I'm telling you he's becoming dead weight and he's irritating the sh1t outta me
Production – Jason please do not obstruct your microphone..
Jason – suck it
Alex is pissed at Kevin says "He expects us to carry him and include him in all our plans and he doesn't contribute anything.. if it was my choice I would throw him up there but he's not guaranteed anything"
Christmas joins them.. Alex tells her Jason and Elena are going up Cody going out if Cody wins Veto Jason isn't going home.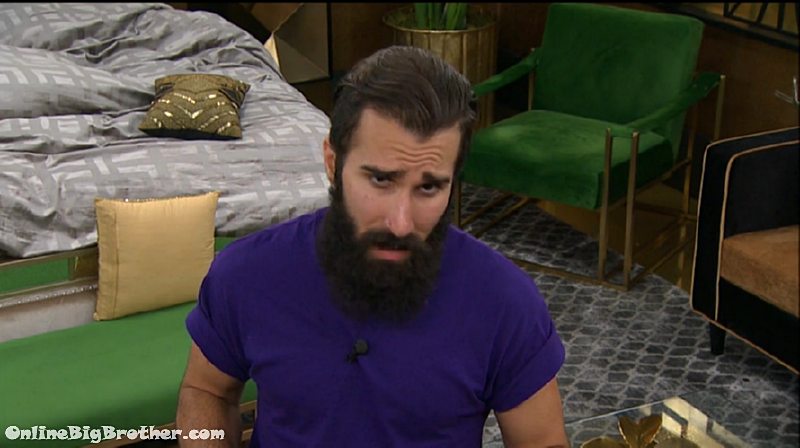 4:11pm Paul and Alex
Paul is saying that Kevin is being weird "you need to put his a$$ in check"
Paul tells her that Kevin is saying that Jason and Alex are together like Paul and Him are together. (If Paul starts turning on Kevin … yikes 🙂 )
Alex – f*ing red flag..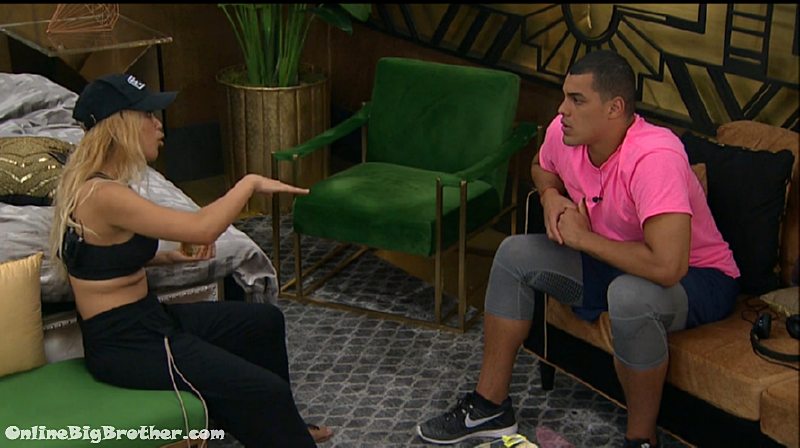 4:16pm Alex and Josh
Alex says Cody is being backdoored
Alex tells him they'll have 2 pawns nominated for options and one safety that's on their side.
Josh is freaking out that Raven was pushing hard to have him go up as the pawn
Alex tells him that Raven will want him out
Josh says Christmas and Kevin can't stand raven
Josh is now stressing that Jason might Fall for Mark.
Alex assures him Jason isn't.
JOsh thinks Mark is gunning for him.
Alex is positive Mark is gunning for Josh.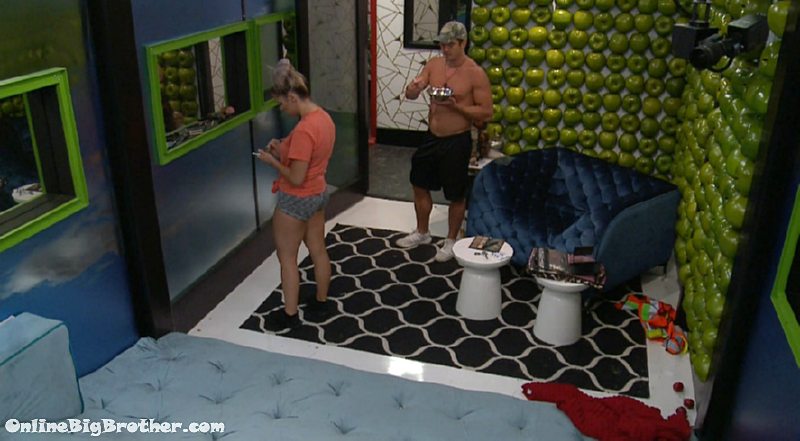 4:36pm Elena, Mark and Cody
Elena says he's getting BAckdoored
Cody says it's been obvious..
Elena – if you win Veto will you take me off the block
Cody – F* yeah..
If you plan on buying anything from Amazon. Use this link Amazon home
Doesn't cost you anything and we get a small cut.
Links to the ranking system
Rank your house guests here
For those of you that like Statistics here are some expanded reports.