POV Holder:
Christine
Next POV
March 5th
POV Used
No
POV Ceremony
March 7th
HOH Winner:
Jared
Next HOH:
March 10th
Original Nominations:
Loveita and Sharry
Current Nominations:
Loveita and Sharry
Last Evicted Houseguest
Paige
Have Nots
Loveita, Sharry, Joel, Cassandra
Help Support Online Big Brother
Show your support and appreciation to help keep the updates coming: Support OnlineBigBrother.com
Use the Hide My Ass VPN and watch the live feeds on your mobile phones and tablets. One subscription pays for all. It works on any device. Including internet enabled TVs and games consoles. You can even use it on two devices at the same time. HideMyAss VPN
ALLIANCES IN THE HOUSE
There will likely be a lot of alliances during the season – keep track with our alliance help guide.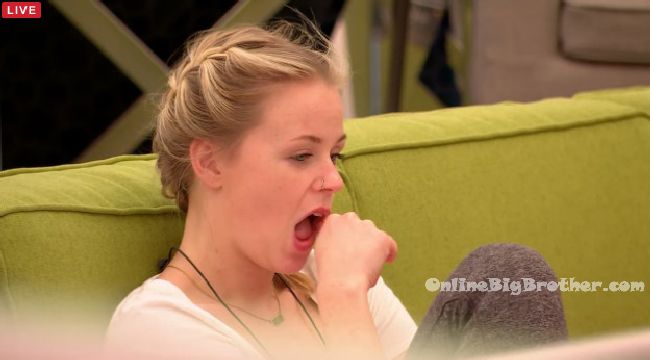 5pm Maddy and Ramsey are hanging out on the couches. Maddy says Jared's way to good for her (Kelsey). I hate how pretty she is. Ramsey says yeah that's called jealousy. She only really has nice eyes. I don't like blondes. Maddy says but I'm blonde. Ramsey says you should make your hair darker. Maddy says I think Christine is pretty fake too. Ramsey says I like that you say that. Maddy says Christine hates Raul but she's so nice to him. Maddy says that Kelsey is a dumb player. Once that three-O is split up she's useless. She'll vote herself out. Right now the brothers, Jared, Kelsey and Raul. Ramsey says I can't stand Cass! Maddy says no one likes her. Ramsey says she has Tim around her finger. Maddy says No, that's just game. Yeah, Cass is pretty f**king annoying. Christine is smart and she likes me, you and Dallas.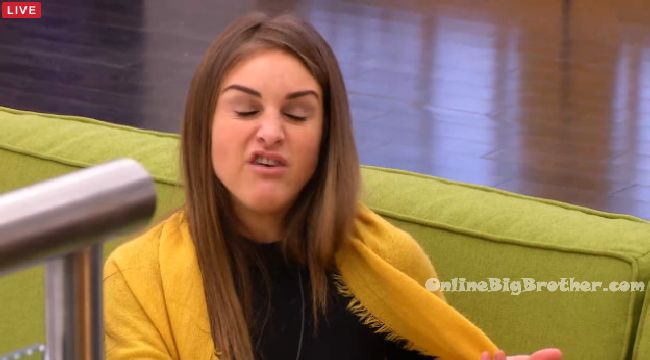 5:40pm Tim and Nikki are talking outside the HOH room. Nikki says I'm so angry about my feet being destroyed. (Infected blister) She talks about how she waited for the animals to leave the kitchen and when I go down there ..guess who arrives. (Raul) And I'm in the way. That really annoyed me. I f**king hate that hyena. AHHHh I f**king hate this house!!! Soon able to cook what I want, when I want, on my own!!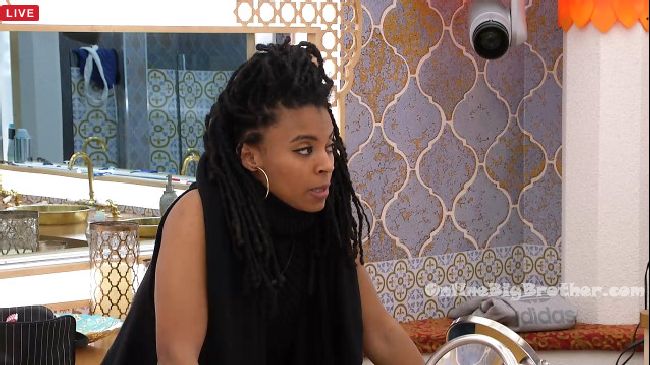 5:45pm Bathroom – Mitch and Sharry are talking about the jackpot lights. She says that she will check the havenot room and the HOH when it goes off again. Mitch doesn't think it would be in the HOH room since it would be an unfair advantage for the head of household. Sharry says I want that sh*t so bad!! What if its something that can save me. Loveita joins them.

5:50pm – 6pm In the bedroom – Raul is painting Phil's toenails. Phil says that sleeping with Christine is a comforting feeling. Like I've never had that with a girl before. Ramsey says whoa now! Phil says not in that way. Ramsey says she has a calming motherly presence hey Phil. Phil agrees.

6:50pm
The house has been fairly quiet. The house guests are lazing around chatting about random things. In the pink bedroom – Mitch and Sharry are searching the bedroom for anything associated with the Jackpot lights. In the HOH room – Cassandra and Kelsey have a bath together. Raul is straightening Jared's hair.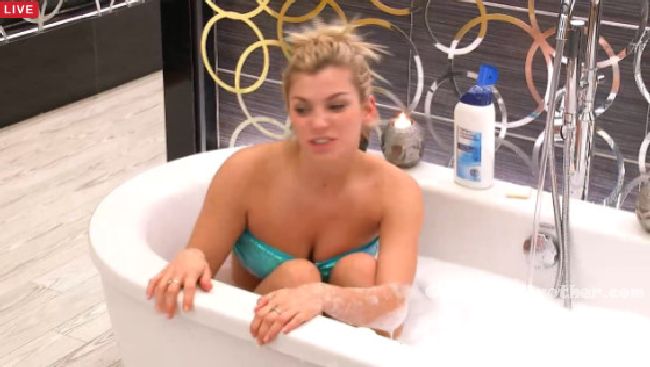 7:05pm The Jackpot lights and sounds start going off. Mitch and Sharry check the bathroom, bedroom and havenot room but find nothing.

7:30pm Raul finishes straightening Jared's hair.

Jared's new hair style @bigbspoilers #bbcan4 pic.twitter.com/WBvTYAWarA

— Dawg (@DawgsBigBrother) March 10, 2016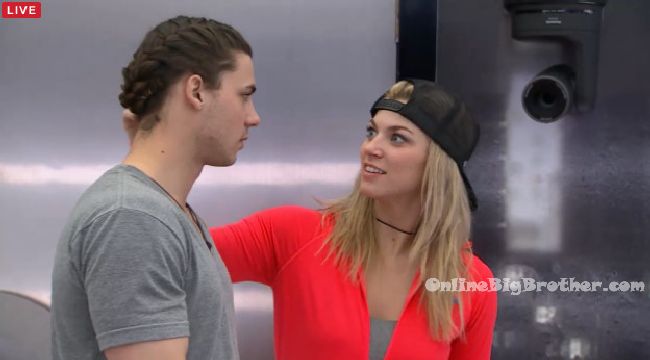 7:45pm – 8pm In the living room – Tim, Mitch, Loveita, Joel and Ramsey. Tim talks about his Australian season of Big Brother. Tim talks about how he brought along his enemy because he needed Australia to want to keep me. "I wasn't the underdog, I was the manipulating puppeteer."
8:20pm – 8:35pm Loveita, Kelsey and Jared are chatting about random things in the hot tub room. Raul and Joel join them. In the kitchen – Nikki says that she wants vodka. Tim tells her he doesn't think that a good idea for her. Nikki says don't say that! Nikki says that she wants her own fridge and then says she misses her kitchen. She says she's just whining because she's irritable.
8:35pm – 8:50pm Phil says he would love to get the HOH next week. It would be wicked nice! Nikki and Ramsey join them. In the backyard – Cassandra talks to Loveita about her votes and says she has Joel, Kelsey, Raul, Nick/Phil, Tim, Cassandra, Nikki vote. Loveita says she doesn't have Nikki and Tim's vote for sure.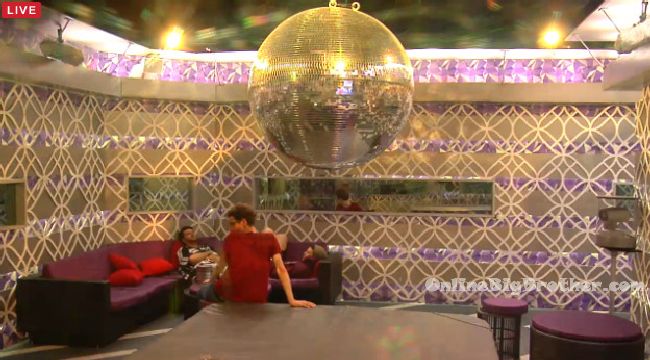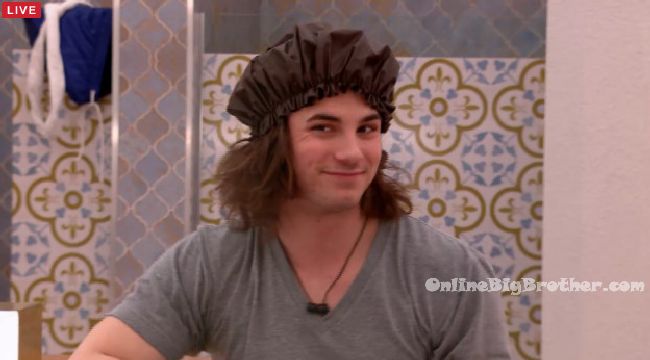 9pm Hot Tub room – Phil, Tim, Mitch, Raul, Joel, Ramsey and Nick are hanging out chatting. Its a quiet night in the big brother house. Phil and Kelsey start tossing a lemon back and forth in the backyard.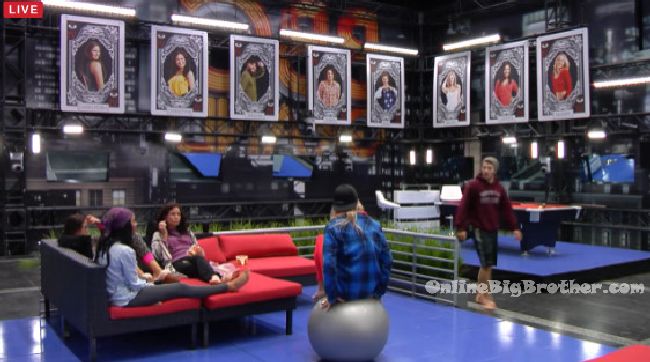 Want to watch the Big Brother Canada 4 live feeds but live outside of Canada?
Bypass the geoblocking with HideMyAss VPN and be Canadian Anywhere: VPN Help Guide
Help Support Online Big Brother
Show your support and appreciation to help keep the updates coming: Support OnlineBigBrother.com