POV Holder:
Jared
Next POV
April 9th
POV Used
No
POV Ceremony
April 4th
HOH Winner:
Raul
Next HOH:
April 6th
Original Nominations:
Joel and Mitch
Current Nominations:
Joel and Mitch
Last Evicted Houseguest
Paige, Sharry, Christine, Kelsey, Loveita, Dallas
Have Nots
Joel, Ramsey, Brothers and Maddy
Want to watch the Big Brother Canada 4 live feeds but live outside of Canada?
Bypass the geoblocking with HideMyAss VPN and be Canadian Anywhere: VPN Help Guide
ALLIANCES IN THE HOUSE
There will likely be a lot of alliances during the season – keep track, read our alliance help guide.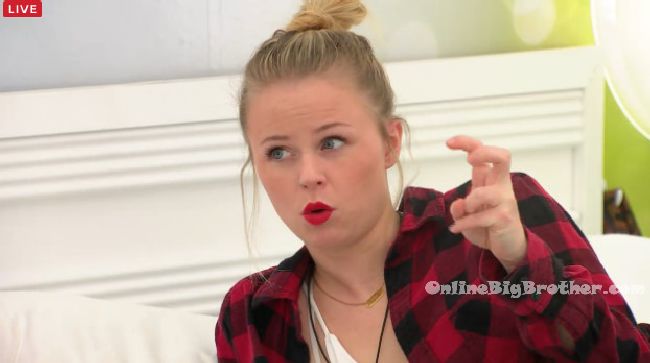 1pm – 2:15pm In the bedroom –
Mitch tells Maddy to be careful with them. They play people to get information. Be careful what you say. Like want information you give out. Maddy says Jared and Kelsey approached me and Ramsey saying that they wanted to work with us. And that we're to still pretend we're going after each other. If you really wanted to keep this rivalry why would we vote with you. Maddy says F**k no am I doing a final four with you f**k heads. Mitch says that's something that could be used to tell the brothers. I wouldn't be surprised if they were doing the same thing with the brothers. They're creating a false sense of security. Why do the brothers see so secure? They're probably getting the same deal. The brothers just need a reality check! Maddy says f**k.. once they're on the block they'll get their reality check. Mitch says if we can use that to convert the brothers… They're (Jared/Kelsey) trying to set themselves up for when you/Ramsey or the brothers win HOH so they're in with you. If I'm not here, work with Tim. I think he would want to work with you guys. He's not with them. He's his own player. He's very smart. Actually to convince Tim that its not the safe decision, its to shake things up. My argument to him isn't that I'll keep him safe, its that its going to be a sh*t show. Maddy says that Joel will do whatever anyone tells him to do. Mitch says Joel will go wherever the power is. The incentive to keep me, is to go after the threesome. Maddy says even if there was a double or a triple there is no doubt in my mind I would be putting them up. (Jared/Raul/Kelsey) Mitch says I want revenge so bad!
2:15pm – 2:45pm Nikki joins them and brings Mitch a bowl of soup. Nikki tells Mitch and Maddy that she's going to work on Phil. She tells them that Cassandra thinks she's so in with them. Mitch says the only way you be sure that it won't be you that goes up next week if they win is if I am still here. Nikki says I would give anything to get HOH next week. Maddy says she wants it so bad too. Nikki says I so could have gotten the last one. I didn't know we could use two hands. Maddy says I guess what's best for me and Ramsey is that we keep our "relationship" with Jared and Kelsey to stay under the radar with them. Mitch tells them to keep it a secret about the final 4 deal until tomorrow night because that could be used to get the brothers.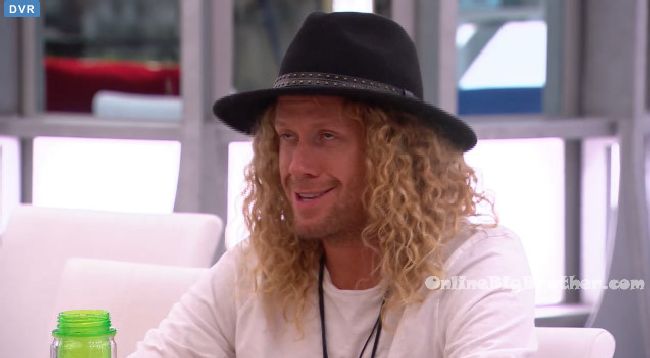 3:10pm In the havenot room – Maddy tells Ramsey she told Mitch about how Jared/Kelsey want to work her and Ramsey. She says that Mitch said if it comes down to the wire on Wednesday night we could use that to get the brothers on our side. Ramsey says he thinks Cassandra will vote to keep Mitch. Maddy says I f**king doubt it. Ramsey says right now his first thought is to not use the information. Maddy asks why are you doing this with Jared and Kelsey it doesn't give us anything. Ramsey says it buys us another week.
4pm The house guests are lounging around. Raul is in the kitchen cooking "restaurant quality food"
4:30pm – 5pm Ramsey, Nikki, Maddy, Phil, Nick and Raul play the freeze game in the backyard.
5:15pm HOH room – Jared, Raul and Kelsey. Raul says I feel so bad for Mitch right now. Kelsey says I do too. Jared says he's doing it to himself. I don't understand how I had the power of veto and he didn't talk to me once. He had two routes talk to me and convince me to save him or the house will save me. Kelsey says if the house saves him then we know they're all after us. Raul says I okay if they f**k me over and send me home. I've gotten what I came here for.
5:30pm Hot Tub room – Joel says I don't know if Maddy and Ramsey are going to go along with it and make it a 5-3. Even if it is a 7-1 I know who had my back and who didn't.
6pm – 6:25pm In the bedroom – Tim and Cassandra are talking. Cassandra says lets start stealing things. Those guys can only eat maple syrup lets dump it all out. Tim says there's only a day left, lets just hide it. Tim says lets just start messing with peoples minds. They plan to set up both Maddy and Nikki so each thinks the other took something of theirs. Tim says I'm happy to live like this the rest of the time .. away from the group.
6:40pm In the living room – Joel tells Nick and Rual that he has Nick, Jared, Kelsey, Cass and Tim's votes. And in the event of a tie you (Raul) would break it. Joel says I'm not going to run around if I don't need to. I know for a fact those two (Maddy & Ramsey) want me out but they don't have the votes. Joel asks if Maddy likes Ramsey for real? Nick says no just like for me it wasn't. Joel says for Ramsey I think he thinks its real. Nick says that girl couldn't work quietly with someone even if she wanted to.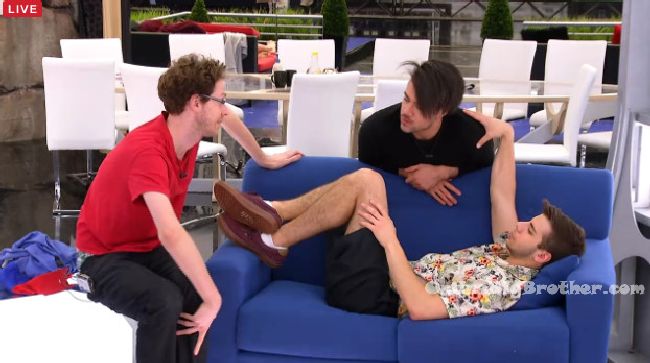 7pm The house is pretty quiet. All the house guests are bored /

Joel sums up today's live feeds @bigbspoilers #bbcan4 pic.twitter.com/HH9dU1jwRp

— Dawg (@DawgsBigBrother) April 5, 2016
If you're using an adblocker, PLEASE consider disabling it for onlinebigbrother.com by adding us to your whitelist. This is very easy to do: simply load www.onlinebigbrother.com in your browser, left click the adblocker and click "disable for this site"
Use the Hide My Ass VPN and watch the live feeds on your mobile phones and tablets. One subscription pays for all. It works on any device. Including internet enabled TVs and games consoles. You can even use it on two devices at the same time. HideMyAss VPN
Share it YO!!
Tweet