Quick Big Brother Spoilers
Head of Household:  Michael
Nominees: Terrance, Monte & Joseph
POV Players:
POV Winner:
Veto Ceremony:
Havenots:  None so far
Lock your ranks in before midnight
Festie Besties:
Turner & Jasmine
Joe & Monte & Terrance
Daniel & Kyle
Brittany & Michael
Alyssa & Indy & Taylor

5:14pm – 6:04pm Big Brother switches the feeds back to the kitty cams. It sounds like the feeds were blocked just to bring in a larger eviction couch for the three nominees.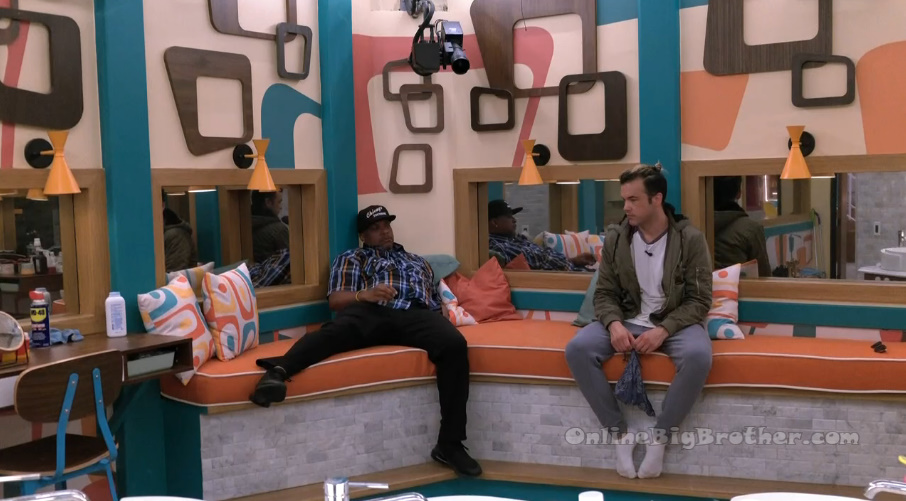 6:05pm – 6:30pm Bathroom – Terrance and Daniel.
Terrance – so I think the best case scenario ..you play in the veto and win that motherf**ker and keep nominations the same. Or convince him (Michael) that whoever wins it, do it (leave it the same). Daniel – convince them to leave it the same? They'll never have two powerful players up again. Once this is over .. never again. Terrance – if you get them out now its easier. Why wait? You got them on the line. Daniel – if you break one of them off, I don't think that alliance would be as strong as it is. Of the three, there is no reason why anyone should want you out. Terrance – Yeah I know. Daniel – I would lose my mind if you're out of here. I would be done! Terrance – I still want to make sure that I protect that backdoor so the best option for me right now is to leave nominations the same that way we can both stay safe. Daniel – Hopefully I get picked (to play in the veto). Terrance – yeah I pray to f**k that you get picked and that you win it. Or that he (Michael) f**king wins it. Daniel – because then he can make a huge move. We will talk when we see who gets picked. Cause if its a team thing, I don't know if you're willing to but you could probably mess it up. Terrance – you think I won't?! Daniel laughs. Daniel – and Kyle is scared of going up too. Because he knows if I say I am alone, they would know he's teamed up and send him home. Terrance – if I see an opportunity to sabotage.. Daniel – that would be insane!!! Terrance – and it wouldn't be that difficult.. have I won anything!? Have I been a comp beast!? You f**ked up! Damn! Oh well fellas we lost again. Daniel – you've done it once and you guys weren't even trying. He could have easily put me up but everyone was like backdoor Daniel ..and I'm like for what!? Who do I have? Stop?! Terrance – if you win it.. Daniel – I could keep it the same and Kyle would do the same.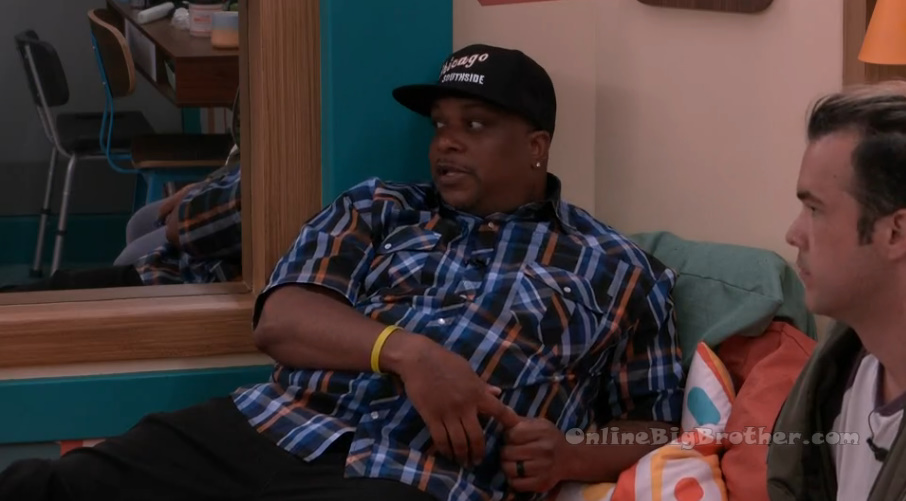 6:28 pm Alyssa playing for the camera
6:44pm Living room – Turner and Monte.
Monte – I would love to squash things with him and explain last week but at this point he is so desperate I'm sure he would take that conversation and run around the house saying Monte said this that and the third. I am not going to play that game. We can just play it cool and then on eviction night I can just pull him aside and say here's what happened and then when he is outside the door he knows exactly what the deal is. Like I sort of did that with Nicole where I just had an honest conversation like here are the times you lied to me and I caught you red handed. This is why people are looking at you very suspect. And she was like I respect that. She said her intentions were this that and the third. But even when she was explaining her intentions, she was still lying. Turner – yeah totally. Monte – because I knew that she had another alliance that she was more loyal to but she wouldn't admit that. She was like your family probably won't like be after this week.. I was sh*tting on you in the DR. Big Brother switches the feeds.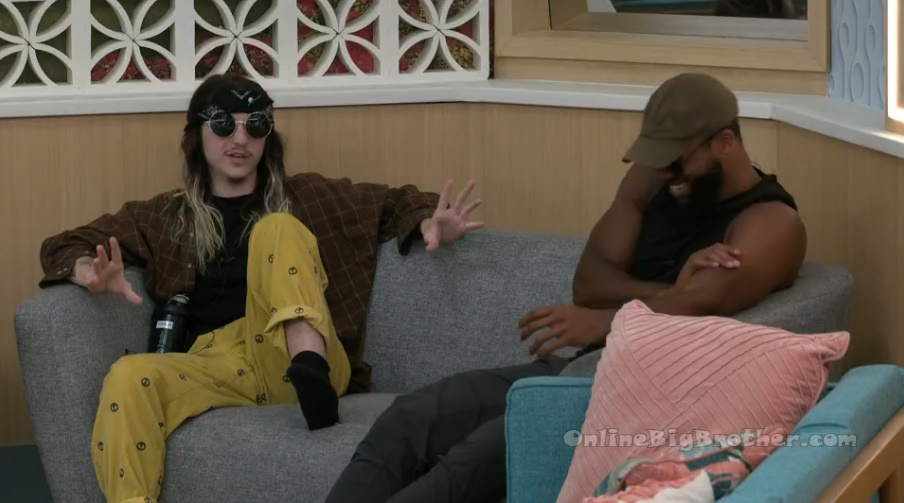 7:24pm Bedroom – Indy, Alyssa and Kyle.
Indy – do you think there will be that battle back thing? Kyle – no. Alyssa – no, especially since they've been pressing us for Ameerah's stuff like her shoes.
7:45pm – 8:08pm HOH room – Michael, Brittany and Taylor.
Brittany – its going to be weird once we get past this Festie Bestie to be playing individually again. Its just been such a big part of our Big Brother experience. Taylor – its a lot to think about .. we still have an alliance to manage. Even then who would you .. Kyle, Joseph, Monte, Turner… I think I want to wait another week until I dive into how the cards fall there. Because we've got to see who Monte and Joseph operate in the veto and Turner is not just a wildcard but that dude is a shark! Like we can't just assume Turner is a safe.. right!? Brittany – anything in particular that makes you think that? Taylor – his mind.. like if there is a mental comp.. Michael – the way that he just spits out percentages. Taylor – have you seen him do mental math? Quickly & effortlessly. Brittany – that is just so amazing to me because he is so artistic.. usually you're left or right brain.. but it seems like he is both. Brittany – I can tell you right now Joseph will band together all the girls .. he already has Indy and Alyssa. Taylor – I do think that Kyle is as goofy and no where as he seems. Michael – I don't know, I think he's smart. Taylor – he almost won (HOH). Michael – this week would have been very different Daniel would have been off limits (safe). Taylor – did he not think that through? Did we not tell him? Should we have told him? Are we in a position where we need to start telling people you need to throw this comp / you need to win this comp. Brittany – at least this week we have enough non-leftovers to take out instead.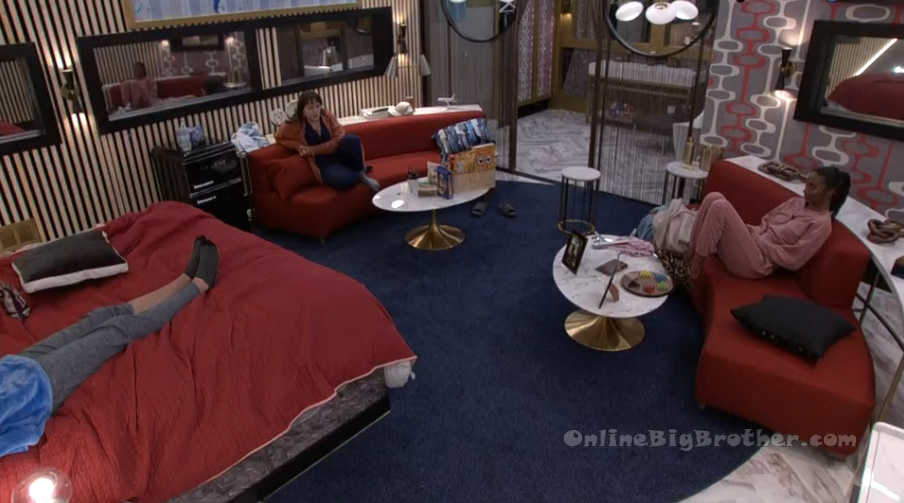 8:40pm – 9:13pm HOH room – Michael and Brittany.
Brittney – it feels so good you being HOH and like I don't know sitting in this room and feeling comfortable. Michael – and not feeling like you're going home feels so good. Brittany – and the thought that we might be in jury is huge. You have to make a lot of big decision this week but I am like what can I be doing to make sure we're safe next week. Michael – if things stay the same and Terrance goes, that leaves 5 pairs which is a little bit of a cushion for us. Brittany – if they bring anybody back I am just going to cry. Kyle joins them. Michael – I think because everyone is so on Daniel going which is good in a sense but also sucks because there is no incentive to share information. There isn't really any incentive to share information if everyone wants the same person. Kyle – any whiff of a possibility that I could go home? Michael – no. Brittany – we were counting that out .. we just don't see anyway that would happen. Kyle – I know its just this season has just been so up in the air its just so hard to bank on anything. Michael – but if you do get picked for veto, I don't want you to throw it. Kyle – that's what is just so hard.. just the fundamentals of big brother like if I have a chance to take it and guarantee myself safety .. I don't want to be the guy that makes a blunder. Brittany – Daniel is a volatile person.. not that he will be successful with anything. Michael – Taylor brought up .. would it be the worst thing if Daniel was in jury? Because he is going to vote on gameplay. She is not saying she wants him to stay but even if there is a sliver (lol way to make Kyle feel better that the potential to keep Daniel is possible.) Kyle – like send me out? Michael – no, like send someone else out. Not to send you out. Brittany – not like more if we avoid that situation all together. Kyle – And I don't think you set it up like Monte did last week where he said there was a backdoor target.. maybe Terrance goes home and you don't upset anyone in the house. Turner joins them.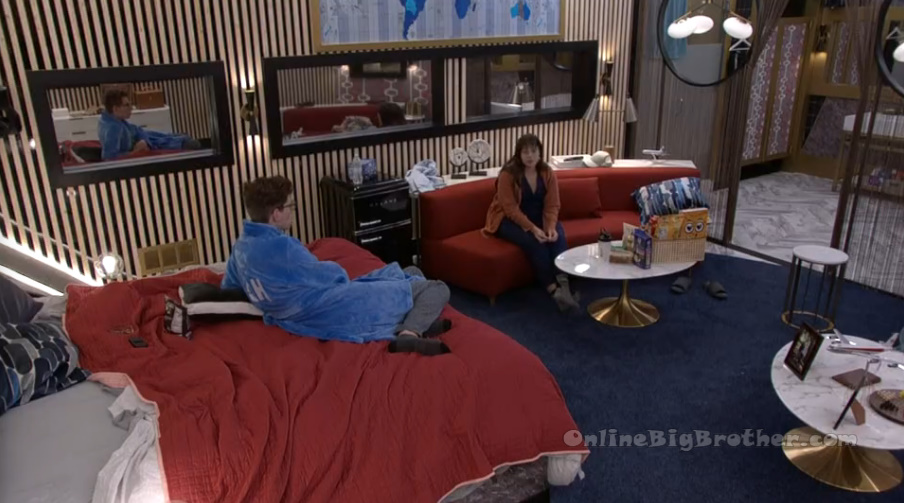 9:20pm HOH room – Chinese Checkers time (Michael, Kyle, Turner, Alyssa and Brittany)
9:36pm Kitchen Table. Terrance and Jasmine.
Jasmine – I keep forgetting your on the block again. How you feeling about that? Terrance – F**ked up. To me it wasn't the smartest move to do. Jasmine – wait, why? Terrance – who are you trying to get out? Jasmine – I think its obvious? Terrance – you wouldn't have done it directly? Jasmine – Because it makes it seem like y'all weren't the targets. Yeah. But in reality if it doesn't go well .. then the noms will stay the same and then you have to pick a new target. I promise you, you are no where in their mind. Terrance – okay. Jasmine – no where and that's between me and you.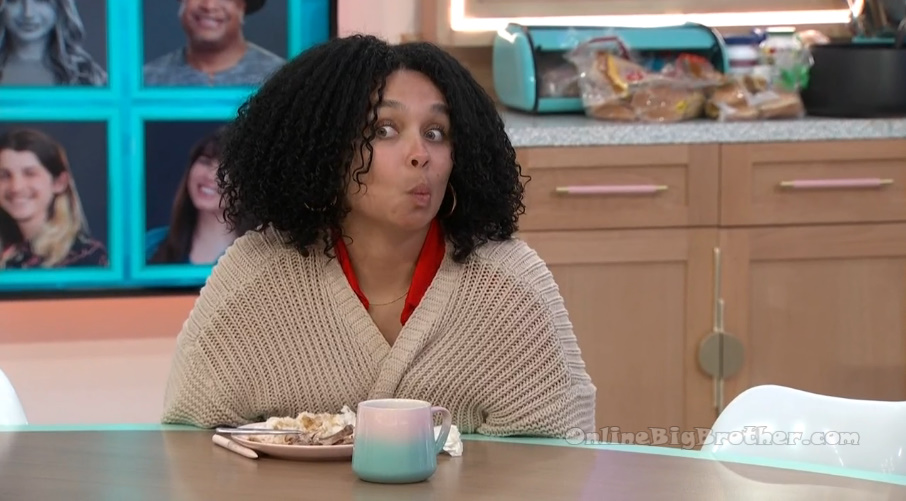 10:08pm Bathroom – Monte and Terrance.
Monte – I'm going to try and win the veto. We all should. Terrance – I am trying to stay safe as long as I can. Monte – oh we coming off. We coming off Bro! I think regardless we are. Terrance – okay, I just wanted to make sure the smoke was going in the right direction. I just don't want it to be blowing our way. Monte – no, no, no, I don't think so. Terrance – I just dont want it to be the overlay for the underlay. We have to win it. I don't want Mike to win it. Because if they play games or motherf**kers talk.. I don't want to put us in that situation.