POV Holder:
Vanessa
Next POV
July 18th
POV Used
Yes
POV Ceremony
July 20th
HOH Winner Team 1:
Liz
HOH Winner Team 2:
Shelli
Nominations 1 :
Jackie & James
Nominations 2:
Jason & Johnny Mac
Battle of the Block Winner
James and Jackie
Next HOH/ Next BOB
July 23rd / July17th
Original Nominations:
Jason & Johnny Mac
Current Nominations:
JohnnMAC and Audrey
Have Nots
Jackie, Audrey, JohnnyMac and Becky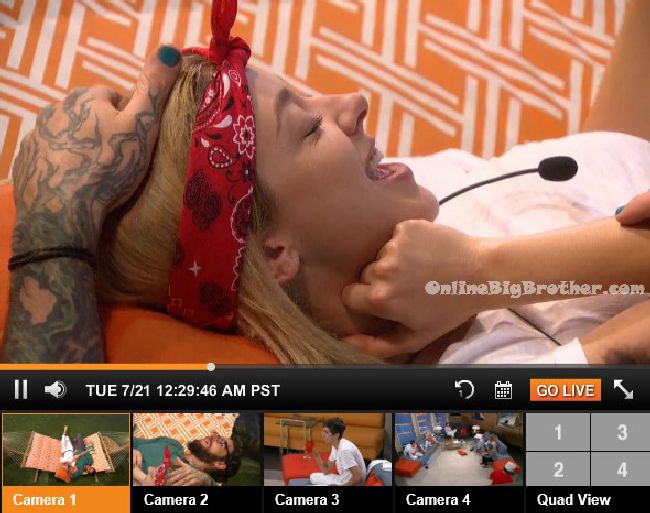 TRY the Big Brother 17 Live Feeds FREE for 1 WEEK:
Click here to ensure your live feed subscription supports OnlineBigBrother.com at no extra cost to you.
12:20am
Austin and Liz are in the hammock. Liz says I can't believe that they think that you don't know. Austin says I think Jason knows and has figured it all out. Its okay I think it actually plays into our hands. It would be more obvious if I wasn't trying to hangout with you. Now it looks like I am caught in this emotional thing and I'm vulnerable so he can work with that and Jason can work with me. So I can go to him looking for advice about how when you leave I get all upset. Liz says I know, eventually we have to play it up. Austin says its a whole f**king love story like I get torn away from you every 3 days. It's perfect I go to them sad. I can tell them that you finally were able to open up to me and tell me about it. There's a lot of ways we could play it but I think we need to be proactive about it. Austin says we can't get blindsided. Jace-style. Liz ask when is top 10? Austin says after Audrey so two more. Liz says we need one more person that is super secure. Austin says Jason. Liz says yeah I love Jason. Austin says we could both talk to him and tell him. Liz says I can tell him I saved you last week so I hope you keep me safe this week. Ausitn says I like him a lot. Maybe I approach him and tell him about it. Liz says right then he will tell other people. Asutin says He's a big fan of the show so he'll know that no one likes it when you get rid of the showmance couple, like you have to keep us in. Liz says but what if he doesn't win HOH then we told him for no reason. They talk about what their name would be Liztin / Austiz. Liz asks who do we tell Jason or Johnny Mac.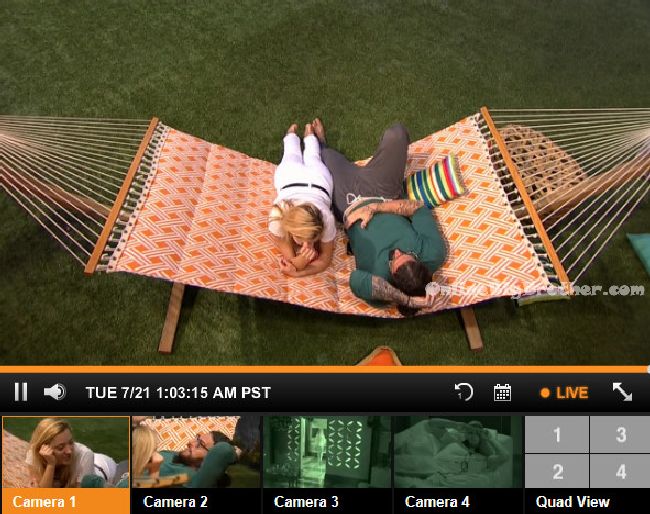 12:35am James says she was like this last time. She didn't want to get out but this one is a little bit worse I think. Jackie says she's sleeping on the floor in the havenot room. She doesn't have to do that, you know. James says she'll probably just sleep in a bed. Jackie says well if she's eating. They let her eat whatever and do whatever then.. Big Brother switches the feeds to a different camera. When they switch back – Becky is talking about who to put up if they win HOH. If a person that hasn't been winning gets HOH then they could put up whoever put them up. Becky says I know I said I wouldn't put you up but.. James says it makes my decision a lot easier. James starts using a spoon and flicking grapes at the house guests in the living room.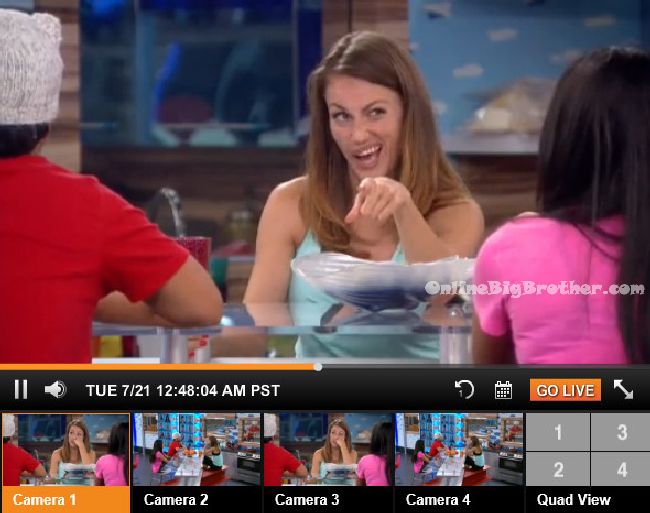 1:10am HOH room – Clay tells Shelli about how they (DR) asked him to talk about his conversation with Audrey yesterday in the backyard. He says he's irritated about it. She is just so unappreciative of people helping her. I feel for her situation but I don't feel for her. I feel bad that I don't feel bad. You can only do so much to help someone. I feel like a bad person for how she is acting in this situation. You did this to yourself. And the hope that she isn't in control of the situation. That is the only hope that I have to hanging out with her outside of the game. Shelli says it does become personal when you establish a friendship with someone and then they betray that trust. You connect with people on a personal level but then you also have to play this game. You have to also remember that we knew that people were going to lie to us. Clay says I understand that but when its the people that you risk your game for. I don't know if she realizes how personal it feels. Shelli says its obvious she is taking it way more personal than anyone else would in the house. Is she that affected by this? Clay and Shelli get into bed. Clay comments on how Jackie, Becky and James are hanging out a lot. And Johnny Mac is close to Becky. They might form something. Shelli says and our side is falling a part because of Audrey.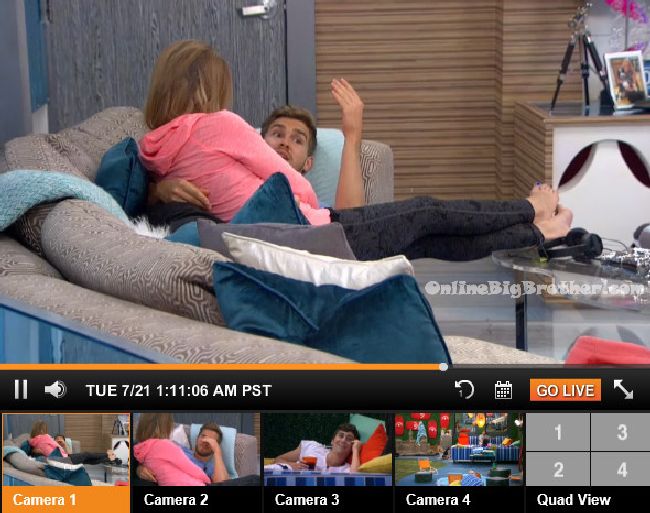 1:15am Backyard – Steve says he feels bad for Audrey. Jason says its life Steve, you can't help everyone. Steve asks do you think this is a campaign for her? Jason says no I think this is far more than that. Unless she is trying to mist everyone. I don't think this is a campaign. Jason says they wouldn't take away the havenot rules from her.. Steve asks if this was a campaign? Jason says if it was for game. Steve says she's crossed the line if its for campaign. I can't help but feel that she is abandoned by us. Steve tells Austin I wish there was a way I could help her but the best thing I could do is not. Jason made the point that she has to help herself right now. Austin says they brought her food but it was scary though. Jason says you can't help everyone, some people have to help themselves. No one can help her. Austin asks what is going on with her? Jason says I don't know but if they talk away the havenot rules for her we know that this is not a big scheme that she is doing. She is going through something. Austin asks you mean they might suspend the rules for her at this point? Jason says they already have, she's allowed to eat pizza.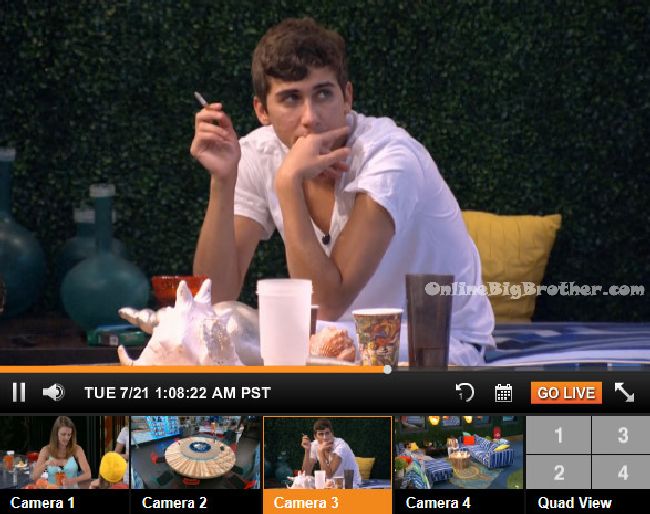 1:40am
Jason, Liz, Austin, Johnny Mac and Meg are in the bathroom. Jason says they (DR) wanted my reaction to the difference (between the way Audrey was before and how she is acting now.) Jason says I just said for someone who has fought all summer to be here I just thought she would want to go out with me dignity. And they were like you got that. We understand that. I didn't want to bash her. You've got to hold your head a little bit higher. They're not going to suspend havenot rules unless its something's really going on.
2:15am Comic bedroom – Austin and Liz are lying in bed. Austin tells Liz you have two chances. Its like if one of you goes the other one would be pretty.. Its like when Jace left. We were able to move around pretty well. It's going to be tough for us, its going to be tough for me. Liz says I'll be happy if I make it to jury. Liz says Becky is smart. Austin says she's getting good at competitions. I think our group is strong now. We can keep winning things.
1:45am – 3am Backyard – Becky, Jason and Jackie are talking. Jason says I 100% know that Austin knows about the twins and is helping her. Every time they switch they go hang out on the hammock. Giving them all the updates that they couldn't get in there. Becky says it is 100%. Jackie asks how do you know. Becky says Jeff was talking in bed with one of them. Jason asks and they just said it? Becky says yeah. Becky says it was super brief, it was super quick. But it was just enough to confirm it. Jackie says I still need to see for myself. Jason says Meg walked in on Audtin telling the one we just had yesterday about the date that he had with the one that is here now. Telling her they had mashed potatoes.. telling her about what the other one did. Calling the other one she. And Meg was just like !?!?!? Becky says it was something about hanging out with her again when he got out but that he didn't know if he would see her again before he left and it was 2 days before. It was like I'm going to miss you, I don't know if I'll see you again before I go. I was lying in bed going HUH?! Becky says I am going to let it come out to the house. I do not want to be the one that says hey guess what I heard. Jason says it was like they told people so less people would be on the hunt. She didn't know her name was business.. I was screaming across the yard . hey business busiess when you going to get naked? She had no idea about what I was talking about. Jason says if we do get them out its even more benefit for us because I think a person in jury will get to come back. Jackie asks so are we doing it next week? Jason says I don't know. I think its better to get them out when their individual rather when they're both in here together. Jackie says If I put her on the block and she doesn't go then I have two of them after me. Jason says maybe they're a backdoor plan if there's enough people on board to get them out. Johnny Mac says just showmance them. It's easy! Becky says the twins and Austin are a solid threesome. They wonder if its better to get out Austin first. Jason says I like them both as people. Jason says with the dance it was clear this one was doing it in a hotel room. She didn't know what side to stand on and didn't remember the jesus life we added. Jackie asks which one put me on the block? Jason says this one (Liz), Helga. Becky says we also don't want someone to come back from jury. We are game players, she is a ditzzy twist.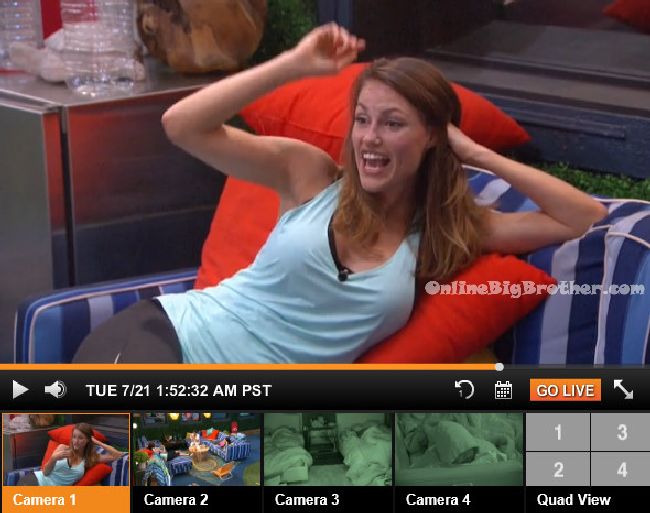 3:05am – 3:15am The Wack Street Boys beepers go off and Liz, Jason and Johnny race to get dressed to do their routine again. They do the routine and then Jason tells Liz she forgot to do the lift again. Liz says oh I forgot. After Liz heads back to bed. She comments that Jason was on her about the lift. Austin says he's just f**king with you.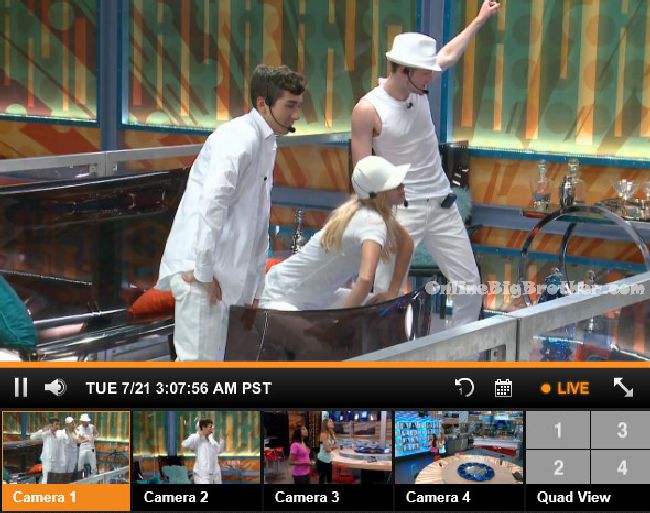 3:25am – 4am Backyard – Jason and Jackie are talking. Jason comments on how Austin got up to watch the routine because its this twin, he didn't get up for the other one the last 3 days. This one had no idea we get woken up at night to do it. Jason says I am not putting up Steve. He came to me and cut deal not to put each other up so I won't. I'm not coming back at Shelli. I'm not putting up Becky. And regardless of Shelli putting me up because she also saved me this week. I am definitely coming back at Austin. Jackie says one of them needs to go next week. Jason asks Austin and liz? Jackie says Austin, Liz and Vanessa.. Jason says I can't put up Vanessa. Jackie says I can't either f**king bit*h! Jackie says if we're going to allow the twins come in then Austin needs to go. If they all stayed it would be a disaster. He needs to go. Can we address this to the house? Jason says we need to wait and see who wins HOH first. Jackie says if I had to pick someone it would be him (Austin) because we've had questionable back and forth experiences. Jackie says we have to win eventually we have the numbers .. we have it all! I don't get it. There are so many of us versus them. I still think Shelli and Clay are closer to us.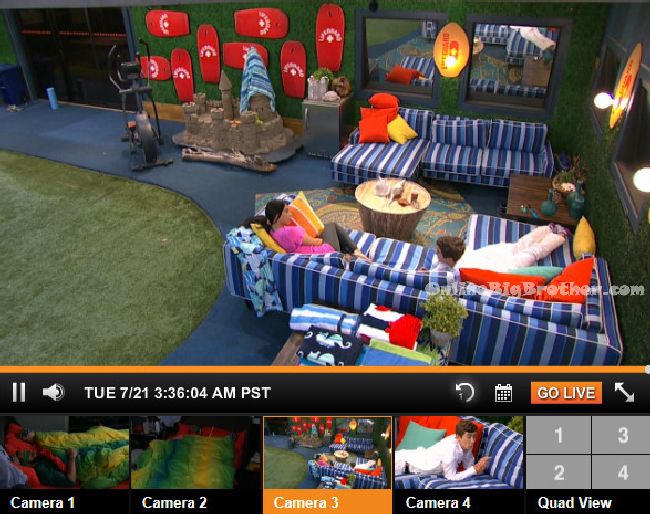 4:10am All the house guests are now sleeping..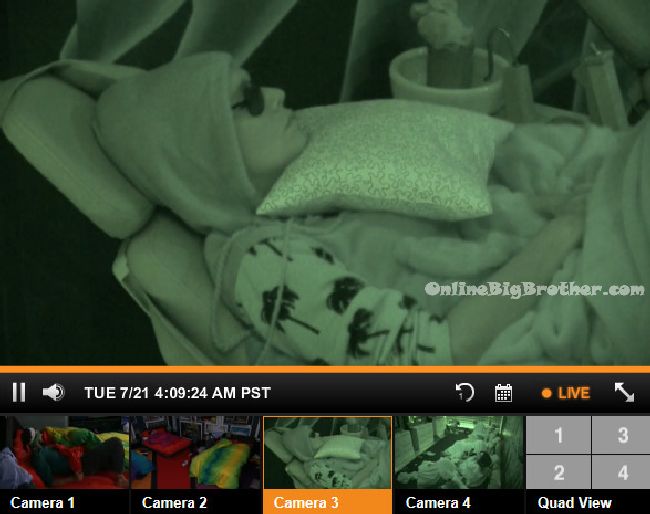 Live Feed subscription gives you CBS All Access thousands of archived shows. Live Shows like Big Brother, all the Big Brother Seasons, and 24/7 coverage of what is happening inside the Big Brother House. Plus there's flashback that lets you go back to any second of the feeds and rewatch what happened. Simon and Dawg will index the season just watch the parts worth watching. All this for $5.99 a month try it out 1 week free. Support our efforts and get your feeds via a link on this site. Live feed subscription Sign up
[polldaddy poll=8983592]
Share it YO!!
Tweet