POV Holder:
James
Next POV
Aug 1st
POV Used
No
POV Ceremony
Aug 3rd
HOH
James
Next HOH
Aug 6th
Original Nominations:
Shelli and Clay
After POV Nominations:
Shelli and Clay
Have Nots
Austin, Liz, Julia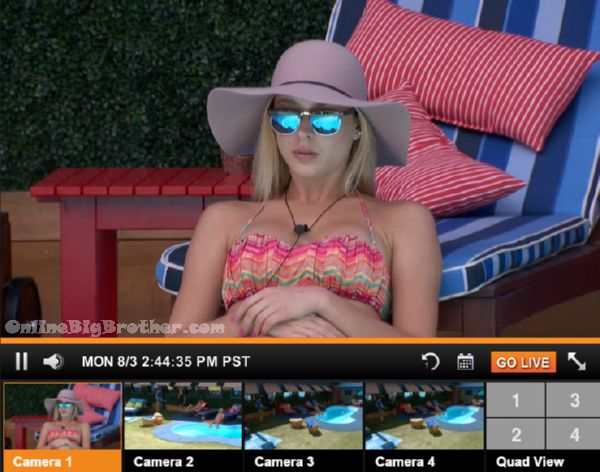 2:49pm The twins are poolside, Steve wandering between them and Austin/Vanessa near the weights chit chatting. Austin and Vanessa are agreeing keeping Shelli is the better play for them. They suspect Clay will be working with that other side. If they keep Shelli she is closer with them. They also know the other side want Shelli out she'll continue to be their target if she stays.
[envira-gallery id="125919″]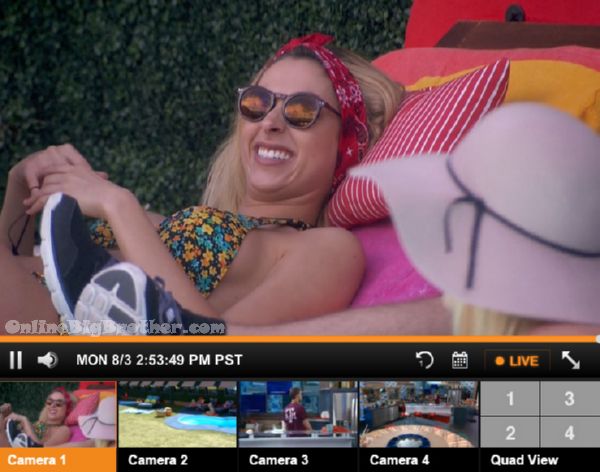 2:52pm Steve and the twins
Chit chatting They're laughing at Austin farting and never admitting it. Liz calls what Austin doing as crop dusting
Liz – A real man admits when he farts
Juli a- Steve do you fart a lot on SLop
Steve – yes
they giggle
Steve – I have no shame either.. No regrets
[envira-gallery id="125924″]
2:58pm cam 1
Liz talks to the camera "Today in slop news we're going to make our new favorite chilis con slop which is a little bit of slop you heat up and you put in Salsa and then you put in.. hmmmm"
She turns her head "What else do we put into it
The other twin Julia "It's the salsa with the corn and beans.. and we like that we like that stuff
Austin – and nutritious
Liz and Julia commenting to Austin how rude Clay has been to them. Austin had brought up earlier that Clay came to him pissed that Austin isn't trying hard enough to save him and Shelli.
Liz wants to make sure Vanessa talked to Steve about him Keeping Shelli
Austin says there's something really close between Shelli and Jonnymac apparently he was crying in the hammock room.
Liz – I'm not getting good vibes from Johnny Mac he's sketchy to me
Julia – be good with him so he doesn't put you up
Vanessa joins them "every time James wins HOH he's always on a power trip"
Liz – BIG power trip
Austin – power trip
Liz asks her about her conversation with Steve. Vanessa says he's unsure right now.
Julia – Shelli is so nice to him
Vanessa – you guys agree Shelli's the better play
Liz and Julia – 100%
Julia – I have no relationship with Clay
Vanessa has no problem telling everyone the way she's voting. She wants Clay to go over Shelli.
Julia – I told James I have no relationship with Clay
Austin chimes in says Jackie thinks if they win next week they're taking out a floater
Vanessa – and I take her out … OK
Austin – Our play is to take Jackie out
Vanessa expects the next HOH is a double and Steve/Shelli are the favorites going into it to win.
Vanessa suggests the other side (Jackie) wins they target Johnny Mac. Tell her with jmac gone it brings Becky CLoser to Jackie. (Don't see that working)
The other option of a floater is Steve, if they are targeting floaters.
Vanessa – HE's a floater but he's our floater
Liz – I love Steve
Austin brings up that jmac had drank a lot but was crying in the hammock after the POV.
Vanessa – there's something else going on he's a Doctor he can't be that emotional
Austin – is Clay his brother
Vanessa – I thought about that too.. I considered Steve is Clay's Brother..
Julia says she just found out Clay's last name was really "Honetcutz"
Julia thought that was just his nickname – "He's so perfect he's cut from Honey"
Steve – that sounds like it's a joke but Julia is being serious
Julia – I am being serious .. the least person I know is Clay
[envira-gallery id="125929″]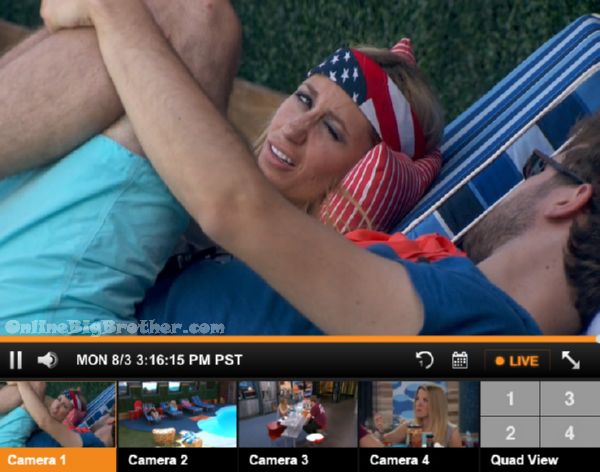 3:13pm Steve and Vanessa
Steve wants them to hang out more. Vanessa say soon once there's few people left.
Vanessa tells him that Clay is pushing for him to go out next week\.
Vanessa – word on the street i'm telling you people are going for a floater
Steve – how in hell am I a floater
Vanessa – you haven't won a hOH and you aren't on a clear side
Steve – I'm not on a clear side
Vanessa – according to Meg, James and Jackie.
Julia comes by "You may be a floater but you're our floater"
Steve – I am not a floater that is incorrect
Vanessa – you gotta win for your girls.. an austin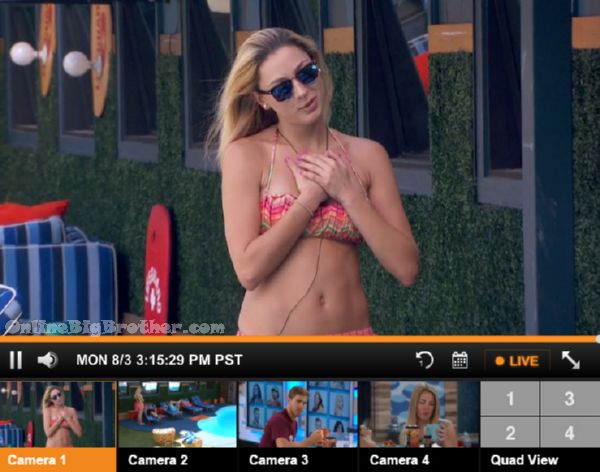 3:41pm Austin tells his twins they don't get treats this week their treats are bran pills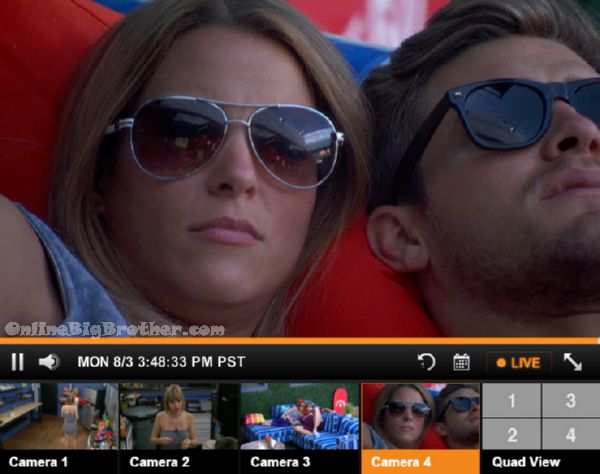 3:45pm Clay and Shelli..
Sad..
Shelli says she knows CLay doesn't watch Vampire shows but Vampires when they feel emotions it's so extreme, the Big Brother house is really like that.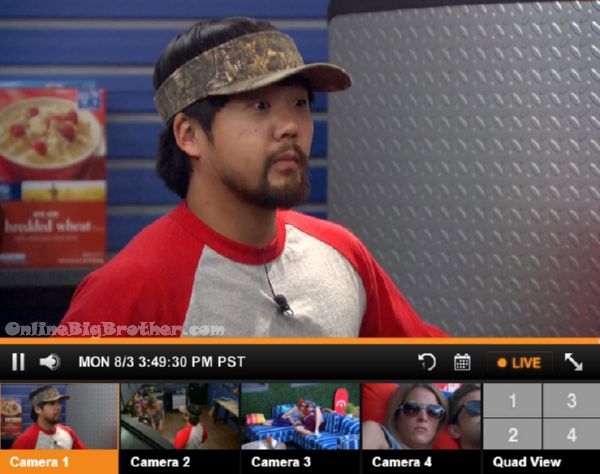 3:48pm Storage room James and Meg
James says Steve told him Clay and Shelli came up to him and Said jason was going up.
James- I made a great decision I have no regrets at all
james- Steve is on board with us we saved him..
Meg – he hates Austins.. he's not going to roll with them. (Meg and James are getting outplayed by Steve here. Steve is very close to Vanessa, Austin and thee twins)
They leaves James says on the way out "Jason will be proud.. he really will"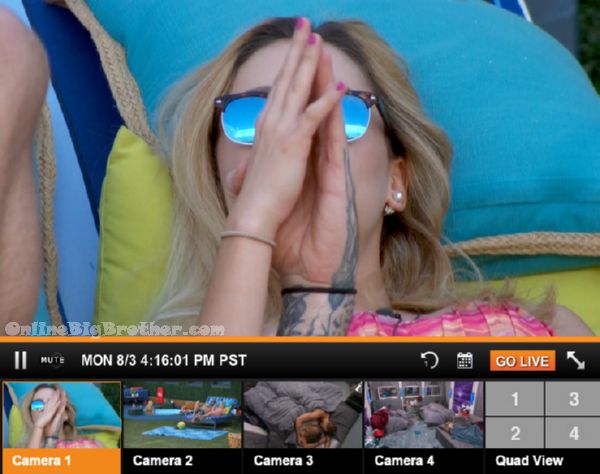 4:06pm Liz and Austin
Chatting about how Austin is going to say
Liz says Shelli and Clay did a lot of damage today.
Austin doesn't see it as a lot of damage they can't recover from "I can't believe they went that far with it
Liz – they went TO FAR .. you're going to talk to Clay about it
Austin – Clay needs to talk to me about it
Austin can't believe that Clay and Shelli's attempt last night didn't work
They are pissed Shelli and Clay threw them under the bus like that.
Liz – f** that don't talk to Clay
Austin is going to vote out Clay. Austin's plans to tell James "Clay is really pissing me off and it's really hard for me to keep him James."
They speculate about next week's HOH and what they'll do if they win.
Austin says he'll tell the house his plan is to backdoor steve he'll put jackie and Shelli up and they will all vote JAckie out
Liz – I want you to win so bad… or Steve.. Julia needs to win.
[envira-gallery id="125945″]
Liz – rub my tummy
Austin giggles
liz – I'm fat
Austin – no you're not.. it's all in your head.. will you stop.. don't be Debbie downer..
Liz – I'm being a negative Nancy
Austin – we made it to Jury we did it
Liz – I know I'm so happy.. that's the first goal.. you get paid to do nothing
Liz says the only person she feels bad didn't make it to jury was Jason. "Oh well better him than you"
Austin – we were the biggest outcasts.. after jace went.. now we have all the power.. well if we win this week
Liz – we got a win this week
Austin says when James won he thought they were done adds the game is not about winning every week it's about making the right social moves
Austin – We're the last Showmance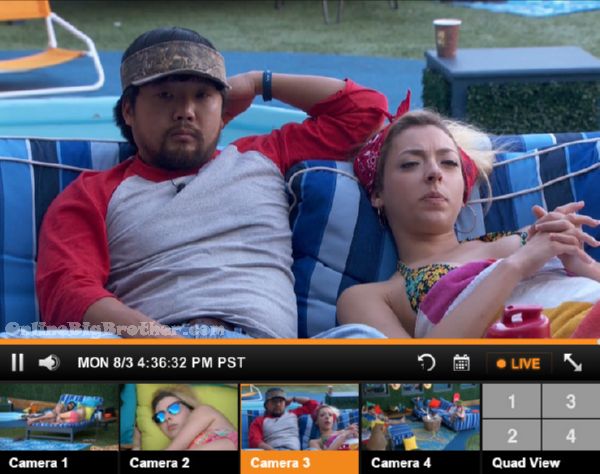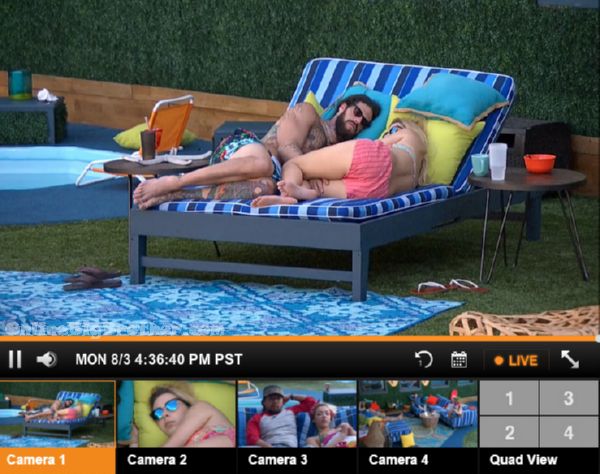 4:38pm
liz tells Asutin Julia makes a lot of mistakes in the game she says things that aren't smart.
Ausitn agrees. says Julia has told too much.. "She just can't repeat anything tell her to just go through you.. this is the first time she got to be her"
liz – I feel bad because I keep telling her I come off as a bitch I'm not trying too sometimes she talks too much"
Liz says her and Austin are more vulnerable than Julia
Austin – they will be targeting us First
[polldaddy poll=9004995]
Share it YO!!
Tweet