POV Holder:
JohnnyMac
Next POV
?
POV Used
?
POV Ceremony
July 5th
HOH Winner Team 1:
Becky
HOH Winner Team 2:
Shelli
Nominations 1 :
Steve, Jason
Nominations 2:
Day, JohnnyMac
Battle of the Block Winner
Steve & Jason
Next HOH/ Next BOB
July 9th / ?
Original Nominations:
Day, JohnnyMac
Current Nominations:
?, ?
Have Nots
Steve, Jason, James and Meg
TRY the Big Brother 17 Live Feeds FREE for 1 WEEK:
Click here to ensure your live feed subscription supports OnlineBigBrother.com at no extra cost to you.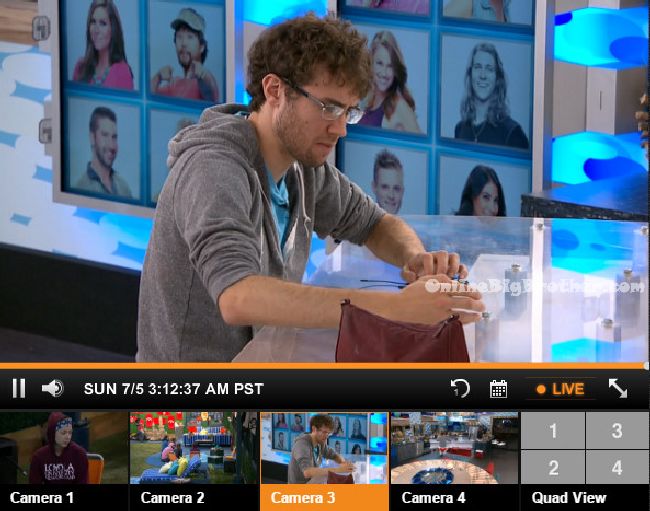 10:30am Big Brother wakes up the house guests. When the feeds return – Johnny, Jason, Steve and Vanessa are out in the backyard. Vanessa gets called to the diary room. They comment that happens a lot. Vanessa says its for my medication. She goes in and comes back out saying I'm over being a fat a$$, I'm going to work out today. In the bathroom – Austin he wants to talk about something but doesn't want to with the feeds on. Audrey asks will it affect your career or make you look silly? Austin says no, it something that production would get mad at me.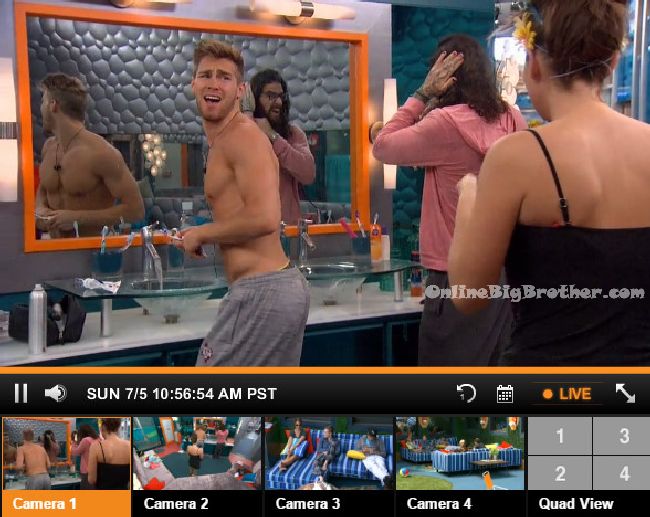 11:15am Backyard –
Vanessa and Audrey lay out to suntan. Jason & Johnny talk on the backyard couches. They talk about buying clothing without logos before coming into the house. James joins them and comments on how much Vanessa gets called to the diary room a lot. Jason says she gets called for medication. Audrey joins them. They talk about how funny Brittney Haynes was on BB12 and BB14. Jason comments on when Brittney was handcuffed to Brendon in the diary room and she was mouthing "help me!" Audrey says she wouldn't mind having to wear the frog costume but wouldn't want to wear the Adam & Eve Costume. Jason says I don't care, I'll wear anything. Johnny talks about Steve's spot .. he curls up in the bottom of the photo booth. Jason tells Johnny Mac that the photo booth used to have a curtain on it and Amanda & McCrae had s*x in it. Johnny say he would never do that.
11:30am – 12pm Big Brother says hey everybody its photo booth time! Shelli grabs the props from the storage room. Shelli, Clay, Steve and Austin head to the cabana room to take photos in the photo booth.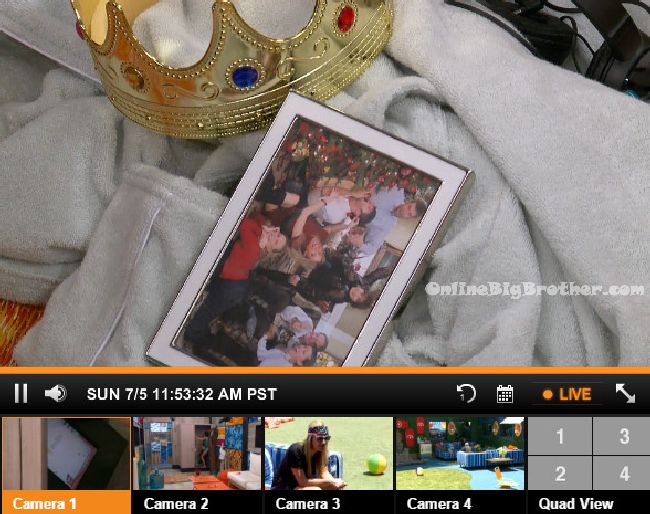 Jeff "This just got weird" @bigbspoilers #bb17 pic.twitter.com/gmiidYquhU

— Dawg (@DawgsBigBrother) July 5, 2015

12:05pm In the bedroom – Liz talks to Austin about what she should say to Shelli. Liz says she's (Meg) not 100% loyal to you and Clay. I'm in a position where the only people on my side are Austin and Vanessa and and we are looking for people to work with so we will 100% have your back and if you save me I'll have your back. Meg on the other hand won't, how many times has she been up in the HOH room now that you've been in here. Second if your plan backfires and I go home over Day. … Day is coming after you 100%!! Why would you risk that. Put someone up that you know will not go home and they will go home and they're not going to come after you. Austin says just because the twist could f**k something too.. and the other person could go home. You want to be as safe as possible. Austin says tell her that she and Clay are safe with me until at least jury. Vanessa joins them. She suggests offering them a deal but don't let it get out that you're doing that because then she'll (Meg) do the same. Liz asks should I bring up how even Jason said he thinks Meg will go up .. so people are already expecting it. Austin says unless its all tricks and we're being feed lies by everyone.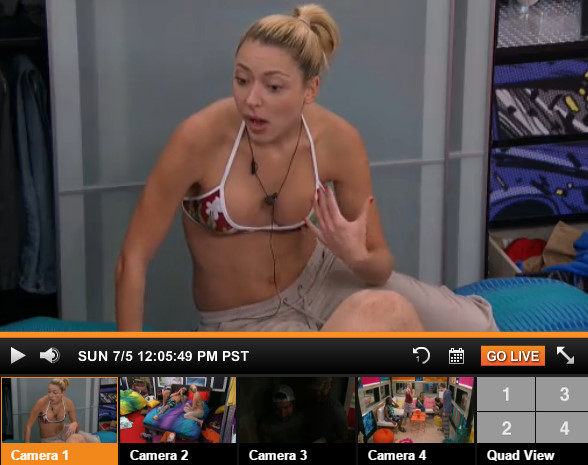 12:25pm Austin and Audrey about the replacement nom. Audrey says she thinks it won't be Meg because she was one of the people I was told not to go after. Austin says oh really. They talk about who they woudl nominate if they won HOH. Austin says I would make them all think you were the target. They I would backdoor James, he already did it to Jace so it would make sense. Audrey says I think it would be good to nominate someone like Meg because she sucks at comps. She wonders if Austin could put up Steve with Meg. Austin says I've been trying to create something with Steve. Saying we're the Freaks & Geeks. Austin says if we put Steve up we could guarantee we would take him off.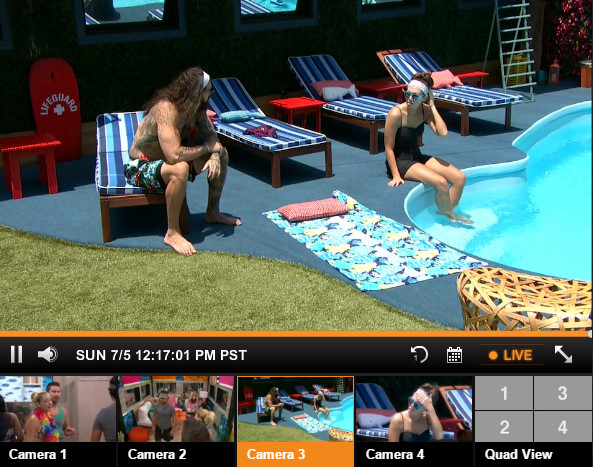 Backyard. Jason comments on how he was at a gay bar that only had 5 people in it and an old lady roofied him. I don't know why maybe to take me home to her husband. Its not like maybe I was drunk either, I had 1 corona. James says I got roofied by a stripper before. I got pulled into the champagne room and she bought me a drink.
12:35pm Up in the HOH room – Audrey talks with Shelli. Audrey asks so what's the cheese? have you guys had your first kiss? Shelli says she's not going to be laying in the bed making out with Clay. I'm way too aware of who is watching for that to happen. No kisses have been happening.
12:45pm In the bathroom – Jeff tells Shelli that he overheard Jason tell Meg that she might go up because obviously that would ensure Day goes home. Jeff says Meg said she would be mad if they (Shelli & Clay) didn't talk to her about it first. Jeff says so you should talk to her and better sooner than later. Jeff comments on how he thinks Vanessa is America's Player because she's always in the diary room all the time and doesn't talk to anyone.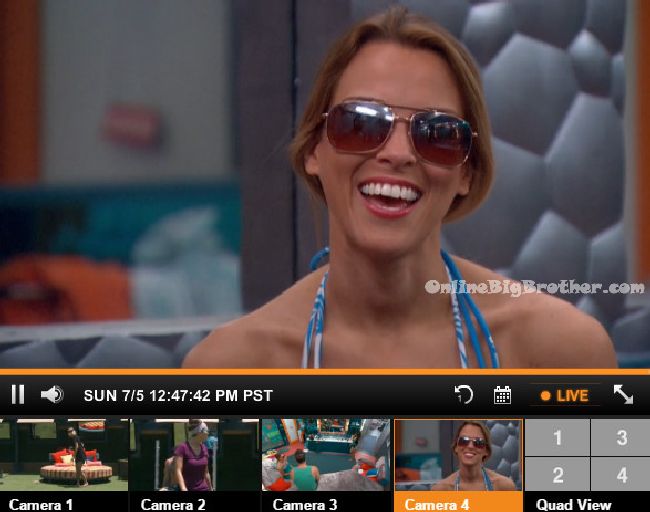 Backyard – Jeff and Clay are playing pool – Jeff tells Clay to keep an eye on Vanessa. I think she's America's Player. She's always in the diary room and never talks to any one. Clay says I think its for her medication. Jeff asks 10 times a day? Jeff says that Jason said usually America votes for havenot food but they haven't been getting any so they must be voting on something.
By the pool – Audrey, James and Shelli are talking. Shelli comments on how hot Cody is but says that Clay is way hotter. She says that she followed Cody on instagram and he posts selfies all the time of himself flexing and stuff. Its a turn off when someone thinks they're hot. They talk about which past house guests they would want to come in to do a takeover. Zach, Caleb,
1pm – 1:20pm In the kitchen –
Day says there are a lot of people I haven't talked to and a lot that I haven't worked with. I hope this isn't my last week. Day says I just wanted Jace to go home because he was getting on my nerves. He stepped on my toe, he spilled water on me, he bumped into me without saying excuse me. Day says got mad at me when I picked on Liz for safety. Everyone was saying there was an 8 person alliance and I wanted to kill that rumor by picking her from the other 8. No one told me the first 8 were sticking together. Vanessa says I picked Austin because he was a big guy and would likely win HOH and owe me. Day says hopefully this isn't my last week because I still have a lot of things to do. Vanessa says just don't give up. Day says I'm not going to roll over and Die, that's not me. Day says if there is anything you can say or do to help me stay I would appreciate it. Vanessa says I'll think about what I can do. I am the last person you need to worry about. Vanessa leaves the room and Day says to herself. I hate talking to people, I hate it, I hate it, I hate it. James joins her. They talk about how quiet the house has been. Day says there's some bullsh*t going on. James says I feel like my gut is telling me they are targeting you. Day agrees. James says if they put up someone different than Audrey.. Day says then then lines are drawn. James says if you are the target they're going to put up someone that is really liked. Day says Meg. James says me and Jason already tried everything we could to try and get some votes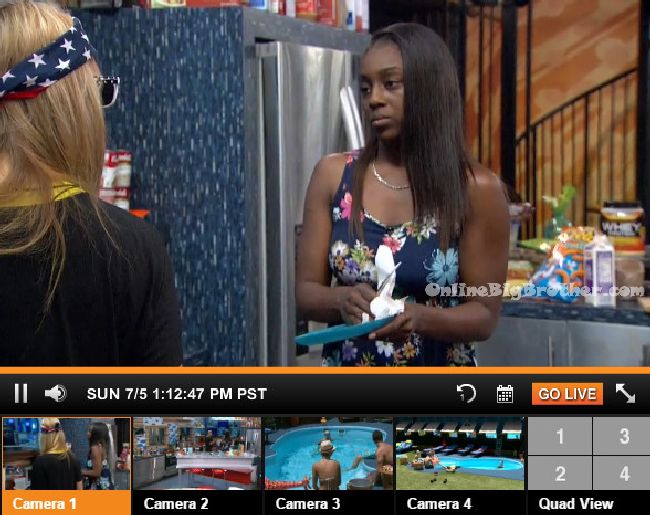 Live Feed subscription gives you CBS All Access thousands of archived shows. Live Shows like Big Brother, all the Big Brother Seasons, and 24/7 coverage of what is happening inside the Big Brother House. Plus there's flashback that lets you go back to any second of the feeds and rewatch what happened. Simon and Dawg will index the season just watch the parts worth watching. All this for $5.99 a month try it out 1 week free. Support our efforts and get your feeds via a link on this site. Live feed subscription Sign up
[polldaddy poll=8961340]

Share it YO!!
Tweet