POV Holder:
JohnnyMac
Next POV
?
POV Used
?
POV Ceremony
July 6th
HOH Winner Team 1:
Becky
HOH Winner Team 2:
Shelli
Nominations 1 :
Steve, Jason
Nominations 2:
Day, JohnnyMac
Battle of the Block Winner
Steve & Jason
Next HOH/ Next BOB
July 9th / ?
Original Nominations:
Day, JohnnyMac
Current Nominations:
?, ?
Have Nots
Steve, Jason, James and Meg
TRY the Big Brother 17 Live Feeds FREE for 1 WEEK:
Click here to ensure your live feed subscription supports OnlineBigBrother.com at no extra cost to you.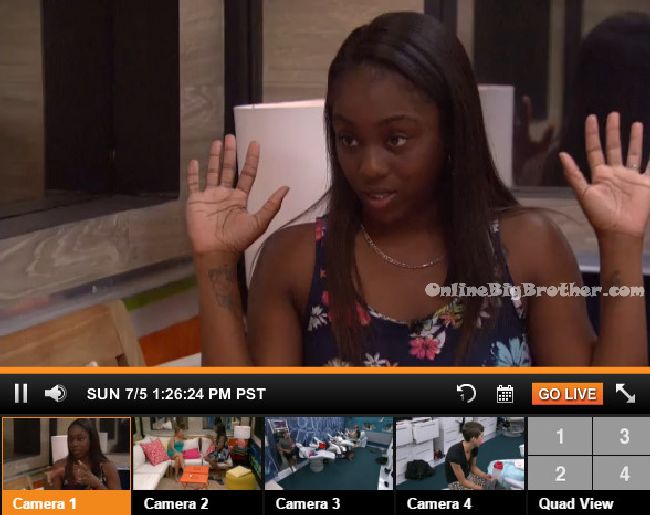 1:25pm – 1:45pm
Day pulls Shelli into the cabana room. I came into this game to play for my daughter. I don't think its time for me to go. I have much more fight in me. I told you on several occasions that you're not my target. Clay ans I were actually starting to rebuilding things. That's why all this has thrown me back. After all that with her (Audrey) I thought we were okay. The only thing I would ask is that when the veto ceremony happens.. take it into consideration to put her (Audrey) up with me so the house can decide and we can battle it out. Shelli says I'm glad you're talking to me. I really really like you. I think you're hilarious, beautiful and fun. I think you've been handling this with extreme grace. I don't want things to be awkward between us. We separated pretty early in the game and neither of us came to the other to talk about it. Week 2 the amount of people to go up are big but targets are small. I didn't know if when you did come talk to me was because you needed to. Day says even when we weren't speaking I didn't think I needed to get you out. I wanted Audrey out. You were never a target. I didn't speak about you. I wanted to talk to you but I was getting no Day I don't want to talk to you. Shelli asks when were you thinking I wouldnt want to talk to you? Day says when Clay and I got into it. Shelli says when you picked Liz for safety I wondered why. Day says I wanted to shut down the rumor of the first 8. I didn't think any one would put you or Audrey up. Shelli says you didn't tell me any information. I knew you were talking to Jason and James. I immediately thought you were jumping ship from our 3 alliance. Day says I was fighting to get you off the block. Shelli says Clay is the one that got me off. Day says DaVonne was the one that was fighting for you to get off. I came in here wanting a girl to win. Day says I'm on the block, I didn't win the veto, John is going to save himself. All I ask is that you put her (Audrey) up with me. Day says if I do stay in this house I do want to work with you. Shelli says being HOH is hard and it was difficult to put you up. If I do save you it will come back to bite me. Day says the people I am tight with are also tight with Clay. Shelli says I heard they've turned on him. Days says I heard Jeff would be the first to go before you guys (Shelli & Clay). I don't think that and I actually like Jeff. I could be an asset to you because I am so tight with them, I could get the information to you. Days says saving me would be better than sending me out of here. I don't want it to come off as a threat because that's not me but I think if you did send me out enough people would question why you would send me out over her (Audrey). Shelli talks about not being included and Clay being kicked out of the alliance. Day says there was a sentence in your letter from your parents about "watch your back" and I hope you take that into consideration. Day says I'm not coming after you at least until later in the game.. like until after jury. If I stay in this game I am going to find some people that are loyal and not shaky. I see that you're loyal to her (Audrey) despite what she's done so I know you would be loyal to me. Shelli says thank you for talking to me and I'll take it into consideration. They hug and leave the room.
Test out the live feeds for 7 days FREE! Then pay ONLY 20 Cents a day ($5.99 for a month of the 24/7 feeds!)
Click here
to ensure your live feed subscription supports OnlineBigBrother.com at no extra cost to you.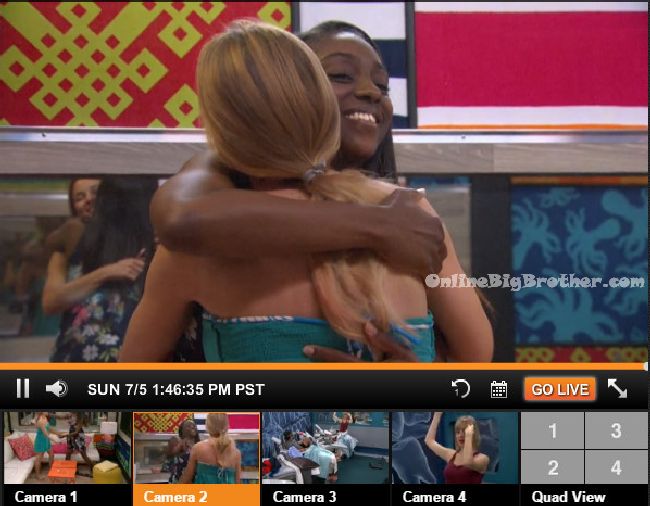 2pm Bedroom – James asks did you guys have a good talk? Day says yeah it went good. I didn't want to talk to her. It just felt so fake. Did you get your point across? Day says basically she feels like she owes Audrey because of her loyalty to her. Day says she said the house will understand because of her loyalty. James says wow .. well I guess you got your answer. James asks who do you think she will put up. Days says I think Meg. But hopefully I got my point across. I fought pretty hard. Hopefully I changed her mind. I told her, her hands could be clean just put her up and let the house decide. If she put up someone that is small .. then get her a$$ out next week because at that point you know she would be loyal to that bit*h till the end.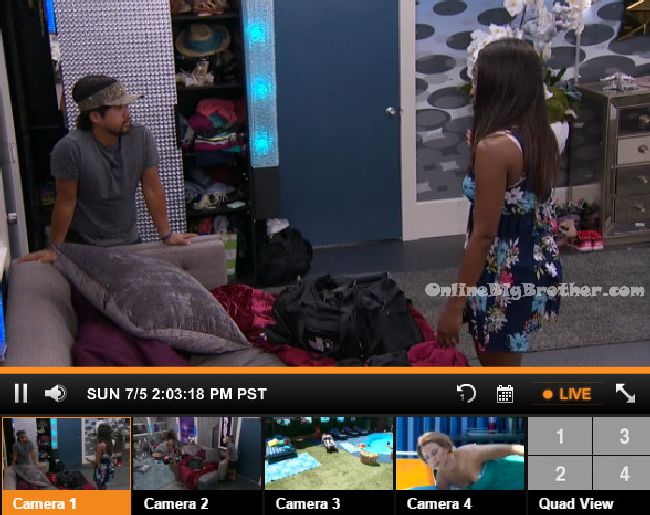 2:10pm – 2:20pm Liz asks Shelli can we talk in the HOH. Liz tells Shelli I know you are in a difficult situation and you want to get the least amount of blood on your hands. If I went up I think it might be 60/40. The only people I am close with are Austin and Vanessa and we want to work with you. I'm going to win HOH soon because I'm a fighter and we could keep each other safe until at least after jury. If you did put me up with Day and I went home instead of her .. and she stayed she would definitely come after you. Shelli tells Liz don't be worried. I had the same thought, I don't want you to go home. I think the Meg idea is the best idea. Originally I thought you would be the best to go up because everyone likes you but the more I thought about it if you went home it would tear me up. Liz says I don't really like Day or James. Shelli asks Who would be your target next week? Liz says possibly James. Audrey too.. Shelli says I know, after Audrey who? Liz says probably James. I don't like the comments he makes to girls either. It makes me uncomfortable. I don't know if you're working with him. Shelli says I'm not and I feel the exact same way as you do. I do like you and I am not going to put you up. Liz says if you want Day to go home I think Meg is the best decision to make sure it happens. I don't get good vibes from Day. Her blowing up like that .. its just not my cup of tea. Shelli says when I saw her blow up on Audrey .. I just don't want to be on the receiving end of that.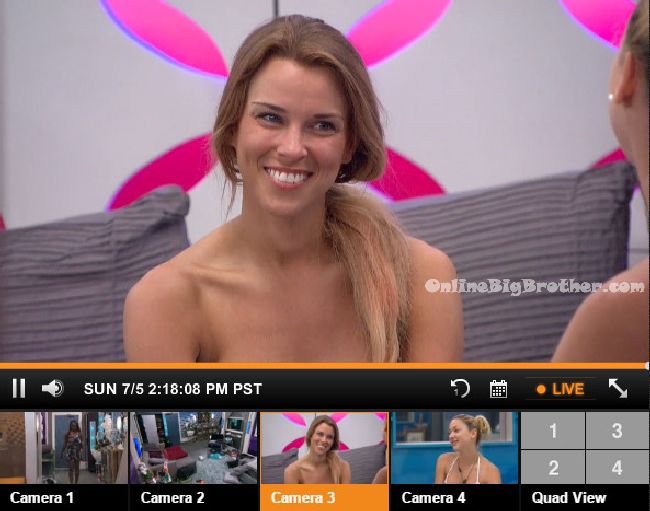 2:25pm – 2:35pm Backyard – Day joins Jason on the lounger. Day tells Jason I just had to go to church and I didn't want to. Day says I had to convince her (Shelli) she's not my target. She said she needs to be loyal to Audrey. I kept telling her – you're good, you're good, you're good. Trust me her a$$ is out of here! Jason says MMmmhHHmm. Day says I need to figure out something quick because I'm running out of options. Day says send me a life vest, I need it today! Steve comes over and tells Jason they need to do a DR session together wearing the crew shirts. After Steve leaves Jason asks what are you doing BB that's going to be so awkward. Putting the two most awkward people together.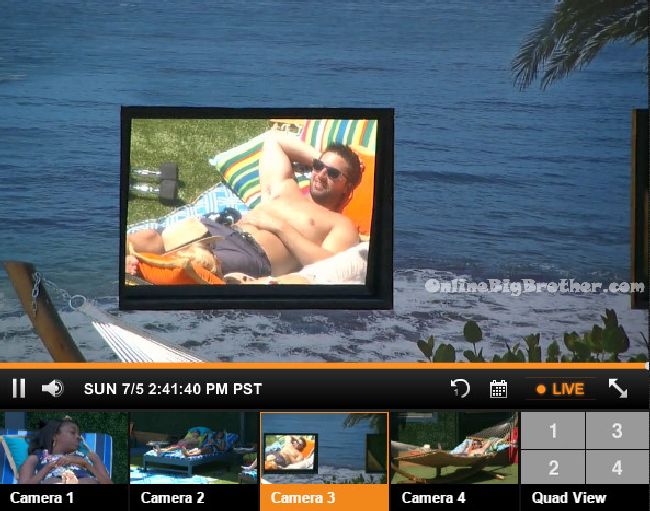 2:40pm – 2:50pm Hammock –
Jeff tells Liz about his theory that Vanessa is America's Player. She is just the sketchiest person in here. Liz says and she will just float on by. Jeff says I would never target her. Jeff says Austin and I have been trying to work together. Austin is definitely not my target, I have bigger fish to fry. Jeff says or Steve could be america's player .. he definitely rats around. Liz says Steve is so smart, he's going to win every mental competition. They wonder who Steve would go after. Jeff says yeah Steve's got to go.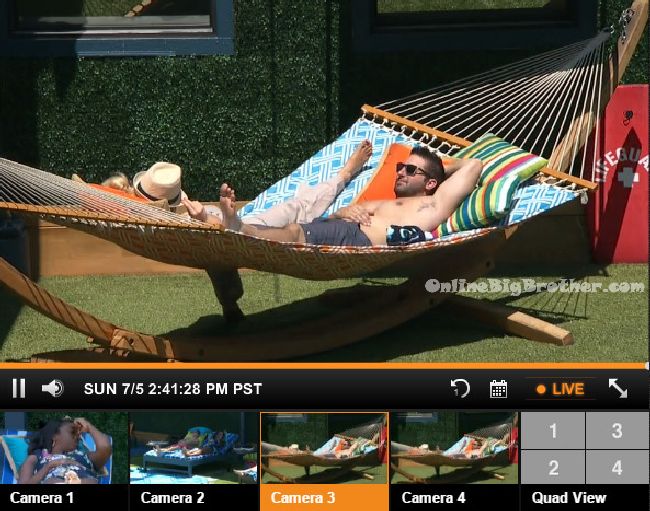 Live Feed subscription gives you CBS All Access thousands of archived shows. Live Shows like Big Brother, all the Big Brother Seasons, and 24/7 coverage of what is happening inside the Big Brother House. Plus there's flashback that lets you go back to any second of the feeds and rewatch what happened. Simon and Dawg will index the season just watch the parts worth watching. All this for $5.99 a month try it out 1 week free. Support our efforts and get your feeds via a link on this site. Live feed subscription Sign up
[polldaddy poll=8961340]
Share it YO!!
Tweet