POV Holder:
JohnnyMac
Next POV
?
POV Used
?
POV Ceremony
July 5th
HOH Winner Team 1:
Becky
HOH Winner Team 2:
Shelli
Nominations 1 :
Steve, Jason
Nominations 2:
Day, JohnnyMac
Battle of the Block Winner
Steve & Jason
Next HOH/ Next BOB
July 9th / ?
Original Nominations:
Day, JohnnyMac
Current Nominations:
?, ?
Have Nots
Steve, Jason, James and Meg
TRY the Big Brother 17 Live Feeds FREE for 1 WEEK:
Click here to ensure your live feed subscription supports OnlineBigBrother.com at no extra cost to you.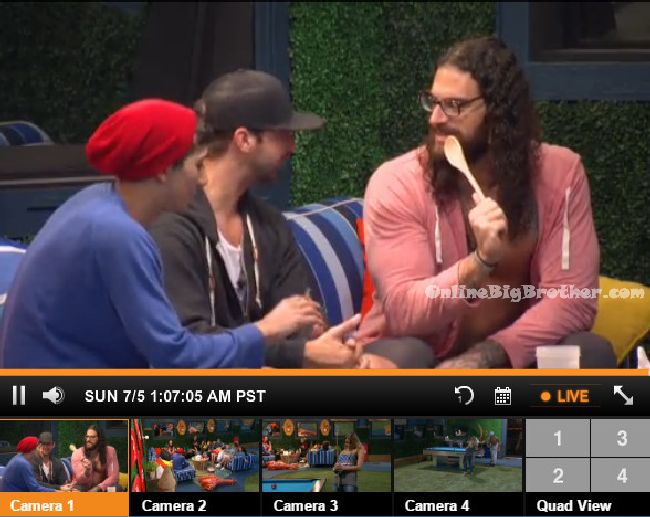 1am – 1:45am Backyard –
Austin and Jeff are doing a podcast. They start with Steve as their first guest. Austin says they want to start it off by going back to his childhood. They ask Steve when the first time he had an erection was and what he was thinking at the time. Steve get uncomfortable and leaves the show. Up next is Jason. Jeff asks Jason so what does tickle your fanny? Jason says had less action than most of them in here. Austin then takes a call. Day calls in and asks what type of man Jason likes. Jason says he likes any man more masculine then him. Next guest is Meg. Meg says don't piss me off Jeff. Austin asks what was your first disappointment in life. Meg says when she first tried out for softball teams and realized she wasn't good at sports. Becky asks I've heard that Meg likes older men is that true? Meg says I forgot the question? Jeff asks why do you like old men? Meg says I do tend to like older men. Meg says she has had one relationship with a guy that was older. Liz is up next. Jeff asks about former love fling that exited the house. There's a man with long hair that exited the house really quickly that asked for a kiss. How did that make you feel. Liz says you can look but you can't touch!! I guess I lead him on a little bit but him moping around the house really turned me off. And he didn't get a kiss. You can't get a kiss that easily, you have to work for it. I like taller guys and he wasn't even that tall. Liz says my relationship advice is don't go after the Jace's of the world they're crazy as f**k. Austin asks what's your type. Liz says my type is anyone and everyone that acts like Stephan.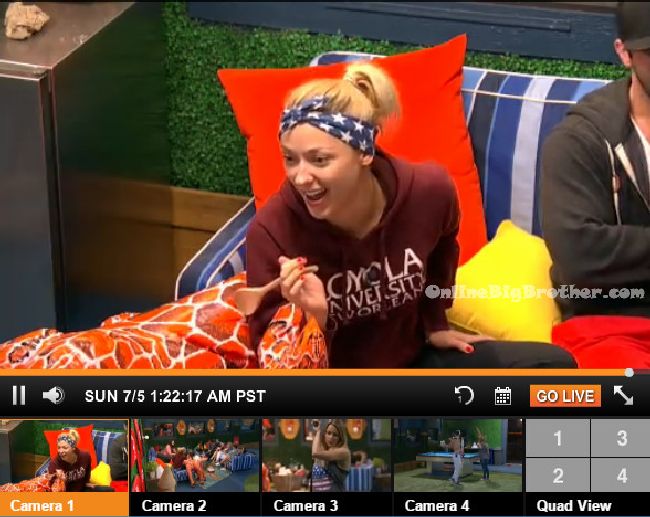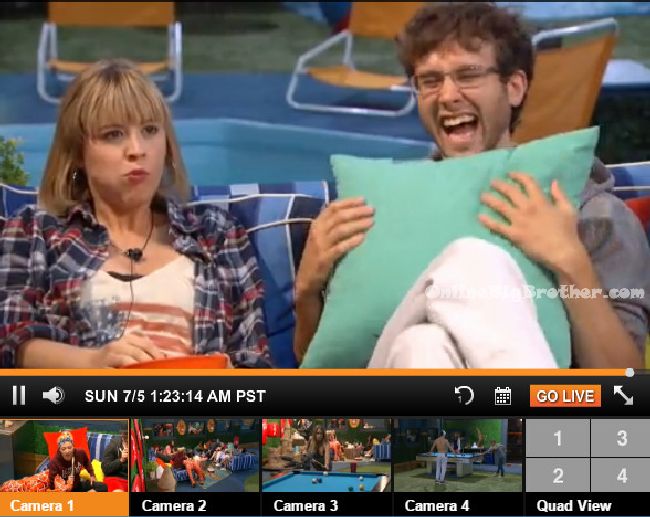 In the kitchen – Steve, Becky, Shelli and Clay are talking about the "BB takeover" last laugh twist and what it could be. Steve says that we haven't been getting havenot extra food. Steve says if America isn't voting on that, they're voting on something. Clay says maybe its the HOH is havenot. Becky says and has to wear a chicken costume. Shelli says she would be fine wearing a chicken costume. Steve asks Shelli to think about what she wants to write in her HOH blog before you do it. He tells her about how Gina Marie's first HOH blog wasn't even coherent.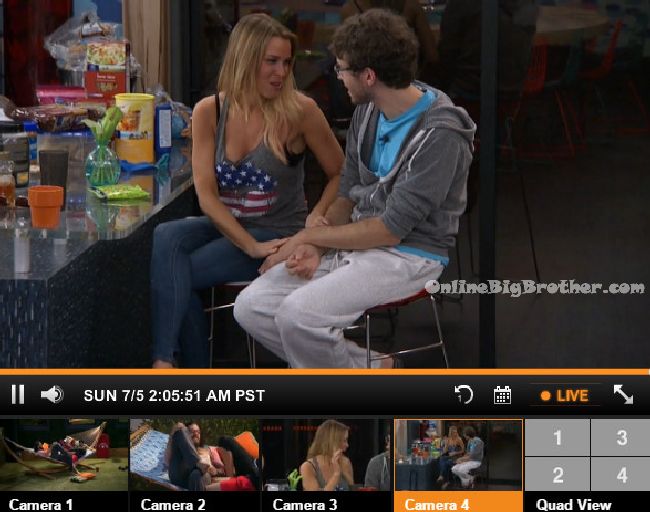 1:55am – 2:25am On the hammock – Austin asks Liz if you went on a first date with someone and they gave you a kiss on the cheek, would you be mad about it? Liz says yeah a cheek is pu$$y! Liz says before this I was like Meg, I dating a guy that was 38. Well we went on two dates. Liz says Becky dated a guy for 6 months that was 52 and has two kids. Austin asks what the f**k is going on! Jeff says we don't have any chance. Austin asks did he have money. Liz says he own an advertising agency. How come the guys in here have no chance. Austin asks Liz do you like good guys or bad boys? Liz says f**k a$$holes, I like nice guys.. but not too nice. Jeff asks who's an example of who's too nice in here? Liz says Steve. Jeff leaves. Liz tells Austin obviously she hasn't told her anything. Austin says I don't know I thought we had come to an understanding up there. Liz says she (Shelli) would have told Meg. I think she's scared of everyone else. They have no loyalties to us. Austin says I still don't think you would go if you were up. Austin says they could even put me up. I'm not safe. We should talk to Shelli one more time. Liz says if you really want someone gone you should put up a pawn to make sure that person goes home. Liz says my real target is James. Austin says me too. Austin says that Jeff said he didn't want Day to go this week because she's not coming after him but if he would vote her out if Liz was up. Liz says what the f**k happened with Audrey .. if I go home before her I would shoot myself. If you're trying to get someone out then put up someone neutral. I think she's (Shelli) pu$$y though and that's why she hasn't talked to Meg. Austin says Jeff wants to work with us because he has a sweet tooth for you. Liz says good. Austin says and its breaking up his alliance. Austin says she's (DaVonne) dealing cards. Hear that people she's a card dealer. You can't get one past me.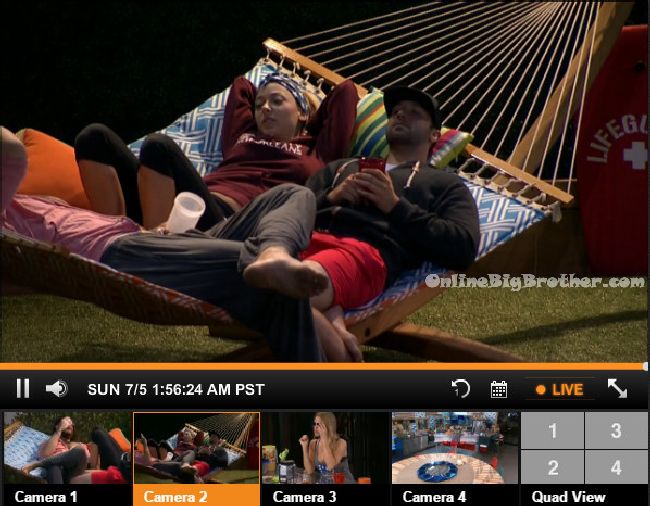 2:30am – 3:20am Hot tub –
Jason, Liz and Jackie are sitting around the hot tub. Jason says I think for her (Shelli) game she shouldn't get rid of Audrey because she will always a bigger target. She's a three for them. She's their meat shield. Unfortunately I think Day is going home. Jason says usually the girls take out the girls and the guys don't take out the guys they also go after the girls. That's why there aren't that many girls near the end. I came in here thinking I would be the gay glue to keep the girls together. But I don't know about some of these chicks. Steve and Shelli join them. The conversation turns to talking about cruise ships and jobs. Becky talks about theft and managing staff at Abercrombie.
FLASHBACK and watch any moment during the season so far: Big Brother 17 FREE TRIAL
Click here to ensure your live feed subscription supports OnlineBigBrother.com at no extra cost to you.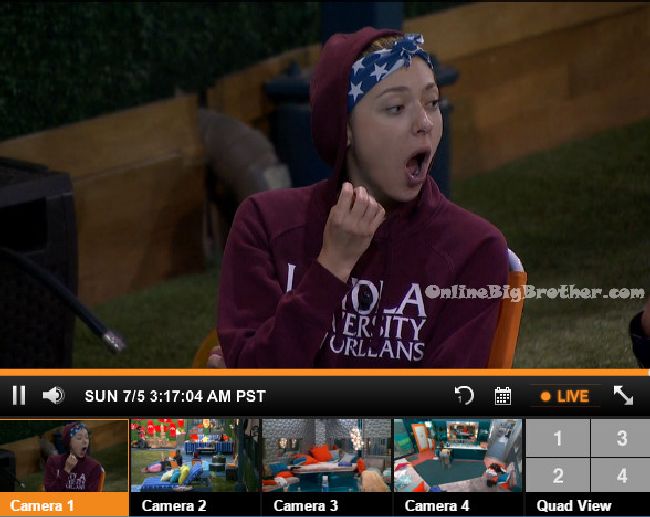 3:25am In the kitchen – Clay tells Liz, Vanessa Jeff, Steve and Austin about a mystery substance he found in the fridge that was in a small container. They speculate that it was Jace leaving "semen". Clay says that Shelli and Audrey were grilling me on how I would know what it smells like. Liz says it looked like pancake mix but it was way too small of an amount to save.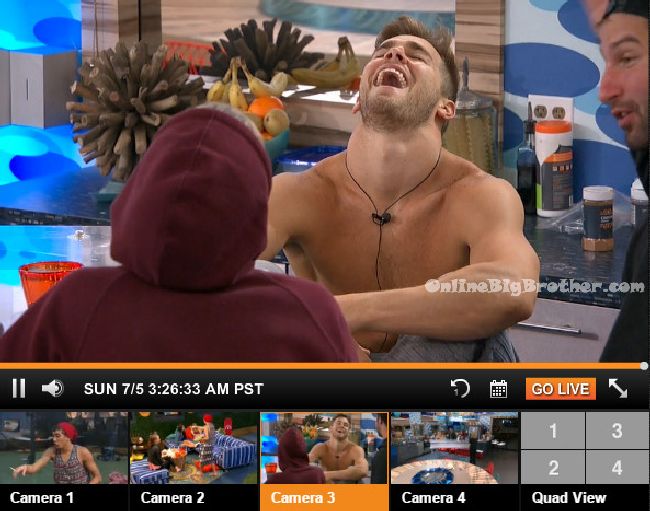 3:30am
Jeff heads up to the HOH room. Jeff asks do you know what you're going to do and whether or not you're going to leave Liz up there or what you're going to do? Shelli says I haven't talked to Meg yet with everything going on with the 4th of July but I was going to tell her tomorrow. Shelli comments that Meg wouldn't look at me and I wondered if someone told her. Jeff says that he didn't and doesn't think any one told her. They wonder if its just because she's on slop. Jeff says I'll see if she's upset about anything. Shelli asks how are you and Audrey? Jeff says we don't really talk. Shelli says I think that if she did win HOH I think we would be able to talk to her and you would be okay. Jeff says I feel good about our group. They talk about Johnny Mac being so loyal. Jeff says I knew Johnny Mac would be our secret weapon. Jackie is good because she keeps her mouth shut but I wouldn't want her to go far in the game. He says what's cool is she is close with Becky so she can get us information. Clay joins them and says he feels really good about with everyone right now. No one has any idea Johnny Mac is with us. Shelli says some people might put him up as a pawn a lot but we just have to make sure we save him. Clay asks when are you going to talk to Meg? Shelli says tomorrow morning. Shelli asks is this now officially legit an alliance. Jeff says we just need to come up with a name.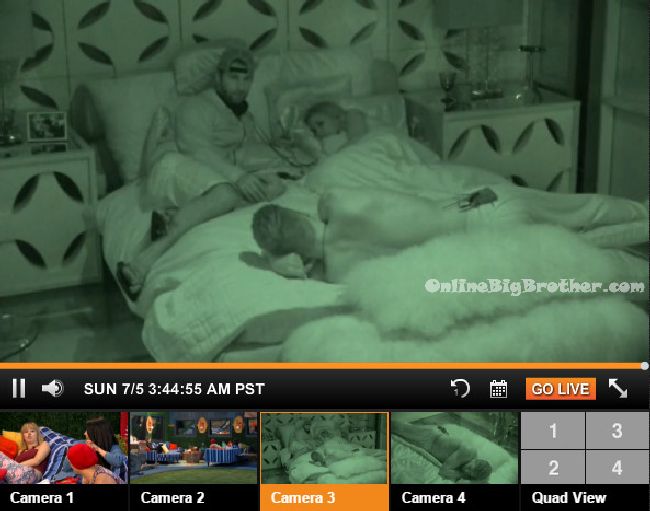 3:45amv- 4:25am Becky says that she's worried people will start to forget what happened with Audrey. Jason says next week I am not playing she (Audrey) is going. I ain't playing. Jason asks does anyone have any pull with Shelli? Meg says its not Shelli its Clay. Shelli is playing only for her own game. Becky says that Johnny Mac is cool to talk to but that others are pushing us to be in a showmance. She says we're both scared to even talk to each other. Jeff comments that he needs to stop crushing on Meg because I think she's … Shelli asks getting annoyed? Jeff says no. Clay asks catching feelings? Jeff says yeah. We'll be joking some times and there will be some jealous there. Shelli asks if James is crushing on her too? Jeff says James would crush on any girl. Clay says he would for sure marry Meg. I bet the girls James has been with are atrocious. Shelli tells Clay not to be an a$$hole boy over here. Watch your tongue. Jeff says that he asked why Liz never gave him anything when he hits on her. He says she said wait till jury house. Jeff says she would be a lot of fun. Jeff says being a guy in this house is hard. Jace knows what that's like he left his in Tupperware. Clay says that when Day learns she's going up next to Meg she's going to know she's going home. Shelli says that's why I haven't told anyone what I'm doing because then people start talking. I just need to let Meg know before it happens. Jeff leaves. Shelli tells Clay I talked to Audrey. The conversation was good. Shelli says Audrey said she thought she was being replaced in Sleeper Cell with Liz. I even forgot that existed. She said she said in the diary room that Sleeper Cell was taking a nap. My point is that she was bringing up Liz. Shelli asks Clay so do you have some kind of alliance with Jeff and Austin? Clay says no, who's saying that? Shelli asks you don't have a bro code? Clay says no. Are you sharing information with Austin. Clay says no. Shelli says I just know that there's no other reason why Jeff and Austin are trying to clear the air. Clay says watching you in that meeting with Jeff was kind of sexy! You were getting information out of Jeff …like he was on the block.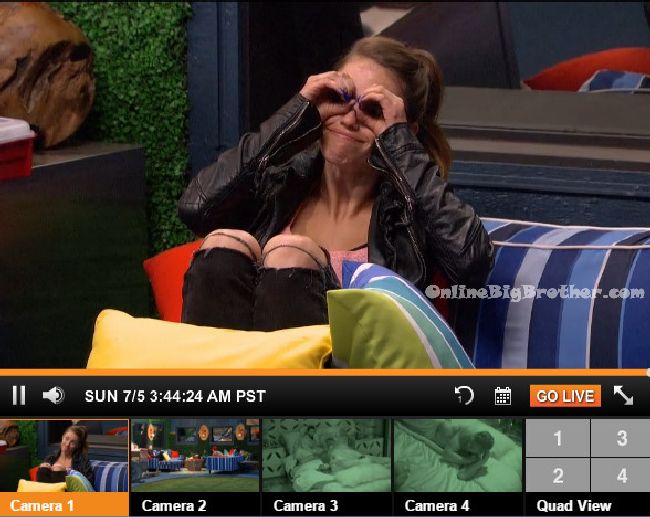 Big Brother 17 live feeds – 1 Week Free Trial then only $5.99!
4:30am – 5:50am Backyard.
Jason tells Jeff that Clay pretty much gave her (Day) a goodbye speech after the veto. I have a feeling she's (Shelli) is going to put up someone like Meg because everyone loves her. Jason wonders if Clay is running Shelli's HOH. Jeff says that Shelli was grilling Clay telling him to win something. She was being a little bada$$. Jeff tells Jason as soon as Day goes away you will be sitting golden. People will forget about you. Meg joins them. Jeff comments on how his biggest fear is being looked at in a negative light. As long as you don't touch on any minority groups you'll be okay. They start counting things in the backyard and talk about how many of other items are in the house. Jeff comments on how he and Jackie are not compatible at all. James joins them. James tells Meg that he wanted to talk to her and Jeff to see if everyone is still on the same page. They talk about how Day is ready to go. James asks Jason what he thinks is going to happen. Jason says I think they'll put up Meg. Meg says if they put me up I am going to be pissed about it. Jason says yeah you should be pissed about it but act as if you're not. Jason says I can't think of anyone that is as liked that you wouldn't go home over Day. Meg says I would be pissed if they didn't talk to me about it first. Jeff asks you don't think Shelli would put me up? Jason says no. The for sure person that would not go home over Day is you Meg. You have like halo over your head. If they put Liz up I think we could get her out and keep Day. Jason says if I get HOH I want Audrey out but if I can't my plan b is Vanessa. Jason thinks Vanessa is America's Player. Jason says I would put up Austin and Vanessa. Audrey would be my first target but if not I would get out Vanessa. And if I go out after Vanessa at least wikipedia will know that I'm not the gay f@g*t that came into the house to sit in the corner. I don't trust her for sh*t. Jason says in the long run I think we could trust Johnny Mac more than these other motherf**kers! Jeff says we can keep Liz to see what she does. Jason says there are some girls that bust it all out in jury. Liz will be f**king everyone in jury. I'm telling you, they found her on the corner somewhere. Jeff says Liz was talking about getting it on with two guys before. Jeff asks did you hear the story about her giving a guy a bl*wj*b while texting her boyfriend. Meg says Jeff loves her. Jeff says I like both of you I'm just trying to figure out which I like more. James calls Meg girlfriend material.
James says we could be the "After Dark Crew". Jason says I like that the "ADC". Meg says I like that, its kinda bada$$.
Meg wonders when do we take out Steve. Jason says before jury because he is going to murder us in the questions. James says the perfect 5 out for us are: Jace, Audrey, Austin, Vanessa, Steve. They start studying possible A or B questions just in case for the next HOH.
Live Feed subscription gives you CBS All Access thousands of archived shows. Live Shows like Big Brother, all the Big Brother Seasons, and 24/7 coverage of what is happening inside the Big Brother House. Plus there's flashback that lets you go back to any second of the feeds and rewatch what happened. Simon and Dawg will index the season just watch the parts worth watching. All this for $5.99 a month try it out 1 week free. Support our efforts and get your feeds via a link on this site. Live feed subscription Sign up
[polldaddy poll=8961340]

Share it YO!!
Tweet