POV Holder:
JohnnyMac
Next POV
?
POV Used
?
POV Ceremony
July 5th
HOH Winner Team 1:
Becky
HOH Winner Team 2:
Shelli
Nominations 1 :
Steve, Jason
Nominations 2:
Day, JohnnyMac
Battle of the Block Winner
Steve & Jason
Next HOH/ Next BOB
July 9th / ?
Original Nominations:
Day, JohnnyMac
Current Nominations:
?, ?
Have Nots
Steve, Jason, James and Meg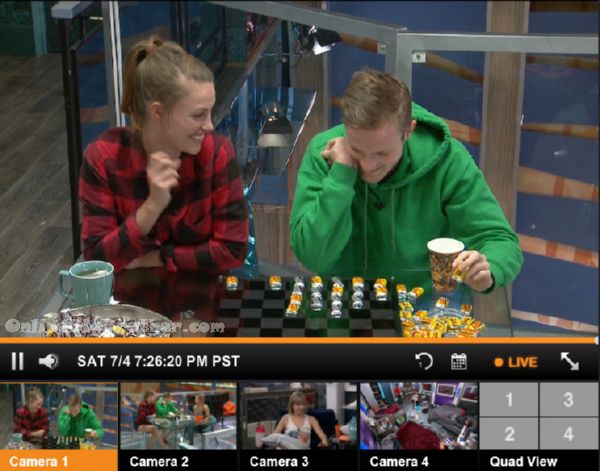 7:30pm JohnnyMAc, Becky and Shelli
Playing "connect four" with candy and the chess board.
Steve comes up to play Johnnymac the winner will play Becky.
Becky runs downstairs you can hear her say 'We're playing Connect four it's fun"
Shelli doesn't say much the whole time just watches.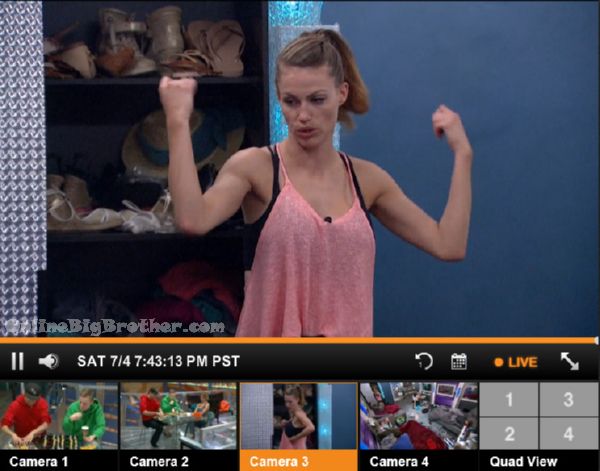 7:46pm Meg, Jeff, Clay and Jason
Becky walking through the room on her way upstairs to play "Connect four" with Shelli, Johnnymac and Steve. Jeff asks Becky to flash the camera so it moves.
7:50pm Feeds cut…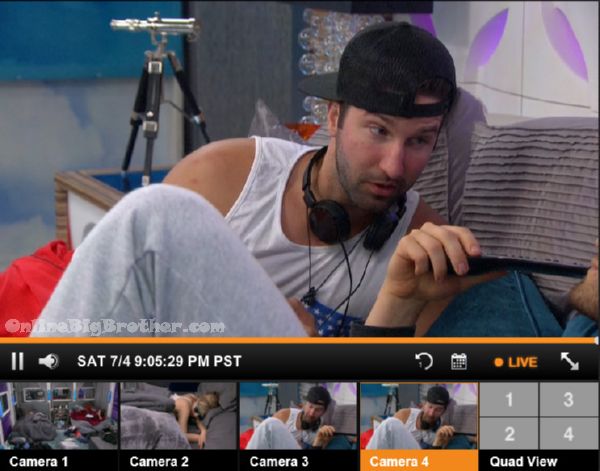 8:52pm – 10:05pm Feeds come back HOH Jeff and Clay
Clay is worried that he's drifting away from Meg and JAmes. Jeff and Clay saying they have a final two. Clay tells him he hasn't even talked final 2 with Shelli. Jeff tells him he's going to try and make sure the other side doesn't target him.
Jeff recommends Shelli integrates more with Meg and JAmes.
Clay says Day goes this week and Audrey next week.
Jeff – Dude once we get both of them out Austin gotta go.
Jeff says Austin isn't someone they can depend on says Austin was working with Audrey
Jeff – He talks a lot with Vanessa which is kinda weird
Clay – Shelli likes Vanessa
Jeff – Shelli likes the people that are super introverts.. it;s always the quiet ones you have to look out for … Steve's gotta got
Clay – we gotta keep Johnny
Jeff brings up his Diary room sessions where they always ask him if he's worried about Clay and Shelli taking each other.. Feeds cut to fish.
Jeff – honestly dude I made a promise with you on day 2 I at least want to keep my first promise..
Jeff adds he'll backstab people close to him if it means the two of them can still "Ride out"
Jeff – Dude I have to watch out Dude..
Jeff is getting too close (Emotionally) to people in the house
Jeff – "It sucks dude"
Jeff – Dude I have a feeling that JAckie really hates me dude.. She doesn't even say hi to me dude..
Jeff thinks it's because he hasn't given the time of the day.
Jeff says it was really bad being with her on the amazing race he says Jackie punched him.
They start talking about Audrey telling them she'll be their meat shield. Jeff – "We just gotta get rid of her."
Clay mentions Audrey wanting them to backdoor Becky and keep Day. "If Becky coming after us next week.. Probably not is Day.. HELL YES"
Jeff – She's make to her old ways manipulating people..
Jeff wonders why Shelli didn't Backdoor Da'Vonne, "did she not want as much blood on her hands"
Clay – Becky wanted to BAckdoor Audrey
They agree next week they will backdoor Audrey it's the only chance.
Shelli comes in 'What's going on'
Jeff – girl talk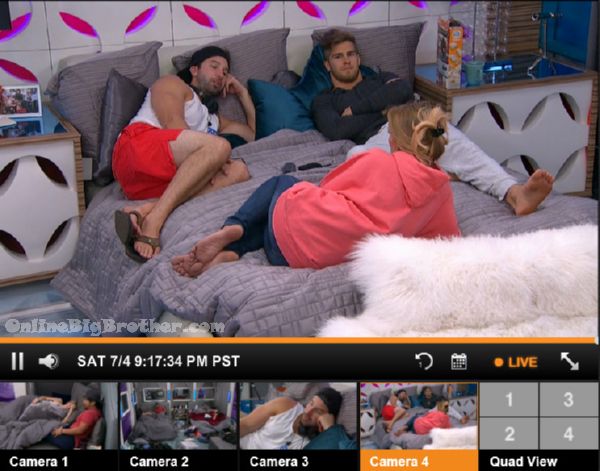 Jeff says that Day has been asking him a lot of questions lately. Goes over the conversation he had with her earlier where she was asking him if he knew her fate. Jeff adds she knows that someone likable is going up to guarantee she goes home, Someone like Meg. Jeff mentions that Da thinks Clay and Shelli are working with Audrey.
Jeff saying Austin's character sucks and he's not trustworthy
Jeff – He was the first person to turn on his friends and squealed like a little baby
Shelli questions what exactly did Austin do
Jeff explains poorly
Shelli continues to question it..
Jeff – he didn't vote for Jace
Jeff now says Liz lied to james
Shelli questions it again asks for examples. Jeff says she will need to ask JAmes. Sheli tells him then he can't said she lied if she doesn't know
Jeff says she was close to Jace and everyone close to jace has to go.
Jeff – I wouldn't be sad if Liz left..
Jeff makes it clear he would like her in the Jury to party.
Jeff – It not about being hot she's OK
Clay – her body is better than her face.. She's cute.. I can't stand the way she talks.

Shelli – who is the best person for me to put up
Jeff – Austin
Shelli – for Day to go home
Jeff – Liz is the best one to go home and she understands
Jeff says she will lose credibility in her decision making if she goes back from putting liz up.
Shelli doesn't think anyone will points out that a single person hasn't come up to talk to her about her renomination decision.
Jackie joins them.
Sheli starts playing up how close the four of them are.
Jeff says if he ran her HOH Day wouldn't be leaving it would have been Audrey.
Sheli – I need to put up someone to guarantee we get out Da
Jeff – Dude I would say myself but Audrey is here…
Jackie – You don't know how it changes.. it's scary
Shelli tells him she trust him will never put him up. "you're in my trust circle"
Jeff says he wants to work with Jason and James that is why he's getting close with the other side. He thinks they should pull those two in. Warns them against Becky "She's a beast"
Jeff – I know you two are working together
Clay – not really
Jeff says in regards to his game play Day can stay for the next three weeks she;s not gunning for him. He start pressing that Audrey is a real threat in the house and his main threat. He's onboard with them getting Day out because it's best for their game play not his. He's going this with the hopes that next week they support him.
Jeff says Austin was the first person that told him about Liz, "I figured it wasn't mentioned to me for a reason.. I figured you guys didn't trust me with that information at the time"
Shelli explains its wasn't they didn't trust him they wanted Liz to know and they brought Austin in so she would feel comfortable.
Shelli says she is confused about his relationship with Austin.
Jeff says he's been bullshitting him and "Broing" him
Jeff – My biggest threats in the house are Audrey and Austin..
Jefg has a feeling that Austin is going to dominate Competitions
Jackie chimes in says she's feels it to
JohnnyMac come in
Jeff again tells them Austin talks a lot with Audrey and it worries him, "I'm telling you bro he's not dumb bro.. he knows this game bro "
Jackie chimes in that Austin has a Big Brother tattoo..
Jeff – Austin's gotta go..
Jeff doesn't know where Liz' head is at.
Jeff – Liz is going to flirt her way as far as she can get
Jackie chimes in says she talks a lot about Liz and she never talks game, "If you put her on the block we'll find out"
Jeff says they're reluctance to "Pull the trigger" is making them look weak in their decision making.
Jeff wants them to build a team with a good compliment of players, "We need to solidify the core.. the people sitting in this room right now.. I trust you with my game.. number wise we want 2 more people.. I like Jason, James and meg.. out of all of them I would want Meg"
Jackie chimes in "I'm cool with James for sure"
Shelli asks Johnnymac who his two people he would want in the alliance.
Johnnymac – Becky and Meg
Jackie For sure Meg
Sheli asks them – so Becky and James ?
Jackie – Meg to
Jeff – James is loyal.. he's really country
Clay says his two people are Becky and .. Feeds cut ..
Shelli says she has big questions with James. She trust them all so she's taking that in consideration. She doesn't know why they all think he's trust worthy says He was very very good saying the right things.. convincing Jace last week
Jeff – James isn't smart at all
Shelli points out James is very close to Day and Jason, "those are another reason I'm really worried about James"
Shelli says their Trust Circle alliance needs to start before eviction.
Jeff – we needs to stick with the people we trust right now.. Create our alliance.
10:11pm They cannot decide on a alliance name decide they'll each think of a name and meet later.
[envira-gallery id="118964″]
Share it YO!!
Tweet