POV Holder:
?
Next POV
July 11th
POV Used
?
POV Ceremony
July 13th
HOH Winner Team 1:
Vanessa
HOH Winner Team 2:
Austin
Nominations 1 :
James & Johnny Mac
Nominations 2:
Jason & Meg
Battle of the Block Winner
Jason and Meg
Next HOH/ Next BOB
July 16th / July17th
Original Nominations:
?
Current Nominations:
?
Have Nots
?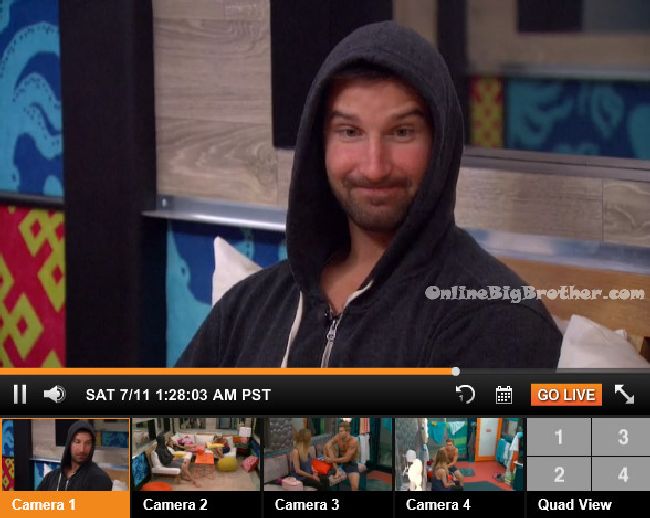 1:25am – 2am Cabana room – Jeff says I just think its weird that we've had his back and then now Jason's acting like this. He wasn't acting like himself, he was acting like Day. His tone today was very aggravating. Like I had to walk out of the room because I was about to scream at him. I agree with the fairness of the game. It wasn't right, you guys shouldn't have been put up. Meg says if he had pulled my aside and he had to put me up, I wouldn't have minded. Jeff says I don't think it was really his decision. James asks was it Vanessa's. Jeff says he told me it was. Meg says he threw my name out before all these noms stuff. James says and me. We made a contract with him and if that's true I feel like we need to break it. Jeff says it sucks that one of our members is wavering. Jeff says we have your back no matter what. Jeff says I don't appreciate or care about Jason talking sh*t about me. He needs to stop. If he continues I will say there's this line drawn and you're on my list. So as soon as I get a chance you're going to leave. If you want to play that game I will start playing really hard. Meg says I think he (Jason) has been through a lot the last few days. A little bit of understanding .. ease the extremeness of it. Jeff asks who does he think he's going to work with. James says he might flip over to the other side. Jeff says I need to focus on figuring out if I need to draw a line with Jason or not. Meg asks why do you need to do that right now. Jeff says I'm not going to sit here and pretend I'm still working with him. Meg says its irrelevant right now. Jeff says I'm not even going to give Jason a second chance. I'm just not sure when I'll make it clear to him. I would rather work it out with him but too much was said. James and I were talking and we want to take care of you but we're going to get rid of Jason sooner or later. Meg says I'm embarrassed about today. It's just been a long 24 hours. Meg tells James he will be fine. James says unless Audrey wins veto. James says it would be tough against Johnny Mac. Everybody loves him.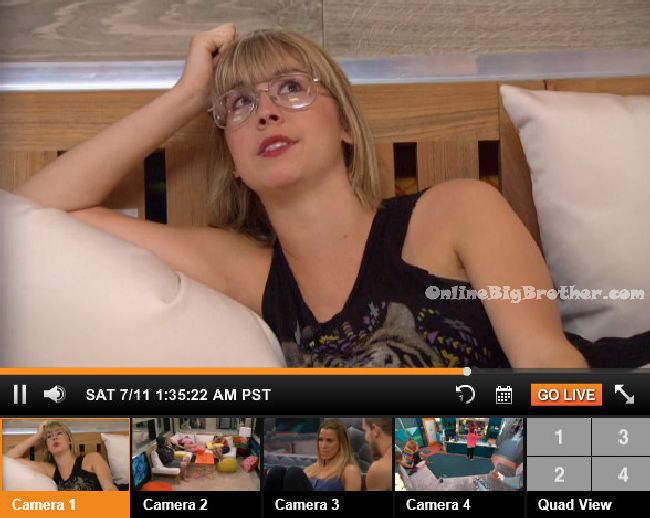 1:40am – 1:50am Storage room – Austin tells Shelli right now its either one James or Jeff. Depending on what happens with the veto. Johnny Mac said he would pick me to play. If I win it I might have to keep it the same. It might look better. I would have to backdoor and people would expect Take Johnny Mac off. Shelli asks do you think if we keep Johnny up there he could go home? Austin says I really trust Becky's vote but I don't trust Audrey's vote. Shelli asks it's Becky's vote to keep Johnny. Austin says I think ..but we have Steve's for sure and then Becky seems to be for sure too. Although she had this weird meeting between Meg, Jackie and Becky. They were in the parlour room for an hour .. are they doing an all girls alliance right now, we don't know. Maybe Becky wasn't involved and we were just thinking she was but Meg and Jackie were in the room alone for a long time. Shelli asks today? Austin says yes. Shelli says I feel like I'm becoming a target. They talk about Jeff wanting Shelli to get Clay closer gone but getting someone else to do it. Shelli asks doesn't he realize if I go he no longer has Clay. Austin says Jeff is playing so stupid right now. He won't leave Liz alone either. Austin says if Jeff goes then all of a sudden I can pull Jackie too. Austin says either way it will work out if one of them goes. Austin says I was ready if I had to, to do the Jeff backdoor. But this way I can be his buddy till he walks out the door. He is going to be freaked out and scrambling.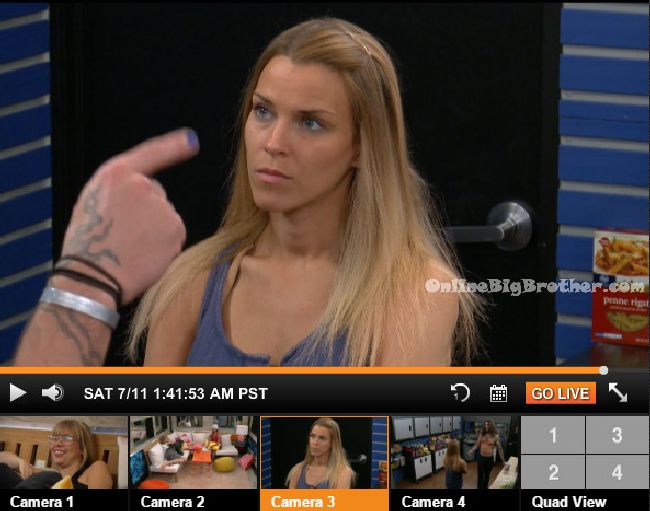 2:15am – 2:35am Cabana room – Jackie, Jason and Austin are random things. Austin says I'm already his bully. Jackie says Jeff is his mentor. Austin says did you know Steve is a never-nude. No one has seen him nude. Just his mom and doctor. Jackie says wait no ones seen me naked. She then says that she thought they meant just in the house. Austin says he hope he gets a 100k followers on twitter after this. Jason says okay Jace! Austin says he already had 11K just from wrestling. Austin starts stroking Jackie's leg. Jackie says that her neck hurts. Austin asks if she needs a massage. Jason says he might choke her. Austin says she might not be opposed to that. Jason says you got that right.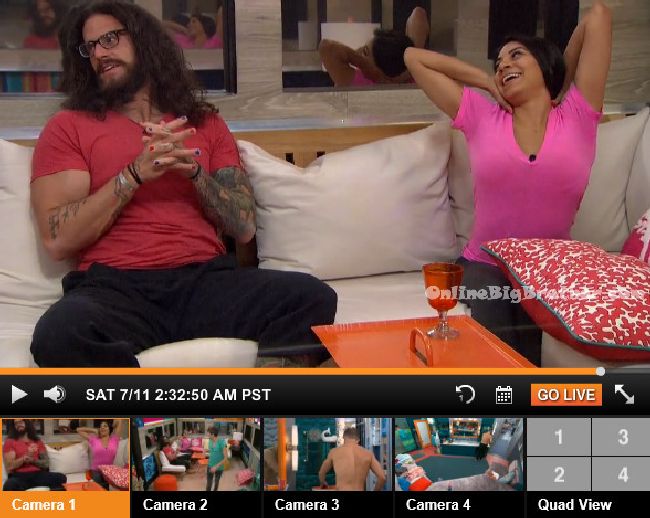 2:30am James tells Jeff and Clay that Austin and Jason are talking in the cabana room. They're going to come together and form a group. Jeff says honestly dude I am down to just.. James says done. Jeff tells Clay Jason. I'm done with him dude. Clay says I'm not close to him like ya'll are. Jeff says not any more. Clay tells Jeff I think Austin is working on your girl. Jeff says good.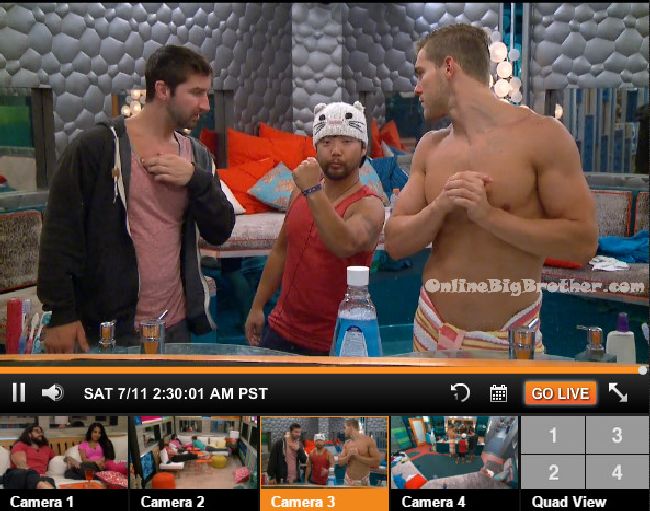 2:45am Kitchen – Steve, Clay, Meg, Shelli, Jason, Becky, Jackie and Austin. They're all sitting around chatting about randome things. Austin is giving Jackie a neck massage.
Jeff tells Liz I think you're the most mysterious person here. I'm on to you. Liz says I'm on to you. Jeff says I feel like you think you're on to me but I'm on to you. I just want you to know that. I know what your deal is. Jeff says I'm on to you, do you want me to elaborate? Liz says no. Jeff says we can continue to play games. Jeff says oh my god Jason hates me now. Liz asks why? Jeff says I talked sh*t to him today. He was being very rude today because he was acting like I had a hand or a string to pull in getting him up on the block. Liz says oh that's why he was like don't talk to Meg before the competition. He had no reason to come to me because I didn't even want to talk to Meg. She pulled me in here and was crying. I gave her a hug and that was it. We went outside and Jason said I didn't need to talk to her and make her cry before the competition. Jeff says first of all you don't need to come at me like that. Liz says well they're off the block now. Liz asks is James scared? Jeff says I am going to try and win it if I get chosen to play. Liz asks what if she (Audrey) gets picked to play in it. Jeff says I'm sure she will. She knows what's going on. Liz says oh I know your time is up boo! Jeff says that Jason is so bitter about day. He said a lot of things about me today. He felt like I should have been up on the block. Steve joins them.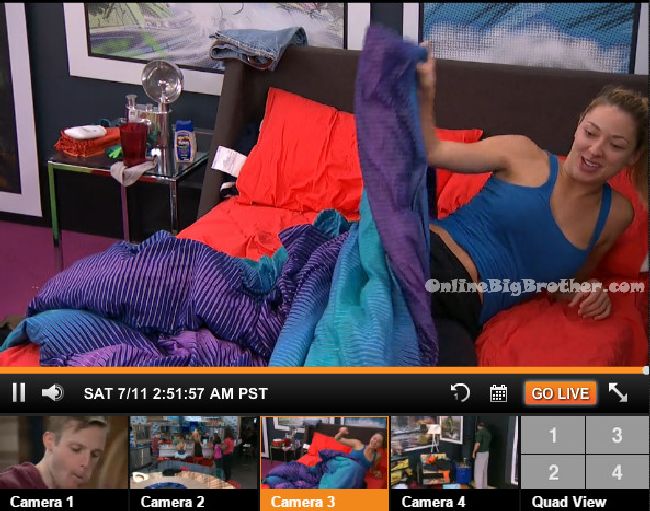 3am
Clay tells Johnny Mac if I get picked to play and win I will pull you off. Johnny says okay.
Steve & Liz @bigbspoilers #bb17 pic.twitter.com/68jNA9vtu0

— Dawg (@DawgsBigBrother) July 11, 2015

Up in the HOH room – Austin gets into bed with Vanessa. Vanessa asks do you think anyone has any idea about the backdoor. Austin says hell no, only Shelli and Clay and Steve. Austin says they're all goofing around down there. They think everything is fine. Austin says I was giving Jackie a massage. I think Liz was getting mad I was giving her a massage. I don't know though, I don't know if she cared. Austin says maybe someone is telling her to not hang out with me or something. Maybe Jeff. Vanessa says it wasn't me. Are your feelings hurt? Austin says kind of. Liz joins them. She asks if they've heard an update. Liz says Jeff said I'm on to you.. I know he knows. Vanessa says I don't think people know as much as Steve thinks. Liz says that the fight between Jason and Jeff was absolutely real. He for sure thinks that Vanessa is putting up Audrey. Jeff said he thinks its 100% real. He's like I hope I gets picked to play in the veto tomorrow so I can play in it and save Johnny Mac.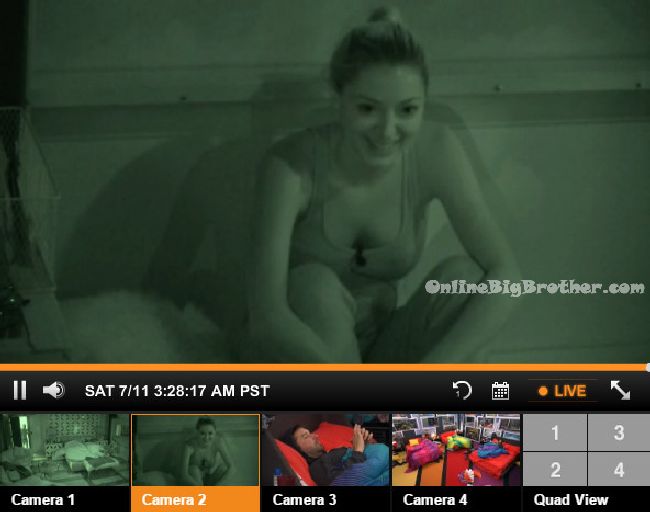 4am In the bathroom – Shelli talks to Liz how Vanessa was getting pissed about Liz needing to take this way more seriously because we're sticking our necks out on the line. Shelli says she thinks people are starting to forget about it and not care now that Day is gone. Liz says thank you, I needed that.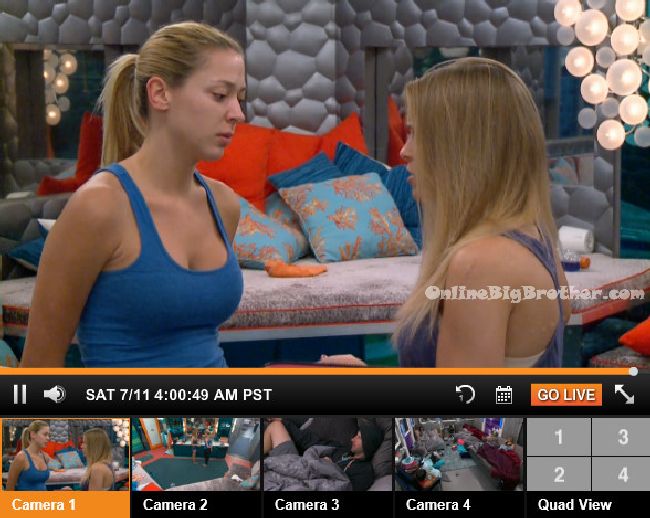 4:10am In the bedroom – The house guests are chatting about random things and joking around. Meg and Jason start studying the days / events of the season so far.

Jeff "James just had a baby with Jackie" @bigbspoilers #bb17 pic.twitter.com/mzZgyADpiT

— Dawg (@DawgsBigBrother) July 11, 2015
Live Feed subscription gives you CBS All Access thousands of archived shows. Live Shows like Big Brother, all the Big Brother Seasons, and 24/7 coverage of what is happening inside the Big Brother House. Plus there's flashback that lets you go back to any second of the feeds and rewatch what happened. Simon and Dawg will index the season just watch the parts worth watching. All this for $5.99 a month try it out 1 week free. Support our efforts and get your feeds via a link on this site. Live feed subscription Sign up
[polldaddy poll=8972565]
Share it YO!!
Tweet