POV Holder:
James
Next POV
Aug 1st
POV Used
No
POV Ceremony
Aug 3rd
HOH
James
Next HOH
Aug 6th
Original Nominations:
Shelli and Clay
After POV Nominations:
Shelli and Clay
Have Nots
Austin, Liz, Julia
2:35pm Vanessa and Clay
Vanessa saying she hates being in this position having to choose between the two people close to her. She wants a final 2 with the surviving part of Chelli. Clay agrees. Vanessa says they have history and she trusts them the most in the house. Vanessa asks if Clay and Shelli will date after.
Clay says he's talked about it with Shelli, they agree it'll be tough after being apart for 2 months. They agree whats meant to be will be. Clay and Shelli will see what happens after the show.
2:48pm Bathroom Austin and Liz
Liz holds Austin arm they plan out their days routine. Work out Chest, play bowling etc etc..
Liz says they have 2 more days of slop. Austin hopes they are done with it for the season.
Liz – I'm not going on slop ever again
Liz – I'm torn
Austin – I suddenly endorse keeping him.. I'm leaning towards keeping him for many reasons
Liz – See how angry he is
Austin says they get rid of Shelli the other side of the house might think they are going ahead with the plan it might provide them some safety. They go against the plan and keep Shelli that side of the house will be pissed even Becky.
Austin they need to throw the HOH to Steve.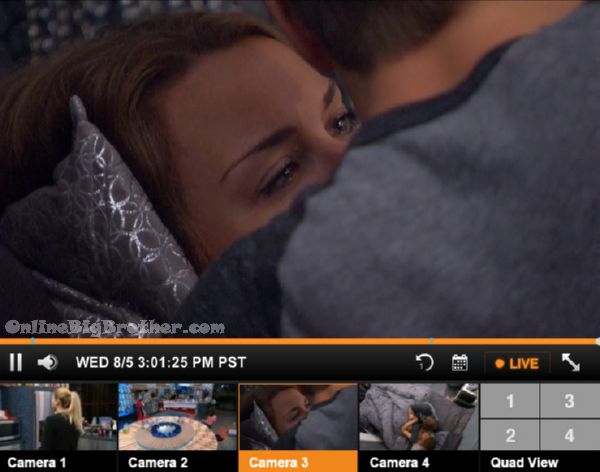 3:00pm Shelli and Clay
Shelli crying because it's so awkward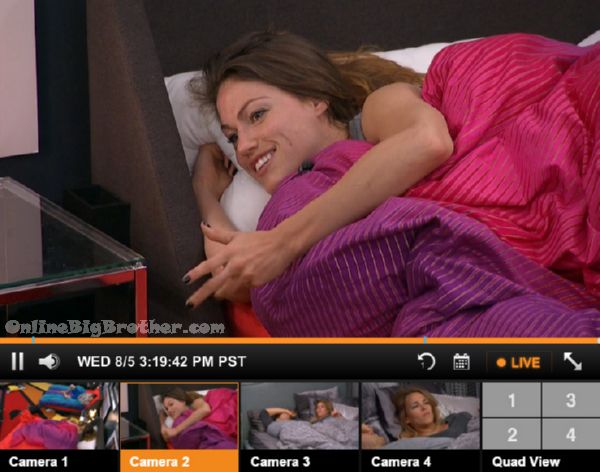 3:15pm Becky and Jmac
Becky tells him she's voting Shelli out.
Becky talking about the deal that Vanessa wanted to make last night so they try and get rid of Clay and Shelli by next week.
Jmac asks who goes up
Becky – Pawns, you guys are the plan b if anything goes wrong
Becky brings up they told Vanessa they will go with the deal but a lot of people will turn on Vanessa because she went back on her deal last week. Becky adds James, Meg, Jackie, Austin, Vanessa and the twins were in the conversation.
Becky – the votes are splitting to keep Shelli, Austin is really upset at clay and the twins really like shelli
Becky – Vanessa is close to Shelli.. and Steve, Clay went to him and said I don't deserve to be here.
Becky says Shelli will go with Vanessa and Vanessa is everywhere.
Becky calls Vanessa paranoid brings up vanessa wanting to make final 8 deals with people every week "B1tch you've done this to us before"
Becky says Vanessa's game is in ruins, "I'm super leery of her right now, I don't trust Vanessa and if Shelli stay in they'll win win win win"
Jmac – if I vote Shelli or will that seal the deal
Becky – no we need 5 we needs Steve
Becky wants Clay to work with her, Jamc and Steve.
Jmac – I'll make sure I talk to these three at some point today
Becky says Austin and Vanessa are way closer than they think. She adds that Austin has never been on the block there's something going on they're, "Austin's cool I have no reason to put him up"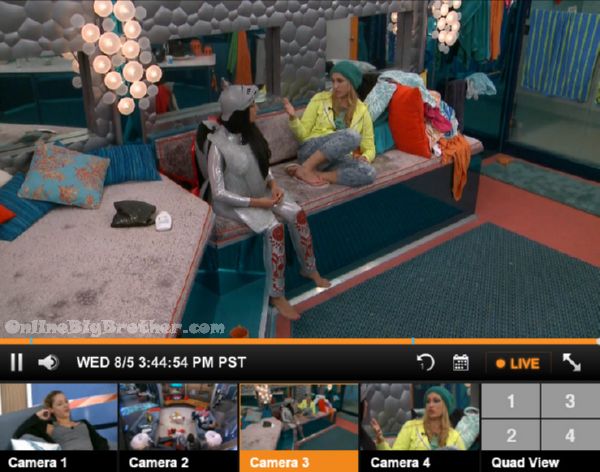 3:40pm Talking about how sad it is seeing Clay and Shelli be broken up it's a tragic love story.
Jackie clears up that Sheli and clay were playing all sides of the house and got caught they're not nominated because they are in a showmance.
Jackie asks if Chelli is mad at Austin
Vanessa – I think so
Jackie – because he didn't have their back
Jackie says when Austin wears his top hat during the vote it's Judas voting. Jackie says Clay and Shelli thought of this.
Vanessa – he did say that was his nickname.. for wrestling
Jackie – when he's wearing that top hat I'm not trusting him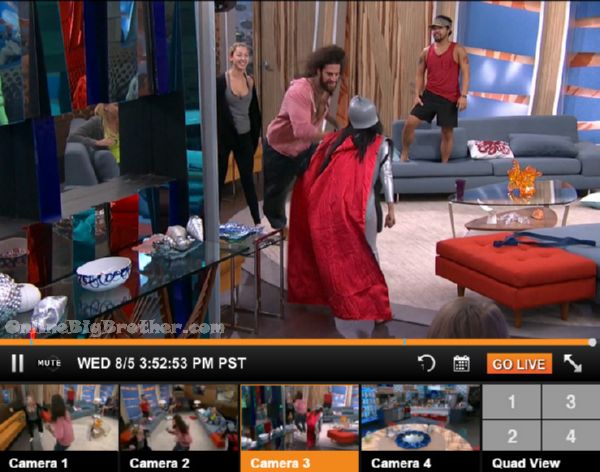 3:50pm They're back to wrestling moves
Austin taking beats from Liz and Jackie #BB17 @DawgsBigBrother pic.twitter.com/Sob6K1Jnz0

— OnlineBigBrother.com (@bigbspoilers) August 5, 2015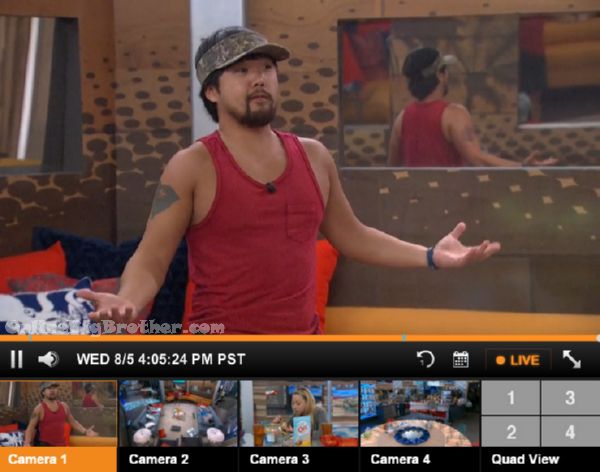 4:05pm James telling them going freeballing feels so free everyone should try it. He says he just hopes someone doesn't prank him and pull down his shorts.
James – I feel dirty today.. haven't shored wearing the same clothes, My hair feels oily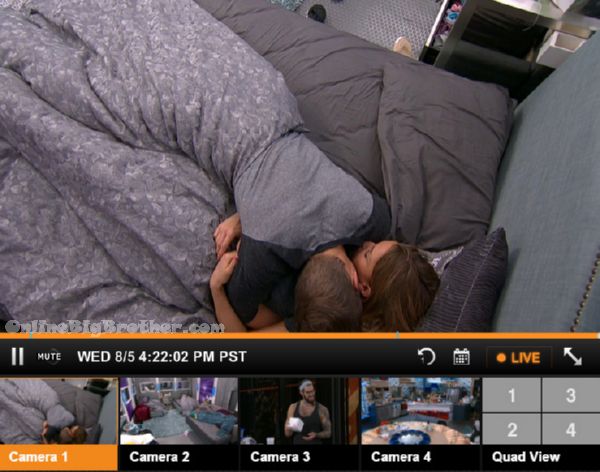 4:22pm Sheli and Clay kissing and being sad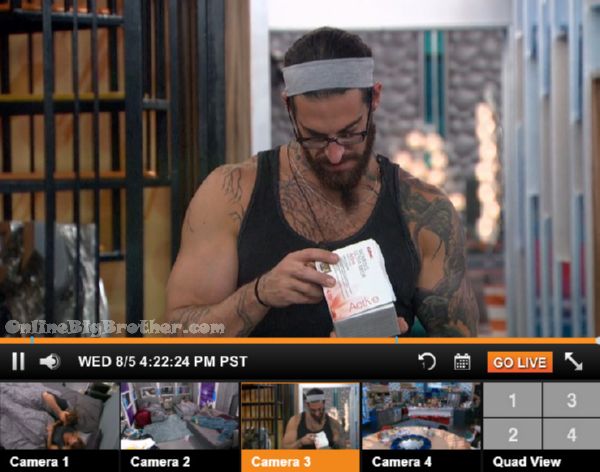 4:22pm Kitchen Liz, Austin, Julia, Jackie and James
Austin says they're giving the girls Dill weed extract says it's an aphrodisiac . JAmes screams out to give them more. Adds that Meg has been frisky lately must be the dill weed.
James brings up the backstreet boys song quit playing games with my heart.
Liz, Julia starts singing "Quit playing games with my heart.. with my heart"
Austin – see it's already working
They all start laughing… feeds cut to Shelli and Clay in the bedroom.
[polldaddy poll=9004995]