POV Holder:
JohnnyMac
Next POV
July 13th
POV Used
Yes
POV Ceremony
July 13th
HOH Winner Team 1:
Becky
HOH Winner Team 2:
Shelli
Nominations 1 :
Steve, Jason
Nominations 2:
Day, JohnnyMac
Battle of the Block Winner
Steve & Jason
Next HOH/ Next BOB
July 9th / ?
Original Nominations:
Day, JohnnyMac
Current Nominations:
DaVonne, Meg
Have Nots
Steve, Jason, James and Meg
TRY the Big Brother 17 Live Feeds FREE for 1 WEEK:
Click here to ensure your live feed subscription supports OnlineBigBrother.com at no extra cost to you.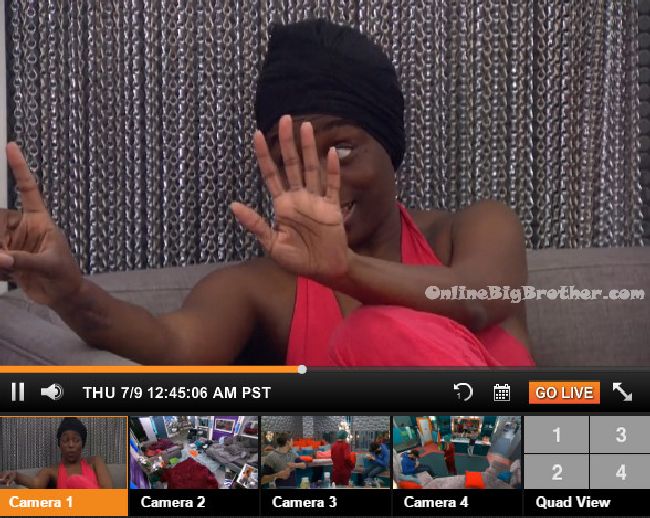 12:40am Audrey says you can trust.. Who do you think you can trust? Jason? Day says other people want to keep me in the game to take you out. But I don't trust them. Audrey says because they want you to serve their agenda. We all came together and said they're going to save me this week. Like they were doing me a favour. I think it's because .. they think that you would eventually target them. So they got into Shelli's ear.. It was like this is the perfect opportunity and she was like I think it wasn't fair the they didn't hear your side. Day says Shelli doesn't trust him. Audrey says oh I can tell. She completely abandoned me all week after. Audrey asks so you're positive these people aren't just saying they'll vote for you? Day says I'm positive because they want you gone. That argument we had today got me votes. Day says I wish I could have had Austin, but I couldn't. Audrey says I have no idea where he stands. Day says I have you and a backup so I have 6 (votes). I'm good! Audrey asks was Jeff in on it? Day says no. Audrey leaves. Jason joins Day. Day tells him Audrey is going to vote for me to stay. She said she wants to work together. I'm never going to work with her but if the bit*h going to vote for me, I'm going to take it. Jason asks what about Austin. Day says I don't think he is going to vote for me because I can never get him alone. This bit*h keeps popping up. Day counts her votes: Liz, Vanessa, you, James. If not John and Steve are on standby. That's all I've got. Jason says its possible though. Jason asks why does she want to vote for you. Day says because she knows that these people are coming for her. She said as long as I'm in the house I'm a target too. Which is true but I can do something to flip this house, she can't. Not after this week. She knows Shelli doesn't trust her. She knows she's been replaced by her and Jackie. Day says I have to get her (Audrey) out. I don't care if this bit*h saved me. I can't be in there with her.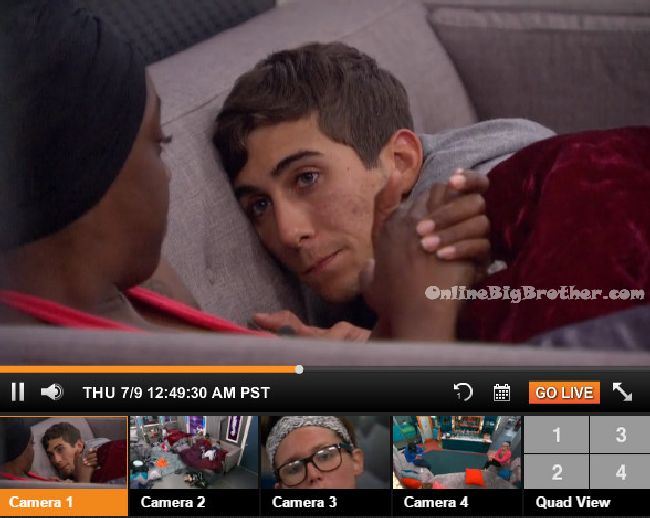 In the storage room – Johnny tells Jeff that Day told him if you're the 5th vote I stay. That's what she tells me. Jeff says wow. The leave the room.
12:50am Day goes into the comic book bedroom. You're still good right? She tells Vanessa I've got them (the votes). I'm depending on you. I've got them. I know who has the power. I can't tell you who but I know who has the power. Vanessa says here's the issue, the only issue is if it could hurt me. I'm only worried if people could tell. Day says they can't tell, they're secret. Safe. I haven't even told Jason and he's one of my best friends in the house. Vanessa says I wish I could know who the 5 people are. Day says I can't tell you because they're scared. If you're scared can you just convince Austin to by my vote? Vanessa says I can't even talk to Austin alone. Day leave to talk to Jason in bed again. Day says everyone keeps saying they're scared. WHat?! Aren't you grown?! Jason says no one ever flipped the house last year. So everyone is like what?! That could happen?! They turn off the lights. Audrey and Jason are alone. Audrey gets into bed. She asks do you think Clay would vote to keep her? Jason tells Audrey I don't think Clay would vote to keep her. I don't think that's one of the votes she has. Audrey asks do you think they're telling the truth. Jason says I think some of them are telling the truth.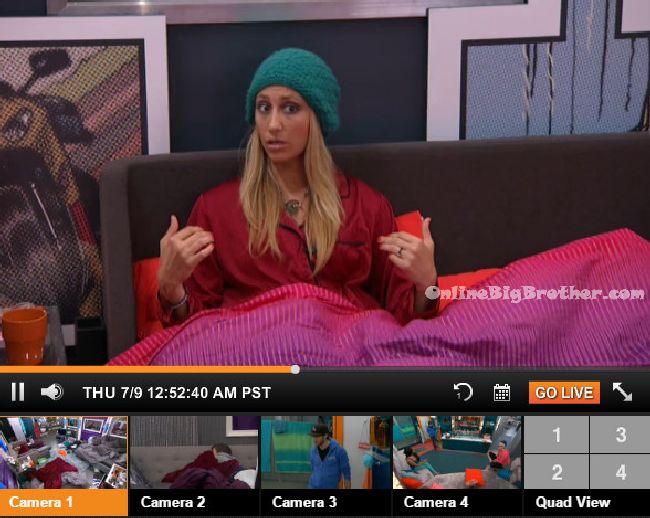 1:10am In the bathroom – Meg tells Audrey that literally everyone has told me I have their vote. So unless they're all completely lying to me. I'm in the worst position in this game being backdoored and not having been able to fight for it. And I'm going to look like a complete a$$. Meg leaves. Audrey tells Austin that she wanted to speak with you. About sleeper cell. Audrey says I was watching everyone and it seemed like you picked it up pretty quick. If you and I got up there would you want me to hold it. Austin says probably because that would be easier on me because they would want me to put you up. Austin says well lets get up there.
1:25am In the bathroom – Day asks Austin for his vote. Austin says I already promised my vote to Meg. I would need to know you had a lot of votes. Day says I do and I know who has the power.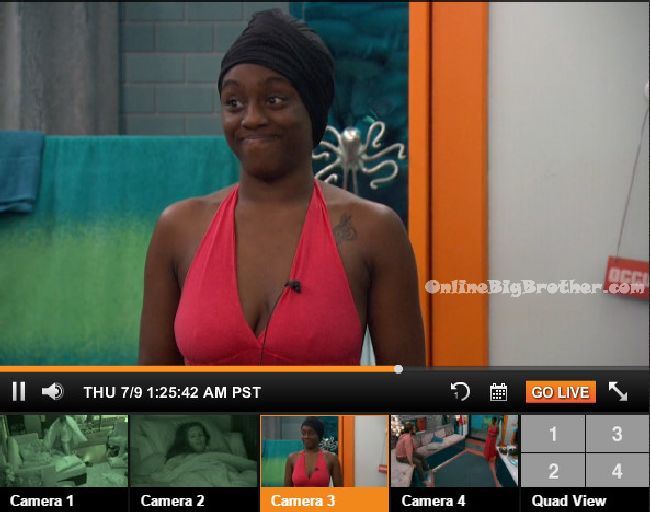 1:30am Cabana room – Jeff, Meg, Austin are talking. Jeff asks has Day come up to campaign. Austin says yeah. Jeff says I talked to Johnny Mac and she (Day) told him that she knows who has the last laugh. And the Johnny Mac would be her 5th vote. Meg says she might just be saying that. She said that to me too. Austin says I told her that I promised my vote to you. Meg asks really, thank you. Jeff says well Johnny Mac is voting for you. Jeff asks why do people keep making excuses as to why to keep her. Austin says I don't get why everyone tells her she has their vote because then she can go around the house and manipulate people. James joins them and sits next to Meg and farts. Meg says EEWWW that was in my mouth!!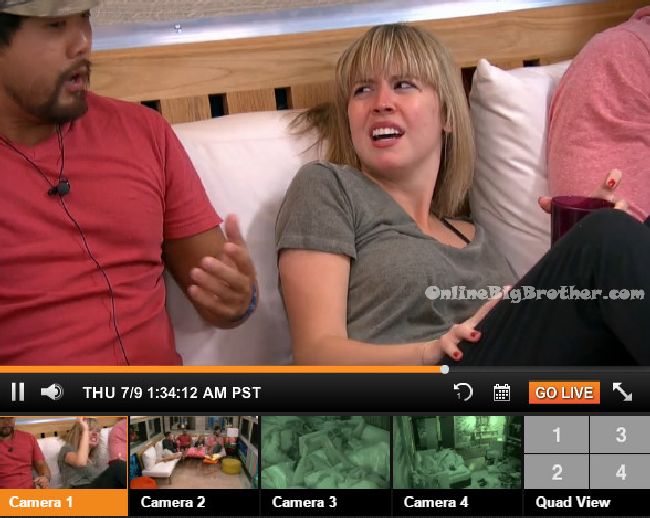 1:45am – 2:30am Shelli says so I think Audrey is working with Day. Clay asks you think so?! Shelli says that James was telling Jeff that he was going to throw the HOH. If he wins it then he woudn't have to put up Audrey. I kind of believe there is something going on. Clay says she's been saying that all week that she's got the votes. Clay says Johnny, Steve, Liz, Austin, Vanessa aren't voting for her. Shelli says I'm glad you feel so confident but you never know. Clay says I'm pretty sure Day is going home. Shelli asks only pretty sure. Clay says I'm confident she is going home. Clay says she (Audrey) has to go. I just don't trust her.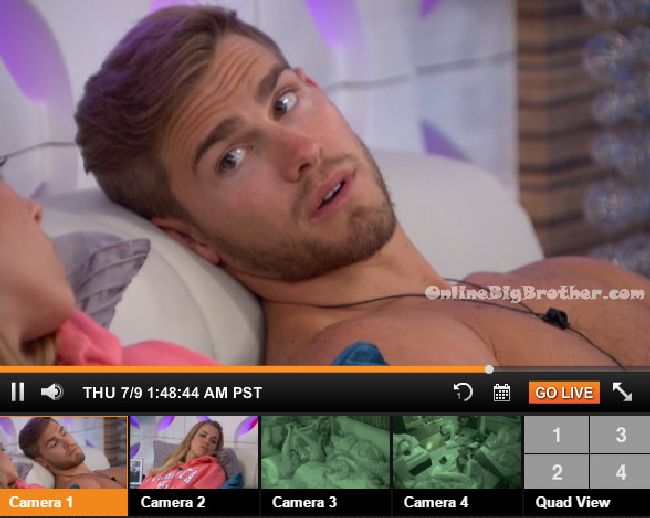 2:05am In the comic bedroom – Vanessa tells Liz there is some sh*t going on about you and I think you know. Liz says I think I heard. Vanessa says its going to get pinned on us for flipping the house. We're about to get f**ked. Liz says I can only trust you and Austin. Vanessa says we're about to get framed .. I'm not going to let it happen. I'm going to have to go talk to Shelli and Clay tonight and make a deal with them. For you, me and Austin. Liz asks so we have to vote for Day to leave. Vanessa says we have to even though I don't personally but unfortunately I know who is behind it. It's Audrey and she is going to frame us. I can't explain it to you later. Trust me on this one. I've been paying a lot of attention and you, me and Austin will end up taking the fall. Vanessa says we have to tell Day that we are voting for her. So she stops campaigning so hard. If she stayed Audrey would spin it around and frame it on us even though she was one of the people that voted to keep Day. Their whole fight today was fake. I have proof. I am telling you Audrey is doing some major sh*t. I am going to expose her but its going to take me like a day. They're setting us up to take the fall. We can't have them blame it on us. Next time we talk to Day make her feel like you are going to vote for her BUT we are NOT going to. Vanessa says You, me, Austin, Shelli and Clay could work really well together. I'm going to try really hard to make that happen. If I was going to trust one more than the other it would be Shelli.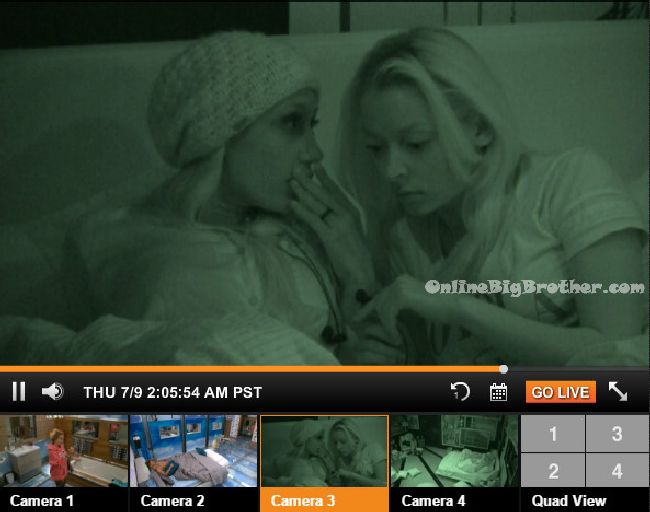 Get the Big Brother 17 live feeds FREE for 1 week
Click here to ensure your live feed subscription supports OnlineBigBrother.com at no extra cost to you.
2:10am – 2:50am
Liz asks so who is it that you heard something about me? Vanessa says I heard it came from Day. Which is why she doesn't have your back at the end of the day. Liz says I heard it was like team america trying to start that sh*t. She had told me that she thinks I have a twin and that I've been switching in and out. I was like its funny you're telling me this when you're about to get eliminated because she is trying to be like I know this information but I need your vote. Vanessa ask is it true. Liz sighs. Vanessa says if it is true I just need to know that your sister or whoever will join us. I'm f**king fine with that if its true. Liz says I needed to tell you something. It's true! I was too scared. Vanessa says okay. Liz says I'm going to cry right now. I know you're not going to tell anyone but dude I've been dying. Vanessa says I'll protect you then. Vanessa tells her she will help them hide it. Here is what we're going to do. Liz says we're going to have two votes. Vanessa says I just need to know when you guys are going to do the switch. Vanessa says one of them figured out you … or one of you has a birthmark on your back. I'm not sure which one you are. But you guys need to figure that sh*t out. Vanessa says okay just give me your word that your sister is going to be in with us. Liz says yes! Vanessa asks what week do you have to make it to? Liz says week 5. Liz says I'm not Liz. They both laugh. Vanessa says I don't think Austin knows. Liz says I know, I was going to tell you guys. I'm dying. Liz says that Day told her yesterday about the twins theory. Vanessa asks did you tell her it was true? Liz says no. Vanessa says good, you cannot trust her! Liz says my name is Julia. Vanessa tells her one of you sleeps more than the other. I think you do it to avoid talking to people. Also one of you told a story about cheating on a boyfriend, you almost got caught with that. Liz says I know. Vanessa says your sister also says boned a lot, so start using that. Vanessa asks are you and your sister going to trust me. Liz says we've trusted you since day 1. You and Austin.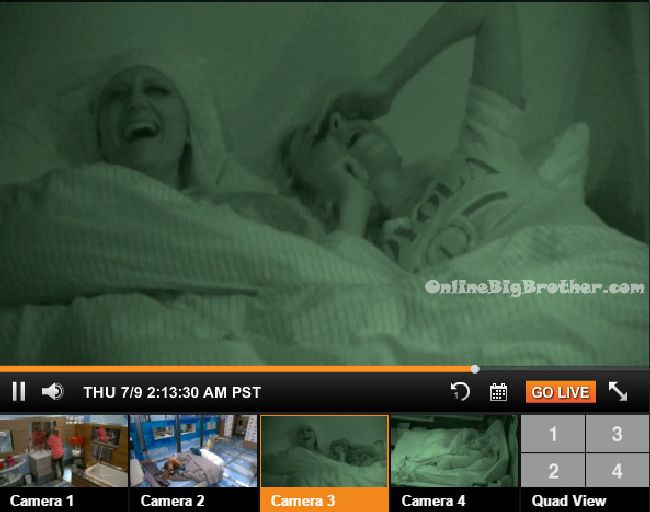 Liz says I love you. I'm so glad I have that off my chest. Vanessa says you have to wear hats more because your roots are different. Liz says I feel like the whole house knows. How do I get out of this. Vanessa says because you and your sister will be two people. We make an alliance with Shelli and Clay. We can also spread misinformation to throw people off. Vanessa says you need to eat more too. You're skinnier. Next time you talk she needs to not be eating and you need to be eating. Vanessa says if its okay with you I'm going to tell them. Liz says I don't know I'm scared. You need numbers to protect you. Vanessa ask do you guys control when you switch? Liz says no, production does. I think we're going to switch tomorrow. Liz says I can't believe Austin doesn't know because we have different bodies. We're the worst twins. We thought we were cool until Monday. Liz says I knew that Day was behind it and she shouldn't have tried to do that if she really wanted my vote. Liz asks you don't think Shelli and Clay are more loyal to Jeff and Jackie? Vanessa says no. They they are starting to question Jeff. Vanessa says that she really trusts Shelli. Vanessa tells Liz she used to be a professional poker player and can read when people are lying. Liz says I hate James with a passion. I don't know if you were raised by dogs but you are a sexist pig. I hate him. I want him out. Liz comments on how Austin has a girlfriend and its creeping my out. Stop putting your arm around me. Liz says they were trying to corner me in the bathroom. What if they ask me if I'm a twin what do I do? Vanessa says you f**king lie. Do you want to win the money?! You're Liz, get your head in the game. Liz asks do you think we can get away with this? Vanessa says all we have to do is make sure you don't get evicted. You're not a big target. You'll have an alliance behind you. Liz says I wanted to tell you and Austin.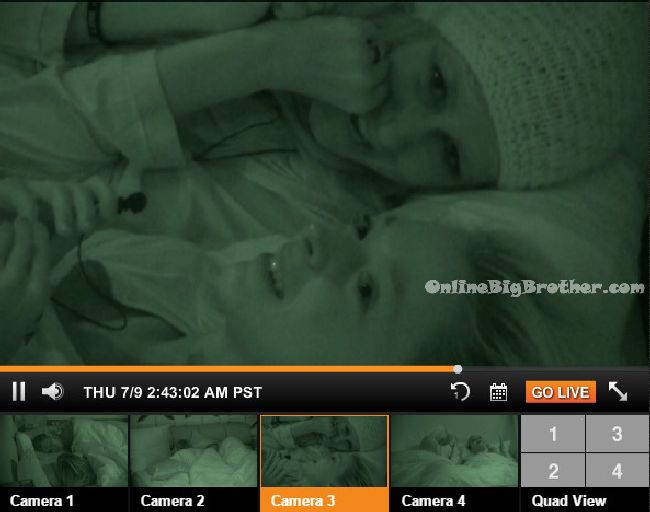 3:10am – 3:25am HOH room – Vanessa heads up to the HOH room to fill Shelli and Clay in on the "Liz" coming clean about being "Julia". Vanessa tells them this is huge.. "Three's company" (Vanessa, Clay, Shelli) is real right!? Shelli and Clay say yes. Vanessa tells them about how Day and Audrey are working together trying to flip the house. Vanessa says that she went to Liz and she mentioned the rumor she thinks people were talking about her. Vanessa says Liz confirmed she and her twin are switching in and out. She is scared sh*tless. If you could know the conversation I just had for the last hour. Vanessa says she wanted to tell Austin. And Austin has a girlfriend and he is trying to hook up with her and he is clueless. She's been telling her sister that Austin's been touching her in the middle of the night and she is like I don't know what to do. It's so awkward. Vanessa says so he is the play, if her sister comes back that's a number for us and that's good. Shelli says I love you! Vanessa says this is me returning the favour to you. Vanessa says its going to be me, you, Austin and them two. Meanwhile Austin thinks its going to us four. But now its us 6. It will become 6 at strategic points.

Share it YO!!
Tweet