POV Holder:
JohnnyMac
Next POV
July 13th
POV Used
Yes
POV Ceremony
July 13th
HOH Winner Team 1:
Becky
HOH Winner Team 2:
Shelli
Nominations 1 :
Steve, Jason
Nominations 2:
Day, JohnnyMac
Battle of the Block Winner
Steve & Jason
Next HOH/ Next BOB
July 9th / ?
Original Nominations:
Day, JohnnyMac
Current Nominations:
DaVonne, Meg
Have Nots
Steve, Jason, James and Meg
TRY the Big Brother 17 Live Feeds FREE for 1 WEEK:
Click here to ensure your live feed subscription supports OnlineBigBrother.com at no extra cost to you.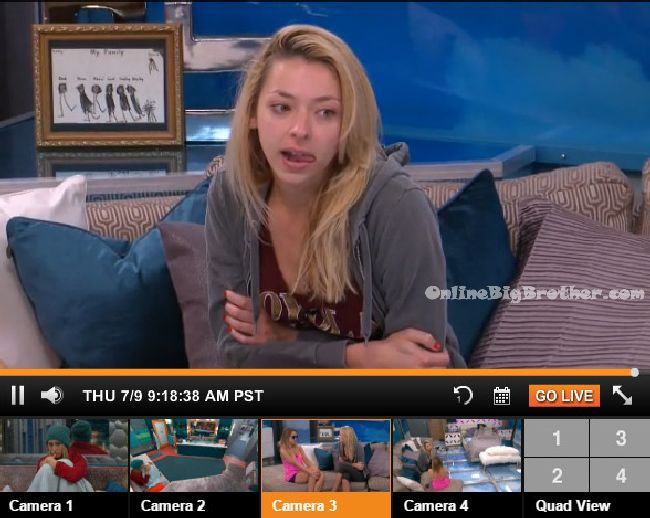 9:10am – 9:30am HOH room –
Julia is up in the HOH room and asks were you the one up here in the HOH room the other day. Julia says no it was Julia. Shelli asks is one of your faces a little wider? Julia say yeah Liz. They ask her if her memory wall photo and if it is both of their pictures together? Julia says no its Liz. Julia comments on how both her and Audrey are the ones smiling and holding secrets. Clay say Day is leaving today and hopefully Audrey next week. That will hopefully dissipate. How long until you both come in? Julia says 5 weeks. Julia says that James tried to corner in the bathroom and started asking 20 questions. I was like no way, deuces. Julia says I knew I had to tell someone when everyone was on to it. Vanessa comes up and tells them that she can hear them downstairs when they scream or laugh. Vanessa leaves again. Julia says I know I need to put on weight and she needs to lose weight. Clay says we need to deflect the target long enough. Julia says she thinks we're going to switch today. Julia says did you guys notice during the live show when we did a live switch. Shelli points out their nail polish and wonders if they could both have the same design. That's one thing they wanted to test out if you would come out with out any nail polish. Clay asks and do you have something on your foot. Julia looks at her foot and notices something. She says well I'll just have to wear socks. Shelli says tells Liz that if Day asks the dogs name is Charlie something from the movie all dogs go to heaven. Shelli says they've been asking lots of questions and there is no way you can remember all the details. We will try and get you the information. Julia says I am going to try and stay away from the people that are really questioning it like Jason, Day. Clay says we will try and hang out with you so that we can intervene if they start questioning it. Big Brother tells them to change their batteries and Julia heads downstairs.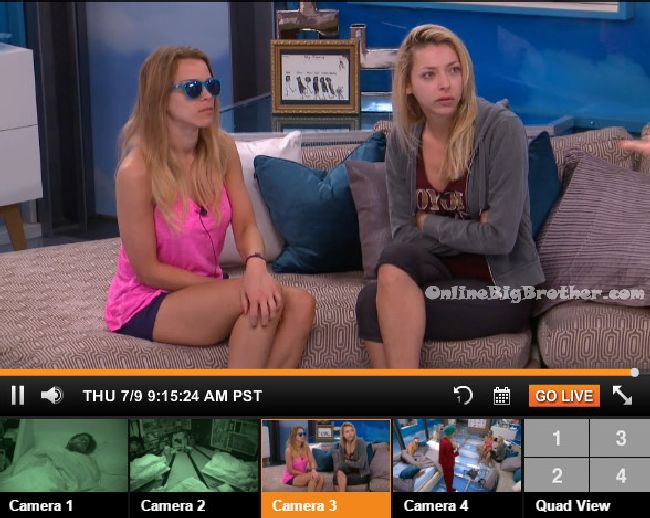 9:30am – 9:50am In the bathroom – Vanessa tells Austin about Liz having a twin switching in and out. Vanessa tells Austin they can't trust Audrey or Jeff. Austin asks why can't we trust Jeff. Vanessa says because he is gunning after you. Vanessa tells Austin that Liz and Julia have been switching in and out. Austin asks how did people figure it out. Austin asks if they've switched yet. Vanessa says yes, get in the game! You've been sleeping with two different girls. Vanessa says that Audrey needs to go. She literally tried to frame us. She is a snake in the grass you cannot trust her. The moment she goes on the block she is going to out us. Shelli and Clay trust us. Austin asks where does Becky stand? Vanessa says she's very in the middle right now. Vanessa and Austin talk about coming up with a signal (hang loose hand gesture) to notify the other they need to talk.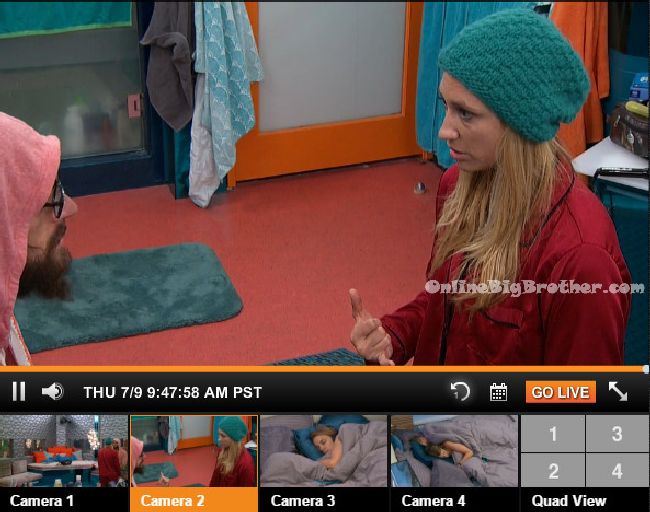 9:50am – 10:10am Austin heads up to the HOH room – Austin says I don't even care about all this I just want to know why Jeff is trying to betray me. Basically he is the male Audrey? Shelli tells Austin to act normal with him, just don't give him any information. Shelli says I still trust Jeff, just not with information. I think he is just collecting information from everyone. Austin says Vanessa told me about all the bullsh*t with Audrey too. Shelli says thing with Audrey are sketchball again. Austin says so she needs to go next week. Clay calls Audrey crazy. Shelli says she's not crazy she's just good at this game. Big Brother blocks the feeds. When they come back – Austin asks how did I not notice. Shelli tells Austin he needs to start paying attention. Austin says I think she looks a lot different actually. Clay says we need to keep her here for the next 5 evictions. Austin says he thought she was just loosing weight but its going to be noticable today when they switch. Austin asks why didn't she come to me and tell me. Shelli says we need to pay attention to who she is talking to and the conversation so that when they switch we can fill the other one in. Austin asks so who goes this week? Audrey? Shelli and Clay say yes. Shelli tells Austin that they think the fight between Day and Audrey was fake. Shelli says it was so good that I put up Meg instead of Liz because then she would be going home. Clay tells Austin they need to get Becky on their side. Austin says that's the thing I was trying to get Jackie on our side too. Austin tells them that if someone like a Jason gets rid of Shelli it would be good because then Clay would be alone. Shelli says that Jeff wants to dance on both sides that's why we stopped trusting him. Austin leaves.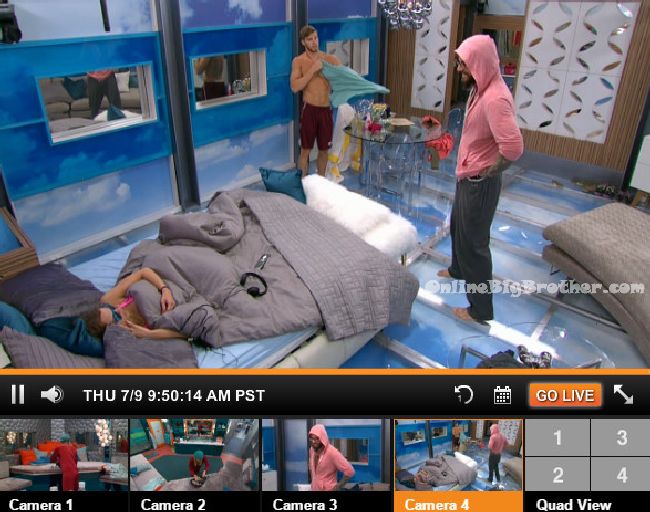 10:15am – 10:25am HOH room Audrey comes up to the HOH room and asks if she can shower. Audrey says that Day tried to give me their her two cents last night. Audrey says that Jeff told me that I made up that Liz was going to vote for Day. Day told me that they think know who has the power and that she has 6 votes. Clay says that Day confronted Liz about you saying she was voting for her to stay. Audrey says part of me wants to go caller her out. Shelli asks why are you so concerned with this Day thing? Shelli says when Day corners people they are telling her they will vote for her. Audrey says that Liz straight up told me she was voting for Day and now she is lying about it. Audrey says I'm not saying another word.. I'm just telling you two because last time I told Meg and Jeff something it blew up in my face.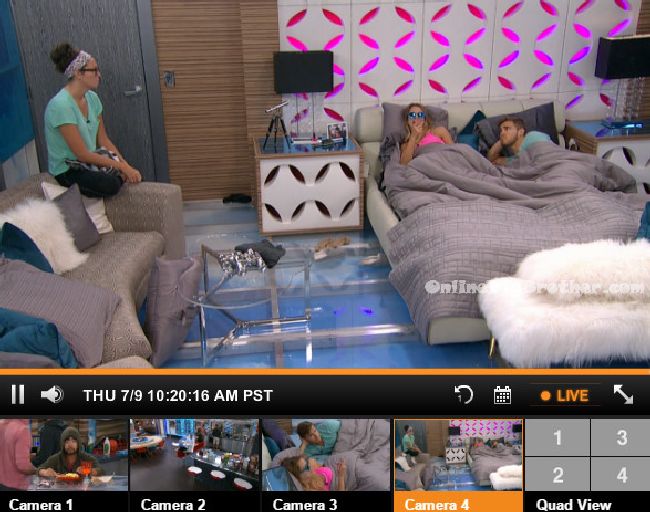 10:25am Big Brother blocks the live feeds. In the bathroom – Vanessa is talking Day. Vanessa asks if she can just tell the person that can nullify the votes to use one on her. Vanessa says I don't want to be a part of this vote. Day says that "they" (SHe) already locked in the (3 nullified) votes yesterday. Day leaves. Jeff says the house is voting for Meg. Jeff says that we think Day has the vote thing and will axe out all of Meg's friends. I probably won't be able to vote. James and Clay probably won't be able to vote either.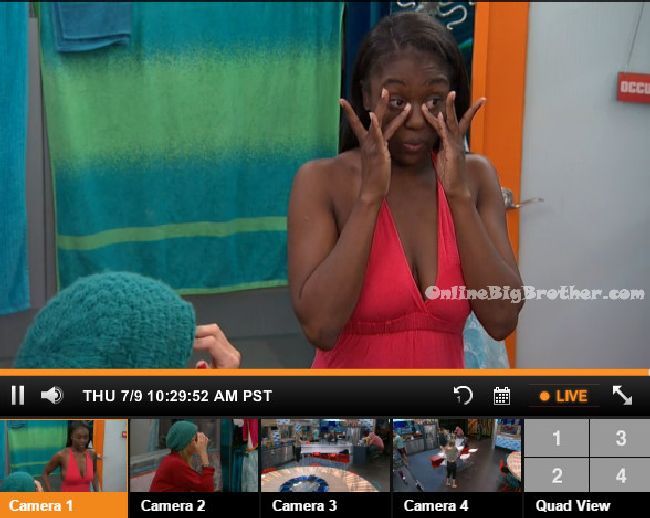 10:35am In the bedroom – Day tells Jason that Jeff, James and Clay are all working together. Vanessa says I'm scared. If I vote for you, they're going to come after me. They're backing me into a corner. Day tells Jason to watch his back. Day says which means they've flipped her (Vanessa) too.
10:50am The house guests are in the kitchen eating breakfast.

10:50am – 12:15pm The live feeds are blocked (likely for the HOH lock down) showing the Jeff Schroeder live feed highlights.
This next week will especially be interesting to watch as the twins Liz & Julia now have help trying to hide their secret from the others.
Sign up for the Live Feeds and test them out FREE for 7 days!
Live Feed subscription gives you CBS All Access thousands of archived shows. Live Shows like Big Brother, all the Big Brother Seasons, and 24/7 coverage of what is happening inside the Big Brother House. Plus there's flashback that lets you go back to any second of the feeds and rewatch what happened. Simon and Dawg will index the season just watch the parts worth watching. All this for $5.99 a month try it out 1 week free. Support our efforts and get your feeds via a link on this site. Live feed subscription Sign up
[polldaddy poll=8961340]
Share it YO!!
Tweet