POV Holder:
JohnnyMac
Next POV
July 11th
POV Used
Yes
POV Ceremony
July 13th
HOH Winner Team 1:
Vanessa
HOH Winner Team 2:
Austin
Nominations 1 :
James & Johnny Mac
Nominations 2:
Jason & Meg
Battle of the Block Winner
Jason and Meg
Next HOH/ Next BOB
July 16th / July17th
Original Nominations:
James & Johnny Mac
Current Nominations:
Jeff & James
Have Nots
No HAve nots this week
TRY the Big Brother 17 Live Feeds FREE for 7 Days!:
Click here to ensure your live feed subscription supports OnlineBigBrother.com at no extra cost to you.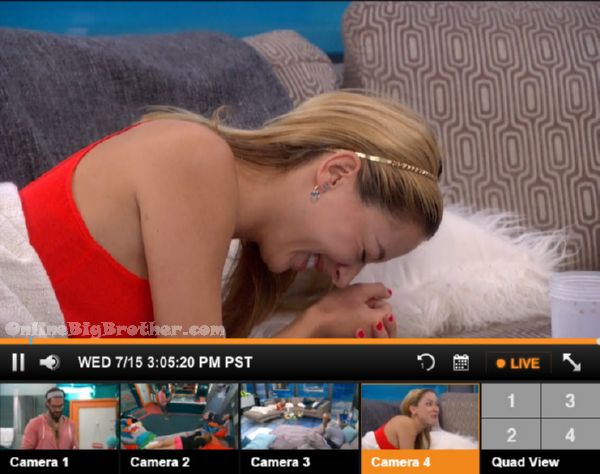 3:07pm HOH Liz and Vanessa
VAnessa says Steve is 22 but his maturity level with women is 13
Liz points out that Steve is a virgin
VAnessa says he's only kissed a girl 4 times
Liz wonder why Steve would think she likes him
vanessa – you told him you like nerdy guys ..
VAnessa explains that Steve doesn't have experience with women
Vanessa says it's specifically Liz he likes
Liz says she's going to have to stop doing this
Vanessa – what are you doing to him
Liz – Steve of all people oh my god.. what so I do
Vanessa says she needs to stop flirting with Steve and start talking about Austin to him.
Austin comes in. Vanessa says they are talking about Steve
liz – He knows to
Vanessa – I told him this morning
Austin – I mean we can double date..
Liz says she tells him things but she's just being nice..
Vanessa tells them to be careful with Steve he's very fragile. "He can be ruined for life "
Vanessa asks her if she's dated a nerdy guy like steve
Liz says he dated one once.
Vanessa wonders if it was Julia that told Steve she liked nerdy guys
Liz says Julia goes after the a$$hole tool bags
Liz – if her lips touch a guy bye i'm not interested… Me and her will never fight over a guy ever.. there's too many guys in this world to do that.
Austin hopes Steve doesn't come after him and harbour resentment because of this.
Austin says Liz needs to squash this
VAnessa – you need to say I have a crush on Austin
Liz – I like nerdy guys but ones that aren't virgins.. I like Muscles not guys that are twigs
Liz – why can't he like Jackie.. .Like Come on Jackie
Austin – you are the only one that gives him attentions
Vanessa – it's great to be gay my lf is so easy in here
Audrey comes in. They asks her if everything is OK with Shelli
Audrey says Shelli is concerned because JAson has been throwing her name out there
Austin thinks Jason is going to target SHelli and Austin. He might put Austin up with Steve. Audrey thinks she's the target.
They agree Their side has to win it this week clay and Shelli won't be throwing it.
Austin doesn't think there are a lot of people that will avenge Jeff ex except for Jackie
Audrey is worried Johnnymac will
Austin – He's loyal to a fault.. why is he loyal to him what has Jeff done for him
Audrey – He will put up Shelli because he can justify it
Austin – He's a candidate to throw
Liz – Johnnymac loves Shelli he won't put her up
They start talking about how Simple and "Remedial" last year there wasn't the level of manipulation they are having this year. Audrey and Austin agree it's because there was a strong guys alliance that Steam rolled.
They start speculating about the HOH competition tomorrow. They're hoping it's a pairs competition. They wonder what would happen if Jackie and Becky are paired they would be a strong in a competition.
Vanessa – Becky is in no alliance
Audrey – I see her with Steve in the storage room talking for a long time
Austin – Steve, Can Steve stop going after every girl in this house
Austin – Jeff claims he has a third mystical vote
Audrey – I think i'ts Steve, Johnny, Becky and Steve those are his votes.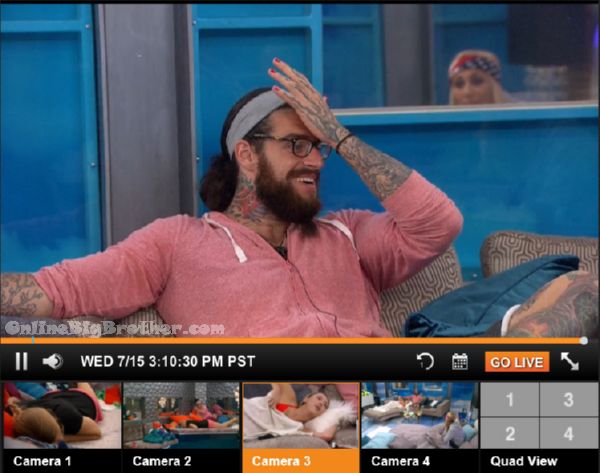 [envira-gallery id="121610″]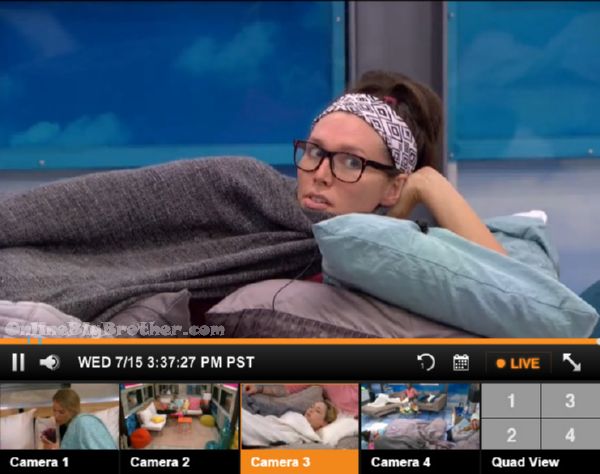 3:36pm HOH Austin, Vanessa, Liz and Audrey
Talking about potential HOH Competitions.
Audrey says she will die before coming off an endurance competition. They wonder how well JAson is going to do because he's a smoker.
Audrey is going to say in her goodbye message to Jeff "Sorry you got taken down by a real alliance the sleeper cell "
Vanessa is going to say – "While you were asleep thinking Audrey was the target Sleeper cell had you under their spell and you were the real target" (LOl ohh zing)
Vanessa – "Ring Ring Ring Ring.. Lawon.. Jeff it's Lawon he wants Big BRother worst move in History back"
Austin – That's what you get for calling out the HOH
They start speculating who is going to try and win the HOH
They agree JAckie, Jason, Meg are going to fight for it.
Vanessa points out Meg shouldn't win the HOH she's safe and will just make her a target.
They Agree Becky is going to fight for it but they might be able to talk her out of it. Becky was expressing concern that she's coming on too strong in the competitions. Austin is going to plant a seed about it.
Audrey _ I think JohnnyMac is going to try and win
Austin – Jeff is somehow infiltrated his mind
Vanessa – jeff got in there.. he f***d him up
Audrey – I think JohnnyMac is a bro guy
Austin – Why can't he be a bro guy with me
Audrey – because Jeff was against you
Steve comes up Audrey heads downstairs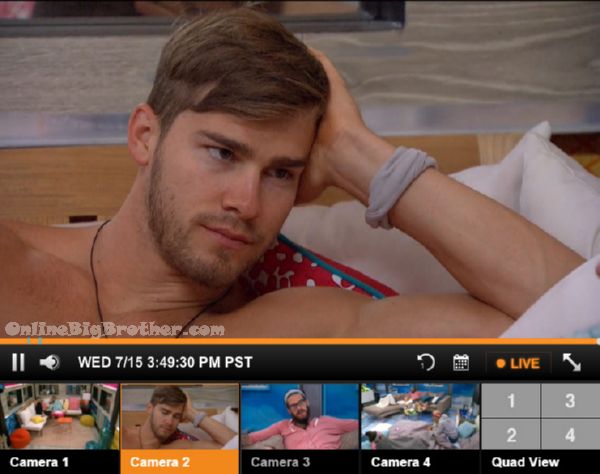 3:38pm Clay and Shelli
Talking about Jeff swearing his loyalty to Clay.
Clay says there is only one person he would throw the HOH to Vanessa and she can't play
Clay says if they win HOH there's no more talking to the other side no more james, Meg, JAson.
Shelli – have you talked to james about who he would go after.. Vanessa and Austin have made them pretty big targets this week
Clay – Today's not a game day I'm off today.. this is the day we call in sick
Shelli – I don't like how quiet the house is
Clay says Audrey and Vanessa are getting to know each other on a personal level, "They are getting closer.. and closer" Clay thinks if they have a double eviction they might come after the couples. Clay thinks Audrey will take him out so she can have Shelli.
Audrey comes in tells them that they were talking in the HOH and she's certain it'll be a couple HOH like last year.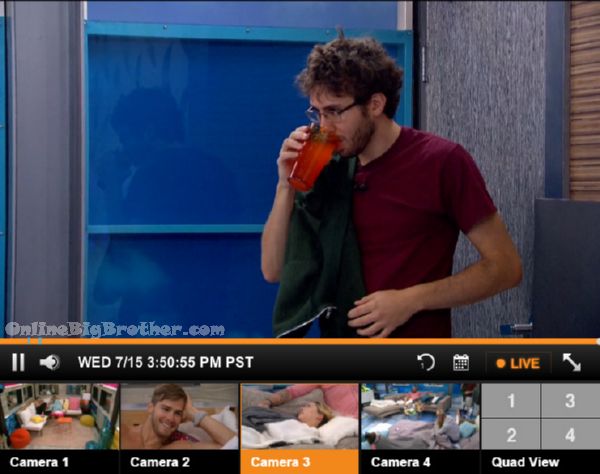 4:00pm HOH Steve, Vanessa, Austin and Liz
Steve asks who is voting for Jeff to stay, "He needs 6"
Austin says it's Jackie/JohnnyMAc and a magical third person they don't know about
They count the votes and the only one they are not sure about is Becky. They have confirmation Meg will vote out Jeff.
the vote count is
To Evict James = Jackie and JohnnyMAc
To Evict James = Austin, Steve, Liz, Clay, Shelli, Jason, Meg
Unknown = Becky
Steve and Liz leave.. VAnessa tells him about her conversation with Liz. Liz likes him but doesn't want to do anything in front of the camera.
Austin – so she said she's into it
Vanesa – ya I think so
Vanesa – Audrey is America's player and she's pinning it on Steve
Vanessa – she's America's player 1 million percent
Austin – so we can't count on her
Vanessa say they just can't count on her vote.. Steve her fall guy
Austin – So Audrey's the third vote.. I'm telling you we have to replace her
Vanessa says she wants to work with Audrey but she's America's player they can't play with her.
Austin – we'll have to move her out and someone in
Vanessa wonders if it's team America again, she's thinking it's Clay, Shelli and Audrey.
They start talking about the difference between the Feed favorites and the TV favorites.
Austin thinks they need to tell Shelli and Clay about their concerns about Audrey being America's player. Vanessa keeps saying how certain she about it.
Vanessa – we need to get Audrey out it's the X factor we cannot control
Austin agrees. They start to wonder who they can pull in. The options are JohnnyMAC and Becky. They think Becky is really controller so she might not be a good fit.
Vanessa says Austin needs to go to JAmes and tell him Jeff is saying there's a secret third vote and none of them know who it is.
Vanesa – worst case he has Becky, Jackie, JohnnyMAC and Liz.
Ausitn – that's why he wants our vote, me and Liz
Vanessa asks him if there's a chance he would vote for Jeff.
Austin – 0.000
Vanessa now saying that she suspect Audrey is working with Shelli and Clay. Austin wonders if they are trying to flip to Jeff. (OMG these two are so paranoid)
Vanessa – Audrey's gotta go she's America's player it's way too much of a X factor
Austin asks her if this would have put Audrey up in light of this information
Vanessa says she would because they cannot make any plans America's player will blow it up
(Vanessa thinks Audrey is America's player based on what she was saying about Steve)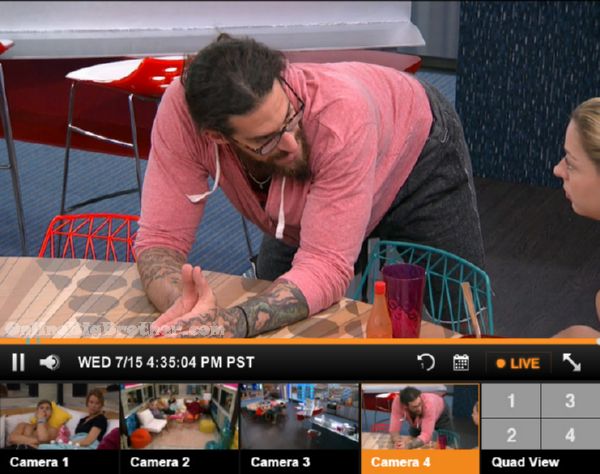 4:34pm Austin and Liz
Austin telling her Audrey's America's player and she's going to be the third vote "She's gotta go"
Austin – that's why everything flipped with Da last week
Austin explains they can't strategize with Audrey cause they have no idea what she'll do it's based on America's vote.
Liz agrees
Austin is worried Audrey is going to spread some rumor to Shelli.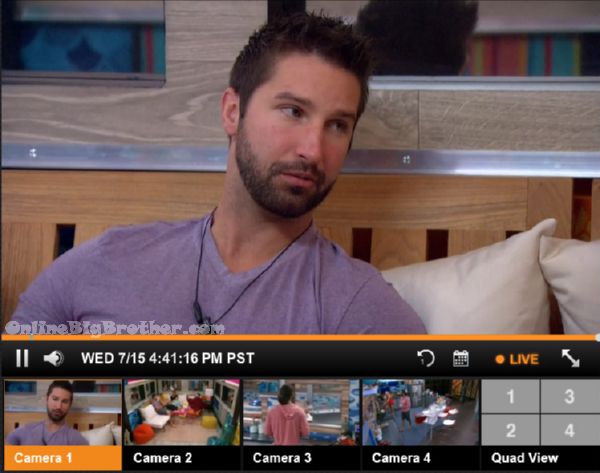 4:42pm Jeff, Clay and Shelli
Jeff says Jason isn't going to vote for him because of the Da vote.
Jeff says if he stays there's one person he thought was his friend and he's going to AXE them from the equation.
Jeff – Jackie is really upset.. she's just really scared.. we've been hanging out a lot more than usual lately
Jeff – Shelli you were one of the first people in this house that I met when I walked in .. it's crazy
Jeff – Audrey I don't think I met you until later on.. Same as Clay..
4:49pm Clay comes back
Jeff tells them there is someone else in the house throwing his name under the bus. He always thought it was Audrey but it wasn't
Clay – Austin
Jeff – YA I didn't see that one coming..
Jeff goes on about Austin telling people Jeff saying he has 6 votes. Jeff says that is crazy he wouldn't do that. (Actually Jeff was telling Austin he was the swing vote and if Jeff stayed he had a good chance to win)
Clay called into the Diary room
Jeff says he hopes his obvious friends stick with him
Audrey – Like Meg, JAckie Becky
Jeff – well ya.. Shelli, Clay, JohnnyMac.. becky is a mutual friend.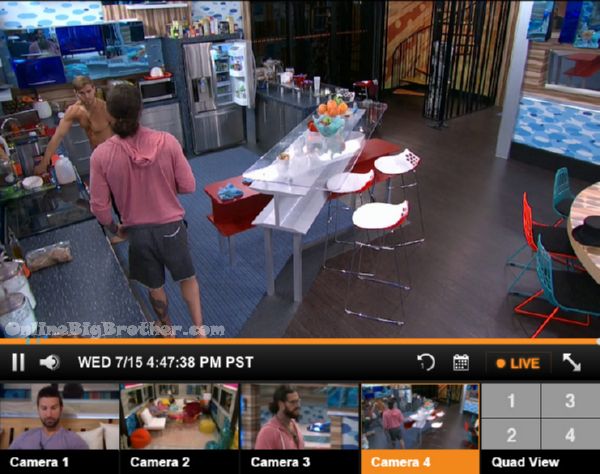 4:46pm Austin and Clay
Austin telling him his goodbye message "No one comes between me and my twins"
Austin wanted to do it with both of them but production won't let them
They are waiting for the Jeff campaigning onslaught
Austin is going to talk to James and tell him to pick it up he's not campaigning just sleeping.
Clay says he's positive Jeff is going
Live Feed subscription gives you CBS All Access thousands of archived shows. Live Shows like Big Brother, all the Big Brother Seasons, and 24/7 coverage of what is happening inside the Big Brother House. Plus there's flashback that lets you go back to any second of the feeds and rewatch what happened. Simon and Dawg will index the season just watch the parts worth watching. All this for $5.99 a month try it out 1 week free. Support our efforts and get your feeds via a link on this site. Live feed subscription Sign up
[polldaddy poll=8972565]
Share it YO!!
Tweet