POV Holder:
?
POV Competition
Aug 8th
POV Used
?
POV Ceremony
Aug 10th
HOH
Becky
Next HOH
Aug 13th
Original Nominations:
? and ?
After POV Nominations:
? and ?
Have Nots
James, Jackie and Meg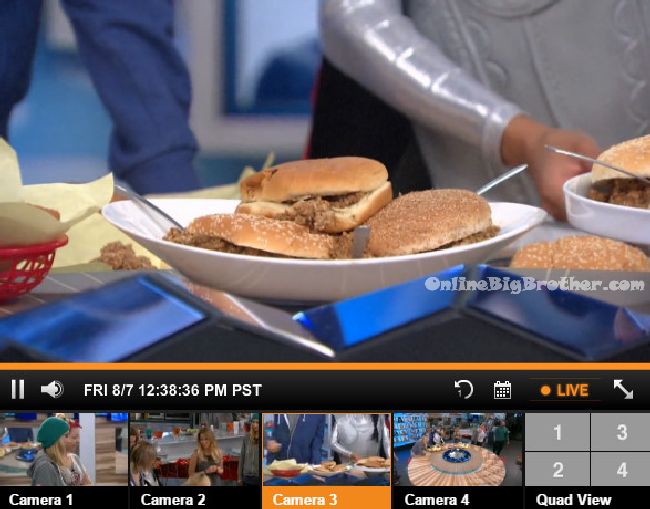 THE PLAN – Put up Shelli & Steve with Johnny as the fake backdoor plan when in fact Vanessa is the real target.
Watch the NEXT WEEK of the Live Feeds for FREE! Click here for your: FREE Trial
Is America's Player Twist making a comeback this season?

12:05pm – 12:35pm Big Brother blocks the feeds for the set up of the have not food. When the live feeds return that house guests are coming down from being on an HOH lockdown. The havenot extra food this week is "Sloppy Joes". The sloppy part is slop however the havenots get condiments and hamburger buns. Becky reads the card and then tell the house guests that the rotation continues … Havenots this week are James, Jackie and Meg!
12:40pm Bathroom – Liz and Julia are talking. Julia says if we win veto we need to make sure we keep the nominations the same. Liz says we need to win next week because its getting down to the wire. People are going to start gunning for us! Like you or me have to win next week .. or f**king Austin. Julia says I know .. like do you think he threw that one? He didn't do that well. He should have done well in that one. I think he did actually suck but he needs to start pulling his weight. Liz says its embarrassing… I said that in the diary room. Like he sucks! Like how embarrassing. Its such a turn off. I looked at his bowl and it was literally worse than Megs. Like what the f**k is wrong with you DUDE!? Like you're that big and have all those muscles .. like use them motherf**ker!! He's an idiot!! Julia says I know!!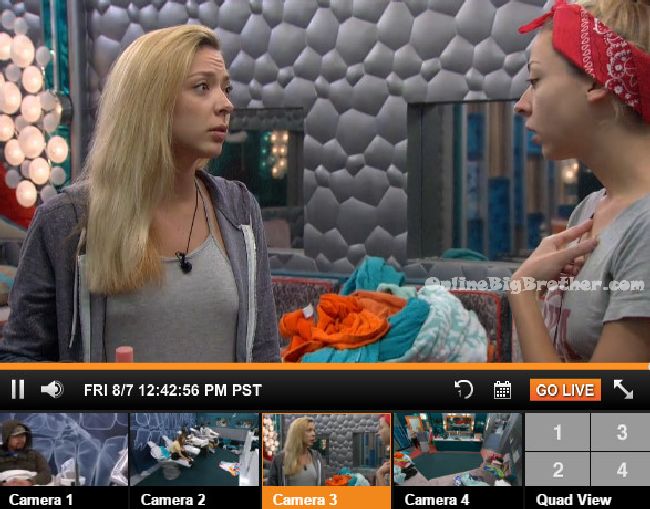 12:45pm – 1:30pm Becky, James, Meg and Jackie head to the havenot room. They asks how her conversation went last night with Shelli. Becky says I knew I couldn't be the one to make her happy. She came into the room .. like sh*t went down last week. She came in knowing that last week was ugly. Becky says Vanessa is our target and she literally has no idea she's the target. She really believes she is perfect. That she has done nothing wrong. She is always good to her WORD! Jackie says she is the worst about her word! Becky says that Steve walked in and said that he knows some times pawns need to be used. I was like perfect! Becky says that she told Vanessa no deals, no alliances. No one is safe with Vanessa as HOH. Her alliance members aren't safe and she tells the people that aren't in her alliance who the target is and then changes it. She wanted to make a deal and I said no deal! Jackie asks why did she need to make a deal!? Becky talks about how Johnny felt he was bullied by Vanessa. He was really shaken up. Jackie asks if Vanessa gets picked and wins the veto will Johnny evict Shelli? Becky says I think so. Jackie says we have to get Vanessa or Shelli out. And if she pulls that bit*h down OH MY GOD! Jackie says I think we're good unless her (Vanessa) paranoia gets to her. Becky says just keep telling her the plan. (Shelli is the target with Johnny the backup) Vanessa says she (Vanessa) will have no idea why I will backdoor her. Even if I explain all the reasons she will still not get it! Becky leaves. James says that he doesn't think Vanessa will come after us. But Shelli will, I sent her man home. Jackie says lets just wait to see what happens in the POV. James says he just gave Shelli the weirdest look and I didn't mean to. She probably thinks I hate her. Meg says maybe you need to go talk to her. James say no she needs to talk to me. I didn't do nothing to her. Jackie says besides ruin her game. Jackie says what we had could have been good. We went to having a final 8 to him getting cut before jury for turning on us. Meg says we've been really good at not letting anyone have anything on us. Jackie says for Vanessa to tell Becky not to trust me.. Like are you f**king kidding me?! I can't wait to ream the b*tch out! Does she know who she is f**king with?!?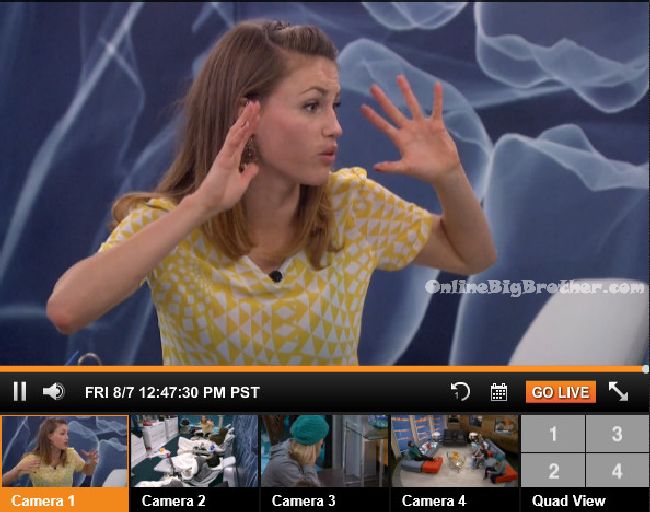 1:40pm James asks do you think Clay likes Shelli more ..or Shelli likes Clay more. Or did Shelli just get caught up in it all. James says for someone to be all in love like they were .. Shelli is taking it pretty good. Jackie says she has to. She has to act tough. James says we would understand if she did. It would arise questions if she was just over it. Meg disagrees. James says Clay is 23, he's probably getting so much p*ontang right now. Jackie asks do you think he would wait? James says no. Jackie and Meg talk about how Clay and Shelli pulled them out of bed to tell them everything they already knew. James says well we didn't know about the Judas thing. Jackie says that was fake though. James says maybe not. Jackie says still need to hide his hat.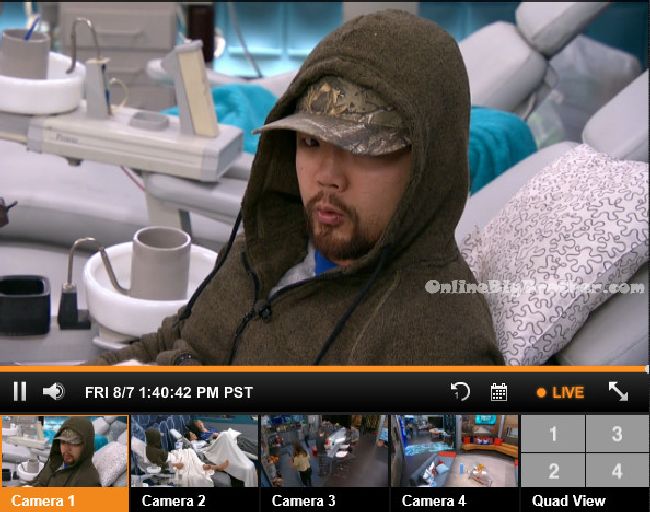 2pm Steve is sitting on the storage room floor talking to the cameras. He says that he thinks the backdoor target is Austin. Steve says that Becky smiled at me when I questioned if I would know who the target is. Steve says I want to f**King kill Vanessa for saying Freaks & Geeks to Shelli! I want to f**king KILL HER!!"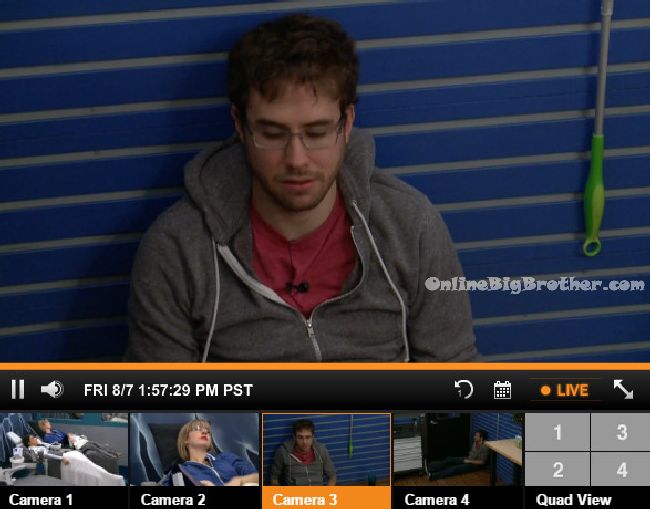 2:05pm – 2:10pm Bathroom – Vanessa tells Shelli that her talk didn't go well. She wouldn't make a deal with me. No reciprocal deal. Vanessa "If my face is up there.. I'm going to go like this! A FLIP FLOP! A FUCKING FLIP FLOP!" Shelli says it does feel better knowing we've made it to jury. Vanessa says and at least you know you'll get a chance to come back. Shelli says last week was so horrible and if I'm up there again its like whatever. Vanessa says its better to be front doored than backdoored. Julia did so good (in the HOH comp). Vanessa says I didn't even make it half way.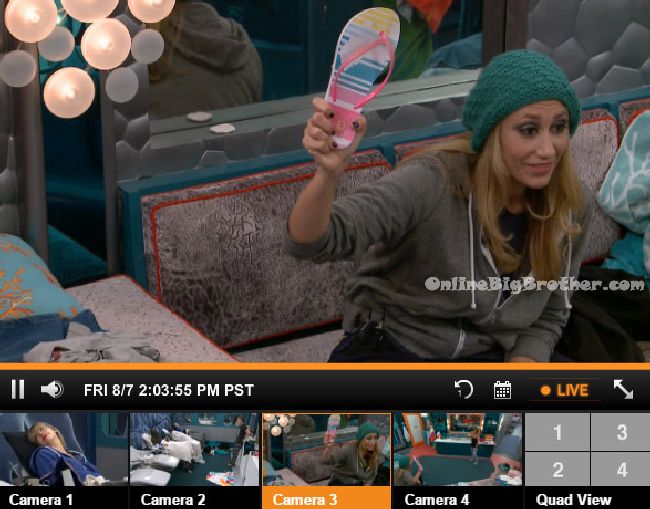 2:15pm Big Brother switches the feeds to the live feed highlights. It's likely time for nominations..
2:55pm The live feeds are still blocked..
[polldaddy poll=9004995]