| | | | |
| --- | --- | --- | --- |
| POV Holder: | ? | POV Used | ? |
| HOH Winner | Derrick | Nominations: | ? |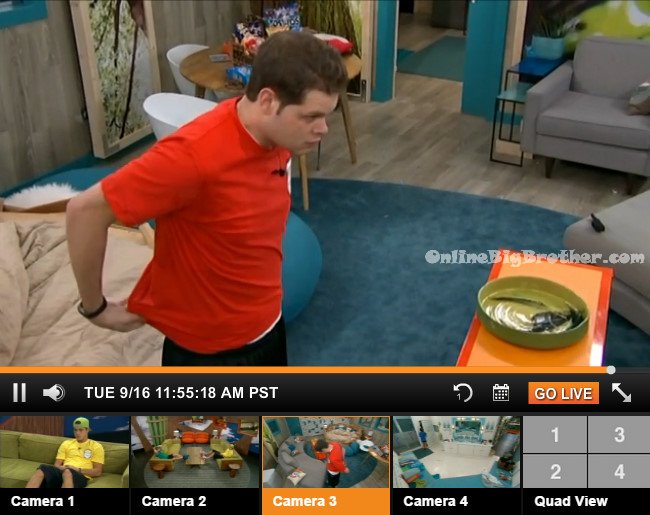 11:54am – 12pm During the live feed blackout there is a leak where the live feeds are turned on showing the house guests moving around the house. The leak reveals that DERRICK WON the HOH competition last night after FRANKIE was evicted from the house. The house guests are dressed to play in the veto but have NOT yet played! It is unsure who Derrick nominated but I would guess it was Victoria & Caleb. This week it doesn't matter who is nominated as the person that wins the veto decides who goes home and who they want to go to the final 3 with. If Derrick wins the veto then he decides who's not on the block and that person picks who is evicted.
Up in the HOH room – Derrick is putting on a back brace under his red veto shirt. In the HOH basket there is a licence plate that reads #1 DAD. Derrick then heads downstairs to the living room.
In the living room – Cody, Victoria and Caleb are talking. They are all wearing coloured shirts with a veto badge on them. Caleb is talking about what shoes he wears when he works out. He says he wears chuck taylor shoes by converse. Cody says he's never heard of them before. Derrick joins them and Caleb asks him if he's heard of them. Derrick has heard of them. Derrick asks if they're wearing snap backs for the veto comp. Caleb says I would hate for them to wake us up and then have us not play till the end of the day. Cody agrees and says today is going to be a scorcher. Caleb says I wish we were getting wet mic's. Cody says yeah getting dirty! Caleb says I've gotten so small in this house. When Devin was here we were working out everyday.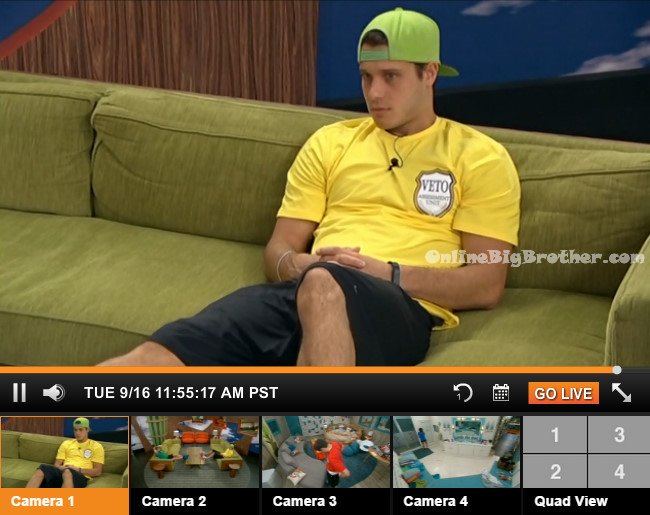 In the bathroom – Derrick and Victoria are talking. Victoria wishes Derrick good luck in the veto. Derrick wishes her good luck. Victoria comments on how all her socks have been stolen. She says that when Amber was here she found her underwear in Ambers basket. My thongs, my underwear! I was like what the f**k not only is this girl taking all of my clothes ..my makeup. I got so pissed!! Derrick says that's a little weird! Victoria says its disgusting!! Derrick says it is, not going to lie! Victoria says okay I've got this! Derrick tells her to go have fun with it.. we're on big brother! Victoria says there's no fun in 500K and losing it. Derrick says you're not going to lose. We're all winners. We're in the final part of the show. If you look at it that way you don't put that pressure on yourself and you'll perform better. You said something to me last night that really stuck with me … money's not everything. Victoria says its nothing. Derrick says don't play for the money.. play for yourself. Play because you want to win because you want to prove to yourself that you're a competitor. That you've come so close in so many comps that its just a matter of time before you won one and this is the one you're going to win. Victoria says yeah. Derrick says that's why you win ..not for the money. You know I need the money for my family but I win for me. You know!? Victoria nods. Derrick says and my family I know is going to love me either way. Victoria says oh yeah. I can do it. Derrick says you can, you're absolutely capable of it. Maybe today's that day. Victoria says I'm nervous. Derrick says Can I tell you a secret? I'm nervous right now but its a good nervous. Victoria says but you don't really need to be..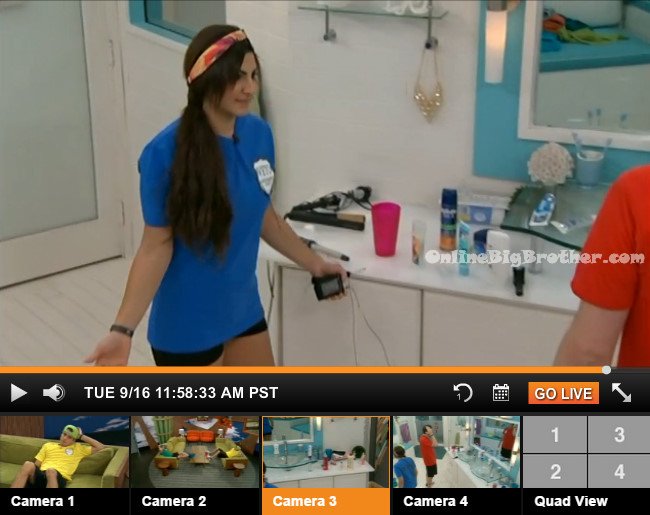 One way to support this site that doesn't cost you anything extra is making your
Amazon purchases through the links Below
For in Canada use the following link:
Amazon.ca
11:59:40am Big Brother blocks the feeds again…
If you found value in our site, the work we do and the community we foster please consider leaving a donation using pay pal below.
Any amount is greatly appreciated!