| | | | |
| --- | --- | --- | --- |
| POV: | Kaycee | Next POV: | Sept 1 |
| POV Used | NO | POV Ceremony | Sept 3 |
| HOH: | Tyler | Next HOH: | Sept 6 |
| Noms: | Haleigh & Scottie | Have Nots | jc, sam, scottie |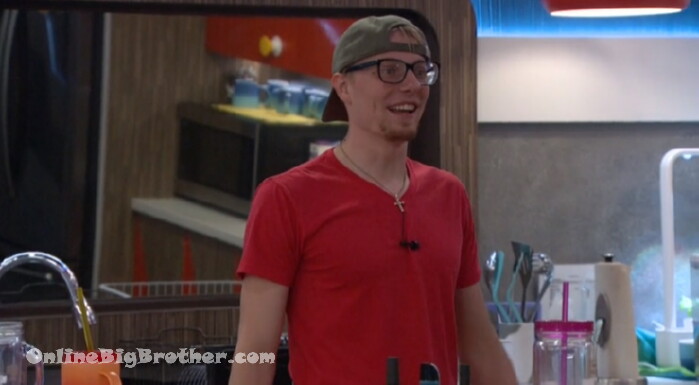 11:37am Scottie and Tyler
S – has she come up with a Pitch for you guys yet
T – dude, she has not been leaving me alone
S – I have had a few solid 1 on 1 conversations with her they have not been positive experiences
S – for me.. I heard a bunch of sh1t in jury and I've been asking her about them..
S – both Bay and Rocks have told me thing and I am straight up confronting her being like OK this is what I've heard and she gives me the runaround
T – of course
S – I'm not f*ing happy about it
T – she's sketchy as hell
S – I've heard people think I'm falling back into the trap before.. because I was talking to her..
Scottie says Haleigh was mad at him for not cheering her on during the comp, "You f*ed me over what do you expect"
Scottie brings up talking to Brett and JC where they asked him if he's doing any campaigning.
Scottie – no I don't think I'm the target
Scottie – In one of my conversations with her I said I think you are in danger
Scottie laughs
Tyler doesn't know why haleigh is always around him he doesn't have a vote
S – is she trying to make deals
T – no, She's trying to get me to tell her if she's the target or not
Tyler says Scottie coming back in was his biggest sigh of relief. HE did not want one of the other three to come back.
Scottie – if it was one of the other three the house consensus would be to go after one of them..
T – mmmmmhhhhmmm
Scottie – I would like to think I was the only one where that doesn't apply to
T – yeah you are..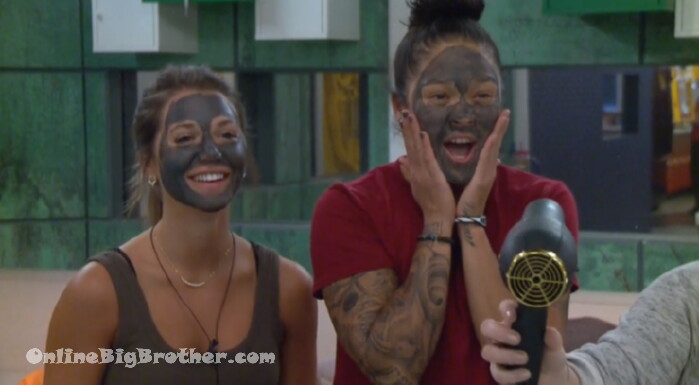 11:50am … face masks..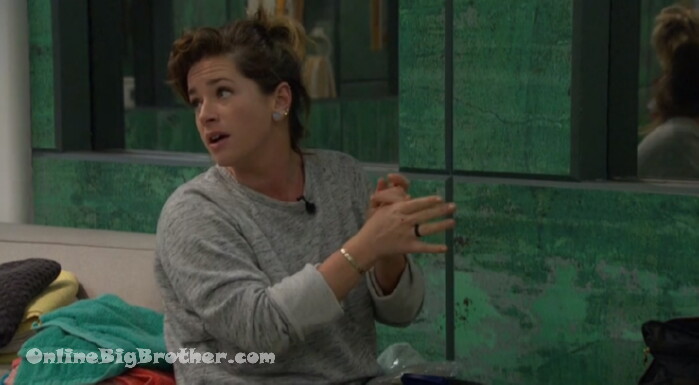 12:02am Sam and Angela
Sam – let me shave your face
Angela – NO
Sam – don't be scared
A – hell no
Sam – just let me do it
A – absolutly not
Sam – you might be surprised and pleased..
A – no I won't
Sam – you do it then
A – I don't want to shave my face I'm not a man
Sam – it's not.. it's the same.. you would do the same thing in a spa I promise
A – I can't do it I feel it will grow back extra..
Sam – it's not .. you can't change the amount of follicles in your skin just feels like it's more because it's course..
Angela – I don't need course hair on my face
Brett joins them "you'll probably break out real bad too"
Sam – you break out when you shave like a man
Sam – if you do what I said when your face is super cold and dry.. you are just taking off the dead skin. It's the same as micro-blading or whatever they call it.. dermablade..
A – I am open to the idea just probably not on national Television
Sam – go have it done at a place.. you get a whole new layer of skin
A – it's like a chemical peel
12:27am Sam, Angela, Haleigh., BRett houseguests milling around getting ready..
12:57pm Brett. Sam and JC
Sam says she's going to straighten Tyler's hair today
They joke it's to piss JC off
JC doesn't mind says Tyler likes looking lie a women..
Sam tries to get JC out of bed.. says production wants them all up. "you got to get up and get moving.. a body in motion stays in motion"
JC – I told them they make me a have not I don't know why.. I'm here the whole week in the corner..
Sam – are you trying to show us how much we would miss you if you weren't here..
JC – no I don't really care..
Sam – how about I make you some slop spaghetti..
Brett leaves..
Sam telling him she doesn't want him to get in trouble she wants him up.. She says she feels best around him..
Sam – you're the spoon to this sh1ty pot you stir it up..
JC says they put him on slop they as in production are the ones adding Slo into the game. "I have to deal with the consequences of my actions they have to deal with the consequences of their actions.. "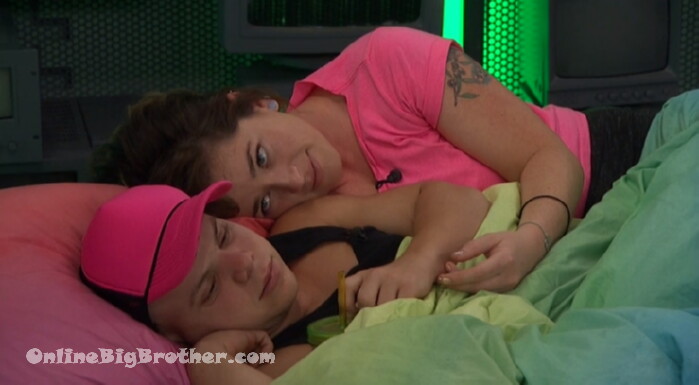 1:14pm (feeds are hoping all over the place…)
Sam – I can't believe i'm 27
JC – you're acting like you're 85
….
Jc – I want to be important one day
Sam – you are important.. you mean important to a lot of poeple
JC – yeah
Sam – why
JC explains his dream is to do "something BIG and be important"
Sam – well that's this.. this is something BIG you'll be remembered by
JC – something real.. something beneficial..
Sam offers the wrap him up like a "little baby" and carry him outside like he's her baby..
JC – you are probably one of the only girls that don't annoy me so much..
Sam – thanks..
She laughs..
Sam – i'm the girlest boy
Sam says she feels like s shitty friend..
JC – you are sometimes crazy.. but I don't think you are a bad friend..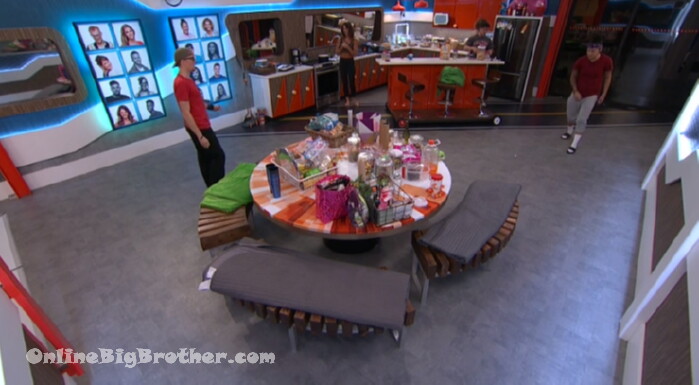 1:50pm random games being played.. check out Sam's table of crap..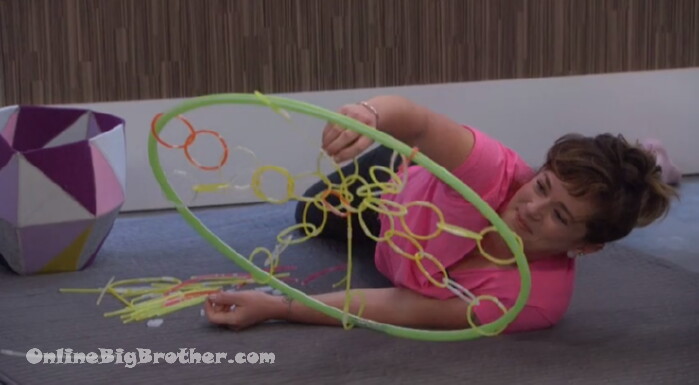 2:55pm being sam..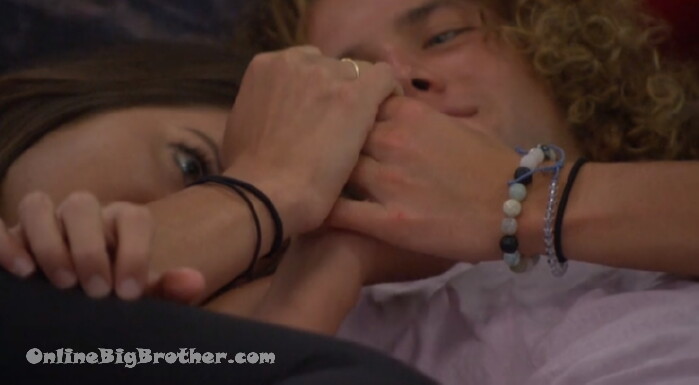 3:26pm snuggles…
3:34pm Tyler says he doesn't believe Scottie when he says he's not coming after them.
Angela thinks Haleigh will go after Sam right now she's so pissed at her. So they know one of them would go up against Sam.. If it's scottie it could be the two of them.
Tyle r- Right.. and he won't put Sam up ..
Angela – I think Scottie still need to go
Tyler – I do to
Angela asks if Kaycee and JC are still down
Tyler confirms.. "I feel that Brett and JC have been more.. saying more reasons why Haleigh should go"
Angela hopes it's a double eviction on Thursday and both Haleigh and Scottie can leave.
Tyler says Jc and Brett see haleigh attached to her and Kaycee so they get a little paranoid.
Angela says there's 3 people that want to take out Haleigh right now.
Tyler says the smartest thing for Haleigh to do would be JC and Sam.
Angela heard the exact same thing from halegih last night in the shower.. She was mentioning the middle person aka JC. She says it was implied that put JC up with Sam to guarantee Sam goes home. "Everyone loves JC.. I can't say it right now ..mmm "
Angela hopes that after this week it's their 4 vs three floaters.. (Haleigh, JC and Sam)
Brett joins them.. "I'm ready to blow up on f*ing Sam.. "
B – Haleigh does something to her and she takes it out on me..
Brett explains that Haleigh took Sam's pillow tops then Sam took Brett's pillow tops etc.. etc.. etc.. .
Brett – dude everything she's doing is pissing me the f* off…
Angela – I can't be in the same room as her..
Tyler agrees brings up how he's had to walk away from her in the kitchen earlier today.
Brett =- it's death by needles..
Brett – I'm embarrassed I'm mad about this.. it's so stupid.. I'm embarrassed..
4:05pm in the HOH JC, Tangela, and BRett are talking about Sam's mood swings and generally just all the crazy things Sam does. Sounds liek they've had enough of Sam..
Downstairs Sam is doing those crazy things..
Sam #BB20 pic.twitter.com/Mknu1opT00

— OnlineBigBrother.com (@bigbspoilers) September 4, 2018
5:52pm Volleyball…
6:07pm
JC gets peanut butter in SCottie's Face.. Scottie gets revenge with silly string. #BB20 @DawgsBigBrother pic.twitter.com/RiLqXq3t2z

— OnlineBigBrother.com (@bigbspoilers) September 5, 2018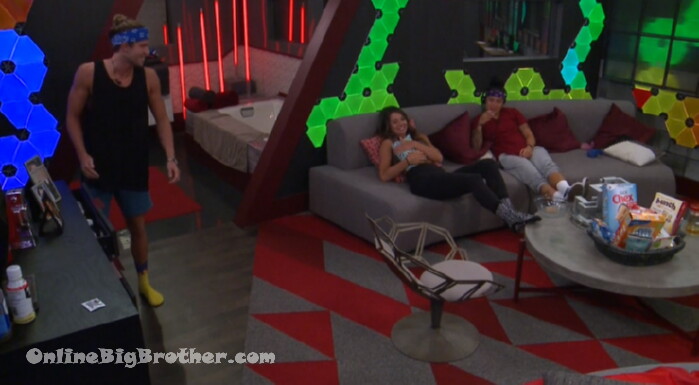 7:16pm Angela, Kaycee and Tyler
Kaycee to Angela – has Scottie talked to you about game or Haleigh .. votes
A – no
T – he's starting tomorrow
A – are we going to tell him what we are doing
T – tell scottie?
K – Just be vague.. be like I don't know.. I was planning on being super vague and say I'm seeing where the house is at
T – I'm just worried if he figures out he's going out he'll throw some crazy sh1t out there.. not like he has anything but people go crazy in here..
K – so we're pretty much blindsiding him
T – I guess so
A – another blindside
T – it's been a minute
A – its what we're good at
K – See how good we can hide it
T – yup
K – do you think if haleigh wins HOH she'll put up Sam
Angela and Tyler think so..
halegih come sin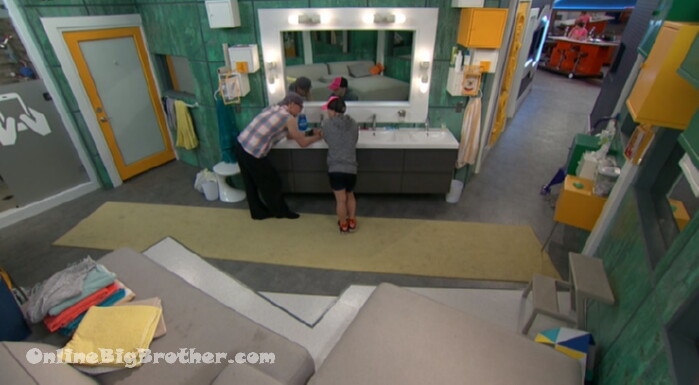 7:22pm JC and Scottie
SCottie asks if he's ever had a final 2 with Fes
JC – no, I'm not stupid Scottie
Scottie says in the jury bay and Rockstar told him Haleihg made final 2's with them and Fes.
Scottie tells him about the deal Fes/Haleigh tried to make with Tyler/Angela. Scottie tells him that Haleigh has made deals with everyone in the house.
Scottie – Tyler's been telling me for weeks that she's been using me
JC – I don't know I don't pay too much attention to all of that
Scottie says the only people we was working with put him on the block and took him out. He came back into the house a blank.
Scottie stresses that Haleigh has deals with everyone in the house.
If you enjoy reading the content please find a way to support this site.
Rank the houseguests!
Easiest way to Rank the house guests use link below