| | | | |
| --- | --- | --- | --- |
| POV: | Kaycee | Next POV: | Sept 1 |
| POV Used | No | POV Ceremony | Sept 3 |
| HOH: | Tyler | Next HOH: | Sept 6 |
| Noms: | Haleigh & Scottie | Have Nots | JC, Sam, Scottie |
A real easy way to support the site if you are an amazon shopper is to make your purchases through our link. You pay the exact same thing but we get a small % commission. It doesn't cost you anything and helps us out.
Amazon Canada
Amazon USA
8:05pm Big Brother puts them on an indoor lock down for maintenance in the backyard. The house guests head inside. In the kitchen Brett talks about slimming down in the summer and bulking up in the winter to hibernate. Scottie asks why bulk up in the winter and slim down in the summer? Brett – you want to look your best during the time you would have your shirt off the most.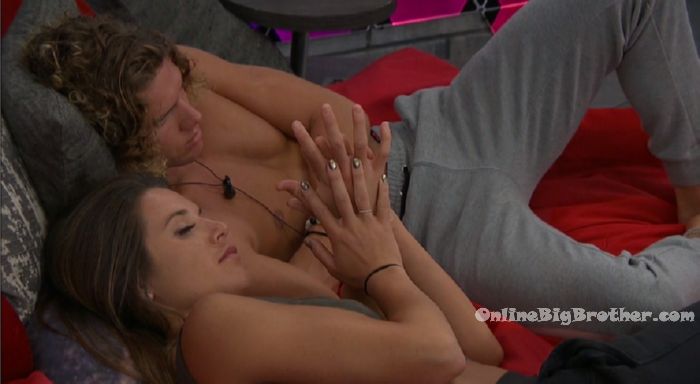 FLASHBACK and watch everything you missed: Live Feed 7 day FREE Trial!
8:30pm HOH room. Angela and Tyler are laying on the bed holding hands and chatting about random things. Tyler and Angela see JC coming on the spy tv so Angela runs to the couch. At 8:39pm JC rings the doorbell and walks straight in without waiting to be asked in. Angela – hey little girl. JC sits down and looks annoyed. Angela heads downstairs. JC – what is going on with you and Angela, you have to tell me right now! You have to tell me. Tyler – how many times? JC – you have to tell me. I was literally walking here and heard running towards the couch. Tyler – she wasn't running. She was walking. JC – I literally heard running towards the couch as I was coming. I literally don't care. Tyler – oh my god JC! I don't know how many times! JC – everyday they ask me about this. (production) Tyler – that's because you always ask me about it. JC – they ask me about it. And now I was walking here and I hear little legs towards the couch. Tyler – I don't know how many times I have to tell you. Now that that is stuck in your head .. its stuck in your head. JC – I believe you every single time since we've been here. And right now it is just out of control. Tyler – I know its hard for you to believe me but.. JC – right now I am not believing you. Tyler – okay then don't believe me until I get a chance to prove it. JC – I was walking here and hear her. Tyler – she was walking from there. JC – why the coincidence? She 100% ran from that bed to that couch. Tyler – dude you're paranoid man! I know you're not stupid. JC – of course I'm not stupid and if you were clear with me and stuff … you know I don't open my mouth about what you an me talk about.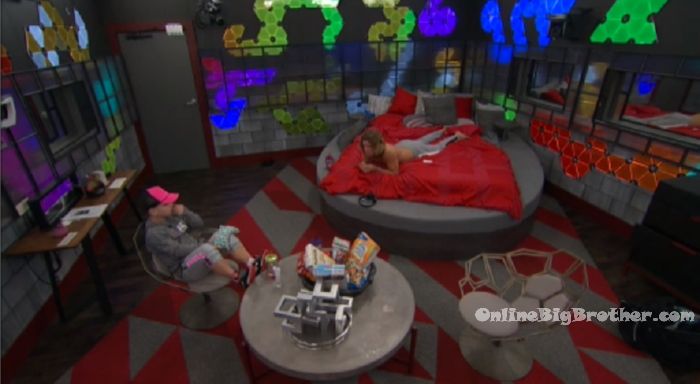 Tyler – why does this make you mad? JC – it doesn't make me mad, I just need to be able to plan. I know how it gets in here .. everyone feels lonely. I am not being a b***h to you and telling you, you can't do this and that. I just want to know what is going on. So we can talk about it and stick to the plan and see what we can do. Tyler – we are sticking to the plan. JC – I know but you make me feel stupid. I trust you with Haleigh because I know you would never work together. You would have to be the stupidest guy. Tyler – I don't let people get in my mind. JC – I just want to know where she (Angela) stands. If she is BFF's with you right now. I want to know whats going on. So when people come to me and tell me stuff. I am working with you and sticking with you till the end. Even if you win in the end, I am sticking to the end with you. JC – she was here last night until like 4 or 5 in the morning. Tyler – we're just talking. We're from the same place dude. JC – ok, so five hours talking about the same thing. You think she is super smart but she is not. Tyler – you said she was smart. JC – so the other ones are less smart than her. She waits in the kitchen until no one is looking and then comes up here. Something is going on here. Something has to be that you don't want to say. Tyler – I told you this before .. I like hanging out with her. But what you need to know is its me and you dude. I would never throw everything we've done away. Its been 75 days. JC – I've defended your game as much as I've defended mine.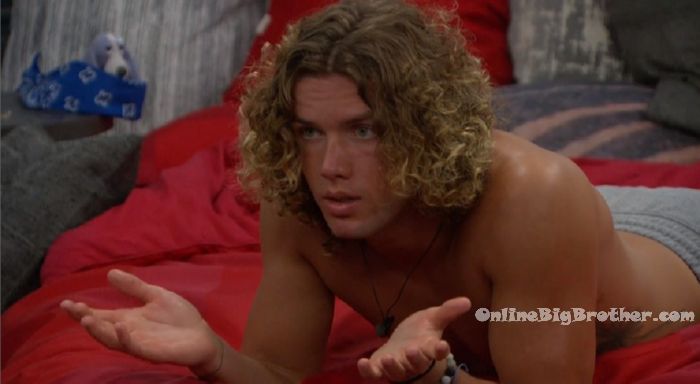 JC – Brett comes to me and tells me something is up. I told him he's just being paranoid, stick to the plan. Get Scottie out. I keep telling him that Haleigh is someone you cannot trust. She voted you out every single time. But I cannot push the boundary. Tyler – I am not asking you to. I just don't understand what the big deal is?! You think I would pick her over you? JC – basically. Tyler – I told you. JC – basically its not about that. I worked my a$$ off and I don't have any other alliance in here. And if this happens I will just sit back down on the block and be like I deserve this. Tyler – what can I do to prove it to you. I will when its crunch time. JC – I think Brett is going to put up Kaycee and Angela. Tyler – when next week? JC – but at least its not you. Tyler – its stupid. Its too early but whatever. I genuinely think its not a good idea for me, you or Brett. JC – the only thing that Brett is concerned about is separating Kaycee and Angela. If we separate them as soon as possible we are going to be completely fine. Tyler – you are. She (Haleigh) put me on the block. JC – worst case scenario Haleigh wins HOH next week .. she is going after Sam. Tyler – so you put up Kaycee and Angela.. one of them come down and Sam goes up. Sam goes. Now you have Angela and Kaycee coming after you. JC – not me, I'm not putting them up. Brett is. Tyler – you vote one of them out and they come after you for voting them out. There is just an order we have to do things. JC – if I win this week and its a double eviction.. I am probably going to take out Haleigh. If its not a double, I would sit down with you. JC – we should let Brett win and put up Kaycee & Angela and we vote one of them out. Tyler – you have to be careful Brett could turn this all around on you. JC – I have come backs .. not just a come back .. I have come backs to destroy him. JC – you're already made a top two deal with the love of your life. Tyler – you're a f**king idiot. Yeah, I did. With you.
9:13pm – 10pm Sam comes out of the diary room with a card to read from POP TV. Sam – havenots can participate until midnight. Dear houseguests big brother after dark only has eyes for you even on labour day. That's why we want you to chill and grill in a backyard party. Food is in storage and the beer is on ice. The house guests go crazy yelling and screaming. They head out side to the backyard to find a BBQ and beer in a cooler.
Brett start BBQ'ing. Angela and Haleigh get in the hot tub. The others are eating and playing badminton, boccie ball.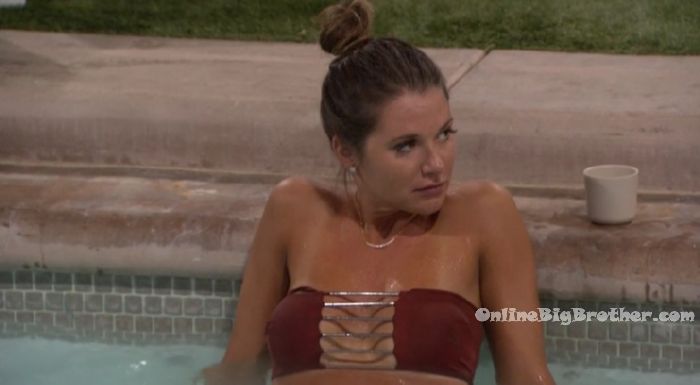 11pm – 11:30pm Angela and Haleigh shower together in the HOH room shower.

11:20pm
Angela and Haleigh in the hammock. Angela – Sam has a weird protective thing over Brett. Haleigh – Sam has a weird protective thing over any male. Angela – the only comment that really bothered me was when he (JC) said this is going to make great tv. (When Brett was giving Angela a massage with her shirt off in the HOH bed.) Haleigh – that's a weird comment to make. Angela – its a weird comment to make and it makes me feel degraded in a way. Like how dare you. Haleigh – I don't think he thinks about what he says and how he speaks. Angela – That was the day I was super sensitive and I just lost it. Haleigh – I remember when he did that and he was like what's going on? Their f**king… go look. On national television. Angela – Brett is giving Angela a massage because her back hurts. Its the end of the world. Haleigh – he is also starting to get snappy. Angela – he told me that I had an attitude.
Angela about Sam – I am excited to have all her sh*t gone and all her trash. Haleigh – its not even items… its trash! EVERYWHERE! In my mind I know exactly what her house looks like. Everywhere.. just sh*t! Angela – its trash! It drives me nuts! I hate clutter. Haleigh – I can't! I hate sh*t Everywhere! Big Brother zooms in on Sam's "trash" on the kitchen table (see photo below). At first I thought she was doing it just for attention. Now I just genuinely think that's how she is. Angela – you know what I think .. hoarders. Haleigh – no sh*t! That's exactly what I imagine her house looks like. She takes sh*t and more sh*t and puts it together. Angela – the psychology behind it, is she is trying to fill a void. There is an empty spot, that she fills with things. After the hide the veto comp.. I thought that she was going to lose it. I thought she was going to LOOSE it. To be honest I was happy. Haleigh – I just took her sh*t and threw it everywhere. They both laugh. Haleigh – do you notice where she goes every morning. She is medicated. She didn't the first two weeks. I think she lost her sh*t.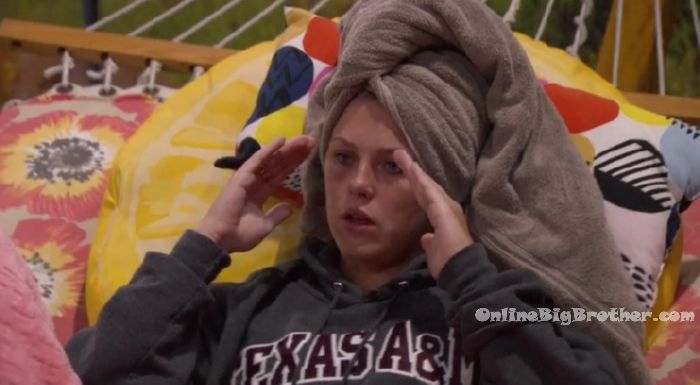 11:57pm – 12:05am HOH room. Angela and Tyler. Tyler – I've got some bad news. Angela – what? Tyler – JC heard you running over there. I heard her run from the bed to over there. I said you were just walking from here to there. Angela – Dammit now he is really going to be trying. Cool, I'll just sit up here tonight. F**k. Tyler – I know. You just need to be careful with hanging out with Haleigh when she follows you around. JC is going to be acting weird and Brett is going to be acting weird. They'll feel threatened that you won't out Haleigh up. Angela – do you think JC's plan is to catch us so hecan s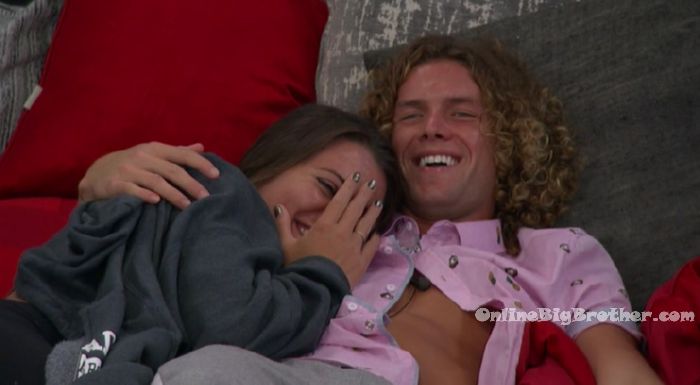 12:35pm Hammock. Brett and JC. JC – She (Angela) is acting weird. She is acting so weird. Like she hasn't laughed. Did you see when I was washing cans? She told me to stop. She walked right over and threw them in the garbage. I was like B****H! Get the f**k out of my way! I do whatever the f**k I want here! I'll f**king throw the cans in her face. I took that so personal. Brett – even to me she is being weird. Its like she disapproves of everything I do. JC – HUH? Brett – its like she disapproves… Like she doesn't approve. JC – you know I will vote someone out her out of here. I don't do anything different .. she can f**King suck my di*k! Brett – I'm not doing anything different either. Also did you notice? I thought Sam was going to freak out on Haleigh. For nothing! For helping!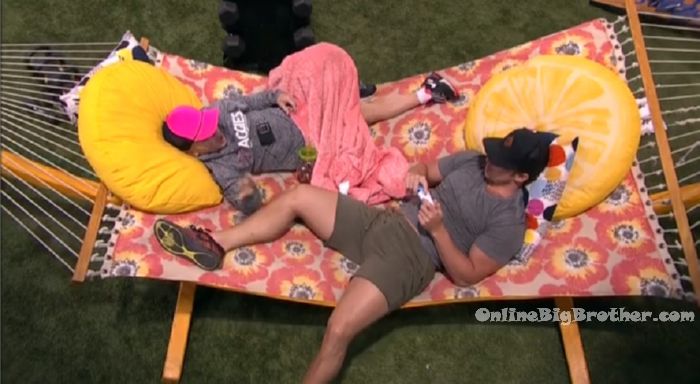 3:50am All the house guests are sleeping..
Without your support this website wouldn't be possible. Please consider making a donation. Any amount is greatly appreciated. All donations go directly to paying the considerable costs associated with running this site.
Rank the houseguests!
Easiest way to Rank the house guests use link below