| | | | |
| --- | --- | --- | --- |
| POV: | Kaycee | Next POV: | Sept 1 |
| POV Used | No | POV Ceremony | Sept 3 |
| HOH: | Tyler | Next HOH: | Sept 6 |
| Noms: | Haleigh & Scottie | Have Nots | JC, Sam, Scottie |
A real easy way to support the site if you are an amazon shopper is to make your purchases through our link. You pay the exact same thing but we get a small % commission. It doesn't cost you anything and helps us out.
Amazon Canada
Amazon USA
8pm HOH room. Haleigh, Kaycee and Tyler. They're talking about gambling. Angela joins them to shower. Kaycee – the best odds are blackjack and craps. Brett joins them. Brett – I can only stand two days in Vegas. It chews me up and spits me out. Brett leaves the HOH room.

8:53pm Bedroom. Brett and Angela. Brett – Sam just gets on her tangents. Angela – oh my god, she drives me nuts. Brett – I feel like I haven't hung out with you guys in ages. Angela – I know. Has Scottie pitched to you? Brett – he thinks he is the pawn so he thinks 100% he has you and Kaycee because he thinks you and Kaycee will do whatever Tyler wants. So he thinks he's confident there's two votes and all he needs is mine. He is also pretty confident will have Sam. Angela – yeah. So he didn't really pitch it that hard because he thinks he is good either way. Angela – I think so too. Brett – I think he thought that he didn't even really need mine. Angela – And JC told me he just pitched him too. Brett – oh did he? What did he say. Angela – same thing. He thinks he's the pawn. He just wants to see where everyone is thinking. Another blindside. An almost unanimous blindside. Brett – I know. Except for Sam.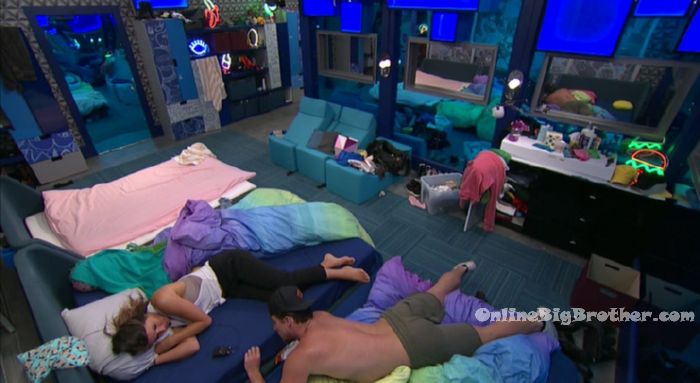 Brett – What did Haleigh say to you and Kaycee? Angela – I talked to her last night in the shower. She was like .. Scottie told her that he was the pawn so Haleigh freaked out. She was like I would never come after.. I came after you and Tyler but I would never come after you guys. She was like its done now. You took your shot, I took my shot. Like we're past this, lets just move on. I wouldn't put you guys up. I was just like sure thing sweetheart! No way in hell. She thinks I am that dumb to believe that. Brett – its insane to me. Angela – you can say it all you want but unless you get HOH next week, you're going up. Brett – its f**king crazy. I think back to my conversation with Fes and he was like consider it a vacation. Oh!? Really!?

Brett – Scottie was saying that before he came back Rockstar told Fess and she gave him explicit instructions to put you and Tyler up. And he was saying that b***h Rockstar HATES you and I. Brett – Will Haleigh put Sam up? Brett – its kind of f**ked up how Sam treats him. She literally treats him like a child. She is in her own world in here like she is a mommy and he is her kid. Likes its weird! Angela – he's a 25 year old man. Brett – he is very aware of what he is doing. Getting down near the end they can't be here because they will get the votes. Angela agrees. Brett – and you know if Haleigh is in jury with Scottie she is going to get him to do whatever the f**k she wants. Angela – if we figure out how to all four of us make it to the end… they're going to have to pick one of us. Brett – they have to pick one of us. Angela – its like the last (jab). Brett – knife stab. Brett – it has to go that way. I would love to watch her crawl out of her skin to have to vote for one of us. Brett brings up the jury conversations. Brett – remember last year. Angela – if one of them talks bad about one of you, I am going to go off! Brett – if I ever have a conversation with Rockstar again .. I will only refer to her as Blockstar and never anything else.
10:12pm HOH room. Tyler and Scottie.
Scottie – Bayleigh told me that she has a final two with Haleigh called Bay & Hay. Rockstar told me she had a final two with Haleigh called Slitherpuff. They told me that Fes has a final two with Haleigh. Rockstar eluded to the fact that she had a final two with. She had a final two with em. That's five that we know of. And plus she tried to make a deal with you guys.
Scottie -I don't know if you were in the bathroom for this, it was right after you got put up by the hacker. I came in and Fes said people are blaming me for it. Tyler – he was one of them. Scottie – he was THE ONE! Scottie – Bayleigh and Rockstar both told me that Fes was the first one to blame me for the Kaitlyn thing, He was the first one for that. But here is the funny thing he was in the room with Bayleigh, Rockstar and Haleigh …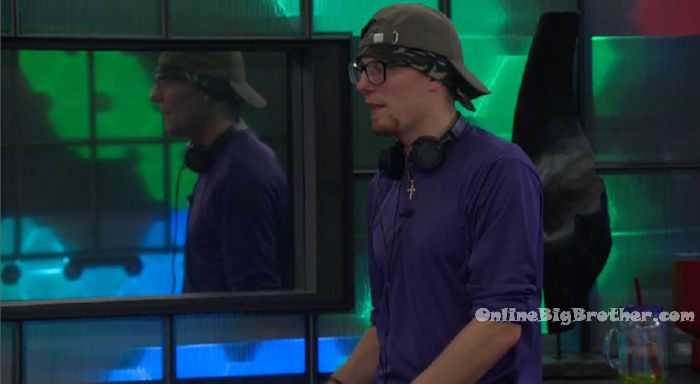 12am Brett, Kaycee, Angela and Haleigh all head to bed.
2am All the house guests are asleep..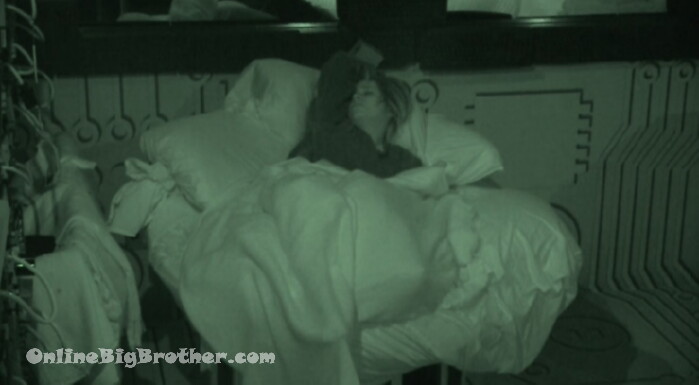 9:06am ZZZZZZZzzzzzzzzzzz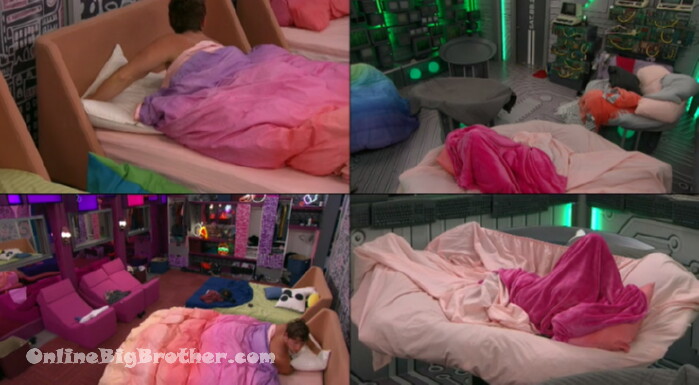 10:28am wake up!
10:21an As Sam drinks her morning coffee "I'm going to clean this mother f*ing floor today… UGH"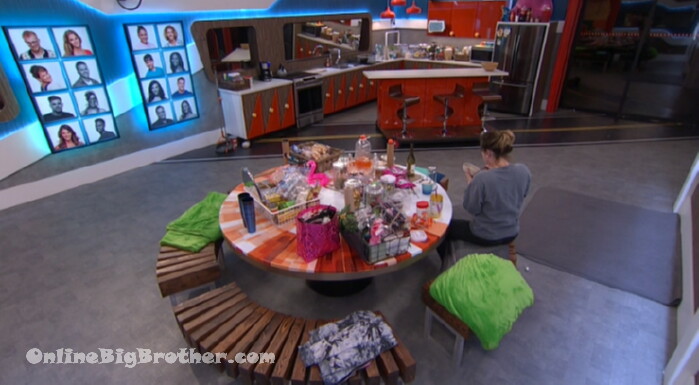 10:48am here's a nice shot of Sam's collection of things.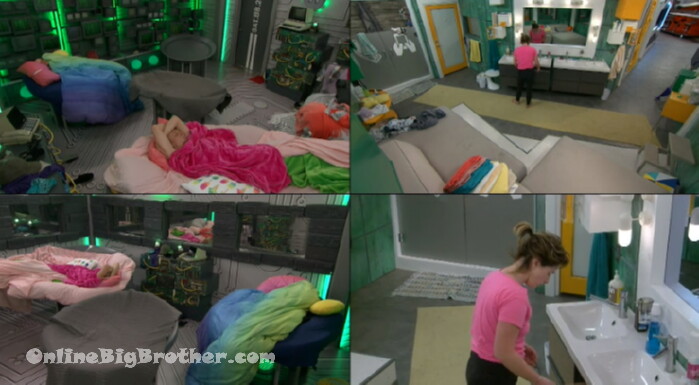 11:28am Zzzzzzz
12:10pm they're still sleeping..
Haleigh called to the Diary room Sam roaming around getting ready to start the days crazy.
Without your support this website wouldn't be possible. Please consider making a donation. Any amount is greatly appreciated. All donations go directly to paying the considerable costs associated with running this site.
Rank the houseguests!
Easiest way to Rank the house guests use link below