POV Holder:
Jon
Next POV
?
POV Used
NO
POV Ceremony
March 31
HOH Winner:
Canada
Next HOH:
Apr 3
Original Nominations:
Andrew and Sabrina
Current Nominations:
Andrew and Sabrina
Have Nots
Jon and Adel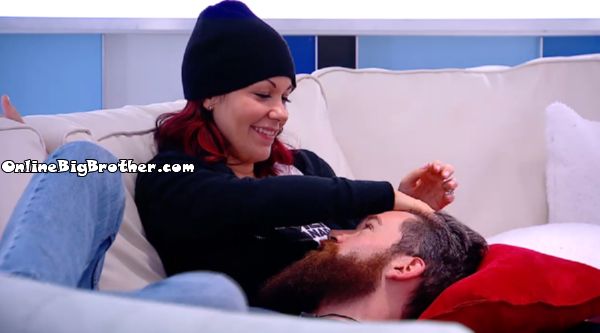 8:51pm HOH Kenny and Sarah
Kenny says he's dated two me.. long term. He adds that he doesn't have any gay friends back home.
Kenny – "I've been with way more women.. Guys still make me feel really awkward,.., I can't um it's strange.."
Jon joins them.
JOn asks them if they think Jenelle will break up with him. Sarah says if she was Janelle and she got a whiff about something happening with Jon she would be watching the live feeds like a freak and she would understand what is going one.
Jon leaves. Kenny goes back to talking about being gay. He says she has trouble flirting with guys. When he was with his last girlfriend he never thought he was gay, he thought some guys were attractive but so were girls.
Kenny – "After I hooked up with a guy I was like ohh sh1t I'm super gay."
Kenny – "I find women attractive still… I could hook up with girls.. I never realized something missing until I knew something missing"
Kenny says he told his best friend he was gay and they never believed him.
Jon comes back.. Chit chat Jon leaves
Kenny goes back to explaining his sexuality. says he cannot fall in love with a women but he still can be attracted them.
Sarah brings up Kenny hooking up with a "Married" couple. He says after that he realized he was gay. He never talks to them anymore but they did invite him on a bunch of trips after which he declined. .
He goes back to talking about how his friends handled him coming out, all his friends were super cool. Kenny adds a lot of people back home home think it's a phase.
Kenny mentions how he plans to tell the house later but right now it's not time. He adds that Rachelle is loving him right now so they can use that because their 5 has gone down to 4.
Sarah- "Rachelle has such a hardon for Kenny but she doesn't know he wishes she does"
Kenny brings up how Rachelle told him she is really horny and just want to have s$x. She mentioned to him she doesn't remember what her boyfriend looks like. Kenny – "She stares at me all the time and I look back at her and she doesn't turn away.. CREEPY.. STOP THAT"
Sarah – "we need that right now.."
Kenny – "We need to be strengthening our secondary bonds.. Sabrina is teetering on the edge of sanity".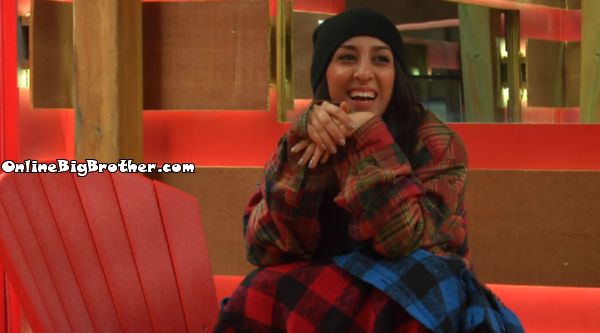 8:56pm Hot tub Neda, Rachelle and Sabrina
Sabrina brings up how she gets the feeling Jon and Neda are with Heather.
Neda says Adel throws out little things all the time.. "I don't want to repeat incase it gets out"
Sabrina – "I swear on my head I won't say anything"
Neda – "It's not about you guys it's about the house in general"
Rachelle and Sabrina trying hard to get Neda to say what Adel told her. neda doesn't say and tries to play it all down.
Sabrin says Jon loves Neda he will never put her up. Neda knows they will be good friends.
Sabrina to Neda – "I don't talk about you ever I swear on my f** life" Sabrina continues to swear she's never said anything bad about NEda.
They ask Neda if she trusts them. Neda says of course. Sabrina says she thinks JOn loves her
They start talking about Paul leaving was a big mistake for a lot of people in the game. Sabrina says there is a lot more people in the house that talk a lot more sh!t.
Sabrina asks if Jon wins HOH would he put her up. Neda says no she doesn't think so, "I hate that everyone thinks I run and tell Jon everything"
9:16pm
Sabrina says the best ratings for big brother were season 1,2,3,4 because there was no twists.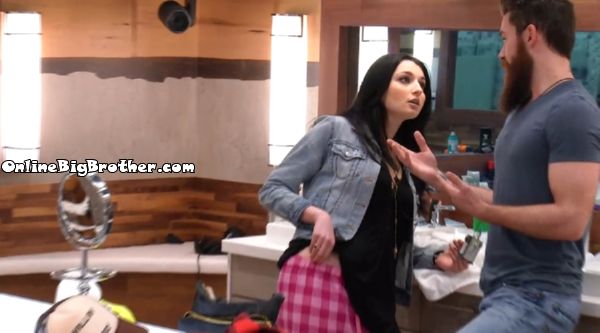 9:27pm Kenny and RAchelle
Kenny saying Jon told them they shouldn't go for Adel anymore and should go for Allison.
Rachelle calls the other side idiots, Allison is the least of their worries right now. Kenny – "Oh my god she is totally on board" She points out Neda won't win anything she's useless and Jon isn't great at competitions. She thinks Adel, Heather, Jon, Neda should be the order.
Kenny wants Adele to go next, "We have to worry about who we want in Jury because that is super important".
Rachelle agrees says they can put Neda in jury there is no way people will votre her back in the house.
Rachelle – "Jon isn't a strong player.. me, you and Allison we can win sh1t"
They both agree Neda and Heather are buddies now.. Kenny keeps saying how horrible the other side is at playing the game. He highlights that they are not even trying to hide their alliance.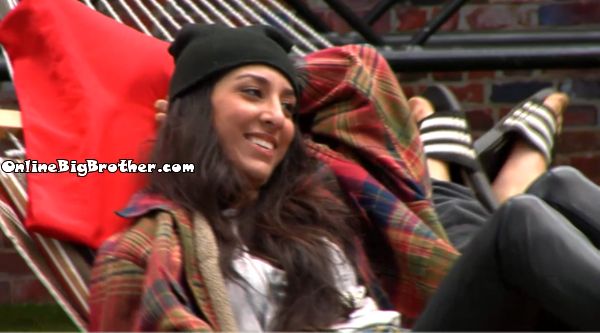 9:45pm Hammock Neda and Jon
Jon – what is sabs saying
Neda – Annoying sh!t I think they know i'm lying.. what do you do with your eyes when you lie do you look up or down ?
Jon – up
Neda – oh shit I looked up ..
Jon says he really doesn't think sabrina will put them up she will put up Adel, Allison and Heather
neda is sketched out because sanb and rach always asks her "Do you trust us"
Jon tells her Andrew is going home there is no way the vote will change.
Jon says if Andrew stays they will be f*** "It'll be me you and Deli vs the house"
Neda – "Heather needs to stop following me around"
Jon – "You have to tell her if we are going to work together she's got to stop following you around"
Jon asks her if Sarah will turn on them. Neda thinks she will but not this week, 'She'll do anything to save Kenny"
Jon isn't sure because she won't win in the final 2 with Kenny, "She is going to go where the numbers are"
They agree Alrie is "sketchball"
Neda – "Is it smart to have Kenny gone next"
Jon says he say Adel's card
Jon say on the back of Deli's card it says he gets a prize if he can survive 3 weeks without using the card.
NEda doesn't' think Deli will use the card to save her she thinks he'll only save himself.
Neda – the only reason I want to keep Kenny around is him and sarah will be a bigger threat"
Jon brings up Arlie and how he's playing it safe with both groups
Neda says Arlie hid his own cigarettes she asks him why. Jon – He didn't want Andrew to smoke them all
neda explains Arlie never smoked he brought the smokes into the ouse to build trust and relationships with people then he took them away to throw people off their game.
Jon – "As long as Canada is making twists I'm going to be alright"
JOn says production told him they have now soundproofed the have nots room. Jon says he's going to put up Allison and Rachelle if he wins HOH on Thursday.
Neda says Rachelle and Sabrina said the meanest sh1t about Allison and now they say they never say anything about people.
JOn thinks Kenny will put up Adel. Neda points out POV is played Jon will go up.
They both agree Getting out Sabrina would mean neda can get Rachelle on her side. Heather joins them, They talk about the possibility of Andrew staying. heather say no way Sarah will not vote to keep Andrew.
Sabrina joins them and they start talking about their pictures. Sabrina tells them she looks HUGE on video but on pictures she looks alright. Jon says Sabrina has the best memory wall picture of the bunch the close second is Anick.
Sabrina – "I don't like muscle I say that to Andrew all the time"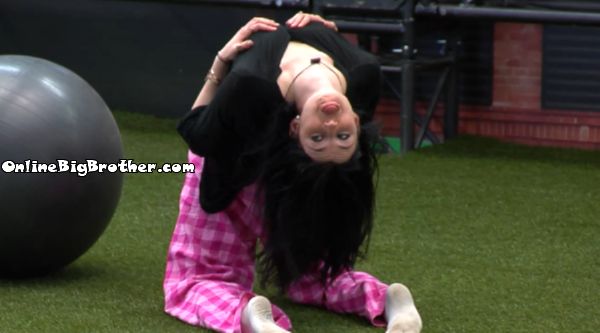 10:21pm Racehlle doing Yoga