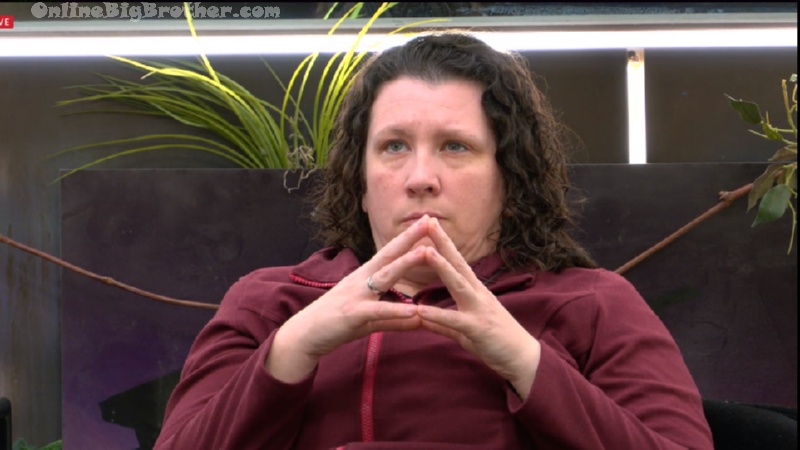 Today Josh is making the rounds campaigning to everyone. There's a flip in the air.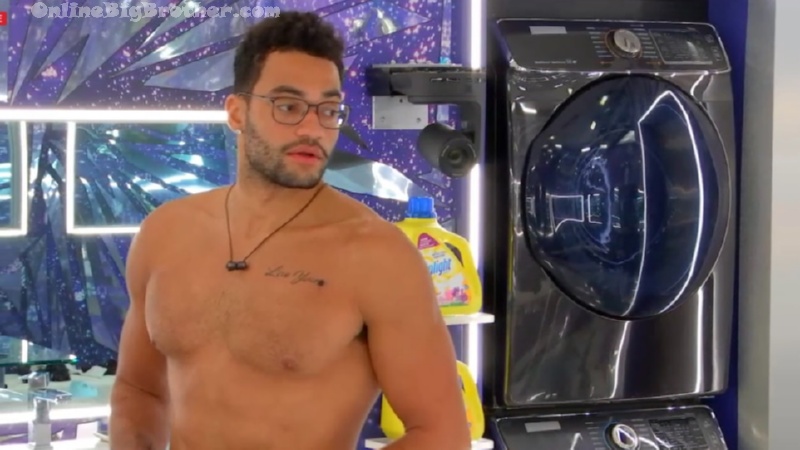 10:02 am Jed and Beth
Talking about Tera "100%" going up based on her "Slipping up" telling Jed he would be the replacement nomination. Jed says Vic would be the Pawn.
Beth says Victoria just wants to make it to the jury.
Jed – If I put up VIc and Tera and Tera took herself off who do I put?
Jed – -t has to be Kyle?
Beth – unless you want to throw out a curveball and it's Tina because we have the numbers
Jed – that's dark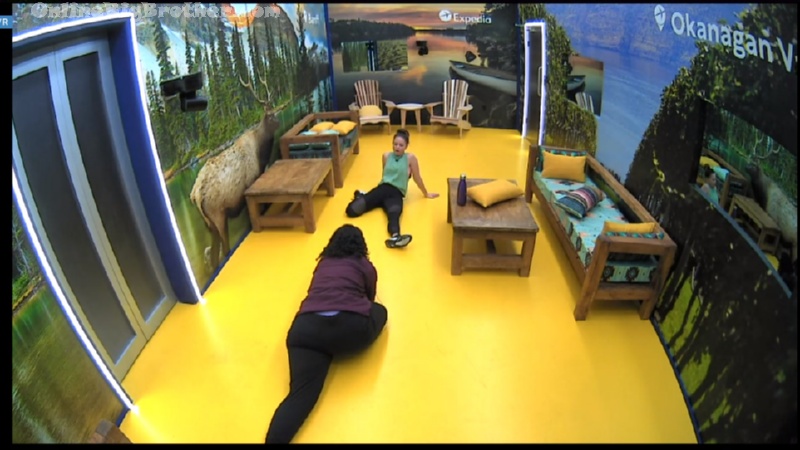 10:20 am Tina and Tera
Tera – I've been playing dumb about that flip..
When I say I will never lie to you I will never lie to you it is not good for my game to lie to you we need to be on the same page
Tina – if i hear something that directly relates to you I will let yo know
Tera says they are on the outskirts .. "I hope Josh makes way more waves today "
Tina – he made his pitch to me today
Tina adds that Josh's is saying he's going after the people that voted against him
Tera – I wish he wasn't against Ro I would like to keep him.. We don't have the names to muster anyways
They've named their alliance T'N'T
Tera – these kids are driving me nuts..
they laugh
Tera is worried about how close Beth is to the boys.
Tinna – be careful what you say to Beth
Tera – if one of us wins HOH oh my god the BS that will come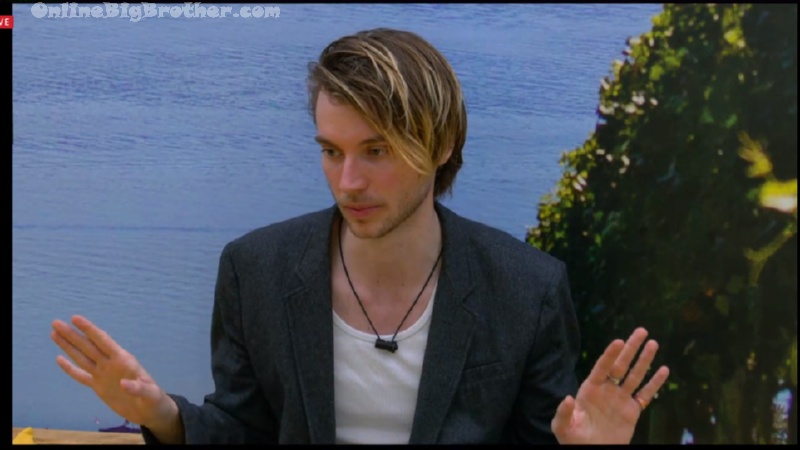 11:00 am Josh, Tina, Latoya and Tera
Josh gives his pitch. Josh's pitch is he's always going to be a massive target in the house. He's only asking 6 people for his vote and if those 6 people vote to keep him he will never mention their names until all the rest of the people are gone.
Josh – My target is 100% not because she put me on the block that was a smart game move for her. It's because she f**ed me over with other things that is the truth.
His 6 are Tina, Tera, Latoya, Kiefer, Tychon and Jed. The other people would be considered on the block
L – if we were to keep you we make Austin our enemy doing that .. we openly because we are keeping you here knowing you after her..
Josh – they are going to go after me first.. let's be real
They tell him his campaign is not terrible he's made some valid points.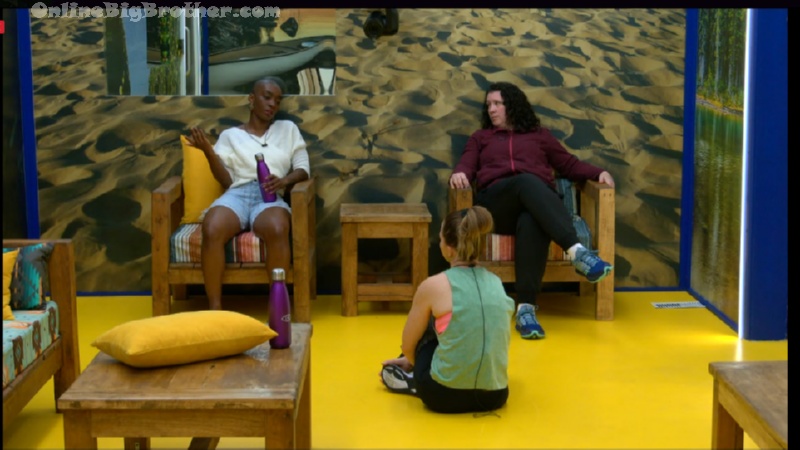 Tina, Tera and Latoya
Talking about flipping the house.
L – do not tell anybody about his pitch
Tera – what do you think about it
L – it's very good
Tina – it's a good pitch
Latoya – he makes a good point Tina..
Tina – he does ..
L – it's best for our game
Tina – getting the guy out
They sound convinced that taking RO out this week is the better play for the girls. Latoya reiterates that Josh's pitch is good and if you put your emotions aside it's the right play. She thinks Jed and Tychon will be receptive to it. "They may say Hmmmm… makes sense buddy regardless of what they say yesterday"
Tera says they need to wait until Josh pitches to Jed/Ty because if they aren't keen on the idea the three of them can't go against the house.
Tina says she feels like she can beat Josh in a competition but against Ro she feels less confident, "If it's physical"
Latoya says this will rub Austin the wrong way and that is someone she didn't want to be battling this early in the game.
L – She's not on my radar right now..
L – his pitch is so good it's perfect timing
Tina – "I believe what Josh says.. even on the couch I believe what he said"
Tera – some of it was assumptions and bullsh1t but not everything he said was made up.
Tina – Ro told me he was going to try and convince Josh to get him to pick him for Power of Veto.
Tina – that's true Ro told me that.. Ro was going to win the power of veto and say he was going to take Josh down and not do it.
Tina says after what she said on the couch she cannot trust Ro any longer, "not that I trust him anyways.. it just proved there was some truth in what Josh was saying"
Latoya says Josh was the one that started the conversation about pretty boy 2.0 but I do believe that Austin initially believed it and was on board for it but really did let Josh take the complete fall Austin also was a fault for some of it.
Latoya adds that Austin didn't have the votes to put up Jed that is why she back away.
Latoya – Everybody is afraid to put up Jed..
They talk about how ridiculous Jed was yesterday calling the house meeting.
Tina says she is a bit worried about the Ty, Kyle, and Jed forming up with them to get rid of Ro.
Latoya isn't worried about it "Kyle doesn't trust Jed and Ty"
Latoya says none of the guys want to go after each other.
Tina – if they decide to do it instead of it being just the 6 that he's talking about is there anyone else we can pull …
Latoya – we can get him more votes.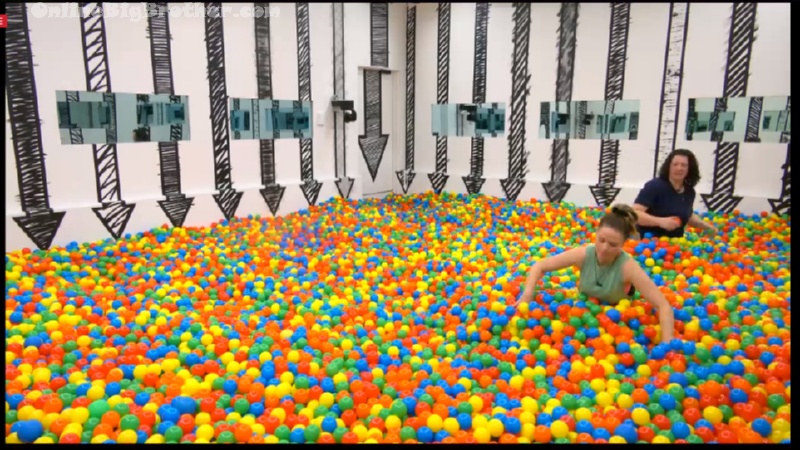 11:37 am morning workout (this is such a good idea)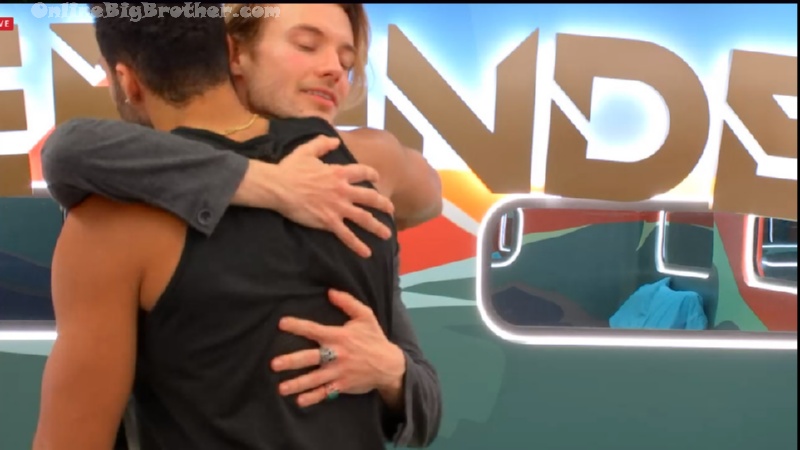 12:20 pm Josh campaigns to Jed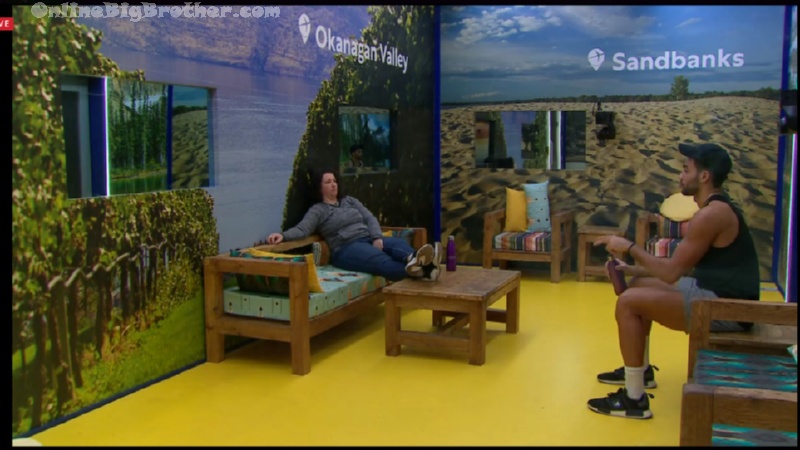 12:30 pm Tina and Jed
Not sounding like they are for the flip.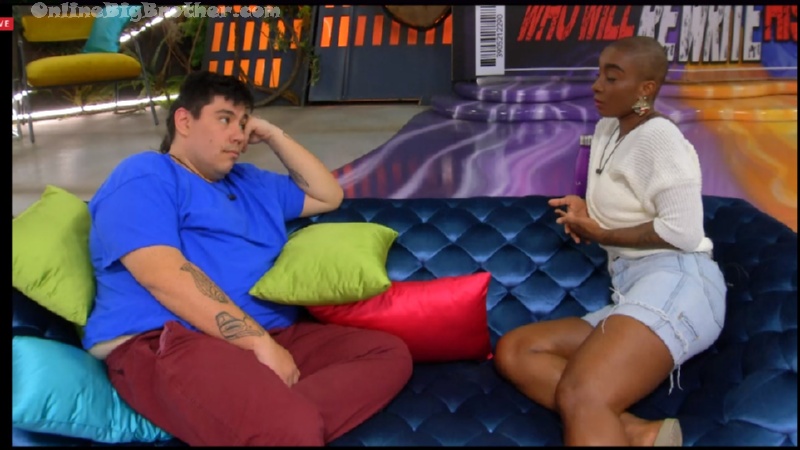 12:42 pm more talk about the flip. Latoya still sounds onboard.
Latoya – the only concern I have is Josh needs to stop saying Austin is his target. If we keep him it will make us seem like we're against Austin.. I don't want it to pin us against Austin.
Kiefer says he is "tight" with Ro and Kyle so it'll be sticky for him but if the vote is tight he would vote out Josh and say he didn't.
Latoya – "we can replace your vote with Beth"
Kiefer – for my game it's better to have Josh here than ro
They agree that some of the stuff Josh said yesterday was true.
1-2:30 pm There's been some feed blocking and a lot of waffling back and forth.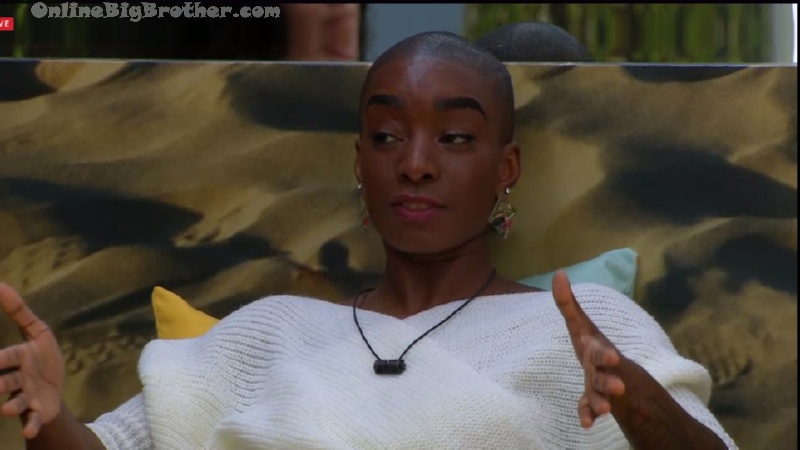 2:30 pm Latoya and Tychon
Talking about what to say to Austin to cover for Josh staying.
L – there's a slim chance he will win HOH.. I can explain to her why it is best for my game because Kyle and Ro are coming for me.
T – we just need Jed and Beth on board
Tina joins them.
L – Kief didn't give out our name. Kief said when you look around the house who do you see as an interest group.. we need a pair to leave. The way Kief broke it down to Josh.. he didn't give our names he broke it down for JOsh.. He made him come up with it but he planted the seed he (josh) doesn't think we are in an alliance he thinks we're in different groups.
(she explaining how Kiefer planted the seed in Josh to make the pitch)
Ty – the only people that are for sure keep RO safe are Austin, Kyle, Beth and Breydon. Austin doesn't get a vote
Tina – are you onboard with the RO vote now
Tychon – 100%
Tina – tera just said to me now I will vote the way you vote
Latoya – Ro is going after you Kyle is after me
Tina – after hearing my name is being thrown around then hands down.. (Get rid of Ro, she heard Ro said her name)
L – I know Kyle is going after the girls.
L – Kief worked his genius (about initiating the flip)
L – we talked about the vote is going to have to be 7 to 3
Ty – if any of us win HOH next week we'll put up Josh
L – It'll have to be Kyle, Brey, and Kief to vote to keep Ro we want Kief to be good with Kyle cause he's the one getting all the information and bringing it back
Ty – and we want Beth to be good with Austin
Tina – do we just deny our votes?
Ty – we don't have to lie the only people that have to lie are Kief and Beth
L – Kyle and Ro are more of a threat now.. my gut is telling me Josh won't go against his word
Tina – yeah
Ty leaves "I'm going to get some eater.. I love it though"
Tina- do you think Ty can get Jed onboard?
L – yeah, maybe
Kief joins them.
K – Josh's pitch was to go after the guys and Latoya. He thought they were the big three. I was like but like they aren't the ones that are putting you on the block so I got him to organically pair the house into groups he thought were working in a group.
Kief – he put you (tina) and Tera in a group, Latoya, Jed, and Ty as a group, and me as a floater. He said he wants to carry me as far as I CAN GO like dead ass that is what he said to me
Kiefer – I planted those seeds early like a long time ago. I've been working with Josh since day one.. why not everyone views me as a floater. It still doesn't expose the six (if they keep Josh)
Kiefer – I'm still fine if we vote out Josh
Latoya – they are both on the table
K – it was a good game move for me in my head
Kiefer – if ro stays I can continue to work with Ro and Kyle and I'm in with them. They think I am with them. It benefits me both ways. It doesn't benefit you if Ro stays
Tina said Tera just told her right now that she will vote any way Tina votes.
(I'm not capturing all the conversations, obviously everyone is talking up a storm about this potential flip. I'm sure it'll flip back and forth all day and night :) )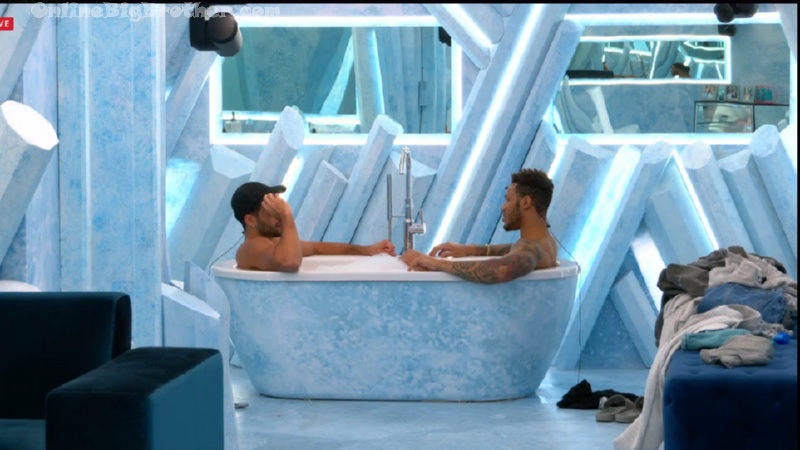 5:10 pm Jed and Tychon game talk
They start off talking about Kyle wanting to put up Tina and Tera.
Ty – if we take out Ro
Jed – it'll still be those to.
Ty – we could live with that
Jed – Tina would have to chill out with that. She will freak out.
They agree it would be Tera they voted out. They wonder if Victoria could be used as a pawn. Jed is worried she would stop trusting him.
Tychon – Austin is going to be pissed.
Jed says if he puts up Tera and VIC and someone comes off he'll have to put up Kyle.
Jed – that would be very telling what is going on.. people will be like why didn't you out up Tina, Beth.. Austin.. Austin was saying your name apparently.
Jed – Ro is feeling it.. He's not feeling fully confident.
Ty – how could you, I wouldn't
Jed says Josh is playing a good game all of a sudden.
Ty – I didn't know Kiefer was helping him as much as he was.
Ty – Kiefer is playing a really smart game to
Jed says that Kiefer gave Josh those names. Josh didn't make that up that was a lie. Josh never looked at the house and paired it like that. (Apparently, Latoya told him this)
Ty – Kiefer wasn't straight about it which is strange to me
Jed – he doesn't know we know he said that for real
Ty – it gave me a vibe is he trying to trick us to do what is best for him only
Jed – exactly
Ty – when I play the numbers out
Jed – I just don't like how he tried to hide that.. what else are you trying to hide
Ty – the move is better for him than us
Ty – it is better if we kept Josh.. for you to
Jed says they will need to talk to Kyle. If everyone is voting for RO to go he'll not want to be the rogue vote.
Ty – why do we owe him an explanation?
Jed – it would be safe our face with him. this is better for all of our games. WE kinda have a truce with him.. with him only not RO
Jed – Kiefer really worries me with his mouth.. he over talks. I'm worried with him being in a room with Kyle and all of them.
Jed – I'm worried about Josh.
Ty points out taking out Ro is one less number for that side.
Ty – he worries me.. you know who else worries me is Beth winning HOH she has to put him up.
Jed – he will be pissed
Ty – potentially expose us
Jed – and switch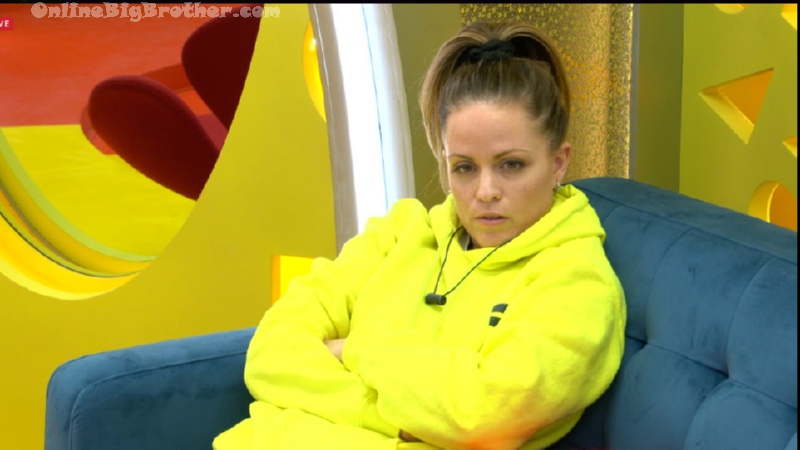 9:00 pm Latoya, Tina, Kief and Tera
Talking about flipping the house and keeping Josh. Standard waffling.
Latoya – if RO stays you know Ro will put you (Tera) up
Kief – I'm game 6-4
Latoya – they are trying to get rid of the girl's point-blank period.
Tera asks them to tell her when they are ready to make the final call on the vote.
Tera – I just can't see Jed doing it voting to keep Josh..
Tina leaves.
Tera – I'm a little bit choked we brought Beth into this..
Tera – Vic knows about this?
Kief – she's sixth
Tera – Beth disguises her vote?
Kief – I have to disguise my vote
Tera – I want to disguise my vote
Kief – then lie
Tera – I can't see RO is coming after me.. where did that come from?
Kief says he almost made an alliance with a name between RO, Kyle, and himself "that's how real it was"
L – do you feel comfortable voting Ro out
Tera – I feel like I don't have a choice
L – Tera you do have a choice because if you aren't on board it won't happen. we can't do it without you. If you keep Josh you don't have to worry about Ro coming for you if you keep Ro, Ro and Breydon are coming for you.
Tera is surprised those two are coming after her.
Tina comes back.
Tera – am I going to make this decision without having a conversation with them
Latoya – YES it will show your cards
(Tera will talk to RO by the end of the night)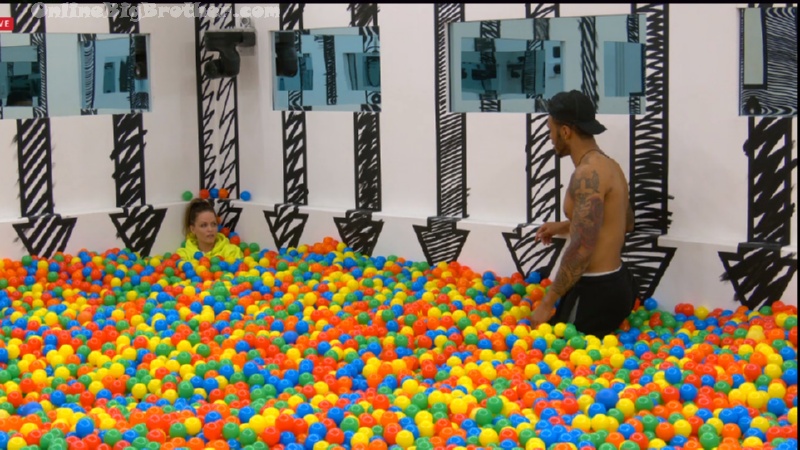 9:32 pm Ty and Tera
Waffling ..
Ty – does RO put you up if he wins HOH
Tera – that is what everybody is saying because of this flip I can't have a conversation with RO I have to take someone's word?
Tera – aren't you worried? the breakdown of these six votes.
Tera – the people that are going to take the heat for it? YOu are the biggest dude in our room.
Ty – you, Jed, Tina, and Victoria
Tera – how does Jed feel?
Ty – Jed's entertaining it.. he's back and forth just like me we are all 50/50 ..
10:00 pm Jed and Ty
Jed – I would rather RO win over josh (HOH)
Jed says Josh is going to be a "Block Star" if you are on the block against him you are going home.
Ty – we don't even have the votes for sure (to keep Josh)
Ty – we have to rely on Tera's vote and Vic?
Jed – are those the most reliable people
Ty – no
Jed – NO imagine if it was a tie or we lose..
Jed – I think Latoya is making this move for herself because if Kyle wins HOH he's not coming for me he's going for her and Breydon.
Beth joins them. They continue to go on about getting Josh out being better for the two of them.
Ty – we have a better chance at predicting what people do by sending Josh home.
Jed – I agree
Ty said he just spoke with Kief a couple of hours ago and he was wanting to vote out Josh.
Jed – He f**ing came up with it
Ty – I know.. there's too much blood being spilled for what?
Ty – I think Kyle should go before Ro honestly and we don't have to take out Kyle ..
Beth – this is the best move f**ing ever for my game.. getting RO out.
Jed – that's going to be our alliance name Blacked .. Blacked Beth .. (Blacked is a type of porn)
Beth – oh my gosh you f***s I'm going to rewatch this is going to be it this whole game. LAughing about Beth..
Jed – Bathtub Beth..
They laugh.
Austin comes in they keep talking about getting Josh out.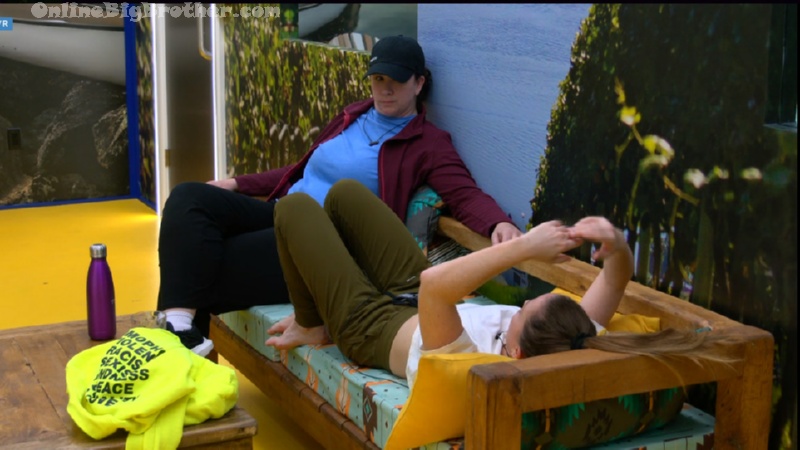 10:40 pm Tina and Tera
Tina – I think the guys are leaning to evict Josh. I just had a quick conversation with Ty
Tina – it might be better for us
Tera agrees.
Tina – we now have to try and convince Latoya
Tina doesn't want Latoya to be pissed at her. Tera doesn't think this will be a problem.
Tina – we can work on our relationship with those two, (Kyle/Ro)
Ro joins them. Says there's a weird vibe "If you guys vote for me to stay then I stay"
Tera – I don't think people know about us four working together .. (Tina, Tera, Ro, Kyle?)
Tera – I didn't want you to be on the f**ing block.
Tina – so you have the votes
Ro – yeah..
Tera – other than me and Tina who do you 1000% feel good with?
Ro – I have Breydon, Kyle, Victoria and I have Kiefer so two of you make six. Even if it's 5 I have Austin. She just told me she would break it in my favour. You guys tell me if there were any whispers? It feels weird.
Ro – Am I getting PAranoid
Tina – everybody is getting paranoid.
Ro – you two and Kyle are my only loyalty
Ro – I'm pretty sure I have Latoya too she told me I didn't have to campaign to her.
Tera – how do you feel about Breydon
Ro – I feel good about Breydon we have a good relationship
Tera – I've heard Breydon wants to put us up. I'm not even looking at Breydon.
(Flips back off the menu)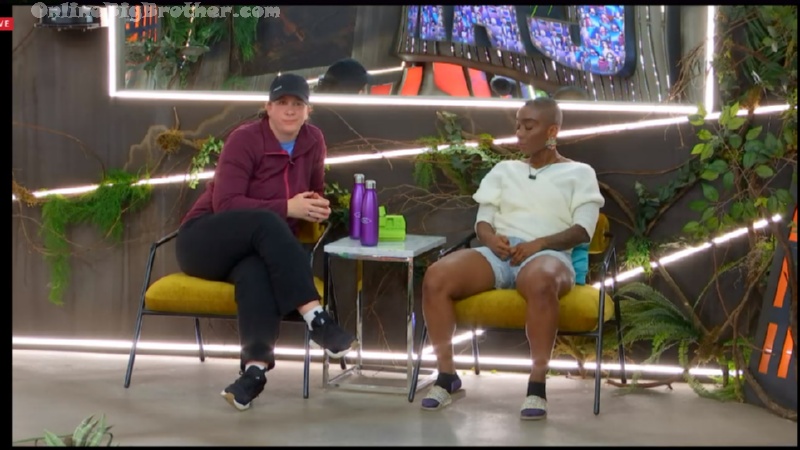 11:16 pm Tina and Latoya
L – it is what it is.. I guess it's Josh end of story..
feeds cut.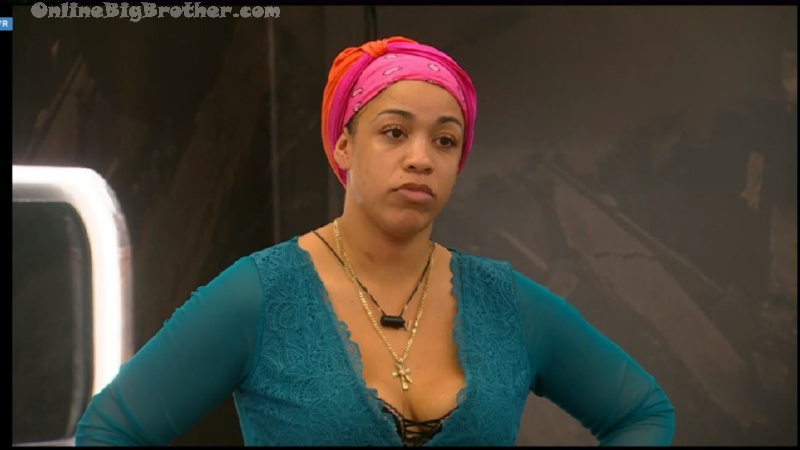 11:35 pm When we're back Latoya, Ty, Tina, Vicotria talking about the flip
Victoria is saying her targets are Kyle and Ro. I can't believe Kyle said that.. he hasn't talked game to me once.. not once.
Latoya says Kyle is only going after the girls.
OMG they are still waffling about this.. Latoya says getting out RO is getting out the stronger player.