First HOH
Dan
Second HOH
Ian
Third HOH
 ?
Final HOH
?
Last Evicted Houseguest
SHANE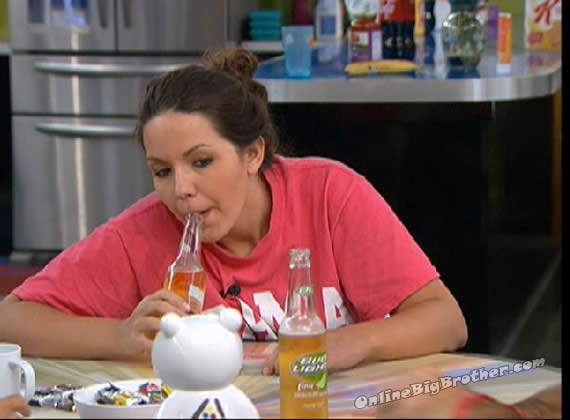 9:10pm Kitchen Dan, Ian and Danielle They are drinking beers and playing cards. Discussion is on how boring they are. Dan comments how strange it feels to have people watching them right now on TV. Dan: "what if us three are the reasons why Showtime cancels Big Brother after dark" Ian says that would be horrible.
Ian: "Tomorrow night will we be allowed to watch TV"
Dan: "Dude you will not want to watch us TV Tomorrow"
Dan explains that there will be a security guard in his room and they have a full day of press interviews on the Thursday.
The guys start giving Danielle a hard time for not giving them all the information about her olympic date with Shane. They think the people she talked to during the date told her more about who was liked. Danielle swears she told them everything, Says they only told her they disliked Frank and like the quack pack. Ian asks if they told her who the favorite to win out of the QP was. Danielle tries to tell them there wasn't much talk about the QP all they said was they liked them.
(Lots of Random talk from everyone)
Ian: "You know what show got tiresome after a while.. Roseanne!!"
Ian brings up his "ZING" about Dan asks him if Danielle heard it. Dan lies says Danielle thought it was really funny.
(Danielle really thought it was pathetic and said she wished she could punt Ian across the backyard like a football. THe Zing had something to do with Dan having something in common with Willie they both won only one HOH)
9:30pm
Cam 3-4 Ian Hammock Rocking Mumbling a lot of crazy stuff.. (He's also making slurping sounds with the spit in his mouth)
Cam 1-2 Danielle and Dan playing cards
Dan is winning most of the card games. Dan: "I wonder if you can milk that Beer a little more" Danielle: "You mean nurse it"
Danielle starts to explain why they put saline into bodies instead of straight water.. Talk goes to moods Danielle says she can read him by his moods. Dan says his mood has only changed once and that was last night. Danielle disagrees with him says his mood has changed a bunch of times this season. Dan mentions they have 16 hours to go. Danielle asks him when this is over will he miss her. Dan smirks says no. He asks her if she'll miss him and Danielle answers yes. Dan tells her they will always be able to communicate with twitter.
Danielle calls Ian the "Mini Frank" (HAHAH Ian does think he's the BB big shot right now) Dan mentions that Ian is counting the Pandora's box comp was a regular POV win. Danielle says that she doesn't like seeing Dan be so grumpy. Dan says he's not claims that he's never been salty once in this game.
Danielle says she is sick of Ian walking around thinking he's going to win big brother "NO WAY IN HELL my key will have his name on it" (LOL there you go Dan a locked vote in the jury) Dan wonders if showtime is on them or Ian rocking on the hammock practicing his Jury Speech.
Superpass Live Feed Subscription Watch Season 13 and 14 using Flashback. FREE 3 DAY TRIAL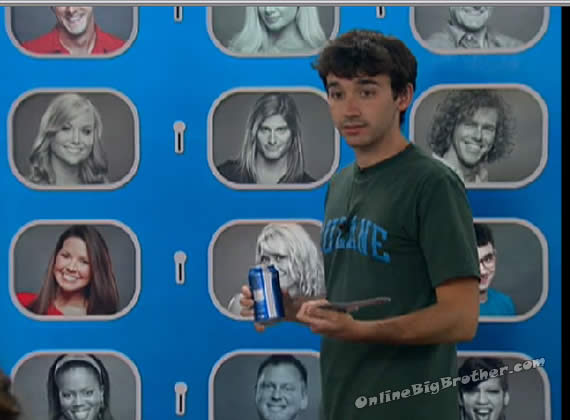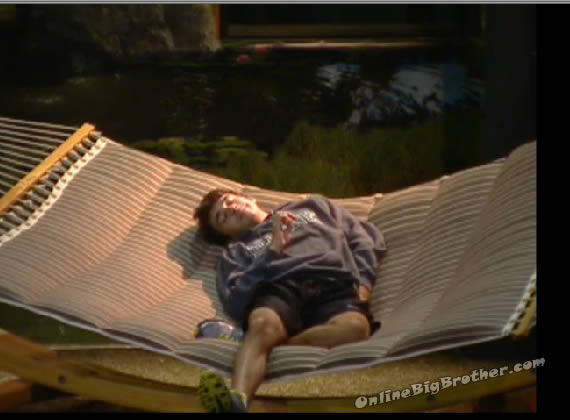 10:31PM Cam 3-4 Ian on Hammock
Ian: "Quack"
Here is a few things I think he said.. Sometimes it sounds like he's practicing his jury speech and counting votes depending on who he takes to the end wither Dan or Danielle.
Quack
Why Keesha
Duck tales Whoohooo…
Danielle.
Superpass Live Feed Subscription Watch – The Big Brother 14 Backyard Interviews LIVE! after the show tomorrow FREE 3 DAY TRIAL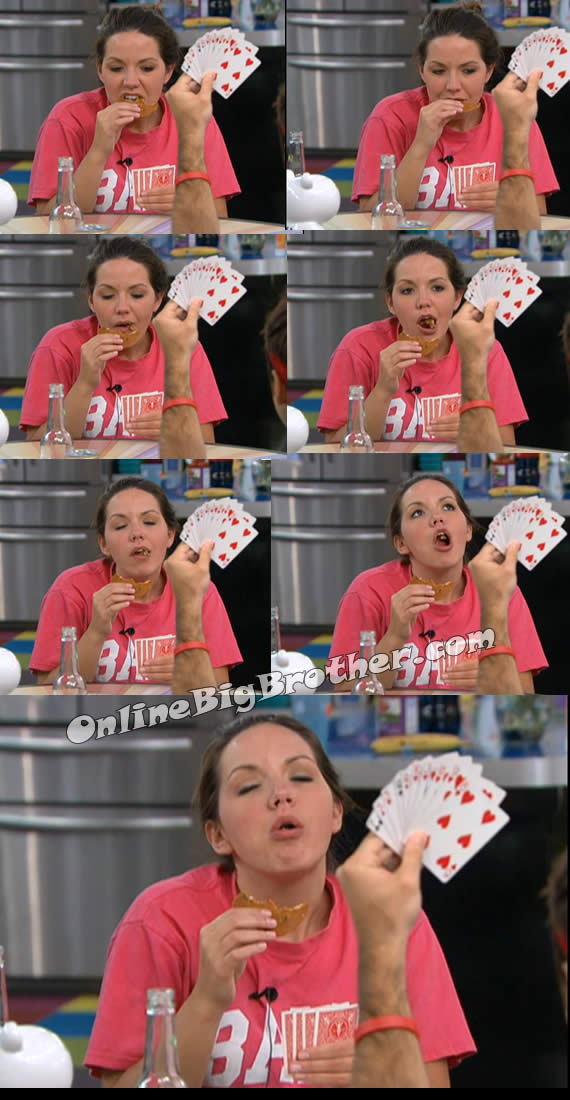 10:51PM Cam 1-2 Dan and Danielle
Danielle starts laughing at Ian's walk. Dan says he has a "Gait Issue" Danielle tells them she doesn't want a cookie but after a bit of convincing from Dan she dives in. (Danielle's love for Cookies)
11:02pm Backyard
Dan telling them about the Diversity alliance and the Headhunters. Dan says the Headhunters was one of Joes secret alliances. Ian never heard of it.
Dan calls Danielle "Sweet and Fun" Dan :"Thats a john blaze thing to call her"
Ian: "I just adore the quack pack.. it's the best thing ever"
Dan: "Duck Hunt.. it's a game for nintendo"
Ian: "Dan what's your favorite thing about the quack pack"
Dan says he liked it when they hung out in the HOH and teased people.
Danielle: "When we were all here we got a lone"
Dan: "It was a lot more cohesive unit than my alliance last year"
Ian says that even though they lost a person they still steamed rolled through the house.
Dan asks her
Ian: "Founding was pretty cash.. going up there saying this is what it is this is the quack pack"
Dan and Ian agree that Britney was a cool person. Dan likes her much more now than after watching Big Brother 12.
11:30pm Cam 3-4 Dan and ian BAckyard Ian tells Dan that he was practicing competitions before coming on the show. He did a endurance competition off his porch for a hour. Ian says his brother helped him out. Dan: "Like the coach in rocky" Ian adds that he never told his brother because he was scared his brother would get too excited and go tell all his friends.
Dan tells him that Danielle was getting a bit sad when they were playing cards. He wishes 3rd place gets more money it sucks that she made it this far and to get cut right at the end. Dan asks Ian if he thinks he'll get America's choice. Ian says no being in the final 3 hurts all their chances, He thinks it's going to Shane.
Dan says Frank had some Rachelesque moments this season, He thinks Frank will be back again but doesn't see him turning it around like Rachel did.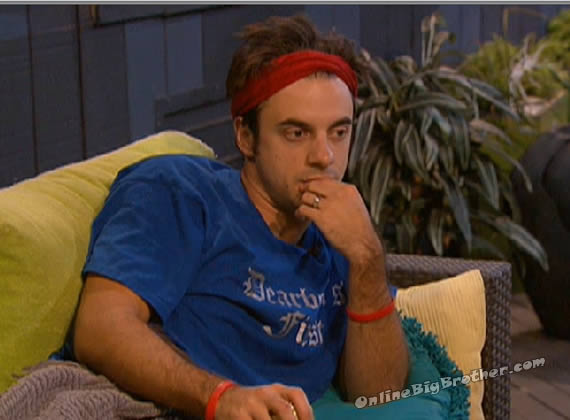 12:04AM Cam 1-4 Final 3 Danielle telling them about her experience getting a IUD put in. Dan wonders why she used a IUD and not the pill. Danielle says the pill messes with her thyroid and she has ovarian cysts. Danielle doesn't trust condoms, says the condom broke twice with "Taylor" so she had to get Plan B.
Danielle jokes that it was day 8 when she first took a shower without Ian sitting in the bathroom. Danielle thinks it was because KAra and her were the only 2 people that would talk to him.
Dan keeps repeating what boogie told Ian "You gotta hate these people" Dan thinks it's brilliant.
Ian tells them that Boogie was trying to get the heat off Frank by putting it on JoJO and Danielle. Boogie thought JoJo was annoying and Danielle was Whiny. Dan asks Ian why he was hopping around like a bunny towards the memory wall week one. Ian says he was bored as shit in a strange environment.
They all agree that Joe was a better player than they thought he would be. Dan thinks once Janelle left Joe was able to play is own game and not have to report back.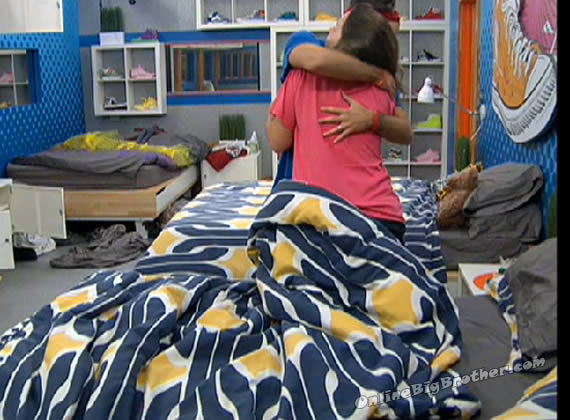 12:24AM Cam 3-4 Dan hugs Danielle tells her she did great this year he's really proud of her.
12:28AM Dan starts saying good night to some of the camera's around the house. Says good night to Big Brother tells them it's been a great season.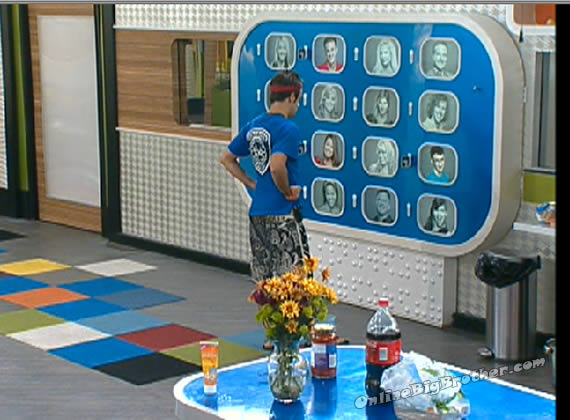 12:29AM Dan looking at the Memory wall
Dan: "OK Thats IT"
12:32AM Bedroom Dan, Danielle and Ian all in their beds Dan tells them he would never do Big Brother Again, "This is my last hurrah"
Ian: "It was such a honor to be in an alliance with you guy"
Dan: "same it was a lot of fun"
Dan: "Good night kids.. it's been a fun summer.. see you all on the flip side"
Lights go off…
Ian: "I kind of want to go back to regular life but I kind of Don't.. It's really simple right now"
Danielle: "It is really simple"
Ian leaves to get his water bottle.
Danielle: "Dan I'm sad.. cause I'm going to miss all of this"
Ian comes back .. "SUCKS this F**** ends tomorrow"
12:49AM CAm 1-4 SLEEPING
Superpass Live Feed Subscription Watch Season 13 and 14 using Flashback. FREE 3 DAY TRIAL