First HOH
Dan
Second HOH
Ian
Third HOH
 ?
Final HOH
?
Last Evicted Houseguest
SHANE
Superpass Big Brother 14 Live Feeds: 3 Day FREE Trial!

4:30pm – 4:55pm They start talking about Frank and Ashley and what they have done in the jury house. Dan says if we were talking baseball, how far would they have gone? Danielle says oh third base for sure by now. Danielle says that she thinks Ashley and Jenn have done something too. Dan asks like what? Danielle says that she can't prove it but thinks they kissed or something. Ian comments that's a really hot image isn't it? Dan asks what? Ian says them going half log. Dan says that's gross. They continue to talk about that sexu*l conversation that Frank, Ashley, Britney, Shane and Danielle had in the bathroom earlier in the season. The conversation turns to talking about Hooters. Danielle says that she would never work there because she cares about her reputation. The conversation turns to Danielle asking Ian about the nasty things Boogie said about the others. Ian talks about how Boogie told him he needs to hate these people. Danielle asks what he said about Shane. Ian says that he mostly just insulted his intelligence. Ian says he said you were whiny, had a pouty face all the time, you didn't clean up, you complained about everything. Danielle says I cleaned and vacuumed every Thursday. Ian says Boogie said he was going to call mother***ers out! Danielle starts getting really pissed and says that she could go off about him but she won't because it's the last day of the live feeds. What an a$$! I hate him! I would rather go off on him to his face just for dramatic effect. They continue to talk about past events of the house.
Get the FREE 3 Day Live Feed Trial to watch the Backyard Interviews after the Finale: Sign-up Now!
5pm – 5:30pm Danielle asks Ian how many people he thought had plastic surgery. Ian says Janelle and Kara. Dan asks is that it? Ian says yeah, why did someone else. Danielle laughs. Dan asks her why are you laughing do you know something we don't. Danielle says no. Danielle asks Ian if girls have fake boobs does that change what you think of them. Ian says no, why do you? Danielle says yeah. Dan asks what really?! (Dan already knew) Ian comments that yesterday when she was working out he noticed that they didn't move but figured she was just wearing a really good sports bra. Dan asks did Shane know? Danielle says no. Dan then brings up how Shane said he hated fake boobs. Ian says that it has to work out. Danielle asks what? Ian says you and Shane have to work out. Dan says he is less optimistic, he doesn't think it will work out. Dan and Danielle give Ian tips on what to say as a message when he calls the girl (Taylor) that he likes from Tulane. Danielle tells Ian not to say he is Ian from big brother. She says that's a d*uche bag move. They continue to reminisce about the past events of the season.
5:37pm – 5:45pm Danielle heads inside the house. Dan asks Ian if Danielle has any idea? Ian says no. Dan says he thinks for some reason she thinks I am going to take her. Ian says I hope she doesn't get her hopes up. Ian comments that when she has asked him if he will take her and he says that he just looks the other away. Dan comments on how she hasn't had a Keesha moment yet. Dan says that just so you know if I win there won't be any antics or speeches. What about you? Ian says no, because I will tell her I stick to what I say.. The conversation turns to talking about survivor.
5:55pm – 6pm Dan and Ian continue to talk in the backyard, while Danielle is inside the kitchen cutting up the chicken for "renegade nuggets". Dan and Ian continue talking about past events of the house and other random things.
6:30pm Dan's in the kitchen breading the renegade nuggets.. Danielle is watching. Ian is swinging in the hammock.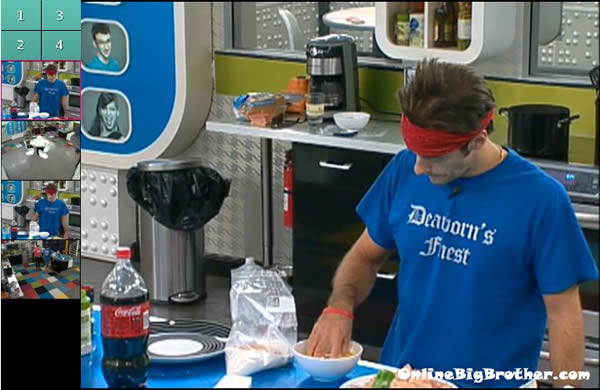 6:45pm Danielle asks Dan if he could have picked different players, would you have picked different players?" Dan says no. He says that the only other person I wanted to pick was Shane but after getting to know him and how he plays the game, I wouldn't have. Dan says that he never would have picked Frank. They continue to talk about past events of the house.
7:05pm – 7:15pm Danielle and Dan talk about Frank walking out the door. Danielle laughs about the look on his face, then she says I shouldn't be laughing it could be my happy a** walking out the door next. Dan says that how sad would you be if didn't win the final HOH. Danielle tells Dan that as long as he gives it his all. Dan says he will be disappointed in himself. Dan says that he knows he has to win for both of them but doesn't want to think about it. Danielle start talking about her new furniture and how much she spent on it. Dan jokes about the amount she spent. Danielle says sorry not all of us have half a million dollars. Dan says I don't, it goes to $300,000 over night. Dan asks Danielle if she is ready for all the questions to be about her and Shane. Danielle says no. Dan asks Danielle if she would ever do The Amazing Race with Shane? Danielle says no, I would rather do it with you.
WATCH Jeff Schroeder do the backyard interviews after the FINALE!
Sign-up NOW for your FREE 3 day TRIAL!
7:20pm – 7:35pm Danielle asks Dan when he thinks she will be married? Dan says when she is 26. Danielle asks why 26? Dan says you still got to mature some more, you are still immature in some areas. Danielle asks like what? Dan says that she is immature when it comes to guys and seeing when to recognize sooner when a guy doesn't like her. Danielle says that she has a hard time letting go if there isn't a genuine fault. Danielle says that it depends on what Trey wants when she gets home and whether or not she will pursue Shane. Dan comments that she would drop anything if he calls. The nuggets are done so they call Ian in and all sit down to eat.
7:45pm – 8:05pm Dan, Danielle and Ian sit around the table talking about Big Brother 12 and how the Brigade told Britney about their alliance and how they were voting her out. They then talk about season 13 and how the final 3 played out. Dan asks how Jordan took it being voted out. Ian says that she took it like an adult. The conversations turns to remembering each of the zings the Zingbot did on each of the house guests. Dan comments on how all their families are here and probably like a half hour away. Dan says that its going to be hard to sleep tonight. Then he says he won't be sleeping tomorrow night. Dan heads into the bathroom and tries to take the trimmer into the toilet. Danielle tries to help him run the cord under the door. It doesn't work so he says tomorrow we won't be on camera, I'll do it then. Ian zings Dan saying what do you and Willie have in common.. You and he only won HOH once! ZING!
8:15pm Ian is out in the backyard swinging in the hammock while Dan and Danielle clean the kitchen.
8:15pm – 8:55pm Ian is out in the backyard swinging in the hammock while Dan and Danielle clean the kitchen. Dan and Danielle sit down at the table with the cards. Dan asks Danielle if she can figure out the total amount of eviction votes. Danielle says 56. Dan says that's not what I got, 59. They use the cards and Danielle adds them up and finds there are 59. Dan then asks how many hours have we been inside the house. They calculate 1776 hours in the house. Dan says okay how many minutes? Danielle says that she did 74 days so just make it 1780. They continue to calculate more hours, minutes, and seconds. Danielle asks if his vote to evict Jodi would count? Dan says yes. Danielle says 60. Dan asks would you be disappointed if I lost the HOH tomorrow. Danielle says no, not if you gave it your all.. but you keep saying that is making me nervous. I keep having nightmares of you throwing it. Dan asks why would I do that? Danielle says so you could win it. Dan says I can't win it either way. Dan says that he is going to give it his best shot, either I lose to you or I lose to Ian .. it doesn't matter. Dan asks do you think I have any chance at winning. Danielle says yeah because you have won it before, you have played an amazing social game, you know everyone. Ian does not, he only knows Britney. The only jury vote you don't know for sure is Joe, right?! Dan says yeah. Danielle says that she never would have thrown that HOH if she didn't think he had a better chance at beating him. Danielle gets Dan to swear on Chelsea. Dan says that he would rather win than her or Ian but says that will never happen. Danielle asks what happened to you wanting me to win 7-0. Danielle tells Dan if he gets her to the end he will complete the promis he made to her the first night. Danielle asks if he thinks being nervous will mess him up. Dan says no, I don't get nervous. Dan and Danielle continue to play their card game. Danielle says all in all I am blessed and happy that I got this far, but of course I came here to win the money.. but if that's not an option then.. Danielle says as long as you tried your hardest, then it wasn't meant to be..
Simon and I work 24/7 all season long to bring you all the live feed updates and spoilers, please consider donating. Any amount is greatly appreciated, your donations go directly to paying the server and bandwidth fees needed to run this site. Donation Link