Quick Big Brother Spoilers
Head of Household:  Taylor
Nominees: Indy and Terrance
POV Players: Taylor, Indy, Alyssa, Kyle, Terrance, Jasmine (Host is Turner)
POV Winner: Kyle
Veto Ceremony:
Havenots: 
Lock your ranks in before midnight
The twist
Wording from the Thursday night show
For the first time ever the game will completely change as the house splits into two groups. These two groups will have no interaction and in a Big Brother first, two completely separate games of Big Brother will play out simultaneously all week long all of it culminating with a double eviction like no other"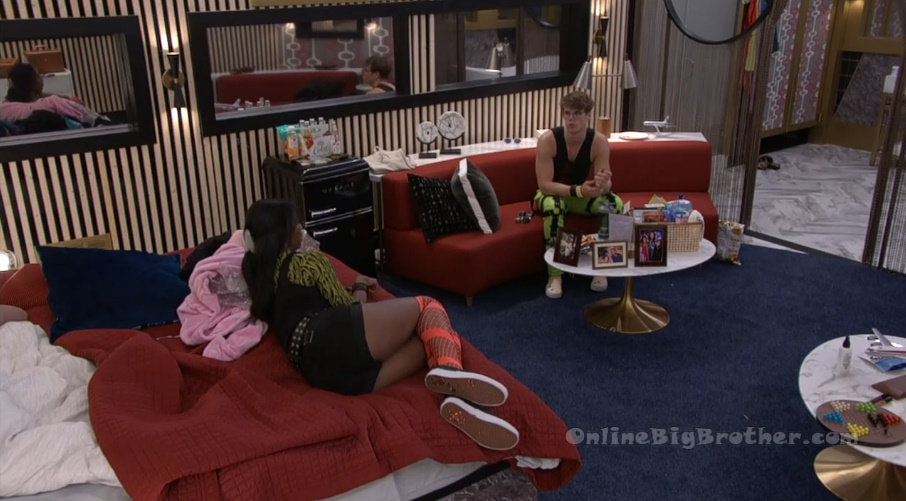 12:31pm – 3:46pm The live feeds were blocked for the Power Of Veto competition.
KYLE WON The VETO!!
– Alyssa won $5000
– Jasmine won a trip to London, England
– Terrance – "Ink 182" 182 temp tattoos
– Indy has to wear a "Punkitard" for 1 week and perform concerts
– Taylor and Joseph will be chained together for 24 hours.
HOH room. Kyle and Taylor.
Kyle – its my call so that the blow back comes on me or.. Taylor – I think we do that so that we're going to have Joseph and Indy on the block. Kyle – you're still taking that big shot so you don't really care. Yeah I will spin it like that. Taylor – I don't care because of who I am going to put up and I would prefer to not have a woman go home. EErrr… a woman not sit on the block. Its the same sh*t that I told them and you will just pull Terrance down and you have your reasons why you don't want her here. Kyle – yeah exactly and its honestly perfect because… Taylor – you've been priming Alyssa. Kyle – exactly. And from what she tells me she is sick of Indy too. And she said that Jasmine is too. Taylor – at least they're primed and you can make that move and be comfortable.. and watch Indy Vs Joseph. And I can be like I was literally chained to you for 24 hours and I got nothing. You're useless to me .. please leave! And then Indy goes. Kyle – I don't think you'll take heat .. well as much heat but I think for you it will be the most miniscule because no one is really that tied to Indy. I thought Joseph would be the most upset about Indy leaving but he's not. Joseph joins them. Joseph – its going to be weird you and me chained together. Alyssa joins them. Joseph – Jasmine really wanted the trip. It gives us (Taylor and him chained together) a chance to get to know each other better. Alyssa – what is really great too is that I have 5k loan still owning on my car. Kyle – and I'm safe for another week. Indy joins them. Indy – is the plan for you guys to still use the veto on me? Kyle – that's the plan baby girl. They talk about how Indy has to wear a "Punkitard" costume and perform concerns whenever she's told over then next week.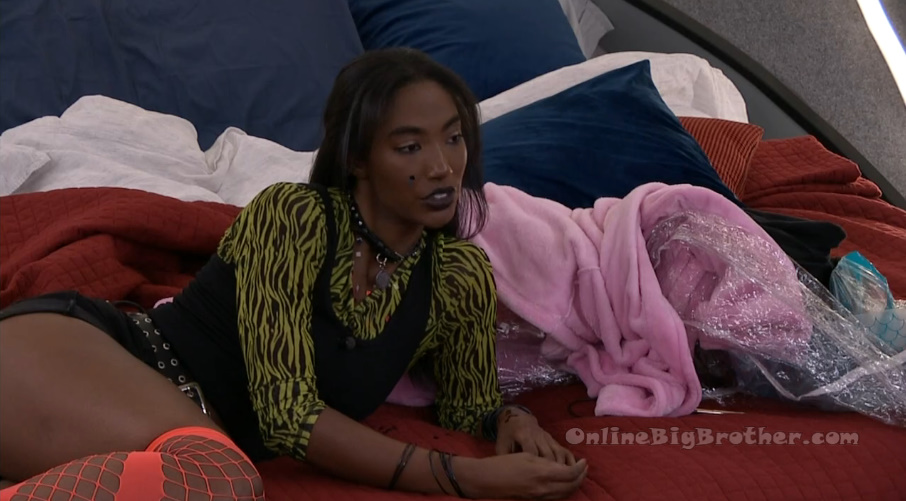 3:55pm Bedroom – Michael and Brittany.
Brittany – I want them to go ..every single one of them. Its just the order that matters. Michael – I am hoping she is mad that Alyssa took the trip. If you want good tv, Jasmine taking the trip over the veto. Michael – I am so annoyed about "my birthday trip" … she used it to get out of being put up on the block this week, avoiding havenots, getting a trip to London… like you like 4 BIRTHDAY GIFTS!? AND ITS NOT EVEN YOUR F**KING BIRTHDAY!! Brittany – and she was telling me ..y'all better get me a something on my birthday. Michael – I WANT TO GO OFF ON HER SO BAD! Brittany – me too! Michael – she said she's never been out of the country. Brittany – CBS is not going to give her the trip she would want to take. Michael – she will complain the whole time.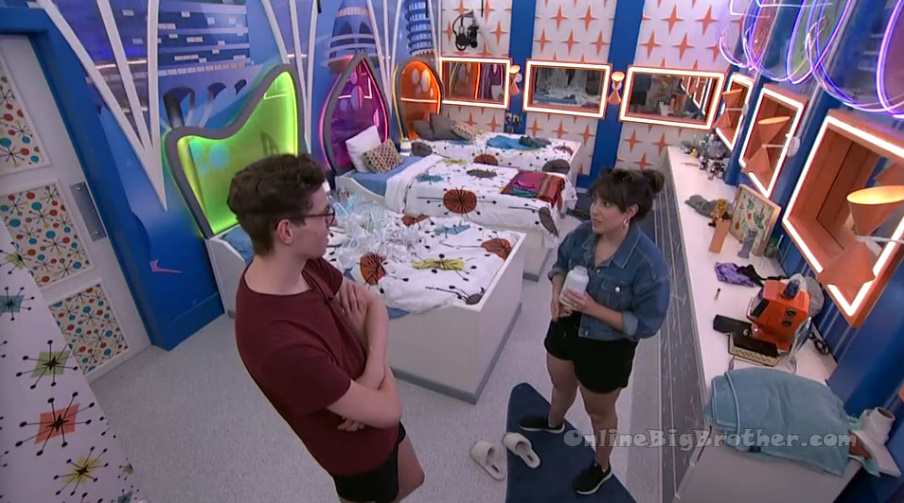 4:15pm Bedroom – Terrance and Kyle.
Kyle – We will see where her head is at tomorrow. I kind of want to use it either way. Like you made this big call out .. you're taking this shot.. you don't miss. Let me use the veto and lets see this shot. Terrance – if it was you .. that's crazy. Kyle – that's what I am saying. If I win and all of a sudden things changed.. but just know Indy is up my a$$. Terrance – oh I know as soon as you walked in the door. Kyle – I am telling her .. I am being real with you (Terrance).. I am using it on her and that is not the case. Terrance – because she would treat you like sh*t. Kyle – exactly. Terrance – and I will just move how I always move. Kyle – she asked upstairs in front of everyone .. and I just said that is the plan. I didn't promise anything.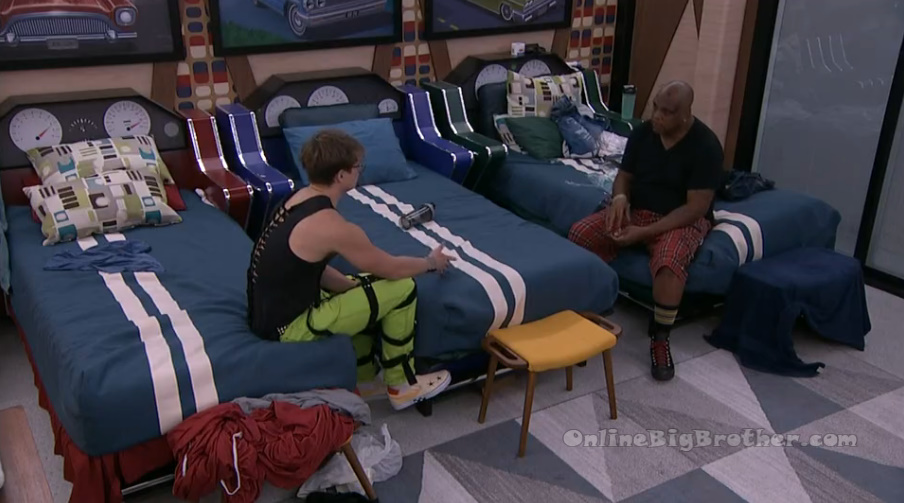 4:50pm Bedroom – Indy and Michael.
Indy – its understandable. I get it. Michael – yeah. As long as he uses it on you. Indy – exactly. Michael – that is the most important thing. I don't have any reason to doubt that he would go back on his word. Indy – yeah me neither. I am just tired. This sucks. I've pretty much did everything, I just need to win HOH now. I am so done with this game.. I know you love it but.. Michael – you're doing good. You're still in it and there's a lot more to go and we're going to go all the way. Alyssa joins them. Michael – I was thinking.. there is a drum kit, a microphone and a guitar out there and they said like other house guests .. she (Indy) is going to get called at like 4am and she is going to be like okay Michael/Alyssa I need backup. Indy – Monte said he would do it with me. Alyssa and Michael say they would too.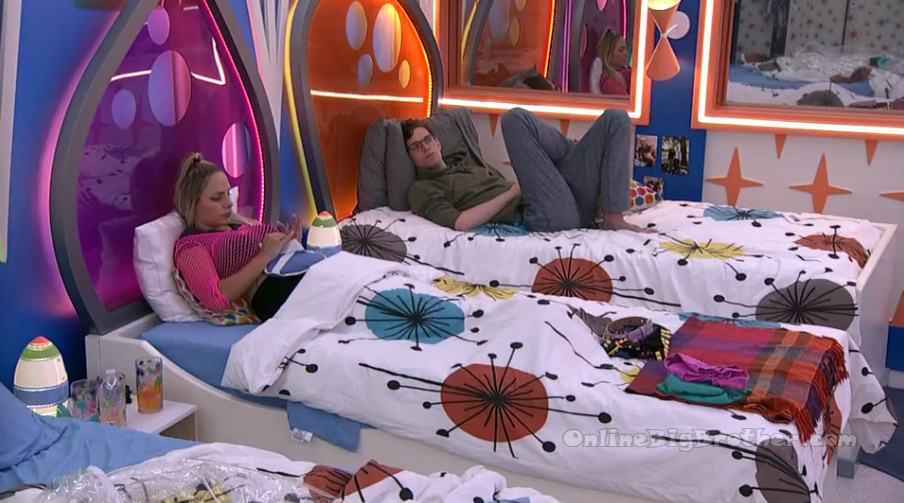 5:09pm Bedroom – Joseph, Brittany, Michael and Kyle.
Brittany – how are you feeling? Kyle – good… really good! Brittany – are you going to use it? Kyle – I am telling Indy that I am going to use it right now because she is up my a$$. But I didn't say I was going to use it either way so. Do you (Joseph) want to go up in this situation? Joseph – whatever helps. The only thing weird now is we're (Taylor and him) chained. We're really going to have to spin that. Brittany – they might open up a little bit more with you there but if she was chained to me they wouldn't say anything. Kyle – what is the benefit of taking Terrance down? Alyssa joins them and the conversation ends.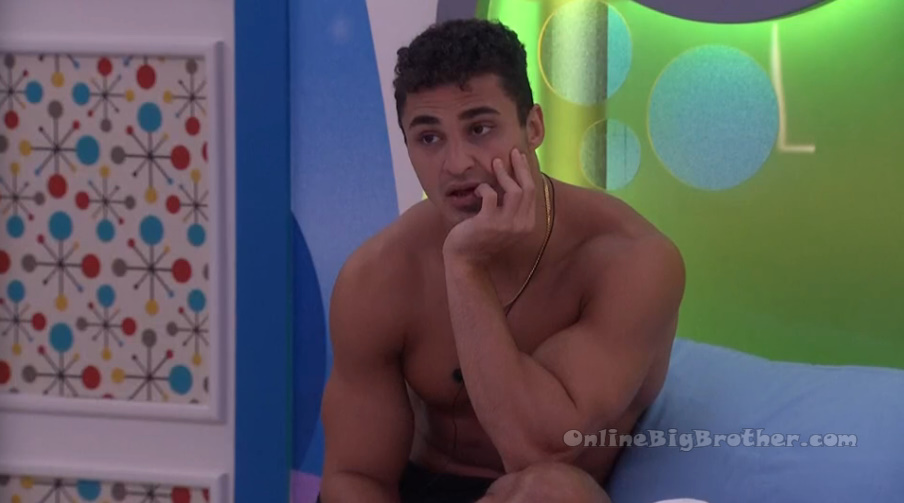 5:50pm HOH room – Joseph, Turner and Taylor.
Joseph – Indy is f**king pissed. She is so mad at Kyle and she is so mad at Taylor because everything circles back to Taylor putting her up on the block. Taylor putting her on the block got her in this position ..so it always circles back to Taylor. And obviously it didn't help that she already came into this not liking Taylor so now every negative feeling she attributes to Taylor and right now she is trusting that Kyle will use it. So she is fine with Kyle… kind of ..she isn't even that mad at Kyle but all this un-comfort about this situation keep shooting back to Taylor. And Alyssa's exact words were I don't mind what Taylor does as long as I am fine. So Alyssa has already thrown her away. It blows me away the lack of loyalty the have.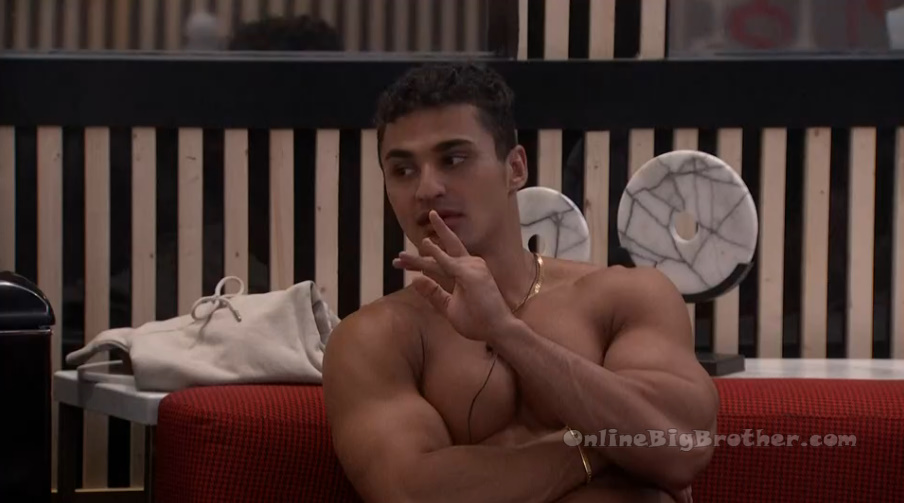 6:25pm HOH room – Kyle, Taylor, Monte, Turner and Joseph
Joseph – after I go up I know they are going to start swaying people for votes. Kyle – dude that will be so interesting because you're in their group now. Once you go up .. its like so back and forth with them. Its the convenience store.. whatever is convenient that day, that week. Joseph – I have no idea what Indy is going to say about me. I have no idea what they're going to say about me. And that is the thing I am not going to say a word. I will literally leave you guys to be like that's my boy. And remember their biggest thing is threats.. the second you drop Indy blood around them .. they will be like yeah she does do good in comps. They talk about how pissed Michael was when she used it being her birthday again when taking the London trip. Brittany joins them. They ask what's going on downstairs. Brittany – I was talking to Terrance. Monte – what was he saying? Brittany – oh that he's fighting.. They all laugh. Brittany – it was a long conversation. They Indy "rocks" up acting like "gottcha!". I'm purposely talking loud in the doorway. She doesn't even ask me anything. If I was trying to hide you wouldn't see it.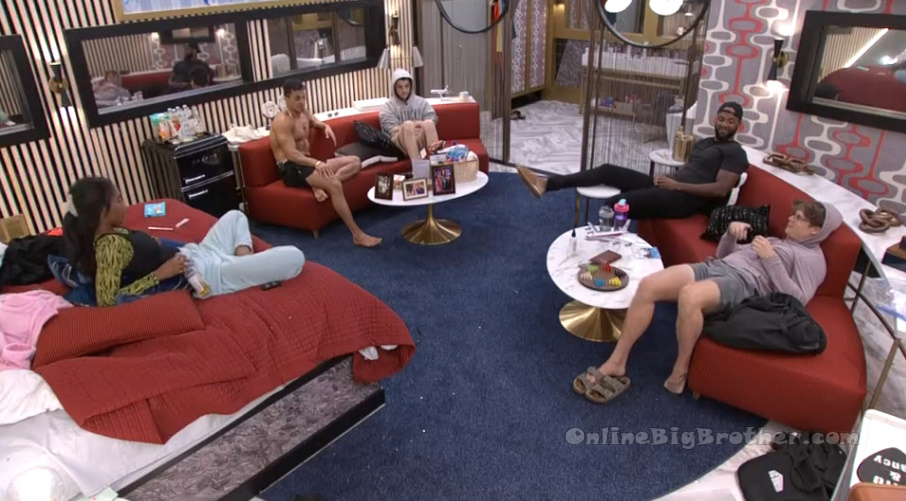 7:38pm Bedroom – Kyle, Alyssa and Joe.
Kyle to Joe – dude take advantage of the time (chained to Taylor). Why didn't you (Alyssa) keep the 48 hours. I told her like that's a reward we stay away from each other so its not obvious.. Joe – you would have to shower together. Alyssa – I was panicking. Joe – Now I have to and I am so shy. Kyle – you're so shy dude. You're going to have to open up. You're going to have to tell her the deep stuff. Jasmine joins them. Joe – if I hear anything what am I supposed to do (he gives them the eye). They try to think of hand signals.