Quick Big Brother Spoilers
Head of Household:  Taylor
Nominees: Indy and Terrance
POV Players: Taylor, Indy, Alyssa, Kyle, Terrance, Jasmine (Host is Turner)
POV Winner:
Veto Ceremony:
Havenots: 
Lock your ranks in before midnight
The twist
Wording from the Thursday night show
For the first time ever the game will completely change as the house splits into two groups. These two groups will have no interaction and in a Big Brother first, two completely separate games of Big Brother will play out simultaneously all week long all of it culminating with a double eviction like no other"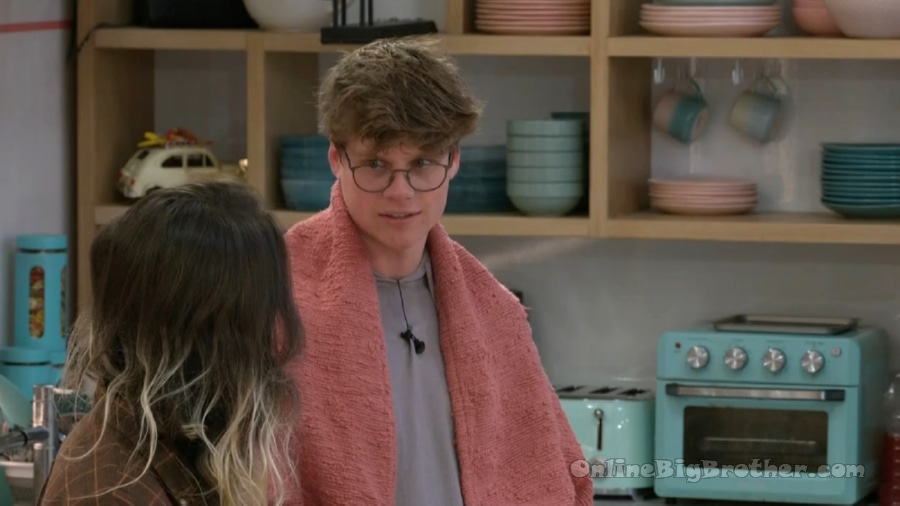 9:41 am Turner and Kyle
Turner – I want Indy out of the house this week so f***ing bad
Kyle – I'm going to go for the veto and win so we can talk about it I'm the same freaking way dude..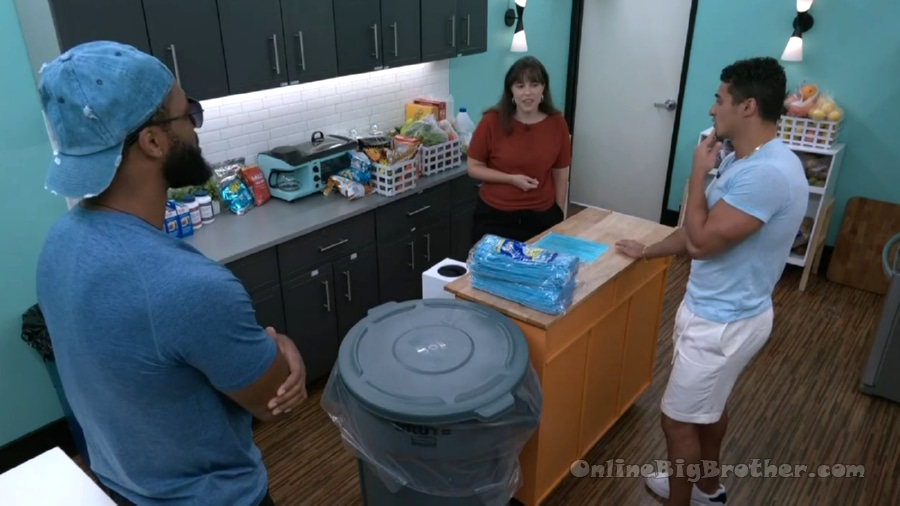 9:43 am Joe and Monte
Joe – Taylor has made it clear she wants Terrance going home
Joe – if Alyssa wins it and brings down Indy.. and let's say we decide I can't go up she's forced to put up Jasmine. I know by her pick it's me vs Terrance at the end of the day which is fine.
Brittnay joins them
Joe – we're running through the veto options. Alyssa will take down Indy for sure. Terrance takes down himself, Kyle?
Monte – I don't know
Joe – I guess we'll see what Taylor and everybody else wants. Jasmine, I don't know. She's close to Indy and Terrance.
Britt – She's going to throw it.
Monte – do you know why Taylor picked Alyssa?
Britt – my guess to build goodwill with Indy
Joe – Taylor isn't hiding she wants Terrance to go home she wants to increase the chance of Indy coming down.
Monte wonders if it's personal or strategic for Taylor to want Terrance out.
Britt speculates it's because Terrance tried to flip the vote on her.
Joe – if Indy goes home on Taylor's HOH we will need justifications so the girls don't rally against her.
Britt – they will anyways.
Monte – if she doesn't put me up this week they are going to rally against her regardless.
Joe says out of Terrance and Indy, Terrance will be more forgiving about being put up on the block.
Monte says Indy is the one person that will want to come after Taylor.
Britt says Jasmine was complaining again about being picked to play in the veto. "Indy said I wanted you to play in Veto so you could play with me"
Joe – Jasmine is really upset because Jasmine really wants Terrance going further. As far as possible. That is why Jasmine is pissed this week.
Joe says That is why Jasmine will send Indy home over Terrance.
Britt says Jasmine's one and only shot to win this game is with Terrance.
Joe – If Indy goes Jasmine won't hold it against Taylor neither will Alyssa her and Jasmine have a final 2.
Britt – Alyssa should want Terrance gone then she gets Jasmine all to herself.
Joe says they need to have a leftover meeting to determine who goes home. "We run our ideas by Taylor. I think Taylor made it clear she wants Terrance.. At the end she's indifferent but I think Terrance. It's her HOH"
Joe – I did offer that if she needs to put me up to help her game she can. Let's say the leftovers want Indy to go home Me sitting next to Indy would be Taylor's best shot of it not looking shady.. that's a BIG move like what she wanted to make. Putting me next to Indy it makes sense from Taylor's perspective..
Joe tells Britt the girls "Destroyed Monte" to him and not three days after they came to him and Monte for a final 4.
Joe says if it's him and Indy on the block Jasmine will have a tough time deciding. "It comes down to who is willing to be a better servant to jasmine and as of now Jasmine thinks I'm a better servant than Indy" (OMFG that is funny)
They agree if it's a double eviction they would much rather fight Terreance over Indy.
Monte – Indy will be the first one after she comes off the block to say Taylor is going up.
Joe – yeah, No matter what.
Monte – she'll put me and Taylor up. She won't touch Michael..
Joe – Indy has more problems with Brittnay than Terrance does. Terrence doesn't give a f***
Joe adds that Indy wants to take Brittany out because she wants to get closer to Michael. "She'll put Taylor and Brittany on the block"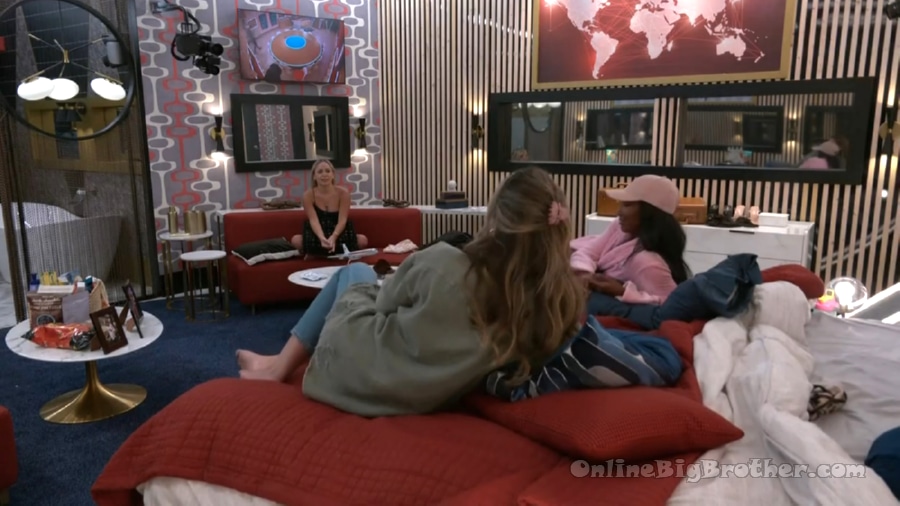 9:56 am Indy, Taylor and Alyssa
Taylor – I like everyone playing The only DOOMSDAY is if Taylor wins. Those chances are so low.
Alyssa – we talked. I will take you down
Indy – yeah yeah
They agree Jasmien would use the veto on her
Taylor – odds are in your favour
Indy – I really want to win
Alyssa – if it's a prize thing I want you to win
Taylor – if it's down to the three of us I would be happy for you to have it.
Indy – I want to take myself off.. I'm going to win this sh1t, take myself off the block and make a cake.
Alyssa – I'm pumped.
Joe joins them.
10:06 am Turner, Kyle, Michael
Michael – yesterday he told Monte she should put you and Michael up together if she wants to take a BIG shot. He was pissed he was put up
Turner – I didn't realize he would put you and MOnte up. that might change things
Turner – Indy will put up me
Kyle – and me, for sure she doesn't talk to me.
Turner – I think she can win an HOH
Kyle – I do to.. more than Terrance
Michael – there's a zero percent chance Terrance will win a competition.. not to sound like an asshole
Kyle – she drives me crazy I can't handle INdy
Kyle – does Brittany care about which nominee
Michael – I don't know I don't think so, but..
Kyle – I'm sure Monte wants Terrance gone if he's saying that.
Michael – I just wish Taylor wanted Jasmine out
Kyle – me to
Turner – what if we backdoored Jasmine that would be sick
Michael – I would love that but she's not going to do it
Kyle – which is insane to me
Turner – Jasmine put up Taylor
Kyle – I know I know
Michael – I'm so annoyed about.. you got to play in a veto and you complain about it
Kyle – you have a chance at safety..
Michael – she jumped off the wall because she didn't want to get sprayed with something.. granted that wasn't your comp you weren't going to win..
Kyle – still
Michael – I would have killed to play on the wall and you didn't want to mess up your hair.
Turner – Taylor did say in front of us all F** my morals and brought Jasmine into the conversation.
Kyle – when?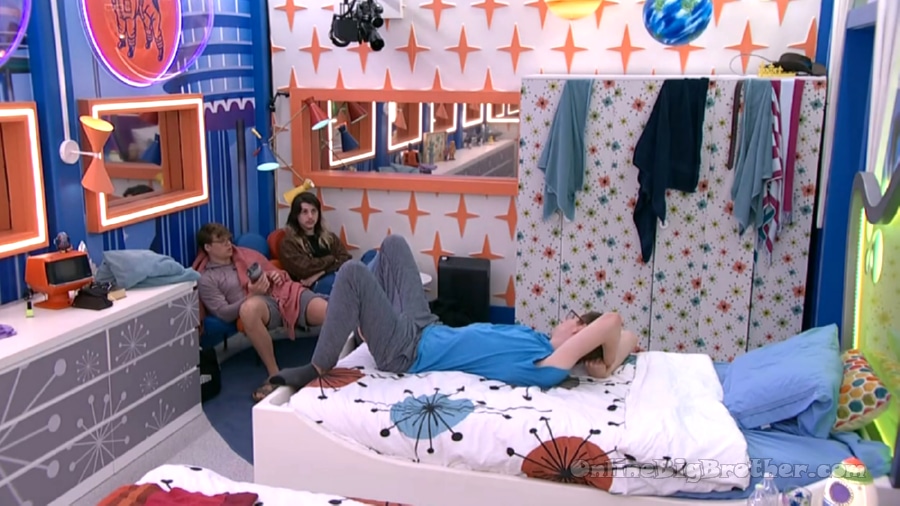 Turner – last night or the night before.. That would be good for everyone in the alliance. I respect that message so much especially if it's reciprocated but it's only one-sided.
Turner thinks the veto will be used this week regardless of who wins it.
Michael says Kyle is the only one that could get away with not using it.
Kyle – I know but this fly swatters thing they'll want me to use it
Michael – this is the best-case scenario. Alyssa wins and pulls Indy down. Taylor puts Jasmine up.. that would be best. I don't think Taylor would do something that risky
Michael thinks with a little persuasion they can get her to do that.
Kyle- it's not risky. Those girls are going to put her up regardless. She doesn't realize that right now because they're up there kissing her ass. Taylor has a big heart and I think they convince her .. She promised all of them safety the day before the Veto..
Turner – which is crazy then the whole house is in your alliance.
Kyle – she then said I'm going to put Turner and Monte up as pawns.
Tuner – the people in your alliance.
Michael – I never heard that.. sounds like that was shot down real quick.
Kyle – for me Indy and jasmine.. I want them both gone so bad.
Tuner – if veto is used there is a 50% chance we might be able to get Jasmien on that block.
Michael – Taylor did ask us yesterday who our first choice would be and everyone said, Jasmine.
Turner – I stuck my neck out so far for Taylor and she almost put me up.
Kyle – we all get into a room after the veto and we all be honest about every option. I'm open to Alyssa, Jasmine, and Indy like I'm open to Terrance.
Michael – I think Jasmine over Indy
Kyle – I'm going to win it.
Kyle – I just don't know if I can bring myself to use the veto on Indy
Michael says he doesn't have to use it "Just say it's to cover up the alliance"
Michael says Jasmine is the strongest tie between the girls and Terrance getting Jasmine out will break that tie and Terrance is all alone.
Kyle – and she doesn't want to play in competitions
Michael – then you can sit in Jury and not play competitions
Kyle – Indy thinks I'm an idiot and doesn't talk to me she literally just orders me around and bugs me and Alyssa all the time.
Kyle says the other night him and Alyssa were chilling and Indy came to them and said everyone is up in HOH you need to go up there
Michael says Indy, Jasmine and Alyssa are all about GIRL POWER with Taylor right now "even though they cut her out of it"
They bring up how jasmine doesn't want to play in the veto
Michael – I hope it's a punishment prize thing and she gets a punishment
Kyle called into the Diary room.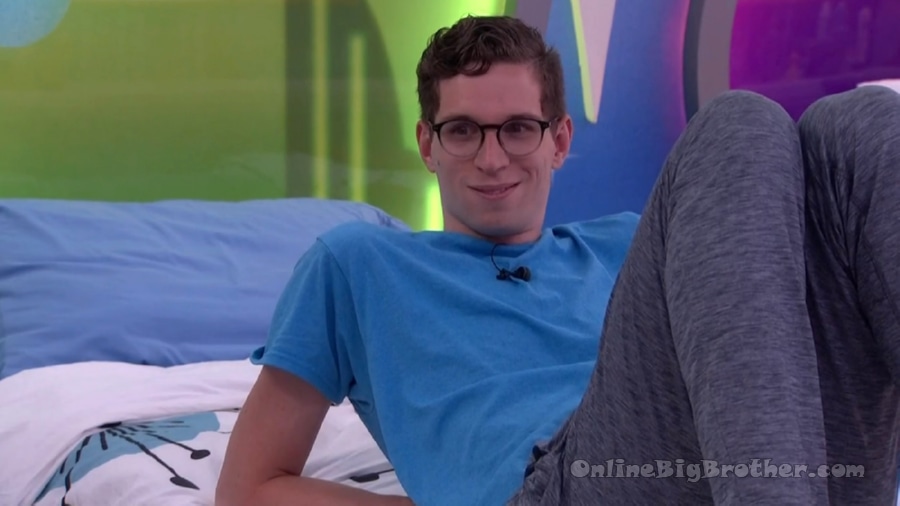 Turner to Michael "do you think Taylor will put up jasmine even though it's her BIRTHDAY?
Turner – I hope to god she sees through that little birthday trick
Michael – I'm so sick of hearing about her birthday.
Turner – my god. it's so crazy..
Turner – Indy told Kyle to leave the HOH room. Indy goes "can you leave I need time with the girls"
Michael – Taylor has to see through all that right?
Turner – I feel like when you are HOH you get so much bullshit that's so easy though I think Taylor's downfall is she doesn't see through it
Michael – Probably feels good they're finally being nice to her.
Turner – for sure.
Michael – I want JAsmine out so bad
They talk about Joe asking to be the replacement nomination.
Michael – Joe volunteered so if he wants to go for it I guess.. it's so much can change in a couple of days. I would hate for us to be locked into sending this person home. So much can happen between now and Thursday.
They agree Jasmine, Indy and Alyssa are able to win HOH there is a chance they can send one of them home.
Turner – if there's a prize thing Jasmine will go for the prize thing
Turner – if we can get Taylor to put up Jasmine I don't care who wins. (Veto)
Michael – yeah
Turner thinks if all of them are in the HOH and voice their reasons to get jasmine out Taylor will be open to it.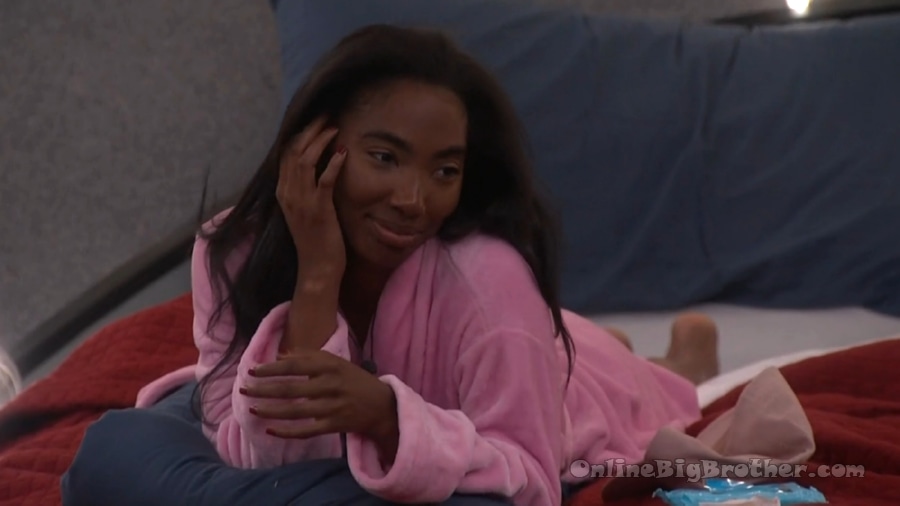 10:48 am Taylor and Jasmine
Taylor – I like whose playing we're good.. I'm glad Alyssa is playing too
Jasmine – she was so ad during OTEV
Taylor – at least I was the host..
Taylor – those shorts.. they said give us some booty Taylor.. I said ok. (Awesome 🙂 )

Jasmine – I was like are those little fringe tassels
Taylor – I keep all of the little costumes they're in my bottom drawer
Jasmine – the plan is anybody wins it pull Indy down and if Indy wins she'll pull herself down anyways..
Taylor – Mmhmmm
Tayloe says she would really love to see "that poor man" Terrance win the veto and take himself down.
Jasmine – Kyle's playing too.. so I don't know..
Taylor – I don't know how close Kyle is to Indy or Kyle is to Terrance.
Jasmine – I don't know
Jasmine – Like ohh my god just imagine two BLACK girls HOH's getting TWO guys out like SENSATIONAL..
Taylor – Mmmmhmmmm
Feeds flip to Terrance talking about the dimensions of his game.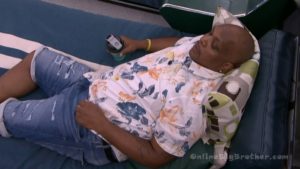 Terrance – in order to get another dimension is to win and that is what I am going to do. that is why I'm just chilling right now cause I don't want to feel distant or..
feeds flip back to Taylor and Indy
Taylor talking about Monte still being the backdoor. "now that he can't play in the veto.. "
Jasmine counts her fingers.. that's nine that can participate in the HOH.. that would be 4 vs 5 (Girls vs guys Taylor can't play)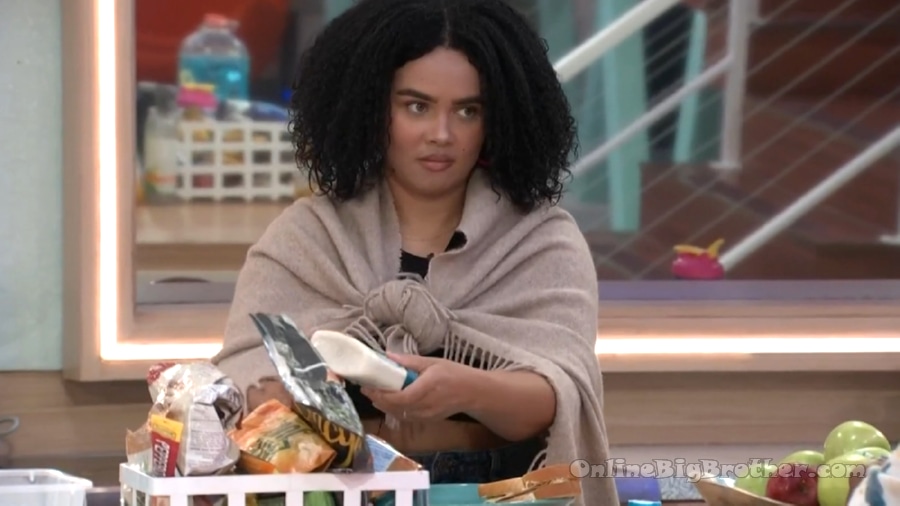 11:12 am Jasmine and Terrance
Jasmine – I am telling you all now don't give me a punishment on my birthday week unless you all want me to be somebody you haven't seen before I'm warning Y'ALL
Jasmine – I don't want people to be like OHH I'll take this because I don't want the punishment.. it's my DAMN birthday week (LOL)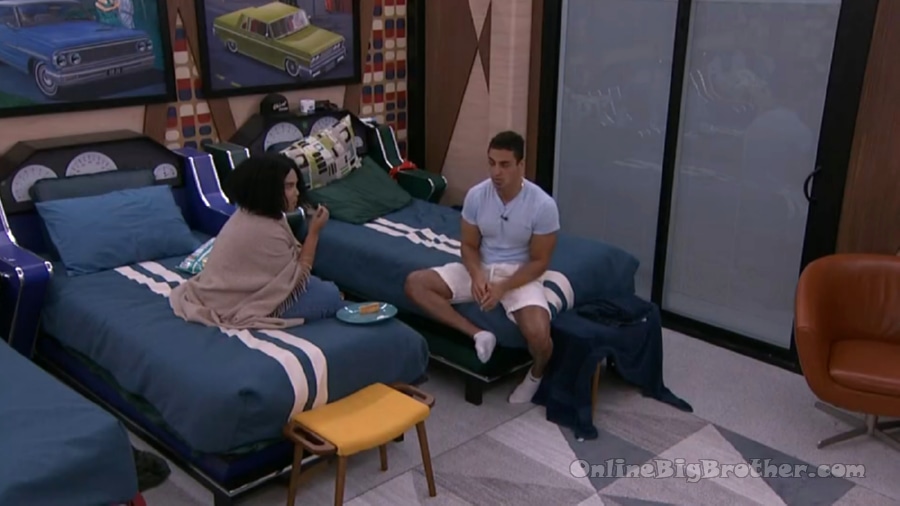 11:25 am Joe and Jasmine
Joe – I think she wants Monte out for sure there's no doubt in my mind.. with three weeks of her being left out of everything she's on her own to do what she wants.
Joe says he cannot see Taylor sending one of the girls home "I got that for sure. The rest of the house she doesn't give a f** about"
Joe – you three she's thinking long term or something. with me she thinks ohh he's cute whatever.. but I don't know where we are game-wise.
Jasmine asks him who he would send home on his HOH
Joe – Turner .. that is the least person I feel close to.
Jasmine – you will need to backdoor him
Joe – I would need pawns..
Jasmine – you are my number one in this game.. You are the top guy in this game and ALyssa is my top girl. Right under her is Indy, Under you is Terrance. I really like Michael.. I'm not close to Kyle.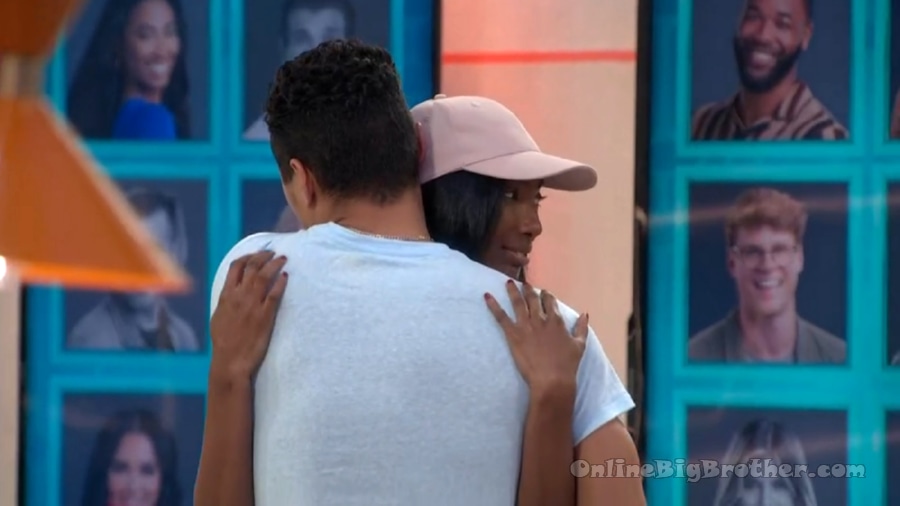 11:46 am
Taylor – come hug me .. put those vanity muscles to work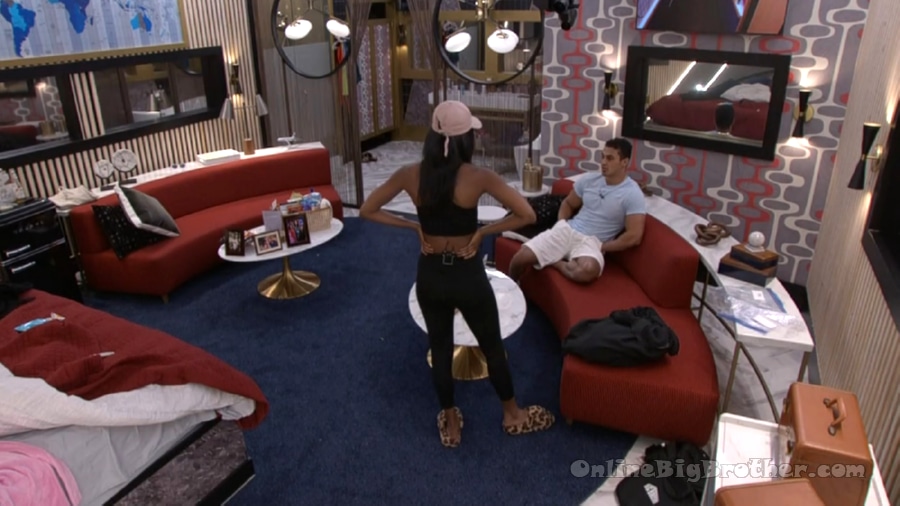 11:48 am Taylor is adamant she won't put Jasmine up.
Monte joins them. They talk about taking Terrance down putting Joe up and sending Indy out to Jury.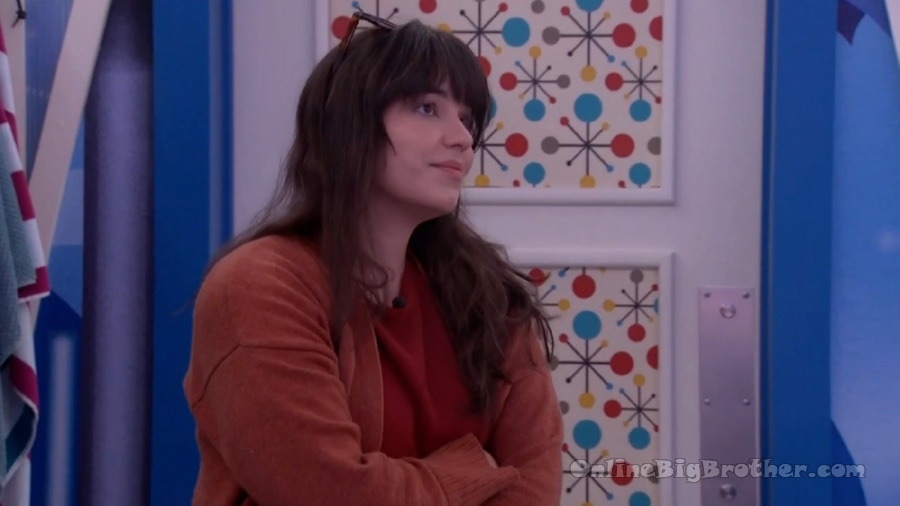 11:50 am Michael and Brittany
Michael says Terrance believes, Monte, Kyle, Alyssa, and Indy have something.
Brittany – Indy, and Jasmine approached Monte and Joe the other day
Brittany says she walked into the storage room on Monte and Joe it was one of those times when they switched the topic when she entered. It was game but it wasn't the game they were talking about.
Britt – Jasmine scares me to cause the longer she stays.. she's really the perfect person to bring to the end. No one likes her. she doesn't win anything. She would have the girls votes.
Michael – Turner thinks we can get her out this week.
Britt – I don't know, Taylor won't do it. Monte's not targeting her either
Michael – why?
Britt – very much deflecting.. he probably sees she's a great person to take to the end.
Michael – that's a good reason to get rid of her.
Britt – I feel very much on our own island right now.. it's scary
12:27pm HOH room – Kyle, Taylor, Monte
Taylor – If you win, use it on Terrance. Kyle – on Terrance? Taylor – yes. Kyle – are you sure? Monte – 100% yeah. Taylor – yes. Monte – I think we are going with that plan because at the end of the day ..you've already expressed your frustrations to Alyssa about Indy and how much of a pain in the a$$.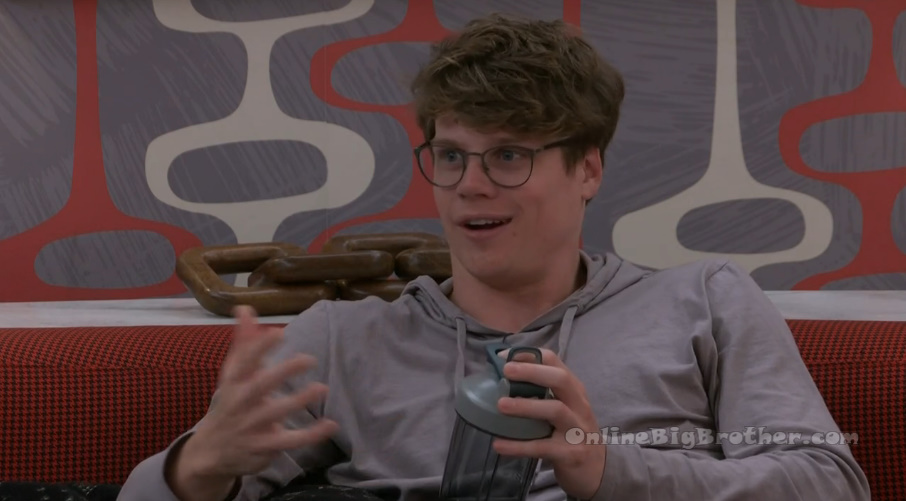 12:31pm Big Brother blocks the feeds and switches them to the kitten cams..
2:41pm The feeds are still blocked.
3:39pm Still nothing..