Quick Big Brother Spoilers
Head of Household:  Taylor
Nominees: Indy and Terrance
POV Players:
POV Winner:
Veto Ceremony:
Havenots: 
Lock your ranks in before midnight
The Situation
Taylor is telling the girls Monte is her target and she's looking at a backdoor. The real plan is for her to nominate Indy and Terrance. Terrance is the target but the door is open for Indy to be evicted if she "POOCHES" herself. Alyssa could also be in danger but it's more remote than Indy / Terrance at this point. Jasmine is safe. (only a savage would nominate her on the week her birthday is on)
The twist
Wording from the Thursday night show
For the first time ever the game will completely change as the house splits into two groups. These two groups will have no interaction and in a Big Brother first, two completely separate games of Big Brother will play out simultaneously all week long all of it culminating with a double eviction like no other"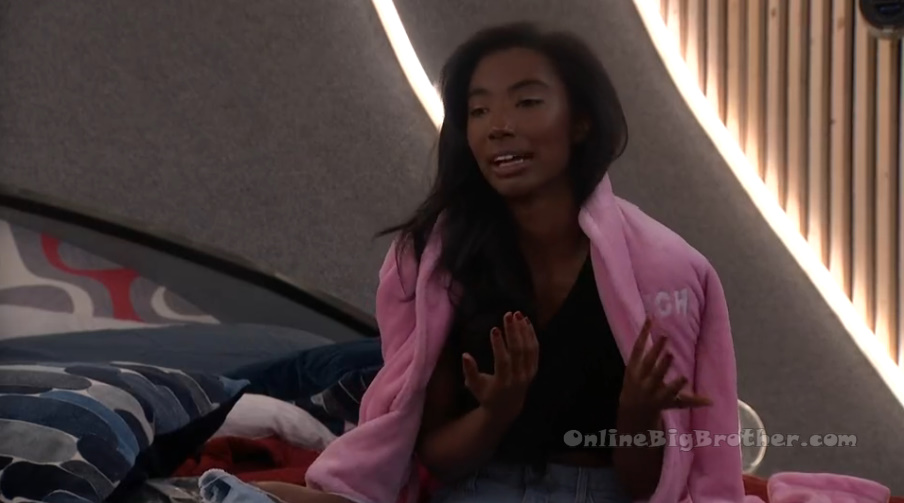 5:15pm HOH room – Taylor and Jasmine.
Taylor – I am coming into this game and I am not putting a black person up on the block or up for eviction. Not doing it! Jasmine – I had to for that one thing. And that was another thought that went through my head… like The Cookout just left last season. I had to throw it off a little bit. That is never happening again and I told you that and if I win HOH, I am keeping my word. That is just not happening.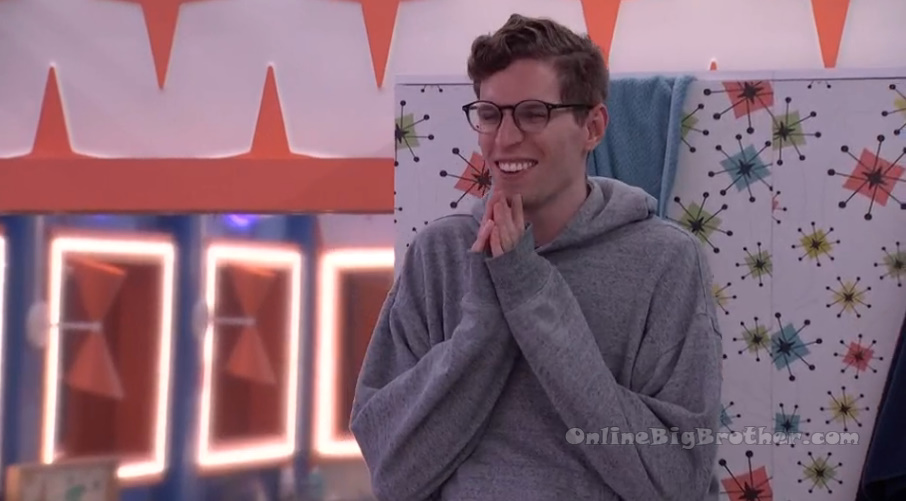 Bedroom – Indy, Michael, Alyssa and Brittany.
Indy – I don't want to be on the block on Thursday. Alyssa – I know .. and she said she had another target in mind. Indy to Brittany – do you want to play? Brittany – if I get picked yeah. Indy – you know I am joking, you don't have to use it on me but I hope you do. Its not fun to be up there. Michael – yeah we all know that. We've all felt it. Indy – I don't want to be up there on Thursday. Alyssa – I wonder what the veto will be? Maybe Zing-bot? But they probably wouldn't do to iconic ones in a row. Indy – You guys I am super surprised how I am able to deal better with my emotions. I am super surprised because normally I would be like f**k you I am leaving. I am not a quitter but too boring ..BYE! I would be really happy if I win. Michael – I think it might be the prizes / punishments veto.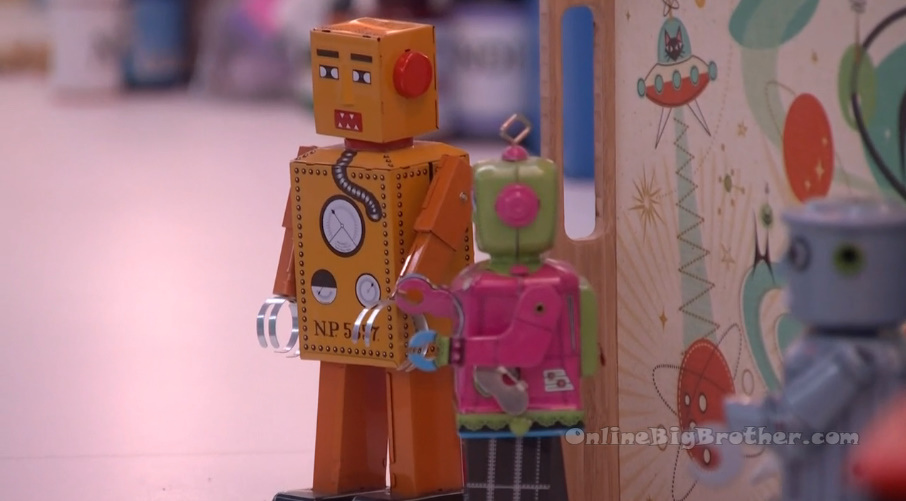 5:25pm – 6pm HOH room – Joseph and Taylor
Joe – I just talked to Terrance and he is thinking of picking me for house guests choice if he gets it. And he was like if you use the veto I don't care who you use it on me or Indy. I heard him talking to Monte and he thinks this is all bull. He thinks this is all bull and he wants you to be put in a position where the noms aren't the same. Just so like obviously Monte isn't going to get put up.. because regardless Monte doesn't go home. He wants to force you to show your cards. But the best option is we don't get to that point and we leave it Indy and Terrance.. that way your game in the long run is safe. He is for sure trying to grab someone to take him or Indy down. Like he doesn't even care if I take Indy down. He just wants to ..kind of on some Daniel sh*t.. even if Indy goes out.. he wants to force the rest of the house.. Taylor – like that b***h is a liar.. Lets say I do put Monte up, do we have the votes to keep him? Joe – yeah. I know Monte is not going to want to touch the block. Taylor – no. If I put Monte in that situation.. Joe – I don't think he is going to like that just after he stuck his neck out for HOH. I definitely don't think he is going to like it. For sure, even if he does it for the alliance. My only problem with that is that we're only as strong as we trust each other. Like its just not a good look for you. The sh*tty thing is they are going for him so to put him up on eviction night.. Taylor – he is going to be shaking. Joe – you cannot put Kyle .. they will never trust you. You can't put Turner, they'll think you're a shark and wild. I don't think its good .. Brittany or Michael because those aren't big targets. Taylor – and I'm close to them. Joe – its Monte or me.. if you want to hide yourself long term. Taylor – I have to. Joe – the only problem is Monte will take it personal and he is a huge target. F**k! Taylor – Oh my god! Turner told Indy that if he is pulled to play veto he would play and take her down. Joe – if I pull one of them (off the block), you can't put me up. Taylor – as long as you don't win veto I couldn't put you up. Joe – then I won't win it, I'll leave myself for you to use me as an option. I won't hold it against you, I trust you entirely. (She has no power at that point, the house votes) (Joe sounds like he's going to POOCH himself. Did he learn nothing from his best friend Pooch!?) I hope this shows that I am trying to help your long term game. And then that way you and me don't look so much as a team. Taylor – there are obvious reasons why I don't like it but there is nothing that I can do to show you how much I want to protect you in this game too. Literally putting you in the worst line of fire. Joe – but that to me.. I do not want to go to jury.. I do not want to go home but in doing that to me I am showing you how much I trust you and I would not at all ever go near that block. It is the last thing I would want to do. Me doing it on yours I hope shows long term I want to protect you. Taylor – honestly it sets the stage for Alyssa and Kyle. Joe – so it would come down to me versus Terrance or me versus Indy. Taylor – yeah one of them. Joe – that way you don't have to draw blood with Monte ..like he is ready for war and I'm not ready for that. Taylor – I am not letting you go home to jury. Michael joins them. They explain the plan. Joe – For the Leftovers that want HOH comp winners out, they want Indy out this week. Probably what is best for a unanimous quite vote this week.. is Terrance. What is best for the Leftover is probably Indy (out) because Indy was fighting on that wall.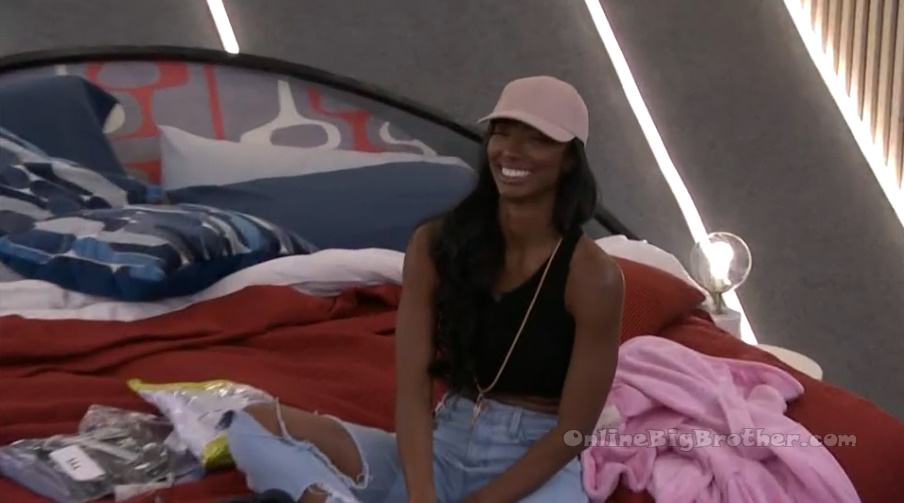 7:20pm Jasmine is all suited up in her hazmat suit to clean the bathroom. Terrance joins her. Terrance – I am going to try and fight for it and see what I can do. Jasmine – I don't think you have a problem. We know who the target is. Terrance – there are too many variables right now. I am standing to fight because either way if one of us comes down that should go up. I am not asking anyone to play for me just take whoever down.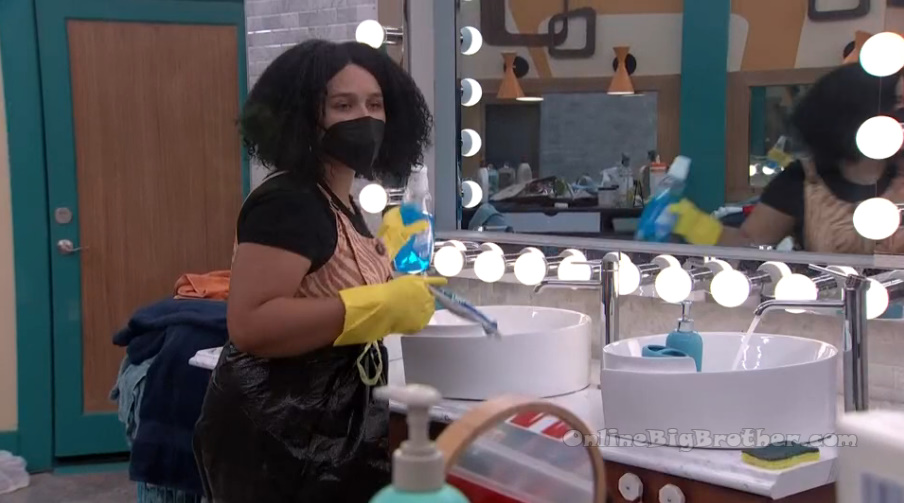 8pm Kitchen – Michael, Joe, Kyle, Brittany, Jasmine, Monte, Turner, Alyssa and Indy are talking about Daniel and the events that lead to evicting him.
8:05pm Bathroom – Terrance and Jasmine.
Jasmine – you can go on out and mingle with the people, I'm going to finish this. Terrance – I don't want to talk to those motherf**king people! Jasmine – but you need to. Terrance – I know and I know you're going to force me to do that goofy sh*t! Jasmine – you got to .. and I don't want to hear any if, ands or buts about it. Terrance – J you irritating. And you want me to have a conversation with these people and human decency doesn't even freaking apply. I just can't understand that and that just goes against everything I believe in. And it be just like f**k this game are you even f**king human?! You nasty motherf**kers!! Like what the f**k!? How y'all move in your regular life!? Sorry I just had to get that out! (Oh my the real Terrance comes out! Tell us how you really feel about these people!?) Jasmine – yeah I feel you. Its a lot sometimes.
8:35pm Bathroom – Terrance and Alyssa.
Terrance – Hey Alyssa if you do play tomorrow, it don't matter who you bring down. You take down Indy, I don't give a f**K. You know what I'm saying as long as one person come down. Alyssa – yeah. I want to play. Terrance – if I get House Guest choice, I am picking you. Alyssa – YAY! Thank you! That would be great! I will try my hardest and win that sh*t!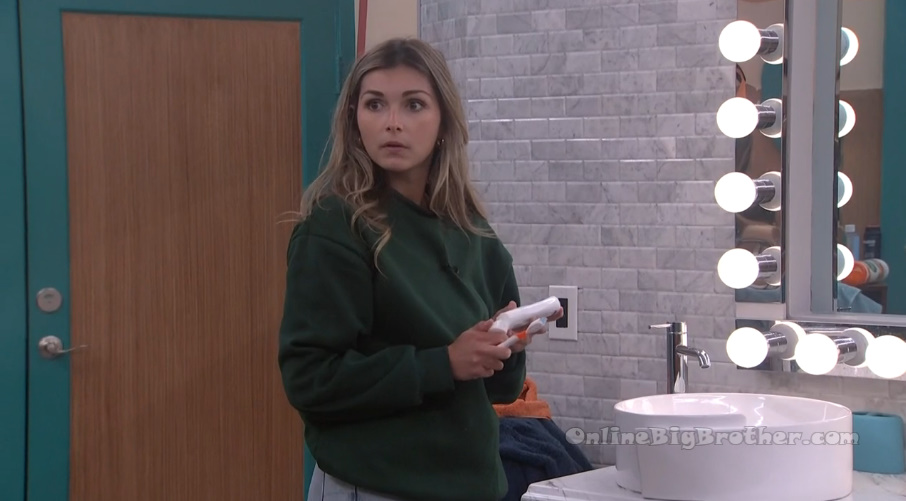 8:43pm – 9pm Bedroom – Indy and Joseph.
Indy – did she (Taylor) say anything. Joe – No not really, she isn't really talking much game with me .. more like life and getting to know me. She is keeping her guard up still around me. Indy – what did she tell you if you win the veto tomorrow? Joe – we haven't talked about that. She told me that if I win veto I could pull down ..like she assumed Indy and that her goal is to put up Monte. If I win the veto, you come down and Monte goes up.. that's it. She is very hesitant like not too much trust for me which is fair. Because you're right the only reason why she is talking to me so much is because she thinks I'm cute. Indy – so do you want to play tomorrow? Joe – yeah. I hope I am playing. Indy – so if I pick you and you win, you will take me down? Joe – yeah of course. But just to be fair Michael would be better than me. Jasmine joins them. Jasmine – I am just irritated, no one offered to help (clean the bathroom). I am in a boot cleaning the entire shower in the bathroom. Joe – I am so sorry for that I was up in the HOH room with Taylor and when I came down you and Terrance were done. Jasmine – well Terrance didn't come in till the end. Its amazing every time I go to the bathroom any other time there are so many people peeing and pooping and just hanging and the one time I am in there cleaning the bathroom nobody comes in for two hours!?!? Was everyone holding their pee and poop!? Indy – well I am in pain otherwise I would have helped you. Jasmine – well you cook all the time so its okay. Joe – I am sorry I f**ked up. Jasmine – everyone always complains about it (the shower) but never does anything about it. Only a handful of people said thank you.
9:30pm Chinese Checkers, Jasmine ploughing through a bag of chips and Terrance talking to the cameras. Terrance – there are a lot of things that rub me the wrong way. You just try to keep your composure with it but your innate self don't let things like this slid. This has definitely shown me grace and patience.