Quick Big Brother Spoilers
Head of Household: Jasmine
Nominees: POOCH and Taylor
POV Players: POOCH, Jasmine, Taylor, Ameerah, Terrance, Michael (Host Daniel)
POV Winner: Michael
Veto Ceremony:
Evicted:
Havenots: Terrance, Nicole, Pooch, Daniel
Doesn't sounds like Joe is going to be backdoored but it's still very much a possibility. Chances are veto won't be used leaving POOCH and Taylor to battle for votes.
Lock your ranks in before midnight
9:15pm Bedroom. Kyle and Daniel.
Kyle – the majority of the house is kind of leaning towards Pooch. Daniel – yeah. Kyle – I just didn't want to put you in a bad spot by voting to keep Taylor. I just wanted to chat with you and get your thoughts on that. Which I think you're fine obviously. Daniel – I am trying to not build that bridge but be better about it .. because its gotten to the point where she just like stalks me around the house. Kyle – I know, I've seen it. She's been doing that to me dude. Daniel – any time I get up and leave a room she will be there in two minutes. Kyle – that's a good sign though. Daniel – its hard for me to take it as a good thing when its annoying.. like dude we live in the same house and I barely see Nicole. Big Brother switches the feeds. Kyle – its hard to go against the house so that is kind of where I am at. I am still weighing the options but I am still leaning towards Pooch.. especially if that is the way the HOH is wanting that way. I just wanted to make sure we were cool if I voted Pooch out and Taylor stays. Daniel – I know and I even talked to Jasmine about if anyone has these talks like no matter what I am putting up Taylor if I win HOH.. That isn't necessarily the case. She annoys me yes because she doesn't leave me alone but I am trying to focus on game and not personal. And I am sure in the outside world its probably going to be chill but in here it is affecting me and so I would probably not even put her up next time. And then she looked at me and I was like well you're not doing it!? Or at least you put her up but you don't want her out. I was like I don't know .. it changes week by week.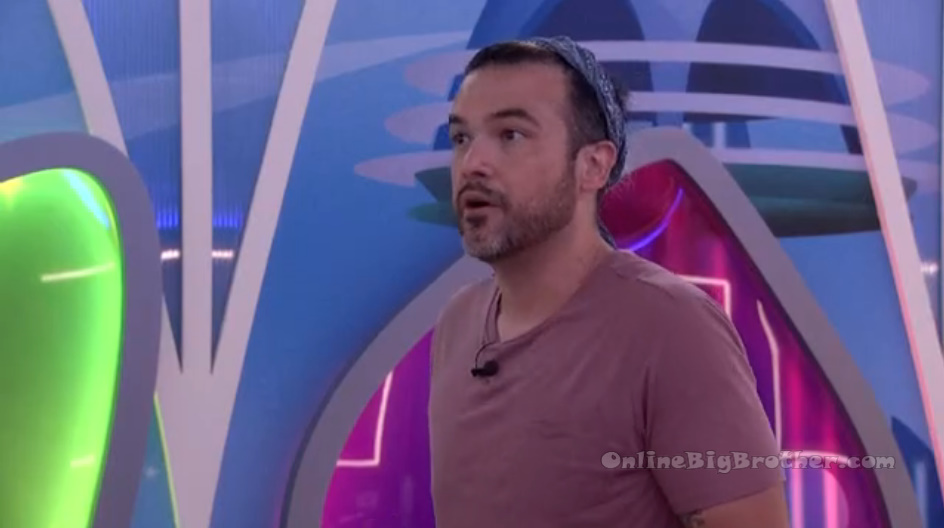 9:40pm HOH room – Jasmine and Ameerah.
Ameerah – I was thinking, are we going to be okay with having Indy in jury? Jasmine – I don't know. Ameerah. Because I think she might kill us! I don't think she would vote for us.. like when she gets evicted if she is in jury she is not going to give us a vote. Jasmine – yeah she is one of those that hold on to whatever. And also she is like very .. you b***hes you know?! Ameerah – she is freaking me out! Jasmine – she's been freaking me out all day. Joe joins them.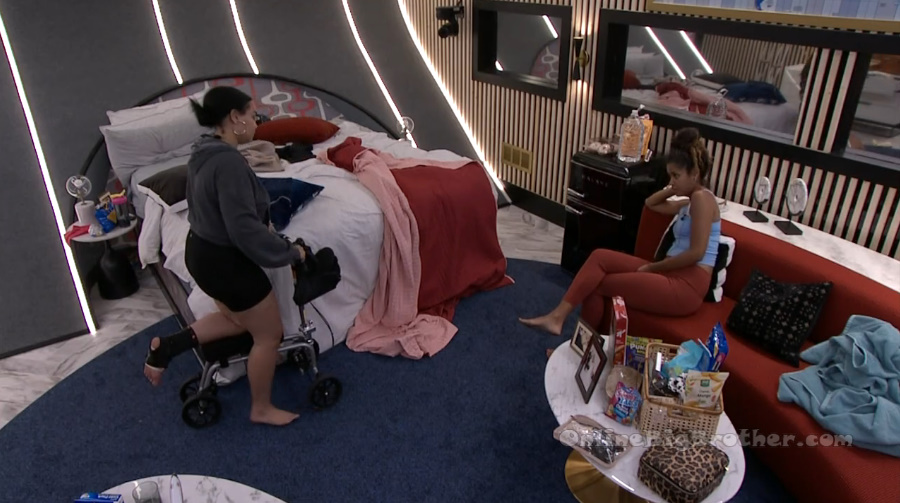 9:42pm Bathroom – Alyssa and Kyle.
Kyle – so what are we going to do about this showmance thing? Jasmine said it and then Indy said it. Alyssa – about Taylor? Kyle – No! About you and me. We can't talk for two minutes alone without people thinking we're in a showmance. Alyssa – I know and I just think that Indy is a wildcard so that just freaks me out. I don't know. Kyle – I want to talk to you but every five seconds .. I don't know maybe its just me over thinking things. Alyssa – no I know that too. I think its just so early in the game too that people are like ohhh okay! Kyle – anything! No not Taylor! Stop! Alyssa – I'm like yeah you and Taylor. Are you sure?? Kyle – are you outside of your .. NO! Does it look like it?! Are people saying that? Alyssa nods yes. Kyle – no it does not!!! Alyssa nods yes. Kyle – me and Taylor… NO! Do people believe that? Alyssa – MmmmmhMmm. Kyle – no they do not! Alyssa – I think people are just trying to beef up assumptions. Kyle – no one said anything to me. Really?! What do I do? Alyssa – nothing.. just keep being nice Kyle. Kyle talks about voting out Pooch. Alyssa – I think I have to vote out Pooch because otherwise Indy is going to freak the f**k out .. I am so scared of her.. He mentioned that if I vote to keep him he would keep me safe for a couple weeks… oh a couple weeks… big deal!!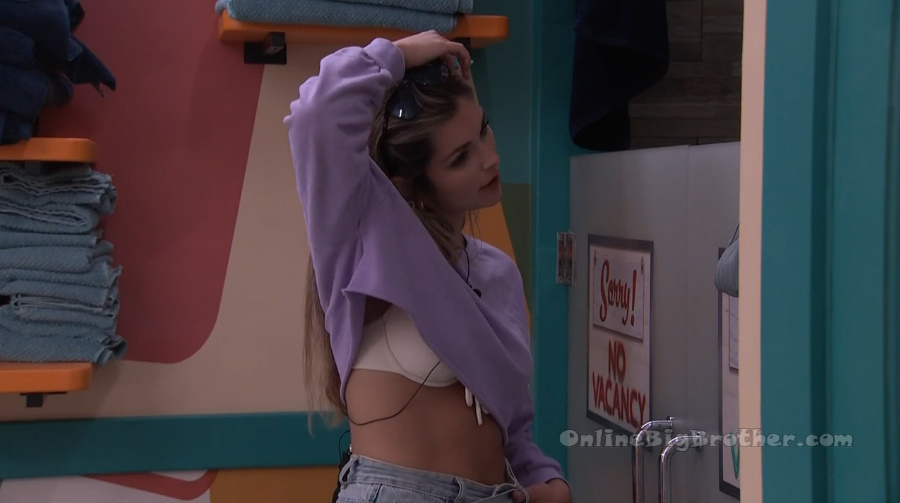 10:10pm Pool time..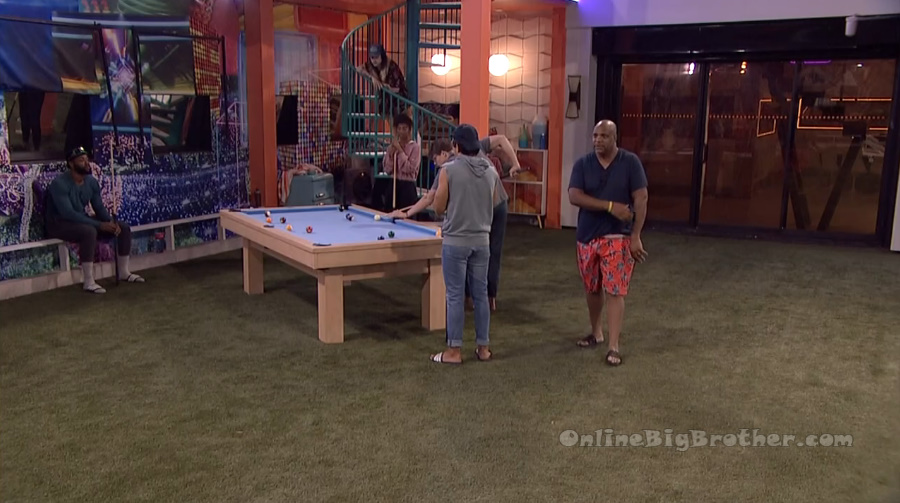 10:20pm HOH room. Jasmine, Alyssa, Ameerah, Indy, Nicole, Daniel and Michael.
Michael – even today he (Pooch) was saying to me its probably best if you don't use it (veto). Ameerah – he hasn't asked you to use it on him? Michael – no, he hasn't once asked me to use it on him. Nicole – okay, Brett! I know you have the veto but don't use it on me. I'm good. I'll be safe. Alyssa – is that what happened to Brett? And he went home that week. Nicole – yeah. Jasmine – see.. it sounds stupid for me to not get you out like what are you talking about. I may say something to him (Joe) but its going to be bad either way. Indy – but its like the point that Daniel say .. he probably going to tell Pooch. Daniel – he will tell him. Jasmine – the only way I would tell Pooch is if there was a battle back… but I don't think there is no chance there is a battle back. Nicole – even if there was it still doesn't matter. Jasmine – I might tell Joe like right before they vote.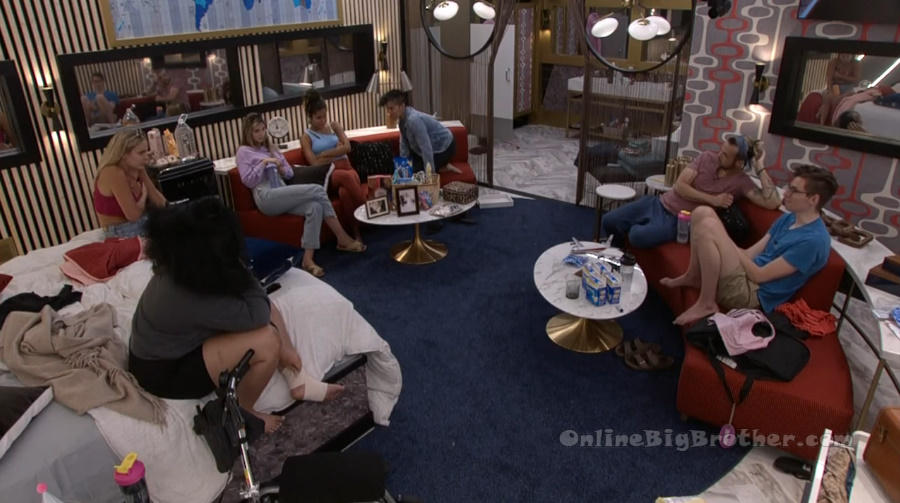 11:10pm Backyard Hammock – Terrance, Turner, Daniel, Kyle, Nicole and Joe. Joe is still walking around with the HOH camera recording what the house guests think is the best / worst part about the BB house.
11:20pm Storage room. Joe, Pooch and Turner.
Joe – dude, I am staying away from you purposefully so that people that want you out of the house can see if they can get my vote. Pooch – yeah, that is fine. Joe – and that was it will show me if the want to get you out of the house instead of Taylor. Turner – that's not a crazy idea. Joe – I think people are starting to think now is the chance to get Pooch out and then Taylor next week. No one has said that to me directly but I want to make sure its not out there. Pooch – the worst case is I would have a tie and it would only be if one of you f**ked me over. Joe – you need to stop telling people that are not us who you're going for… all it takes is one person to hear that you have Terrance, or Indy or Brittany .. and they're 100% gunning for your a$$. Pooch – I've never said Terrance's name. I would never. Joe – or Brittany or Indy. Pooch – I don't know why the whole house wouldn't want to get out Brittany or Indy. Joe – they wouldn't if the girls weren't like f**k Pooch we're going to group together and boot your a$$. Pooch – that would be dumbest move in big brother history. Joe – if they pull it, it would be smartest. Pooch – no they would be f**ked after because if y'all didn't go after then because y'all would be short on votes or they would make you f**k each other. Joe – and we would be out numbered. Pooch – and then you win HOH. Joe – and then start smashing back. Pooch – we need to get to the point on Tuesday / Wednesday where you tell people you really want Pooch to stay. Joe – yes, and do that. That is on you. Pooch – its on you guys too though. Joe – yes. Go talk to the sway votes which are Brittany and Michael. Stop spending time with us .. you have us. Pooch – the sway votes need to hear from the people in the house. Joe – yes bro we will advocate for you like I have been.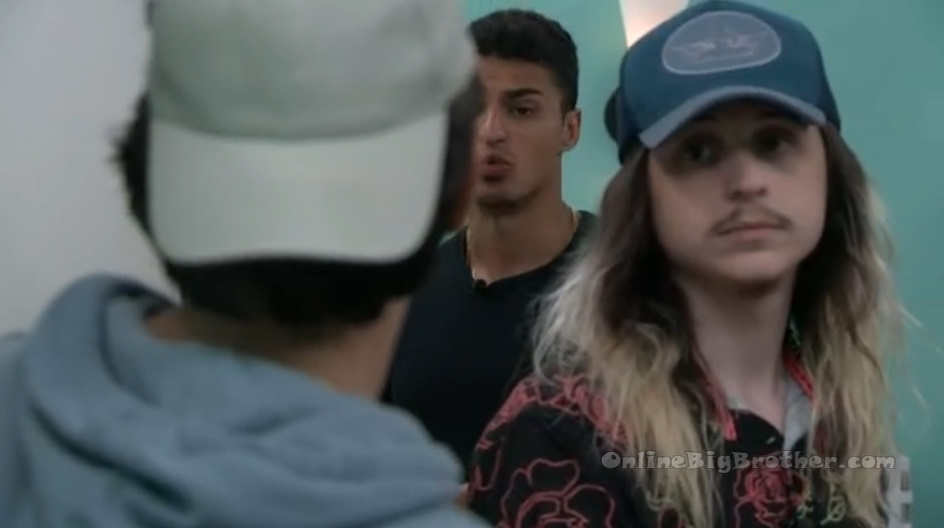 12:10am HOH room. Taylor, Jasmine, Brittany, Alyssa, Indy, Ameerah.
Jasmine – So you already know what we're doing this week to save you so we just wanted to check in if you happened to win HOH. Lets talk about it? Taylor – yeah. Jasmine – because like we're saving you so like I just want to make sure because I can't play next week. We just wanted to make sure like what your game plan would be because this is us showing that we trust you right? Taylor – and I appreciate that. I just want you to know that I am not targeting a girl next week, or the week after, or the week after that… period. I told producers that was my game plan of what I wanted. Big Brother blocks the feeds. Jasmine – We could have just voted you out because you were up but we feel like we would be better together. Taylor – anytime I win HOH until its the second that only girls are left… Jasmine – who would your targets be for next week? Taylor – I would talk to everyone as a group .. I am not going to put up Turner next to Kyle or Turner next to Monte because I feel like that is too obvious. Joe comes into the HOH room to say happy one year anniversary for being a US citizen. They head down stairs to celebrate.
1am All the house guests are up in the HOH room celebrating Indy's 1 year anniversary as a US citizen.