Quick Big Brother Spoilers
Head of Household: Jasmine
Nominees: POOCH and Taylor
POV Players: POOCH, Jasmine, Taylor, Ameerah, Terrance, Michael (Host Daniel)
POV Winner: Michael
Veto Ceremony:
Evicted:
Havenots: Terrance, Nicole, Pooch, Daniel
Power of Veto won't be used. House was given two bottles of wine and four beers.
Lock your ranks in before midnight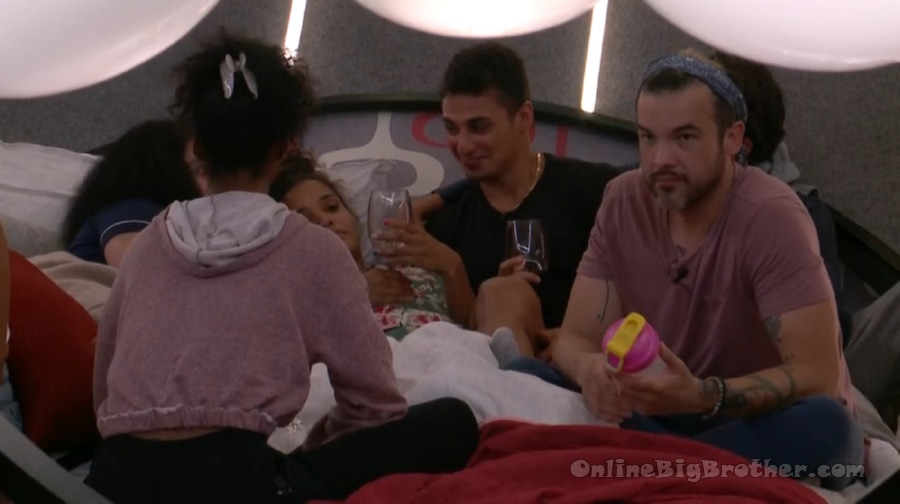 1:30 am Wine party in the HOH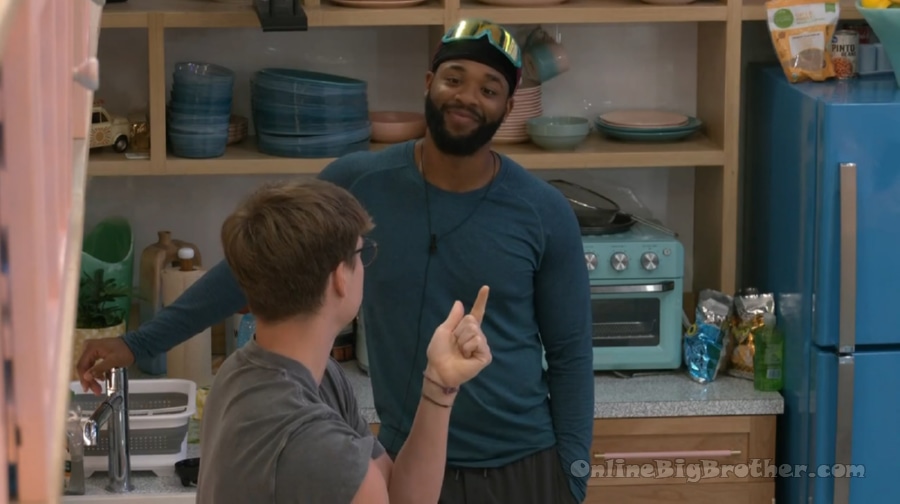 1:41 am Monte and Kyle
Monte says he usually needs four or five beers to feel "Drunk or something"
Kyle – are they feeling it (Up stairs)
Monte – Taylor and Alyssa are on the cusp
Kyle – REALLY. I'm usually not around Alcohol or drunk people like ever. I would assume they just seem goofy
Monte – that's what it is.. goofy the temperature is hot. they're saying more than they normally do
Monte had to remind himself he's still on TV.
Kyle was wonder if they should have the alliance meeting now. It's gotten late.
Monte – Definitely not tonight..
They laugh.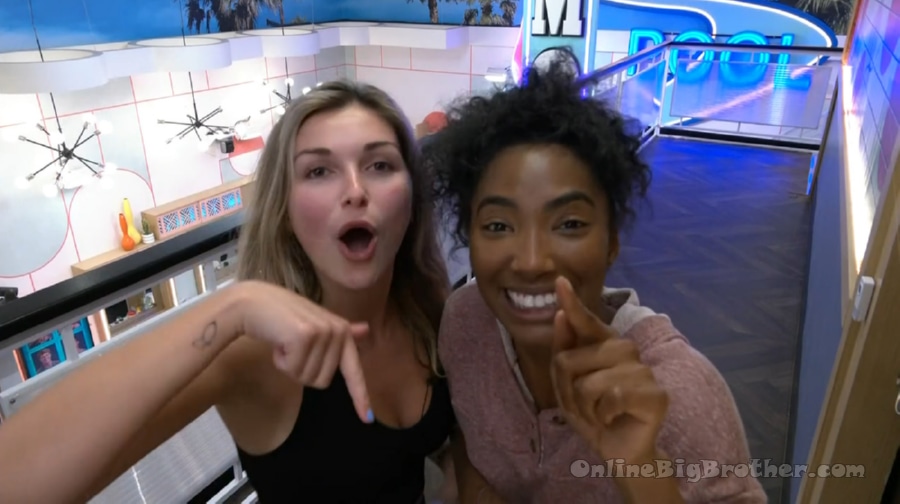 1:45 am Taylor and Alyssa
Taylor whispering to the camera that they are going to take out two guys next week.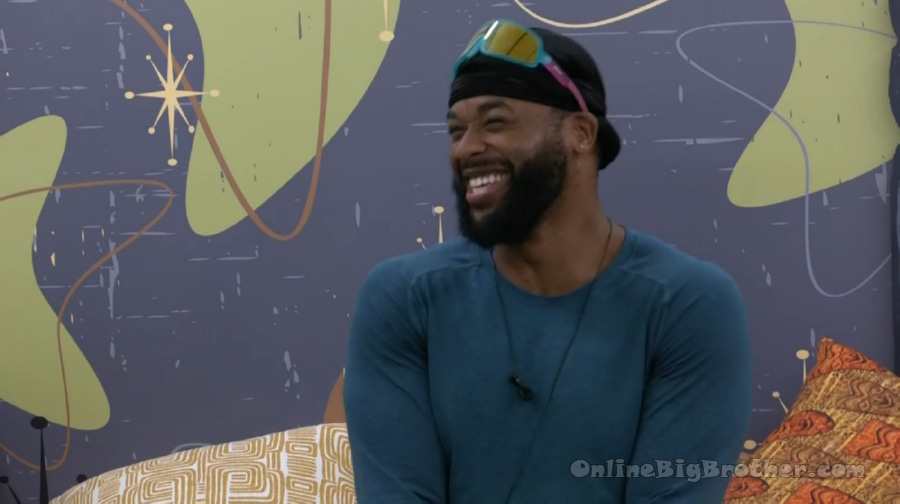 1:51 am Monte and Kyle
Monte – I can tell Alyssa she's Definitely into your vibe
Monte understands Kyle is being smart about it, "every now and then you gotta have some fun"
Kyle says it takes the smallest thing to be labelled a threat in this game and he doesn't feel comfortable where they are at in the game at this point.
Kyle – What are we going to do with the vote for POOCH?
Monte – Ameerah has a good strategy
Kyle – If we vote to keep POOCH it makes Joe and Turner happy but we vote to evict Taylor. So next week she's gunning for us even more.
Monte says Ameerah has suggested the day of the vote the entire house goes to Turner and Joe and tell them look the vote has flipped.
1:56 am Kyle, Taylor, jasmine
Taylor – I think you have golden retriever energy and that's a good thing
Kyle – Bad boy energy? Didn't you see me chug that wine?
Taylor says he had a baby sip "I drank the rest of it.. golden retriever energy"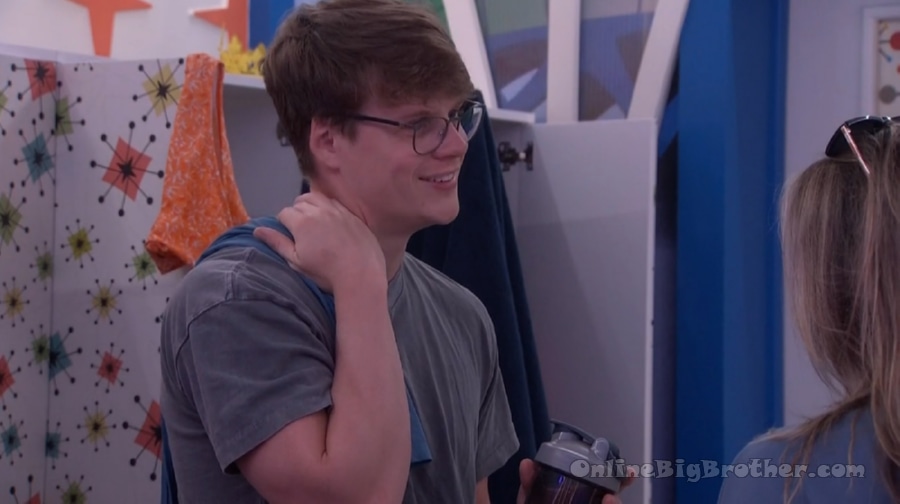 2:00 am Kyle and Alyssa
Flirting.
Alyssa – you are the closest person I have in this house.
Kyle – I can't talk to you much I swear Indy comes up and thinks we are in a showmance. You're like my best friend.
Alyssa – don't say anything. They hope Taylor wins HOH next week to put up two of the guys
Kyle – Really. that would make sense obviously that is why I'm trying to get on good terms with Taylor. I don't want to vote for her to leave because if she does win then that will suck. Thanks for looking out for me though.
Alyssa says Taylor wants to make out with Daniel "She also wants to make out with you"
Kyle says he needs to start talking game with people. Tell the girls he's with them.
Alyssa – they like you
Kyle – good
2:14 am Girls meeting in the HOH
They're talking about taking the 7 girls and four guys into jury.
Ameerah – whos are four guys?
Ameerah – Daniel, Michael, Terrance and Joe
Nicole- we'll have to get rid of someone we love but will get rid of someone we love on double eviction night
Taylor – I want to make out.. he's sober and we're taking him to Jury I can have fun with this now.. I'm sorry. Kyle has got to go you (Alyssa) gotta get in there real quick
Ameerah says if she has a showmance with Kyle they'll put her on the block with him the good news is she'll stay.
They go on about theirs never been girls "So aligned before"
Taylor – he's got magnums with him ohh my god.
Jasmine – Who does?
(DAniel)
Ameerah – so he brought them to the house.. he brought his own condoms?
Taylor – he doesn't fit the regular ones there's 100 regulars down there..
Feeds cut. When we're back.
Taylor – I want to make out hard.. I want heavy petting and to make out
Alyssa – I don't want that
Taylor – you don't want Kyle to make out and heavy petting with you?
Alyssa – no we're just friends.
Taylor – you don't want to make out with Kyle and his beautiful abs. Those are nice WHITE abs
Alyssa – we're just friends.
Taylor – I can't be the only on making out with people
Ameerah – he's a softy and you're bad. She would break his heart.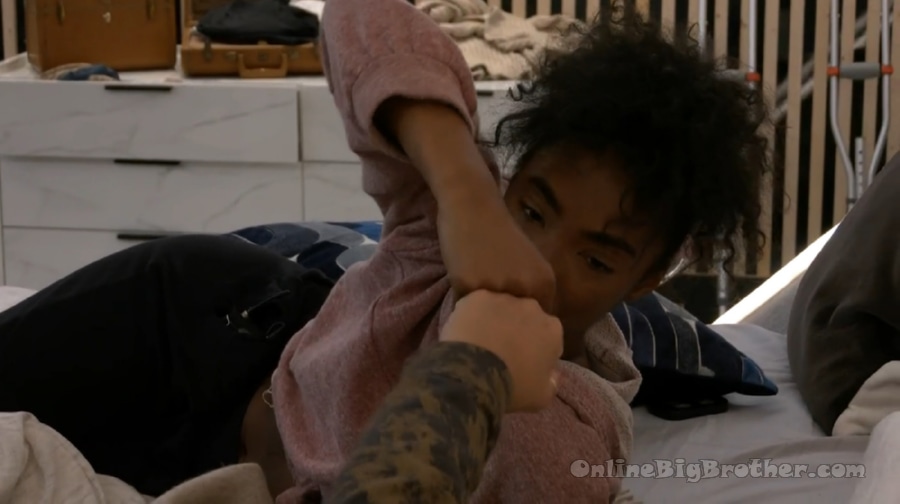 2:31 am Nicole and Taylor
Taylor – I'm not having sex in this house I can't do that. I want to make out..
Taylor – is it my best me to make out with an Elvis impersonator?
Taylor – I'm going to be the Big Brother me
Nicole – yeah
Taylor thanks her for trusting her from the "Jump"
Nicole – Sure did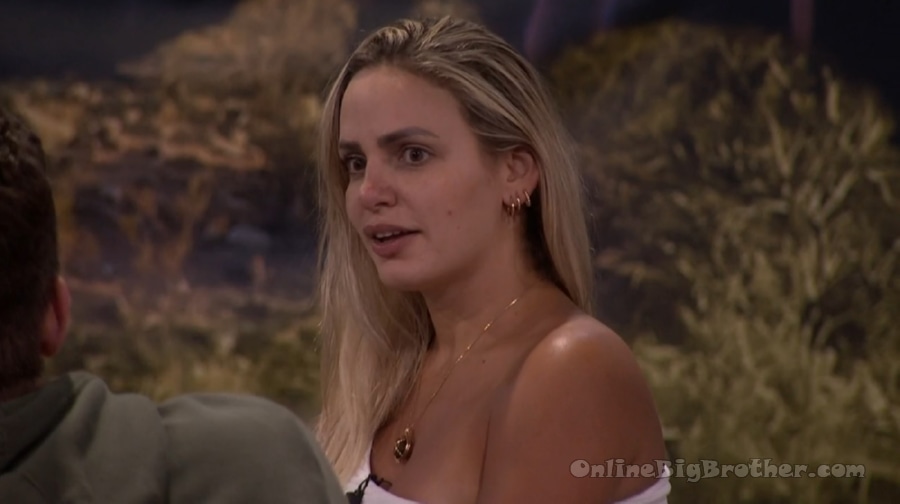 2:33 am Indy, Michael and Daniel
Indy – two bottles of wine made that happen.. Oh my god
Daniel – and four beers.
Feeds flip to Taylor and POOCH having a block party.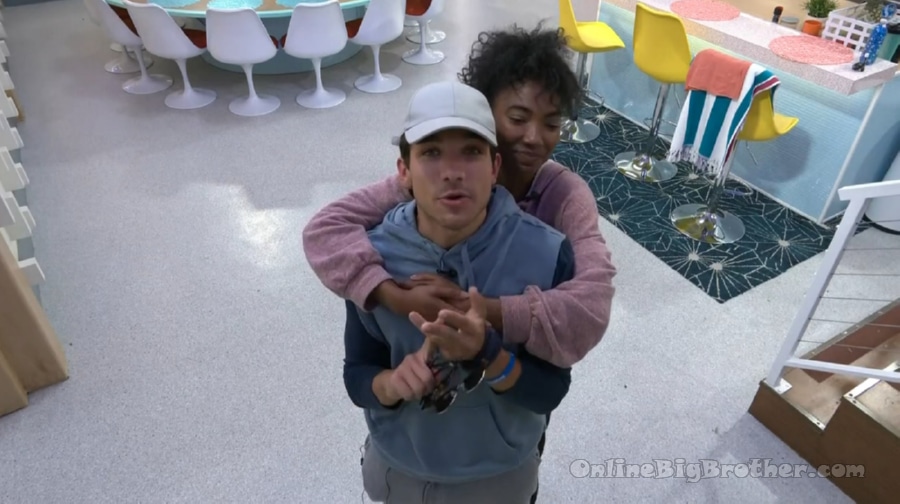 Taylor is trying to get him to tell her who he would have a showmance with if he could
Feeds cut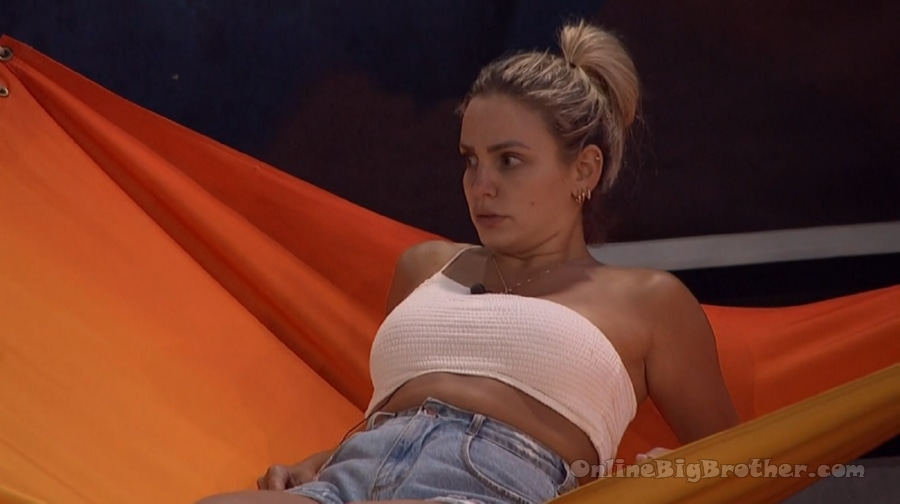 2:54 am Indy and Alyssa
Indy says she likes Michael more than most of the people in the house.
Indy – Love Nicole love her to death.
Indy – what happened with Kyle?
Alyssa says she doesn't want to put his game in danger because she's going around saying she likes him "I don't know him"
Indy – you don't want him to think it's a showmance
Alyssa – Correct, Cause I'm just having fun. I don't want it to put a target on him
Alyssa – they were joking upstairs putting up me and Kyle but I would stay
Indy – what the f** we don't want that.
Feeds cut.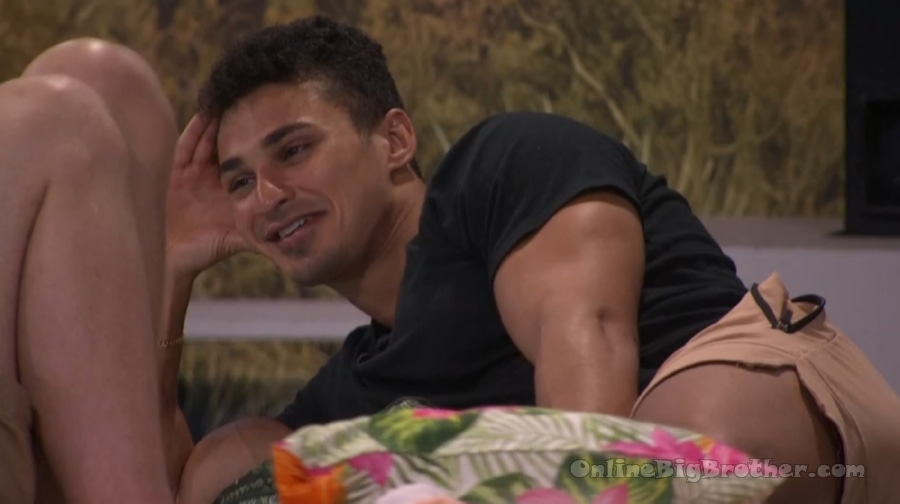 3:00 am Joe, Taylor and Michael
Joe – Taylor, you're trying to make out with Daniel
Taylor – what
feeds flip to Ameerah and POOCH in the HOH. When we're back
Taylor – I think Xavier is cute.. Xavier is going to be like 'An Elvis impersonator Taylor no more'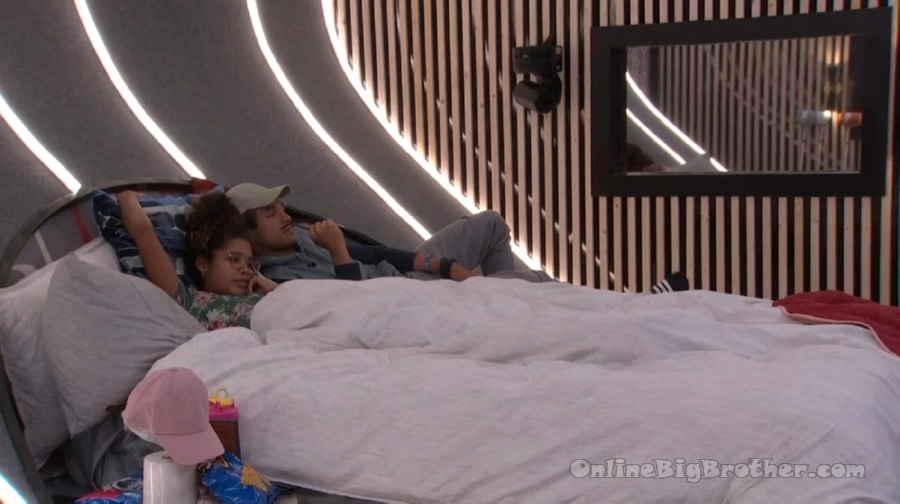 3:01 am Ameerah and POOCH
POOCH is saying how much he wants a backet of Chicken. (Royal Farms?)
Ameerah – would you make out with anybody downstairs
POOCH – if you were going to Taylor no I wouldn't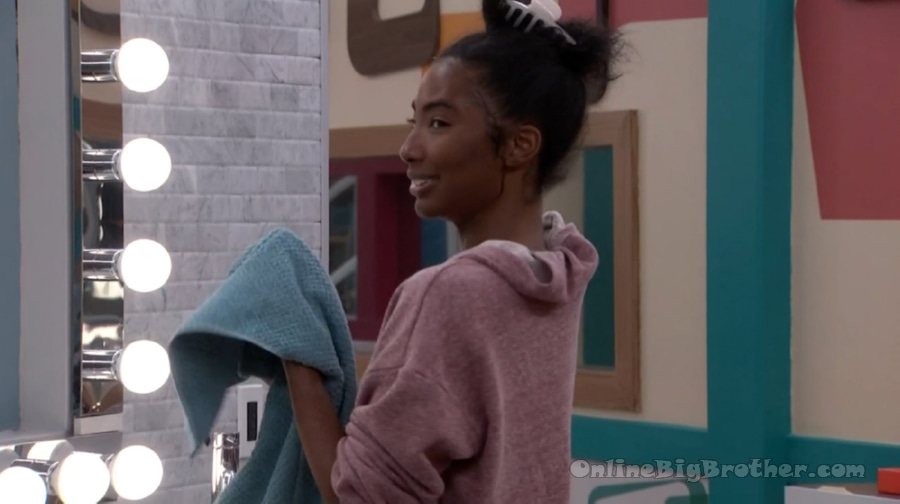 3:16 am Taylor and Daniel
Taylor – people have seen me in competition they're not wrong to want me out of the house.
Daniel – Yeah, I saw the comp.
Taylor – you were watching. that was a great costume for you
Daniel – it was fun.. I've never been to a gay pride but I'm sure that's the shirt I would have to wear. Scaly gold.
Taylor – holding my tongue. I am an adult I am mature.
Feeds flip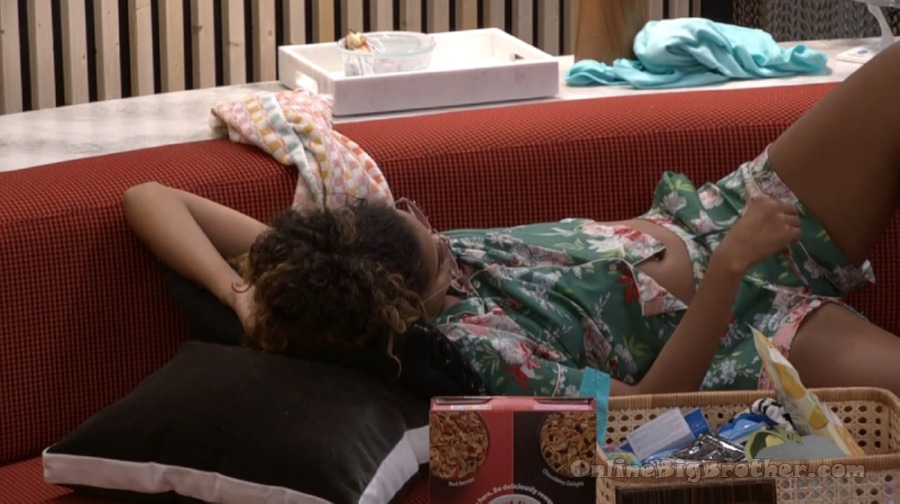 3:18 am Ameerah and Jasmine
Ameerah – Tomorrow don't bring up Kyle to Alyssa
Jasmine – I won't
Feed cut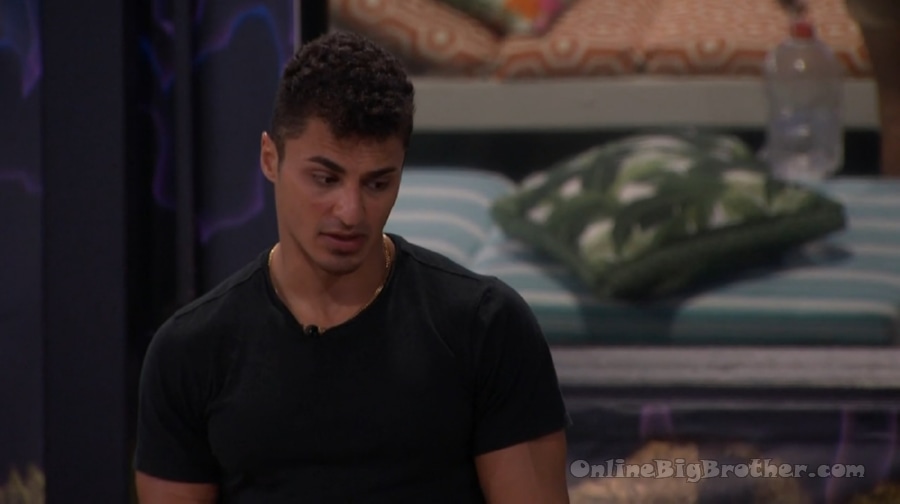 3:22 am Joe and POOCH
Joe – I think I'm closer to Ameerah than you at this point
POOCH – I put myself up as a f***ing pawn I don't know what else I can do to get them to trust me
Joe – Dude it's not working. Keep in mind this is still Big Brother. Putting you up as a pawn also looks like an opportunity to kick you out. You're still a strong player
POOCH – the reason I did it.. if it was any other person I wouldn't do it this early in this game.
Joe – I'm telling you if it was anyone else other than Taylor your ass would be going home
Pooch – The reason I did it week two is everyone f***ing hates Taylore we have a common goal. She was supposed to go last week
Feeds cut.
When we're back.. Taylor has joined them.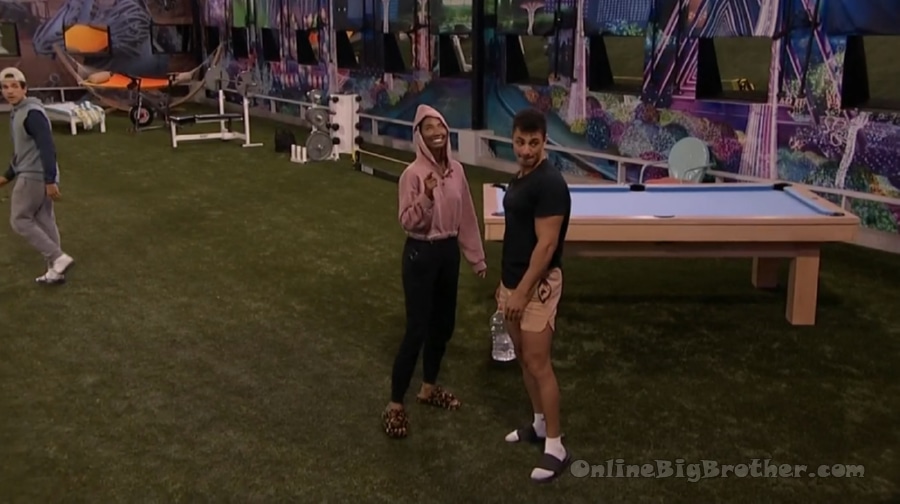 POOCH – You and Daniel making out
Taylor – I wish. He doesn't seem to be down.
feeds cut..
4:00 am zzzzz
5:00 am Zzzzz
10:00 am waking up