Quick Big Brother Spoilers
Head of Household: Jasmine
Nominees: POOCH and Taylor
POV Players: POOCH, Jasmine, Taylor, Ameerah, Terrance, Michael (Host Daniel)
POV Winner: Michael
Veto Ceremony:
Evicted:
Havenots: Terrance, Nicole, Pooch, Daniel
Doesn't sounds like Joe is going to be backdoored but it's still very much a possibility. Chances are veto won't be used leaving POOCH and Taylor to battle for votes.
Lock your ranks in before midnight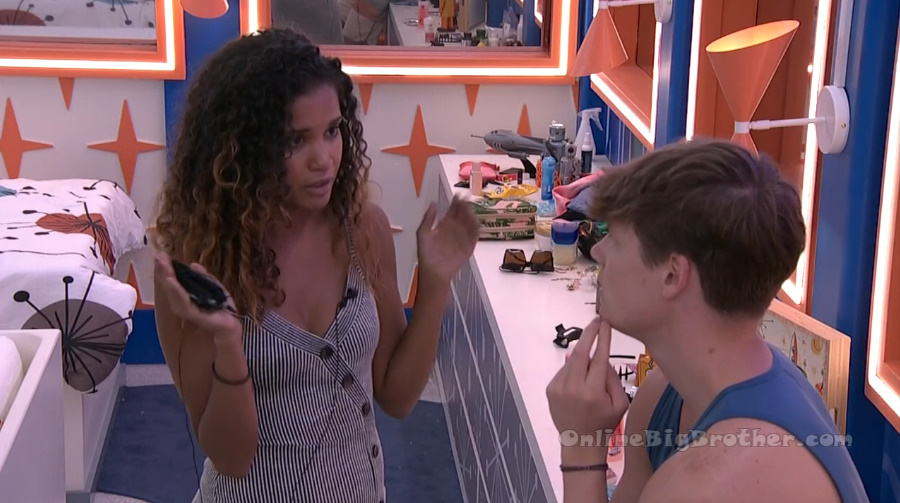 4:50pm Bedroom. Ameerah and Kyle.
Kyle – what do you think I should do with my vote? Ameerah – give it to ah Pooch. Kyle – I was thinking the same thing. Its better to deal with Joe and Turner rather than the rest of the hour. Ameerah – I am thinking of giving mine to Pooch too. Kyle – wait wait, you think vote for Pooch to stay? Ameerah – yeah. Kyle – really?! Ameerah – you should vote for Pooch to stay. Kyle – if Taylor stays and she gets HOH.. Ameerah – I am trying to get in good with her. I am working on that. The only problem is she is definitely going for guys like 100%. The good news is we have the votes to keep you if she did put you up. Kyle – the thing is I was definitely leaning towards keeping her. If Pooch goes I can deal with Joe and Turner but Taylor is going to recognize Kyle, Monte, Joe, Turner .. with her going for guys already .. me and Monte are probably the biggest physical threats .. I just don't want to poke that. Ameerah – me and Alyssa were talking about that because we're friends with Turner, Pooch and Joseph. So me and her were thinking of telling them .. we were going to talk to you and Monte about this ..like at the last minute Hey the house has flipped, we're just going to flip because we don't want to be on Taylors bad side. Kyle – you and Alyssa yeah.. when they were talking about it they were thinking you were going to vote to keep Taylor. And they were like maybe there's a shot they would flip it to Pooch but I am like.. Ameerah – they think that we're going to keep Taylor? Kyle – not really, they just don't know where you two are at. Ameerah – he's only going to have you, Monte, Turner and Joseph? Kyle – yeah. Ameerah – and generally the house is okay with that .. except for Taylor.
Backyard Hammock – Taylor and Brittany studying the days / events of the season so far.
5:13pm Bathroom. Alyssa, Kyle, Ameerah and Monte.
Monte – how are you feeling? Ameerah – I am feeling like I am doing damage control. They comment on how they need to all talk. They come up with a signal to know when they should go talk. They will say they miss Paloma. Ameerah talks about Indy. She was feeling really down. She said that she told Joseph and Monte they better not do me wrong in this game. I'm trusting them. I'm like BRO, its a f**king game! Alyssa – Taylor is pissing me off! We need to be on the same page with the votes. Ameerah – She's gonna home next week.. Monte laughs. Monte – here is the thing I think Indy is going through a little bit of a phase right now. I don't see her being like a big threat of whatever .. she is a wildcard. At the same time Joe and I have a pretty good idea of where her head is at most of the time. She just like formed this alliance with me and Joe and I am like I don't know what this is… so like don't worry about that at all. Ameerah – we have to do damage control with her. Monte – what was she saying? Ameerah – I don't trust the girls, I don't trust anyone in this house. Like she is acting crazy. Just be really close with her still please. She said I see myself going to the end with Monte as a final two. That's what she told Alyssa and Michael and they freaked.. Big Brother switches the feeds.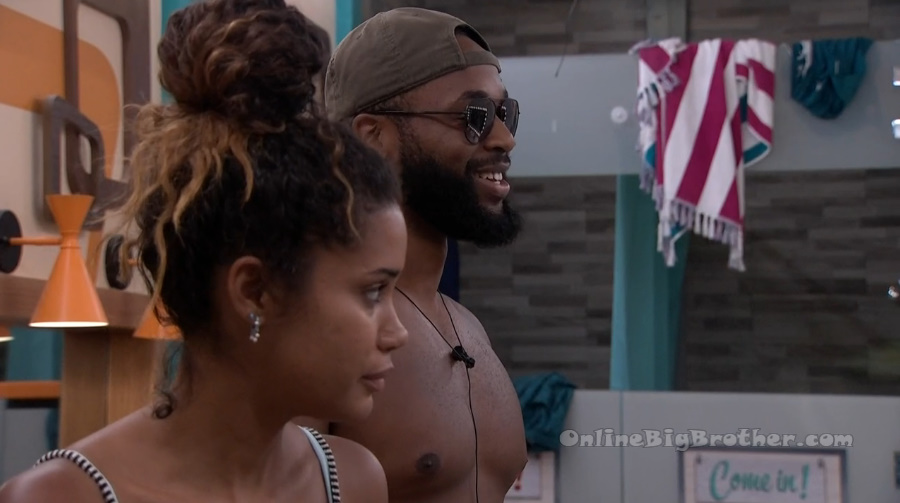 5:57pm The house guests are called to the storage room. There's birthday cake mix, birthday hats, etc. for Joseph.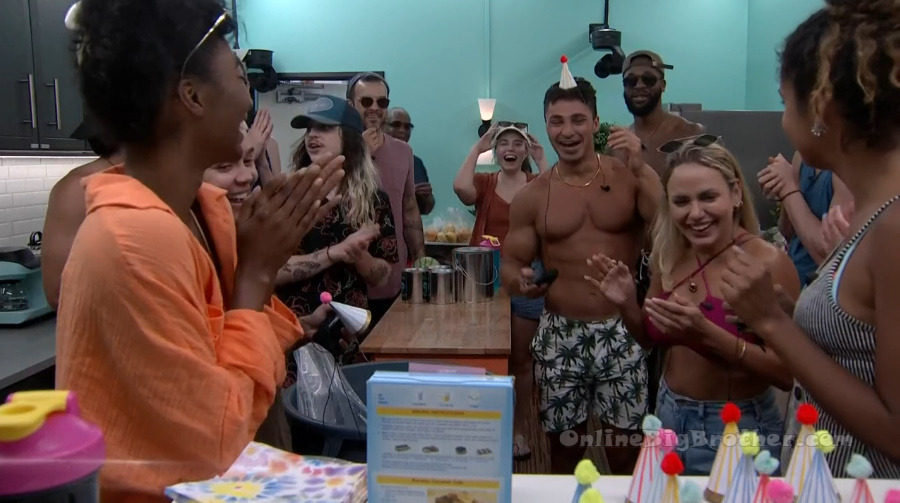 6:08pm In the storage room there's alcohol. 2 bottles of wine, 2 stella beers, 2 coors light beer along with some food snack. They're not sure if its for Joe's birthday or Indy's 1 year anniversary of being a US citizen.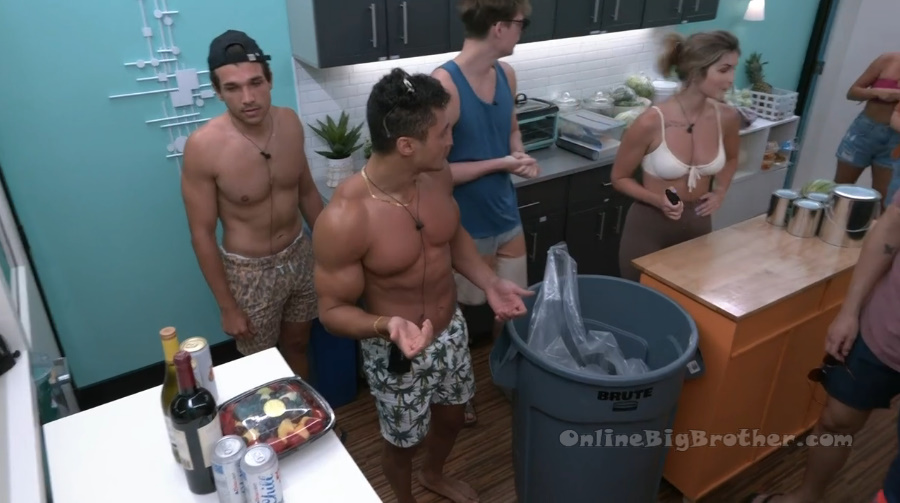 6:16pm Backyard. Brittany, Ameerah, Jasmine, Nicole, Daniel, Michael.
Jasmine – they said its a level 3 sprain which is the worst. They said I almost broke it. Pooch said the with his athletes if they have a level 2 sprain they're down for a week and if they have a level 3 they're down for 2 to 3 weeks.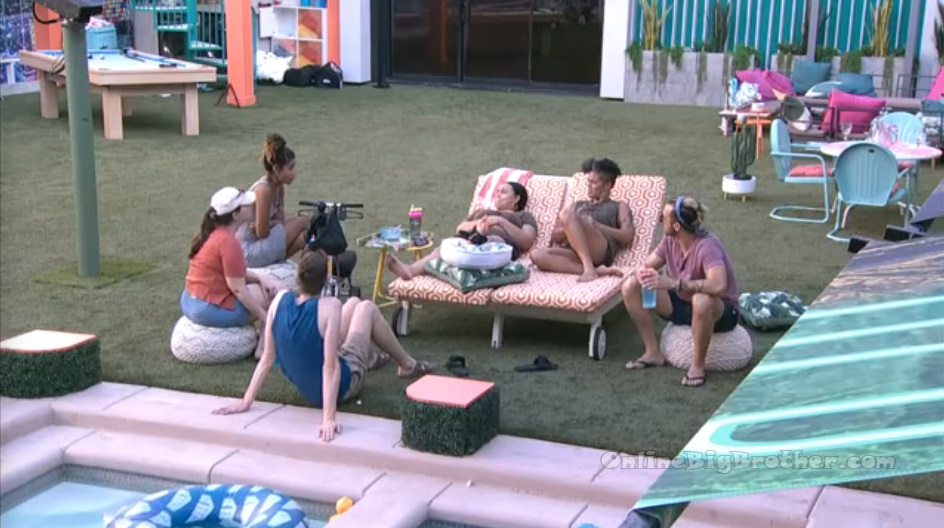 6:25pm Kitchen – Kyle and Alyssa
Alyssa – are you guys having a thing? Kyle – no what?! Alyssa – are you guys having a thing? Kyle – a thing?! Are you outside of your mind!!? Alyssa – she said Kyle is so hot! Kyle – no you're joking! Alyssa – no, she was like oh god yeah he is so cute! Kyle – I came out to the backyard and she was all the way across over there and she was low key like (twiddling with her fingers at him). Alyssa – She keeps like touching and she was like everyday I just want to touch someone.. Big Brother switches the feeds.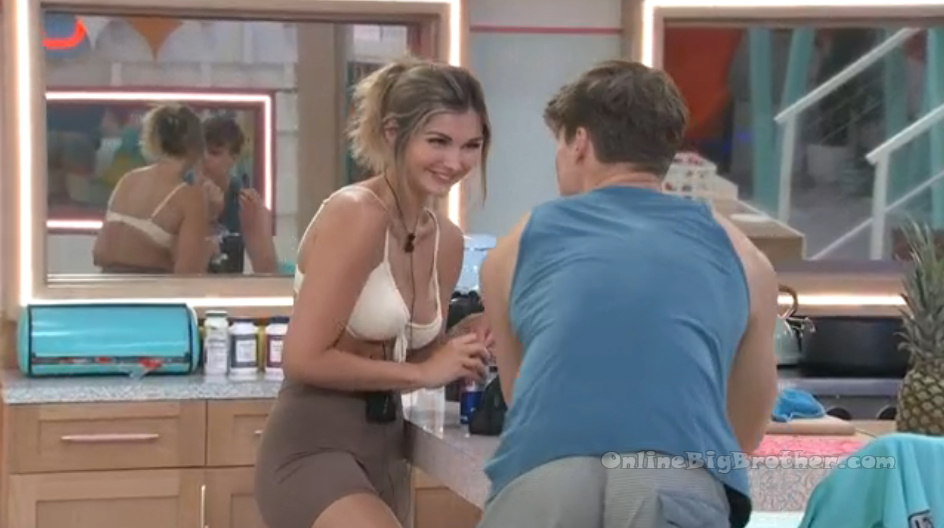 6:50pm Alyssa and Ameerah working out with Joe and Monte. Indy to Joe – when you went to DR did you ask things for me? Joe – yeah, that's why I think its for you. Indy hugs him.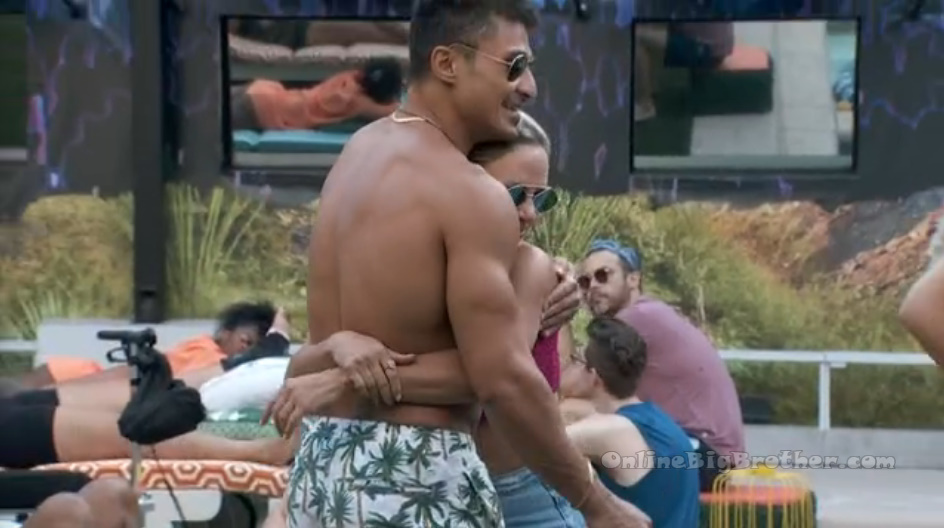 7:30pm Bedroom. Daniel, Michael and Nicole.
Daniel – I am naturally blunt and I am trying not to be offensively blunt because I am trying to just get to the point when I talk now. Kind of like Indy but she is funny and endearing. So I will say something and be like oh that probably came off wrong and like I will rethink it the whole day. But if you bring it up it becomes worse. Its like a relationship.. like dude shut the f**k up. Nicole – I think you're doing fine… otherwise I would tell you. Daniel – I am also fearful of being portrayed as a villain on this show and I am not big fan of that.. Nicole – well you're not a villain. Big Brother switches the feeds.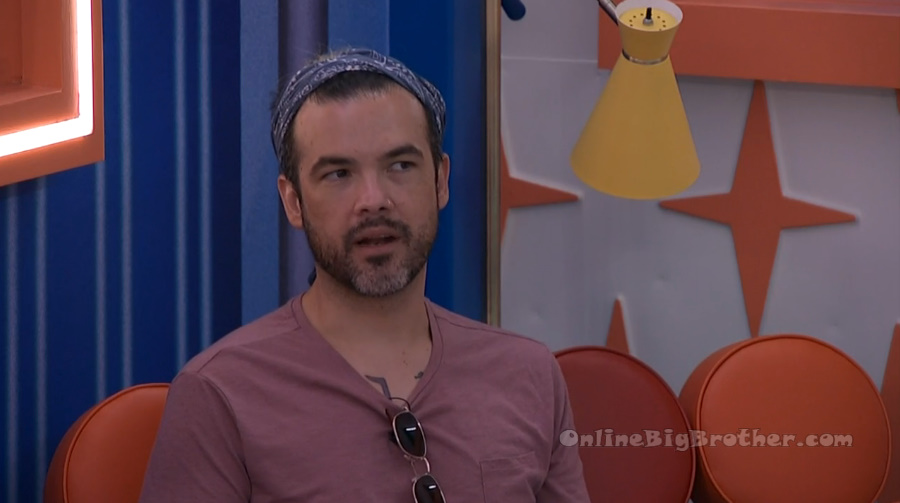 7:58pm Backyard workout continues..
8:15pm
Joe is training Terrance and Michael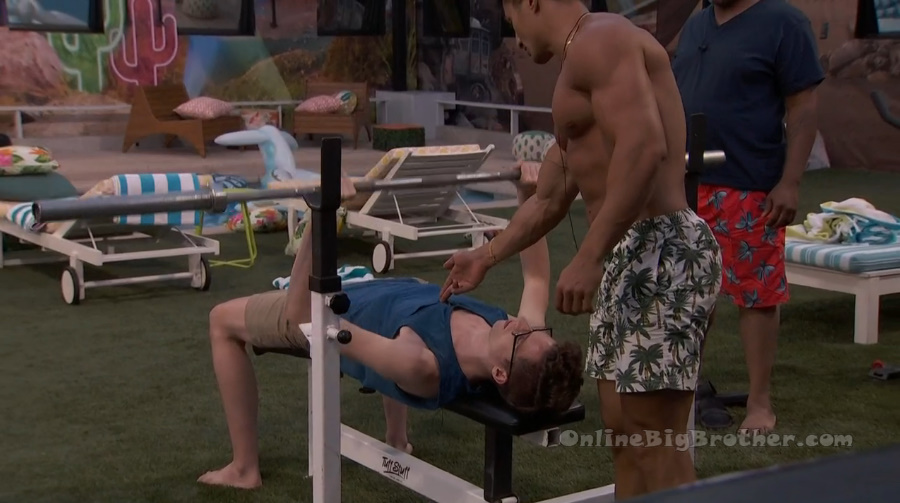 8:32pm Big Brother gave the havenots new floaties to sleep on..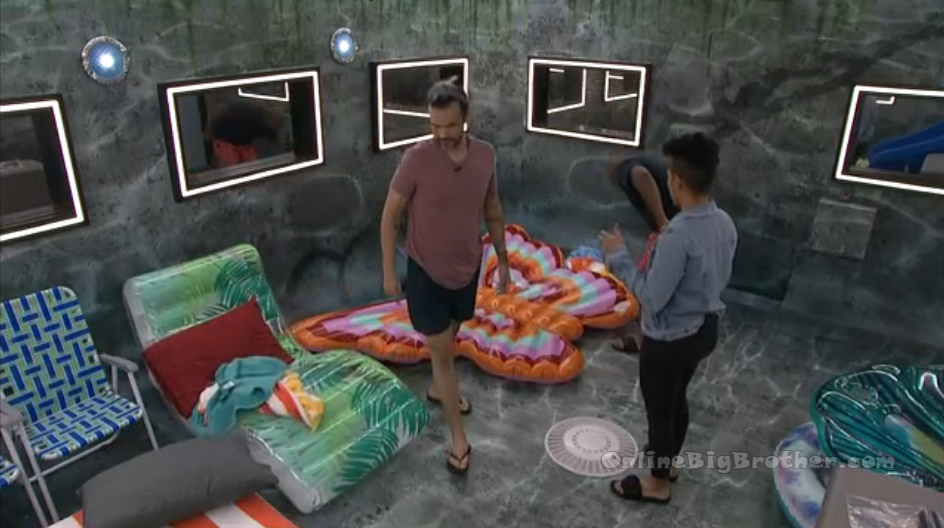 9:15pm Backyard laundry area. Ameerah, Alyssa, Michael and Brittany.
Alyssa – that's what's got to happen unfortunately.. just to break up their little section (sending Pooch home). Its going to be a long day on Thursday that's for sure. Brittany – I know. It is going to be. Alyssa – it will be the first eviction and I get to participate this time and so do you (Brittany).