Quick Big Brother Spoilers
Head of Household:  Taylor
Nominees: Indy and Terrance
POV Players: Taylor, Indy, Alyssa, Kyle, Terrance, Jasmine (Host is Turner)
POV Winner: Kyle
Veto Ceremony: Veto was not used.
Havenots: 
Lock your ranks in before midnight
The twist
Wording from the Thursday night show
For the first time ever the game will completely change as the house splits into two groups. These two groups will have no interaction and in a Big Brother first, two completely separate games of Big Brother will play out simultaneously all week long all of it culminating with a double eviction like no other"
Reward / Punishment Veto Results:
– Kyle won the veto
– Alyssa won $5000
– Jasmine won a trip to London, England
– Terrance – "Ink 182" 182 temp tattoos
– Indy has to wear a "Punkitard" for 1 week and perform concerts
– Taylor and Joseph will be chained together for 24 hours.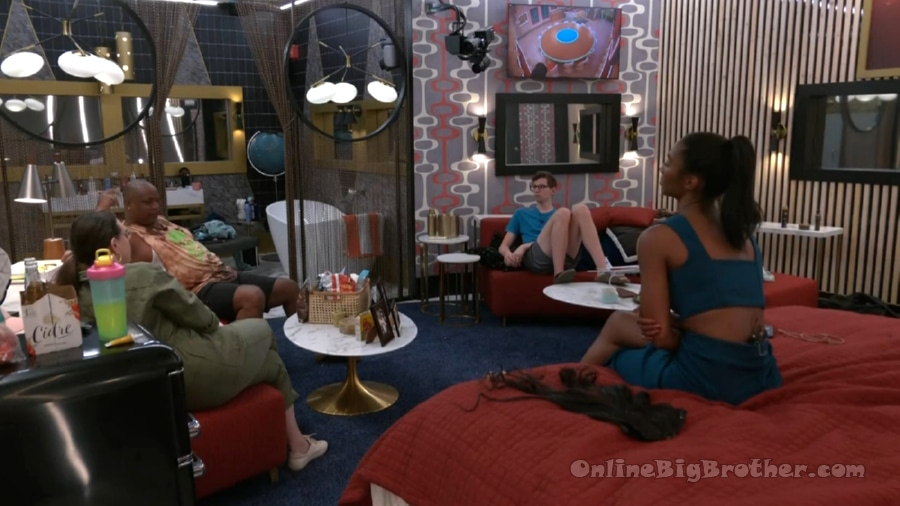 11:56 am Terrance, Taylor, Michael, and Brittany
Terrance counting his votes, Turner, Michael, Brittany, Alyssa, and Kyle.
Terrance says Kyle messed up his "resume" and his "Jury" to save Monte.
Terrance goes on about how he's winning HOH and putting up Kyle and Alyssa.
Jasmine joins them.
Taylor – when you trust someone to play for you and you know what my experience in this house has been.
Taylor – I've been f***ed over and over and over.. To finally be in a position where I could make the right move and to have that cut off.
Taylor – I mean that's what the veto is.. but like.. so.. yeah.. I'll cool off.
Taylor – what's the temperature like downstairs?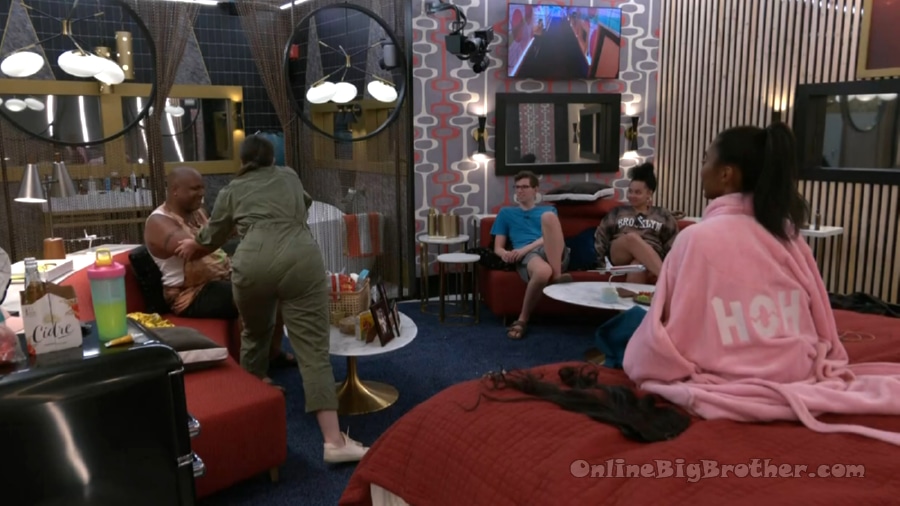 Terrance tries to get up to do laundry.. He needs help from BNrittnay to get up. (So both Terrance and Alyssa are playing up having sore backs)
Taylor asks him if he's talked to the DR about it. He hasn't they'll say the same thing they told Alyssa "they not going to give me…. "
Terrance – What I would love to have is a muscle relaxant that is the only thing that works for me.. they are not going to give me a muscle relaxant.. i wish they would at 10 o'clock
Taylor – they gave us Tylenol and Ben Gay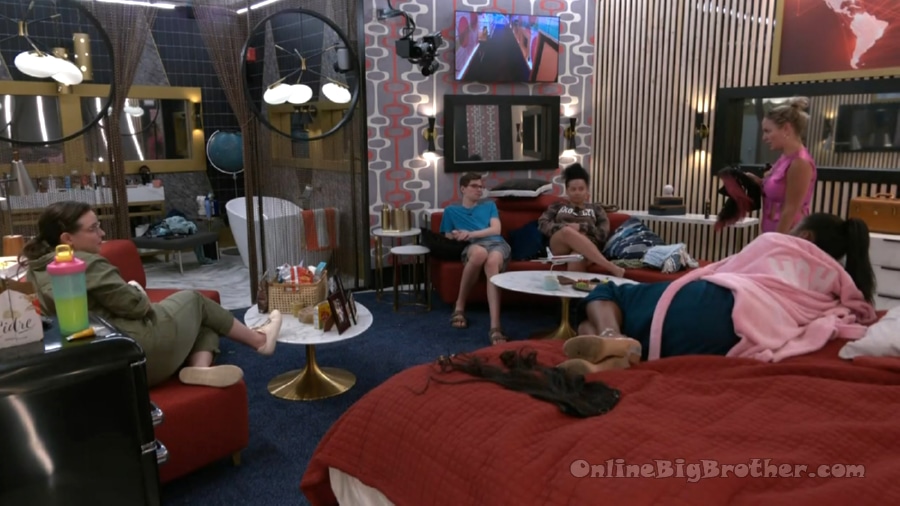 Indy joins them.
Taylor – have you talked to Kyle
Indy – I don't really want to talk to him right now
Taylor – yeah I f***ing I get that
Indy – I love him it's his game it's not mine.. I'm fine and as he says we don't talk game.
Indy asks Michael and Brittany if she had their vote. they nod. "It's important I know so I can relax"
Indy – If you change your mind let me know I don't want to be Ameerah in the end.
INdy says if they change their minds please let her know. She won't get made it just means she'll have to pack her things in a "nicer way"
Indy – I don't take things personal.. I need 5 votes.
Indy – if it's a TIED what do you do
Taylor – I thought I could relax all week.. F***
Indy – no, you have to think that
Taylor – I got you.. right now I got you.
Indy leaves..
Taylor – I just did not want a woman to go home.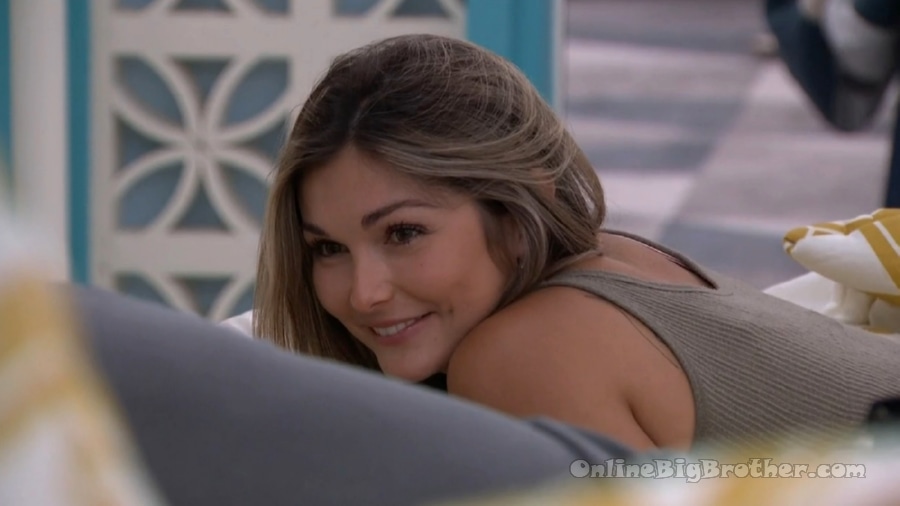 12:15 am Alyssa and Kyle
Kyle – I just kept nominations the same. Sorry, Taylor.
Alyssa – sorry not sorry
Kyle – yeah.. If you wanted to take a big shot and make TV then make it from the start not this grand backdoor scheme. It just feels a little fishy
Kyle comments how Turner never gets told to wake up.
Kyle – do you think if jasmine won HOH she would put me up against Monte? She would I think.
Alyssa – maybe..
Alyssa says she likes Joe he's growing on her but she would still put him up, "If I had the opportunity I would do that"
Kyle – I wonder if it will be unanimous for indy to go.
Alyssa – maybe
Kyle – will jasmine be onboard to vote her out
Alyssa thinks jasmine will vote out Indy. brings up Jasmine telling her the house is voting Indy out "so it's pretty much set in stone"
Kyle – make sure you say we never talk game EVER that is very important this week. You're good. You know what to do. you know Big Brother. You know this game?
Alyssa – it's always different though.
Kyle says they've hit jury know so everyone that goes home will be voting "Everyone is very conscious of that. no one wants to be the one that is like I want you gone. they'll be like I want someone else.."
Kyle asks her if she told anyone about their Have nots sex. She said no.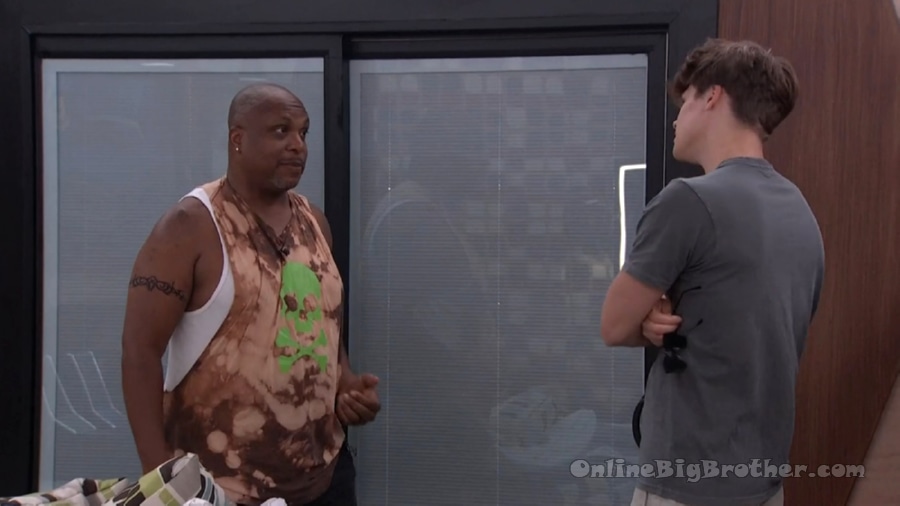 12:23 pm Terrance and Kyle
Terrance – Bro I already know you are under a lot of..
Kyl e- heat
Terrance – we can defuse heat that is the great thing about the heat it can always be defused
Terrance – don't put yourself into a tailspin. Stay grounded.
Terrance – I was going to talk to you and hopefully have your support
Terrance notices that Turner is sleeping in the corner. Laughs "it's the same speech"
Kyle says he's not in any danger at all "Even the girls are talking Indy"
Terrance – Bro I got you.. don't let them get into your headspace.. if they do pull me to have a conversation I'll be your sounding board. Do not let any emotions show this week.
Terrance – me you don't ever change our space..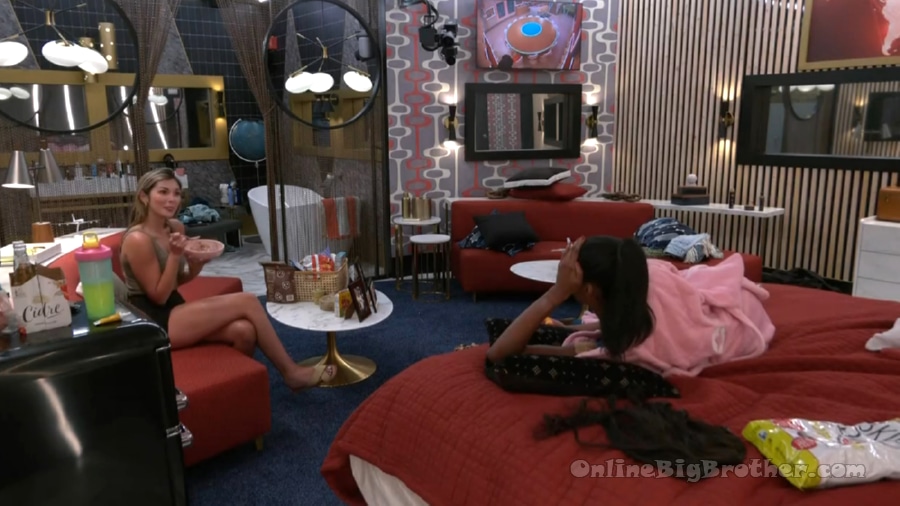 12:40 pm Taylor and Alyssa
Alyssa – I want to earn your trust I did not expect him to do that. I think he was thinking because I made a stupid move in that competition that could result in me going home. He was like I don't want to take the risk
Taylor – I get it, I'm frustrated because I don't get to make my move.
Alyssa – which is completely reasonable
Taylor – I will talk to Kyle, I didn't mean to blow up on him.
Taylor – Jasmine got to make her BIG MOVE and everyone who's had a HOH has made a significant move. Now I'm looking at Terrance and indy (instead of Indy or Alyssa)
Taylor – I told you I wasn't going to put you up replacement I chose you to play in the veto.
Alyssa – you have shown me again and again and again you show up for me I do appreciate that. I do want to gun for HOH and show you that back. Kyle and I aren't OUR relationships with you. It's MY relationships with you
Taylor says she has different relationships with the two of them. "I still love him as a person, I think he's one of the greatest people ever and I am obsessed with the two of you"
Taylor – I get it, if anybody planted the seed that you could be in jeopardy I get it. I know he (Kyle) is frustrated with Indy and I f**ing Terrance is the one person that voted to kick him out last week. I see it I get it FINE.. I would have done the same thing I can't be mad at it. I'm frustrated about what it means to my game. We're back to individual games now.
Alyssa – I love you and support you and I will show you that.. I promise you that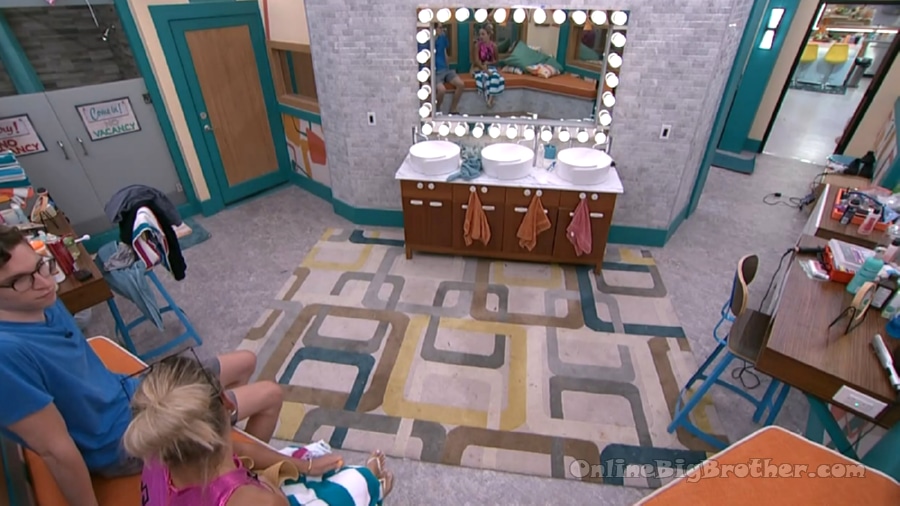 12:48 pm Michael and Indy
Michael – Tayloe said she would break the tie in your favour four is all you need.
Michael leaves
Indy calls Brittany over "Do you Promise me you are going to keep me?"
Britt – YES, Just be careful this week
Indy – I was just telling Michael be careful as well.
Indy – you are always my people, the girls and him all that I cared.
Britt – I know that..
indy – what do you mean be careful?
Britt – I don't trust anybody.. this house is scary. there's too many weeks things don't make sense until the last minute.
Indy – Michael promised me, and you, Jasmine, and Alyssa I'm fine.. If I can count on you guys I won't stress
They hug "it's going to be ok it's going to be alright"
brit leaves. jasmine joins Indy.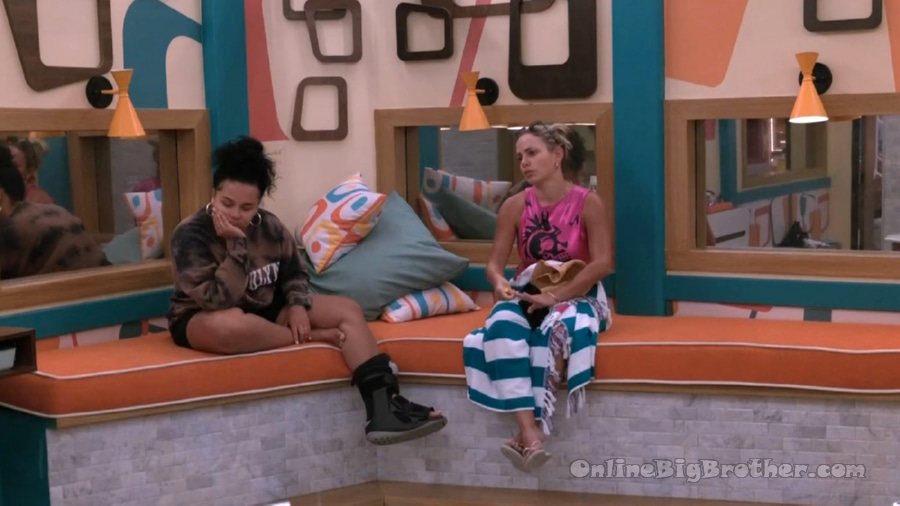 Indy – you are the only person I can trust right now.
feeds cut.. when we're back.
Jasmine is telling her to campaign but not cause Drama "you don't want any Drama"
Indy – I say I wanted to go home I was emotional..
Indy – I don't know about Alyssa right now.
jasmine – she's just scared. She knows she's attached to him. She's scared because it was his decision and it seems like they're close but they didn't talk game. It's a lot. You need to talk to her ONE ON ONE
indy – I know
Indy isn't sure she can count on Kyles's vote. "I don't want to bring it up but we kept him last week"
jasmine says what Indy told Kyle last night threw him off.
Indy – I know
Jasmine – I don't like the way Brittany talks. She's like what are you going to do you're close to both of them.
Jasmine – I wanted to be like Baby girl don't ever tell me who I am close with. Don't do that.
Jasmine – I said I ain't close to Terrance. She was like 'well he thinks that'
Jasmine – how about you mind your damn business… never mind… I don't like people tell me when something is.. you don't tell me who I'm close with.. you can go off what they said but you can't tell me who I'm close with.. you know what I mean? indy yeah i am, Terrance now I'm not.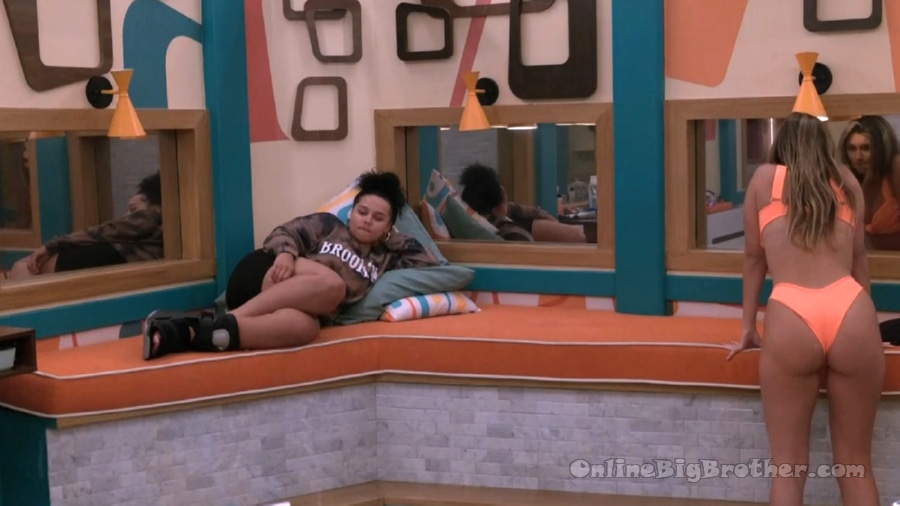 Indy leaves.. Alyssa joins Jasmine . Feeds cut.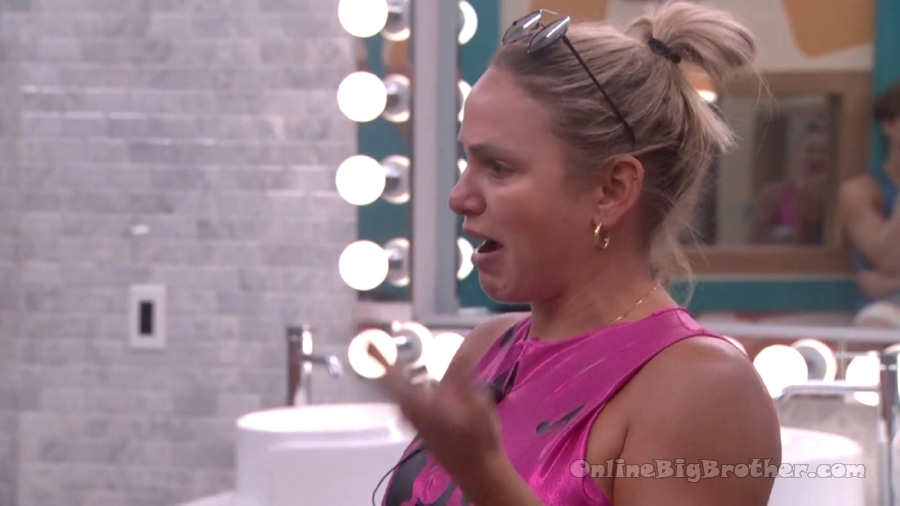 1:10 pm Indy, Jasmine and Kyle
Indy – I want to be here. Ok. I came all the way from Brazil 9 years ago.
Indy – my parent live in the f***ing Favela and I need to be here to take them out of that. that's my goal.
Indy starts to cry.
Indy – every single day you have the best of me.. this is a game it's part of a game. Do not use my weakness against me when I cry and come to you guys it's because I trust you guys. I am vulnerable.. please please please help me.. to keep me happy and if you guys can.
After Indy leaves they talk about Indy saying to Kyle they had the vote to evict Kyle last week.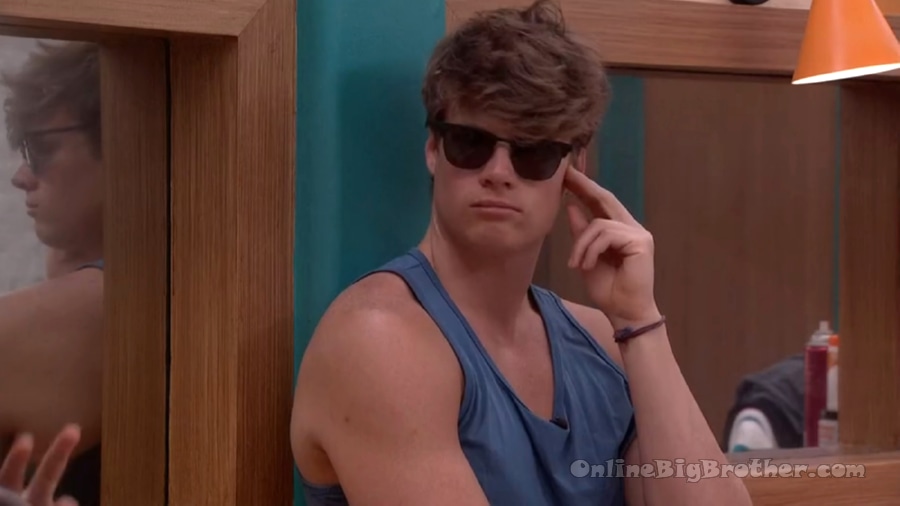 Kyle – my decision to not use the veto was not only best for my game but best for the people close to me.
Kyle – I think there was a chance Alyssa was at risk
Jasmine – can I ask you an honest question? I hope you can be honest with me.
Kyle – yeah
Jasmine – are you working with Monte.
Kyle – I mean we're on good terms. not alliance wise we had the Po's Pack thing and he was involved in that.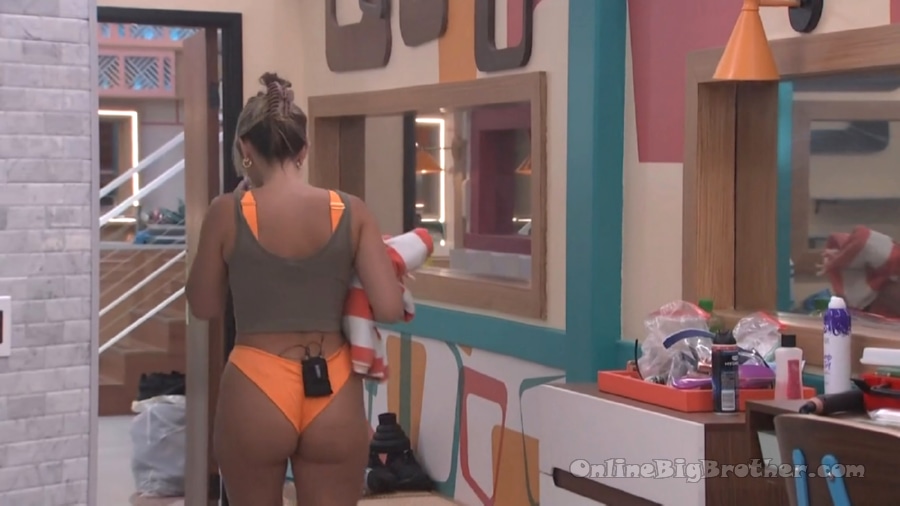 Alyssa leaves
Kyle says if he didn't think there was a risk of Alyssa going up he would have used the veto.
Jasmine says she would have done the same thing to protect her girl.
Kyle – I told Indy I did not put you on the block you are up there because of Taylor. If she really wanted to take a big shot put up Monte and Me.. Monte and Joe, Monte and Michael. like it didn't have to be two pawns and count on the veto to backdoor somebody. There were options and that was the red flag for me.
Kyle – if you want to take a shot at Monte put him on the block and make him win a veto.
Kyle – why count on the veto?
Kyle – she promised Indy safety and then put Indy on the block.
Kyle – I didn't want to pull a Daniel and use the veto trusting people and then your closest ally ..
Jasmine – it is hard we're only doing the best we can. you know what I mean?
1:26 pm Alyssa is out in the sun at 1:34 pm she is joined by Jasmine who has made her own sandwich for once in her adult life.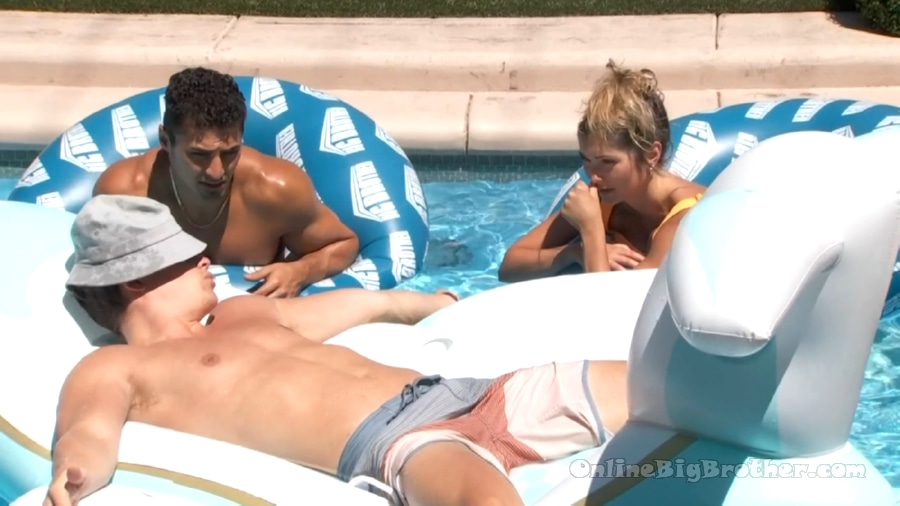 2:00 pm Pool time.