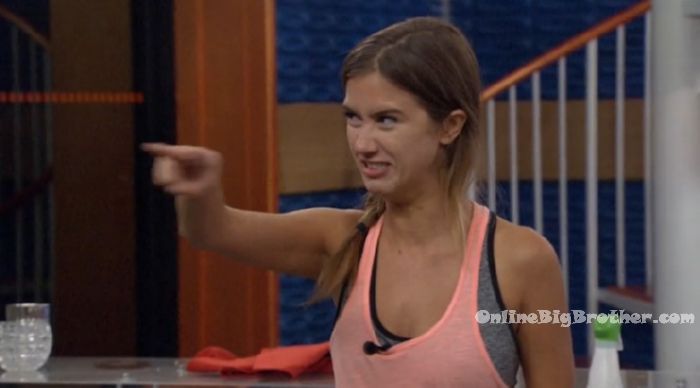 8pm Kitchen – Shelby and Scott are talking. Scott – Right now my number 1 person I want to go home is Justin. But Alex wants Shane or Danielle so I'm going to do what she wants. I'm not going to make Alex take out Justin if she doesn't want to. She's playing her own game. Shelby – you might just want to leave that for Monte to do, you know!? I think Kryssie might use it (Care Package) on Danielle. So basically it would leave Shane, Justin and who knows. Scott – that sucks. I talked to Kryssie earlier and I said I would like her to use it on Jason (Care Package). Shelby – What did she say? Scott – she said that's where her head was at but that she was still going to talk to people. Shelby – I was thinking of going up to Jason and asking him are you talking game with me .. which one of your faces am I talking game with!? Scott – Don't! Do not! I don't think you need to stir the pot at this point. You can play the middle. Shelby – I don't want to play the middle. Scott – If you want to get to the end of this game .. you have to. You can't be burning your bridges this early. I'm counting on you to make it to the end of this game with me. Shelby – I'm going to keep it cool until we find out who the American Nom is. Maybe if Jason approaches me with game again .. I'll feed him some bullsh*t. Scott – I was talking to Jason & Kryssie last night and they're realizing you're going to make it a lot further in this game and that they're going to need you as a vote. Scott – you and I have a really good shot at going deep in this game. Shelby – I'm not here to like betray the girls. Scott – I would never ask you to do that.
Watch the BBOTT Live Feeds FREE for 1 WEEK!
Click here for your: FREE Trial!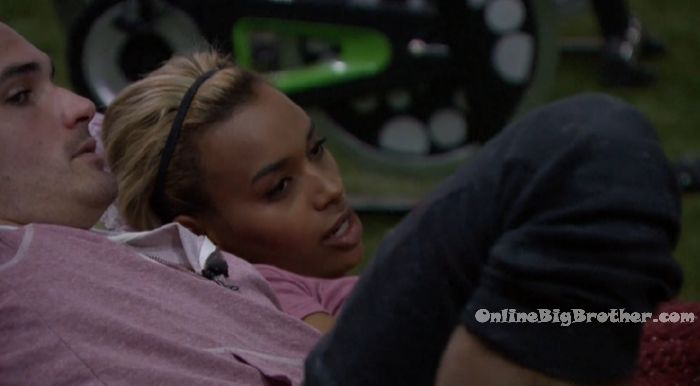 Hammock – Shane and Danielle are talking. Shane – Monte is going to be left with a bunch of girls. Danielle – he will probably tell you that he was pushing for me to stay so that when I do go home he can say he wanted me to stay to get close to you.

9:15pm HOH room – Kryssie and Alex are talking. Kryssie – I've listen to everyone who approached me and noticed who didn't approach me. I'm not 100% but I am really leaning towards using it on Jason. I can't use it on Justin because people know how close we are. I don't want to sell myself out because I'm not linked up to anyone. Alex – I do think its better you use it on Jason. Kryssie – I can't save Danielle. If I rescue Shane .. I run the risk of Danielle going up. If I give it to Jason it saves you from having to put him up. I am pretty sure why Monte has a problem with Jason. … There have been things that Monte has said. .. I honestly think its because Jason is gay. Alex – I didn't want to think that but it very well could be. I was thinking of sitting down and talking to him about it but there is no good way to ask someone if they are homophobic. I file everything away .. I noticed what Cornbread said the other day. Alex – the Jew comment. Kryssie – yeah. When he was talking to someone about getting the price down on something and he said oh like Jew the price down. I don't think its anything malicious .. either of them. Kryssie – If I get HOH I would put Monte up. When this week is over I want to make sure you and I are in good standings. I think if Jason goes up he will go home. Alex – I'm pretty set on putting up two power players but I want to wait to see what you do with your care package. Kryssie – I think the most brilliant minds in this game are female and its the three of us. If I do this for you and for me.. all I ask is.. Alex – I will protect you. Kryssie – I would be more than happy doing that. Alex – Whitney might be a dark horse in this game. Alex – I have your back and value you as a player ..so I would like to keep you around.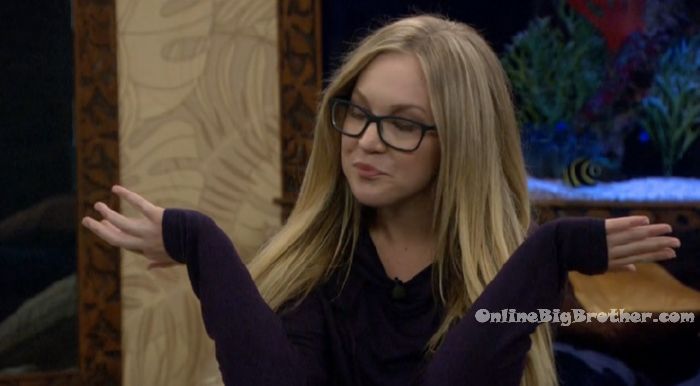 9:55pm – 11pm HOH room – Alex tells her conversation with Kryssie to Monte and Morgan. Scott joins them. Alex – that worked according to plan. I didn't even have to say too moon and she's on board. Scoot – do you feel solid about you noms. Alex – almost. Monte – I don't trust Shelby either. She is so weak she has no other option than to work with us. Monte leaves. Shelby and Whitney join them. Alex tells them that Kryssie is convinced that Monte is Homophobic. Whitney – she is making stuff up in her mind. Alex – I don't think he is homophobic. I just think he's real southern and a conservative. Monte joins them again. Alex – I think Scott is America's player. Morgan – hopefully the next week shows us.
12am – 12:20am Backyard – Monte, Whitney, Shane, Danielle, Neeley, Morgan Scott and Shlby are talking about random things.
12:40am In the kitchen – Kryssie, Scott and Shane. They're drinking coffee bombs – coffee mixed with coke. Shane tells Kryssie – if you don't use it on one of us you're going to be down a vote. Scott – It's no secret I'm close to Jason and I might be a little biased but I want Jason to stay this week. Kryssie – If I do that where does your vote lie? Because you've been smart so far getting in everyone's good graces. Scott – it depends on who the 3rd nominee is. Shane – what if its Shelby? Are you going to vote her out? Scott – doesn't say anything. Shane – that's a no. Scott – I promised them if they keep me safe, they have my vote. Kryssie – do I listen to you and save who you want me to save? Knowing full well that I'm shooting the rest of us in the foot? I could go up. Scott – I'm not going to break my word. I told Alex if she kept me safe, then she had my vote. Its a one week thing. Kryssie – bare in mind it is a one week thing, where does your vote lie next week?! What if its Monte? This could be the one chance to get him out. If he goes there's a power shift. Scott – I gave them my word if they keep me safe, then they have my vote. Kryssie – that's concerning.. it may save you right now but it may hurt you in the long run. Scott – I can't break my word this early. Kryssie – I'm concerned because if I save Justin, I go up on the block next to Jason. If I save Jason, then I go up on the block next to Justin. If I save him (Shane), she (Danielle) goes up. If I save her (Danielle), he (Shane) goes up. Kryssie – if I've noticed anything its that what they're saying to you, what they're saying to us and what they're saying to everyone else … is it isn't matching up. Shelby joins them and the conversation ends.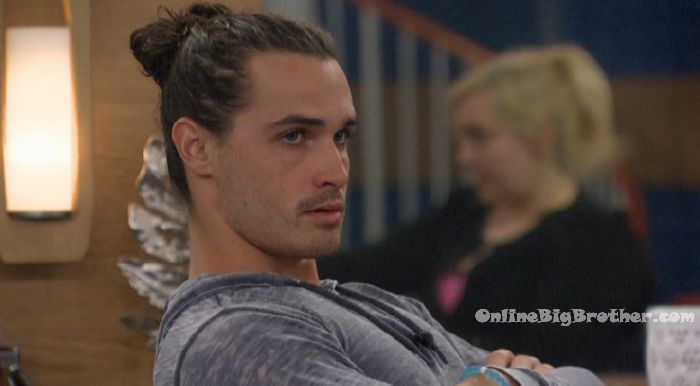 1am – 2am Hammock – Kryssie tells Scott – who's to say someone else gets to you next week and gets your word before I do!? Scott – I kept my word last week. Kryssie – I don't know if you're someone I can trust. It makes me reevaluate what I tell you in the future. Do you realize we have common enemies and not just allies. You're going to f**k yourself over if you can't start being more direct with people.
1:30am Shelby, Morgan, Whitney and Alex are talking in the bedroom. Shelby – Kryssie told Scott that she's see so many freudian slis and inconsistencies. Alex – they're working together. Whitney – I bet he is so paranoid. Alex – we need him this week. I swear to god if Scott flips on us… Morgan – I don't think he would. He's smarter than that. Whitney – if he does, then blow it up. Alex – she (Kryssie) was saying there are a few people playing chess and the rest are playing checkers. Shelby – humans aren't chess pieces, they can move more than one direction.