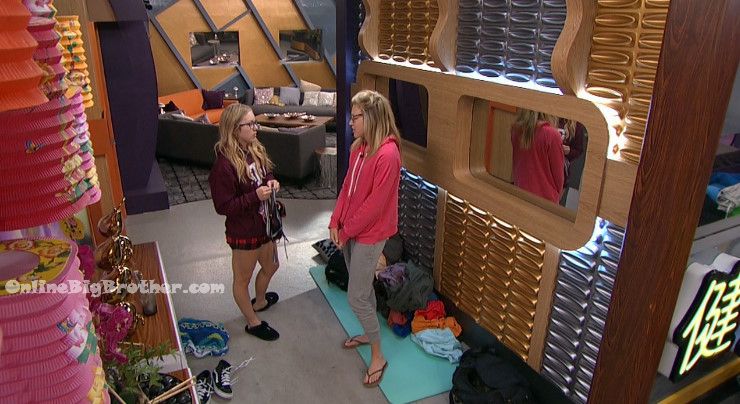 10:29am MOrgan and Alex
Alex warns that Shelby is already acting weird, "I don't know how much we can actually trust her"
Morgan – and Whitney..
Alex – reevaluate abort..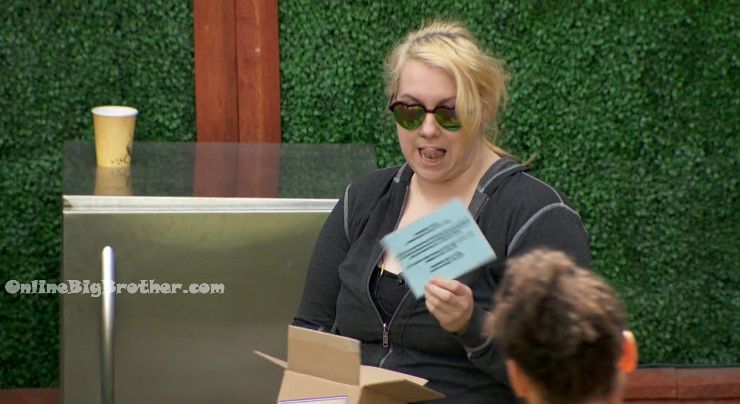 1:04pm Kryssie gets America's First Care package.
She is not safe this week but she can give someone immunity from being nominated by the HOH, America and as a renom in the event POV is played. Prior to tomorrow's safety ceremony she has to declare who she is keeping safe.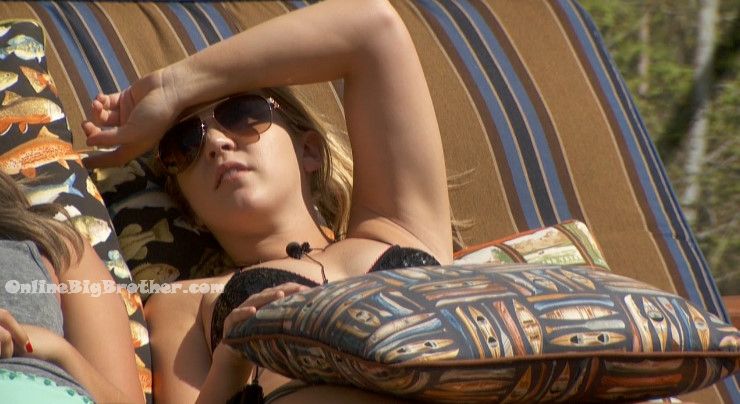 1:24pm Shelby, Alex and Whitney
Shelby – medium game changer.. (the care package)
Shelby leaves..
Alex says everyone in the house wants Shelby gone.
Whitney – everyone hates her
Alex wishes she wasn't in their group
They agree Shelby in the game is good for their game because she'll always be the target. Both have been trying to keep their distance from Shelby.
Alex says some of the things Shelby says is going to make her "America's target"
Alex wishes she knew who America liked she would roll with them.
Whitney – do yo thin America loves Kryssie
Alex says when she watched the feeds America gives the first care package to people who aren't big game players.
Alex – I wish Neeley had gotten it she has better judgment than Kryssie
They want Kryssie to use the safety on Justin so Monte will leave it alone. Alex says Monte wanting Justin out so bad is personal he's better to keep in the game as a target.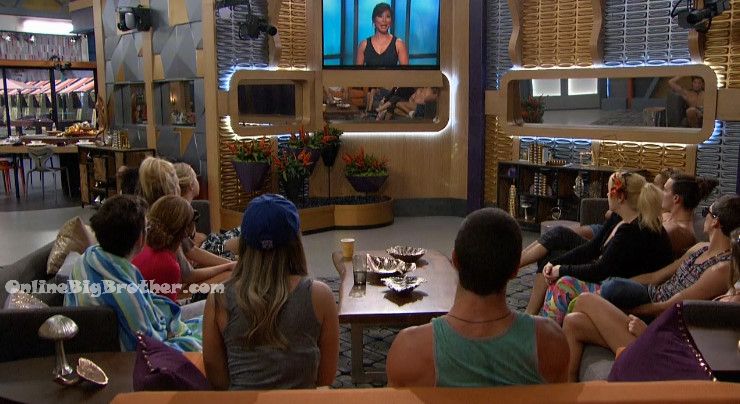 2:05pm Message from Julie
"Over the top is in full swing"
She tells them America will be deciding the have nots.
Each week America votes for the housegeusts to be a have not.
America cannot make you a have not 2 weeks in a row.. Have nots will be revealed tomorrow.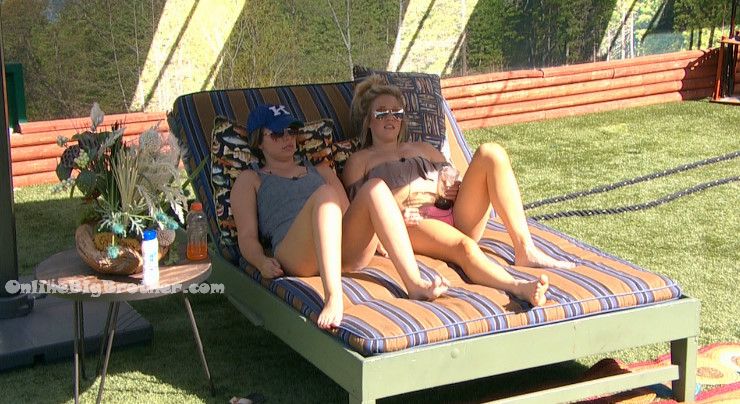 2:19pm Whitney and MOrgan
Going over the care package rules
Whitney – worst case scenario Justin wins the veto and pulls one of them down..
MOrgan is torn weather Justin goes or one of Shane/Danielle
Whtiney says Alex is really smart she'll think before she puts anybody else, 'I don't see how Shane and Danielle wouldn't be the obvious people to put up"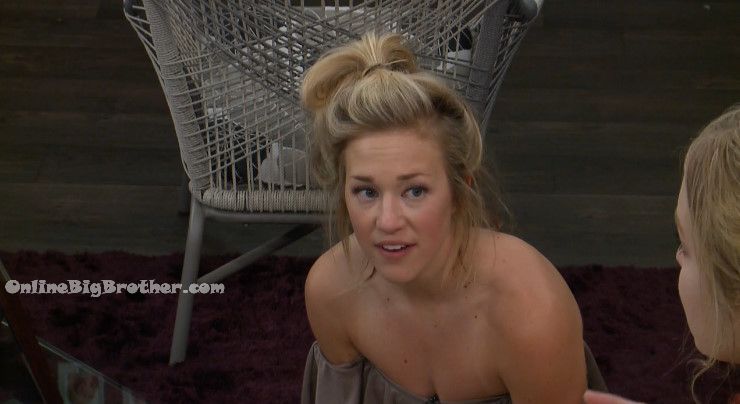 3:00pm Alex, Whitney, MOrgan HOH
Alex and MOrgan were agreeing if Scott screws them this week they will blow his game up.
They talk about the Monte/Justin feud.
Alex – Monte needs to look out he might punch Monte.. there might be a BB fist fight (this was a joke)
they all laugh
They have noticed Justin being miserable when nobody is looking they agree if he's a have not he'll 'Go overboard"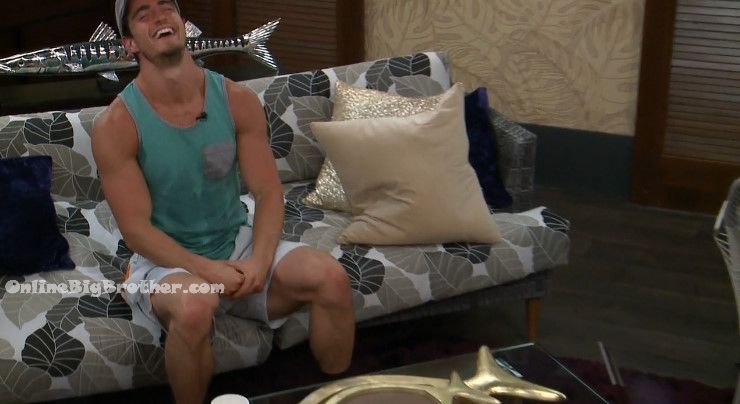 Monte joins them
Alex says they have an alliance name and it's lamest one in Big Brother history "Monte and his Pythons" Its Monte and the 4 girls.
they laugh, Whitney leaves to do laundry.
Alex says they have to use Scott or they are screwed. Scott has promised to vote with him, 'He wants Kryssie to keep Jason safe"
They want Kryssie to save either Justin or Jason. Alex mentions how as long as Scott is with them the worst thing that can happen if Shelby goes up is a 4-4 tie Shelby and Danielle/Shane. Alex tells Monte she's leaning towards putting Shane and Danielle up.
Monte says they are going to lose Shelby sooner than later.
Alex wants Shelby in the game as long as possible to be a shield.
Alex – you're name came up quite a bit the other side of teh house is gunning for you.. it was you and Shelby's name
Monte knows he put 3 of them up and they are still in the house, "Everyone is in love with dip shit Justin"
Monte- I'm sure America hates me for it.. I don't care I'll be the villain"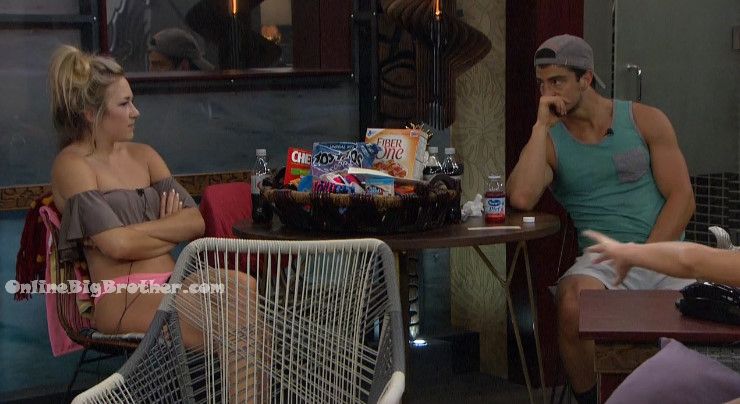 3:20pm MOrgan, Alex, Shelby, Monte
They have lost a lot of trust with Scott and agree he'll just keep flipping sides every week.
Monte saying he wants Danielle out over Shane. Says Shane seems board to him. He asks them who they want out. It depends on Veto but right now it's Danielle.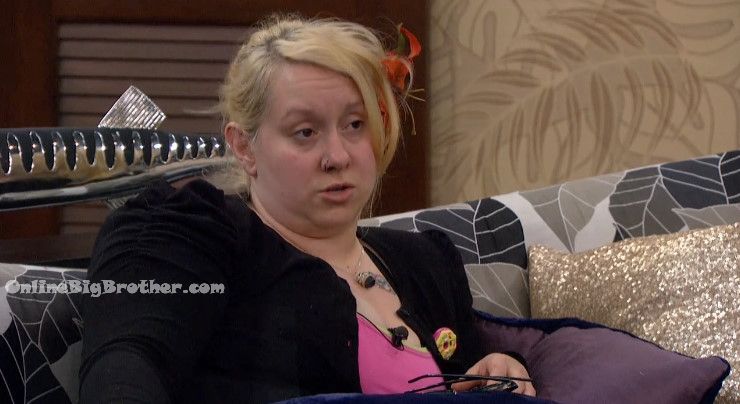 3:51pm HOH Kryssie and Alex
Alex says there's been 4 names tossed around shane and Danielle are 2 of them
Kryssie says everyone targeting JAson is stupid, "We have no idea what circumstances brought him back in here" (LOL)
Alex says a lot of people have been saying Justin should go
Kryssie says Justin is like a shelby
Alex – he's in the line of fire..
Kryssie – the problem with him goign up is you're not getting rid of him and you're pissing him off.. a lot of your middle floaters like him
Alex says if Kryssie uses it on Jason America will like that because America doesn't want him out.
Kryssie – it comes down to saving him or Justin I can't pick favorites with the showmance..
Kryssie says people with Bromances and Showmances are safe and last a long time in the game. Alex says that's Shane.
Kryssie is close to Justin he's her bro and copping mechanism.
Kryssie says Scott and Whitney are floating in the middle.
Kryssie warns that Scott is with them outside all the time.
Alex tells her she's not going up she will not put her up as a replacement nominee.
Kryssie is asking for safety next week for her and the person she care packages.
Kryssie warns them if they get rid of Danielle Shane might join up with Monte. Kryssie is questioning if the showmance is real
Kryssie – in Chess you want to take out the king and queen
CBS All Access Live Feeds! Test them out 1 Week for FREE!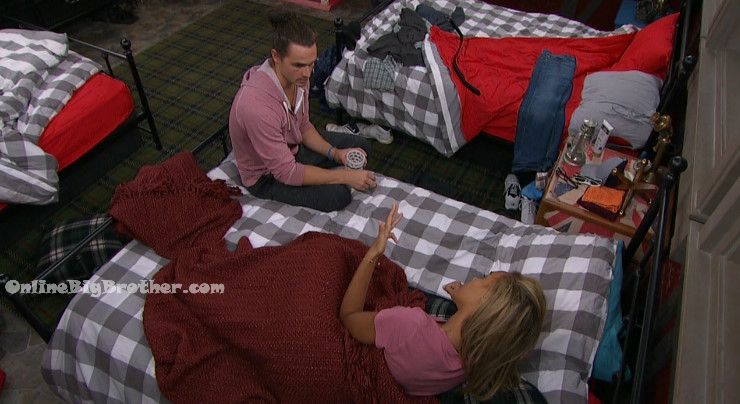 4:11pm Shane and Danielle
they have noticed all the girls are up in the HOH, "It's going to be two of us"
Danielle – of course
Shane – who is in our group.. me you Neely, Justin, Kryssie
Danielle – I don't trust Scott
Shane says he can get Scott.
Danielle – I hope America puts one of them up and they lose someone on their side
4:33pm White room Danielle, Shane and Kryssie
They want Kryssie to save one of them. Jason joins them. Kryssie wants to use it on Jason.
4:56pm Danielle and Kryssie
Kryssie about Alex "She's so f****G smart in this game"
Danielle says Alex is showing how smart she is and it's making her a target.
Danielle – her and me are alpha females
Danielle says she's just as good as Alex in this game.
Danielle says she's studied this game since she was 10 year old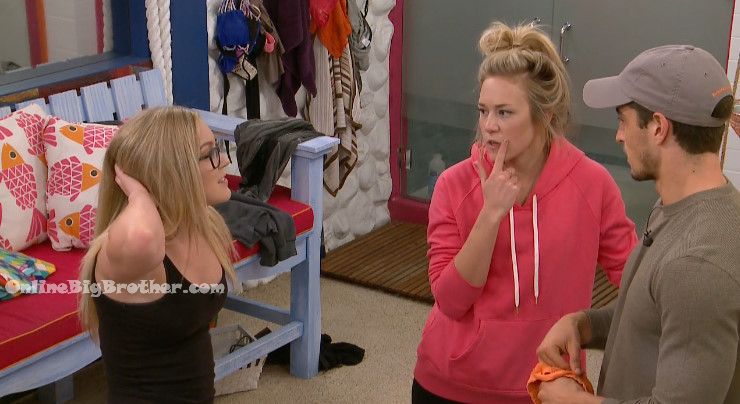 6:38pm Morgan, Alex and Monte
Monte thinks the have nots will be him and Justin.
Morgan – sleep with your eyes open
Alex is warning them that Kryssie is viewing them as a Showmance
Monte – WHAT
Alex brings up Kryssie telling her that Morgan and Monte will be a thing later on.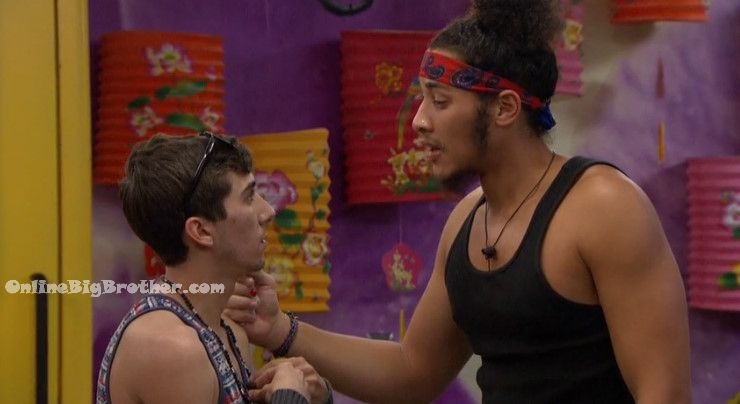 6:50pm Justin and Jason
talkign about Kryssie using the safety on either of them. Justin says Kryssie will use it on Jason. Justin says he doesn't care about Shane and Danielle points out how
jason – they are still 'my friends' … this house is full of 'my friends'
7:17pm Croquette set to practice possible comp?
7:30- 8:00pm Live Diary room sessions are under way.