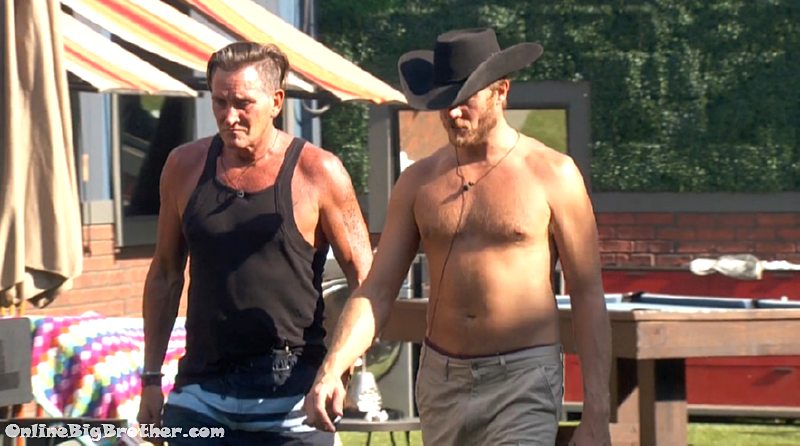 4:20pm Kevin and Jason Backyard walk
Kevin – they aren't going to be happy if we act like babies..
Kevin explains that nobody came outside this morning except for Matt and Raven
Kevin – Raven talked to me.. She said hi
Jason – all she does is talk sh1t about you inside
Kevin – now.. Like what
Jason – anything.. Just trying to provoke people
Kevin – what does she say
Jason – Cody's here
Kevin – ohh so i'm in Cody's category (dude if you heard the things they are saying about you.. To some of them you're worse than ….. )
Kevin – scary you mean ..
Jason – yeah
Kevin – she's the one hitting people.. I hope people see through that foolishness
Kevin – Ja c'mon..
Kevin – he (matt) talked to me for half hour..
Jason – ohh yeah I know
Kevin – oh you were told
Jason – yeah
Kevin – I had nowhere else to go
Jason – right
Kevin he was talking about the jury house.. C'mon that's crazy. Please stand up say he was telling me about the jury house
Jason – if it doesn't come from whoever said it's mouth.. I don't care
Kevin – He's leaving in 2 nights, he said Kev hows it goin git was nice hanging out with you all summer I'm going to jury and he's telling me about jury
Kevin – what am i supposed to do run away.. That's pouting like a f*ing baby .. who would say that too you.. Say to them what is he supposed to do
Kevin – I was out here first..
Kevin – I never said a word all day to nobody
Jason says nobody is listening to Raven
Kevin – I asked the kid (josh) 10 times to stop and he didn't stop.. He got louder
Jason – yeah
Kevin – when he (Matt) leaves who's going to be put up
Jason – Raven..
Kevin – raven and me
Jason – yeah, depends on who it is
Jason says Paul and Josh slept in until 1pm, Jason is going to start doing that since the 10am wake up doesn't seem to apply right now.
Jason – I'm tired..
Kevin – what good can I do talking to Matt.. what when you walk out walk slow.. Hold the bag with your left shake with your right..
Kevin – what am I supposed to say .. get off the pink thing and leave me alone..
Kevin says Matt told him what he does for a living.. He works in housing etc etc..
Kevin – Paul came out.. The same rhetoric.. the same f*ing rhetoric
Kevin – did she say she's looking out for me
Jason – yeah
Kevin – that's cool man.. I agree than .. tell her I understand everything as long as everyone shoots from the hips..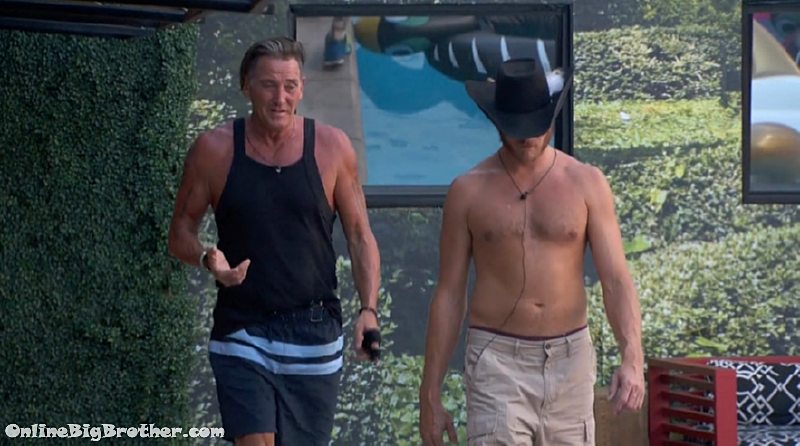 Kevin – you think everything is solid than
Jason – yeah
Kevin – OK
Jason says he should have put Kevin up it would have saved him a lot of the hate with Matt and Raven. But he had a bad feeling about it.
Kevin says him, Paul or Alex are winning HOH and jason isn't going up
Kevin – you go against Paul he's an old vet.. They won't give it to him .. he'll come in second again
Jason you think so..
Kevin – he'll come in second again.. you go against Alex you'll win 7 to 2
Jason – there's 4 people in the Jury I put in there and Alex put 1
Kevin asks why they didn't want Josh to do up as the pawn why was it him..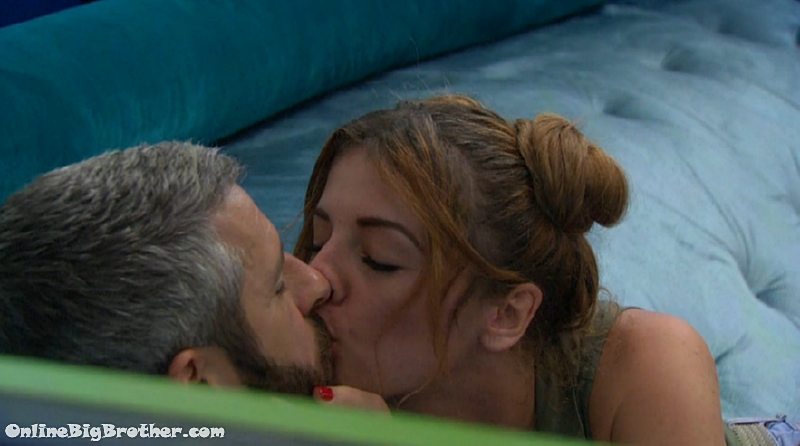 4:40pm MAtt and Raven in the APSR
Matt thinks Kevin has promised Jason a part of that 25 thousand.
Matt – Jason is either really smart or really dumb
Raven – he's really dumb.. If I was a smart player.. I'm not aligned with Paul..
MAtt – of course Paul.. of the remaining people other than Alex he's the best competitor.. He's a smart player..
Matt – there's no way the house wants Kevin outta this game
Raven – no way
Matt – he's never going to beat you in a competition he's never going to put you up.. Why would you want him out of this game.. Because he annoys you
Raven says that is why Alex jumped down from the HOH she knew Jason would make that move.
MAtt says it would be HUGE if JAson and Alex went up and they got the two vetoes.. (crapo I forgot about that tree.. Ohh damn this weekend could get fun)
Raven – if WE can get Cody out we can get Jason out (we?)
Raven says if they can't get Jason they'll get Alex..
Matt has a speech for Raven if she wins the HOH. "Jason, if you win the veto you'll have to choose between you and Alex but given your character I'm sure that won't be a problem with you" (that's a bit weak b2men)
4:50pm
Raven – my ideal top three will be me, Paul and Xmas (sounds like a great final 3)
Matt – that means you and Paul are going to the top 2
Raven – yeah, I would be OK with that
Matt – you would probably lose to Paul
4:51:28pm Raven – oh yeah.. I know that.. I would be OK with that (ZOMG)
Matt – yeah absolutely
Raven – I'll probably lose to xmas too
Matt – no, she's pissed too many people off
Raven – if I win the last HOH I get to pick… I would probably pick Paul
Matt – you'd be loyal
Raven – I couldn't backstab him
Matt – that's not backstabbing
Raven – I couldn't do that to him.. After all he's done for me.
Matt says he understands..
Raven – I would rather lose the money and take second than anything..
Matt – absolutely
Raven – if I did that I wouldn't be able to live with myself
Raven – people are all like Money is money.. I'm like NO.. it's not
Matt – it's not..
4:53:10pm Raven – I wouldn't be able to live with myself if I backstabbed my friend.. My actual friend..
Raven – nobody knows that but you
Matt – I know .. well in this house
Raven – opps
They laugh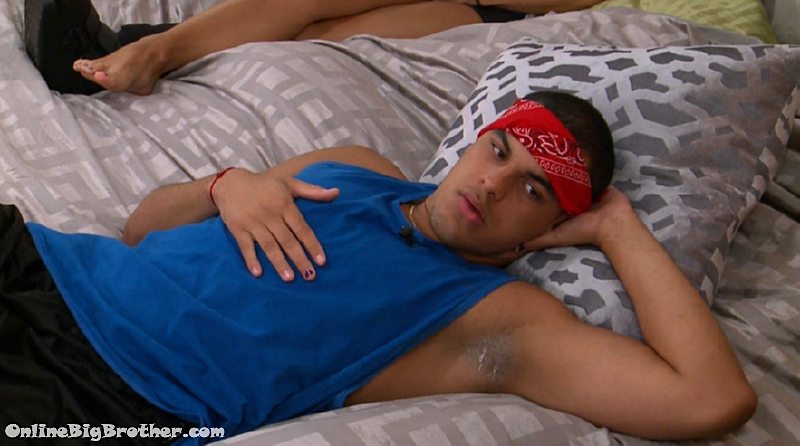 4:46pm Alex, Xmas, Josh and Paul
(Sheep/minion/lemmings) meeting.. Kevin talking to Matt by the pool has scared them they're not sure if they should get kevin or Raven out first.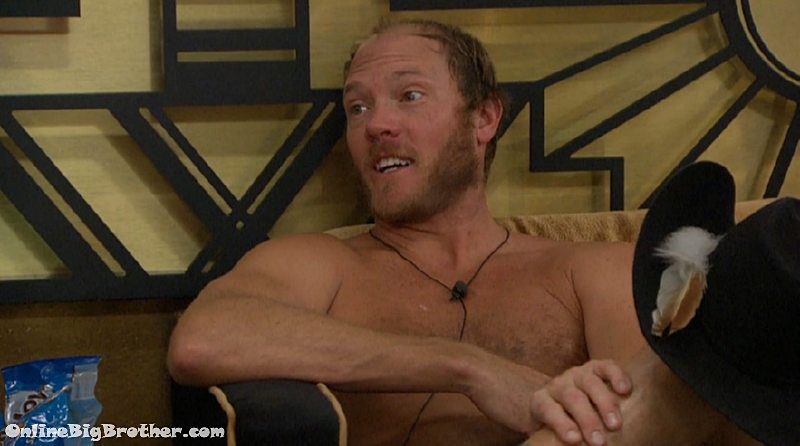 4:55pm HOH Jason, Xmas and Alex
Jason telling them about his conversation with Kevin, "he sketched out"
Alex says Kevin is walking around by himself acting confused.
Jason – we're in good shape..
Alex and Xmas tell him if Kevin doesn't walk out next thursday it's going to look shady in Jury
Alex – we have to send Kevin out first..
Jason – he keeps asking me who's going.. I'm like relax pal..
Jason goes on about how sketched out Kevin got when he brought up talking to Matt.
Jason tells them he brought up the skin cancer in Alex's family..
Jason – he wanted to say you can't be this dumb.. he knows I'm f*ing with him now.. otherwise he would come up here ..
Alex laughs "He's losing his mind it's so great"
Jason – he's probably going back to Matt and Raven right now..
Alex thinks Kevin is working on Jury votes.
Jason goes over his Jury vote conversation with Kevin with Xmas in the room.. goes over him taking 4 people out in jury and Alex taking the other one out.
Alex says Kevin is studying right now for the fave morph competition.
Alex says there's only 3 more weeks.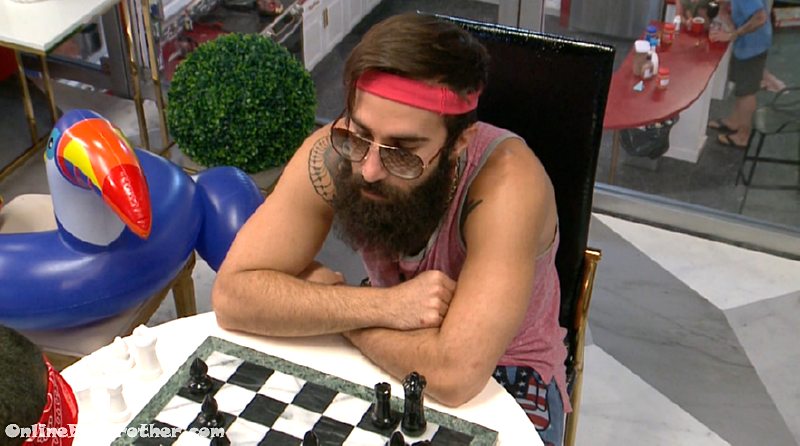 Chess ..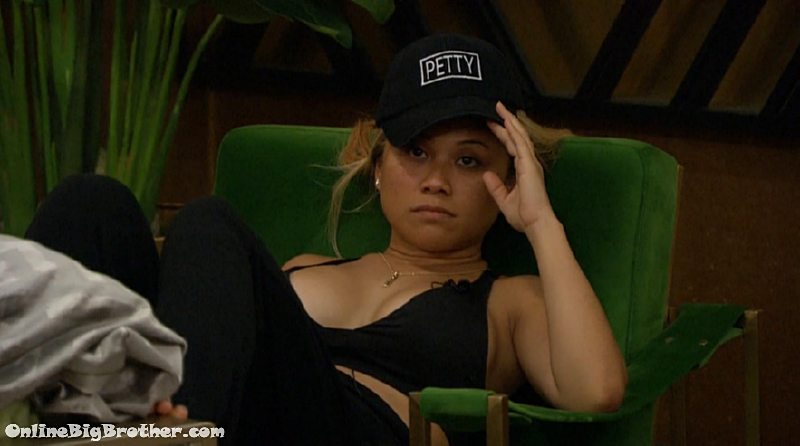 5:20pm Alex, Jason and Xmas (xmas is "listening" to music)
Alex can't understand why Matt and Raven are so upset. Alex brings up yesterday when Raven lost her sh1t and they started yelling at Kevin. Alex laughs.
Alex says she locked the door incase kevin came up but he's not so she'll open it.
Alex about Kevin – "I can't wait to make him a have not again.. or we'll just send him home this week"
Alex – if it's a double we'll send him home this week..
Jason – I don't care.. i didn't care before I just felt like I didn't know the plan..
Alex – I don't remember what I said this season now and it makes me nervous..
Alex – all the stuff we watch back I'll be like OH MY GOD I can't believe I said that .. holy sh1t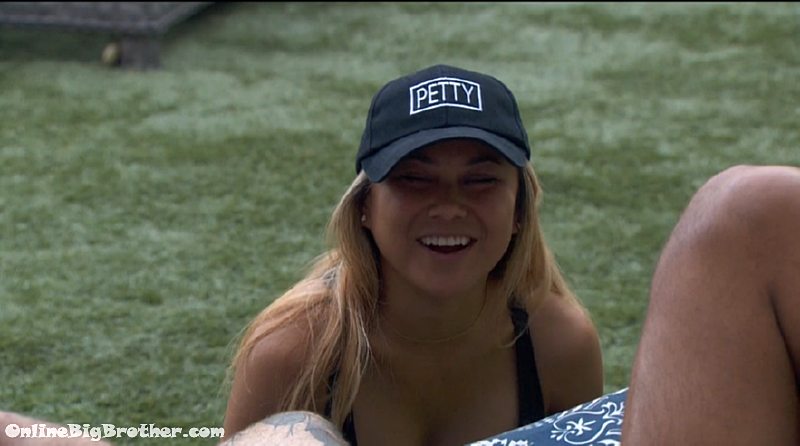 6:30:52pm Alex, JOsh and Paul
Josh – can we do something crazy today
Alex – you want to shit in his bed (kevin's bed)
Josh – ohh hooo I need some excitement..
Alex – you want to shit in your bed..
Alex says she asked they told her that's something you can't do
Alex – I was like where's the line
(that's how far this cast is willing to go)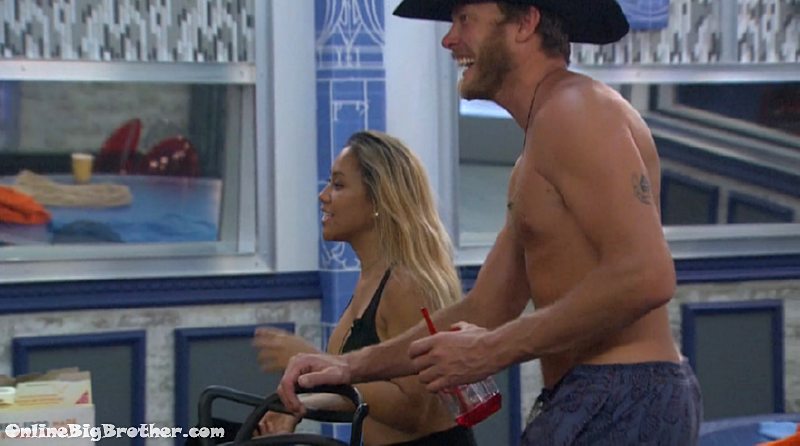 6:38pm Alex and Jason
Alex – Kevin is paranoid.. can't take his eyes off us
Jason says Kevin thinks Matt is saying stuff..
Jason brings up Kevin swearing that he never told Matt about the 25K
Alex – oh he swear he never told them..
Jason – listen he said I know what's going on.. we do it to everybody pick a target.. who wrote sucks out there .. he say it.. f*ing sh1t a brick..
Alex laughs – that was me..
JAson – he said if I find out what mother f*er did that they better have their family with them..
Alex is laughing at Kevin, "look at him he's shitting a brick right now" (Josh and Paul called Matt and raven to the hammock to talk)
Jason – Alex, I don't' like it
Alex – Jason, there's a time and a place this mother f*er is about to lay an egg
(Kevin wrote Mission hill somewhere and Alex went over it and wrote sucks)
As jason explains to her how pissed Kevin is Alex laughs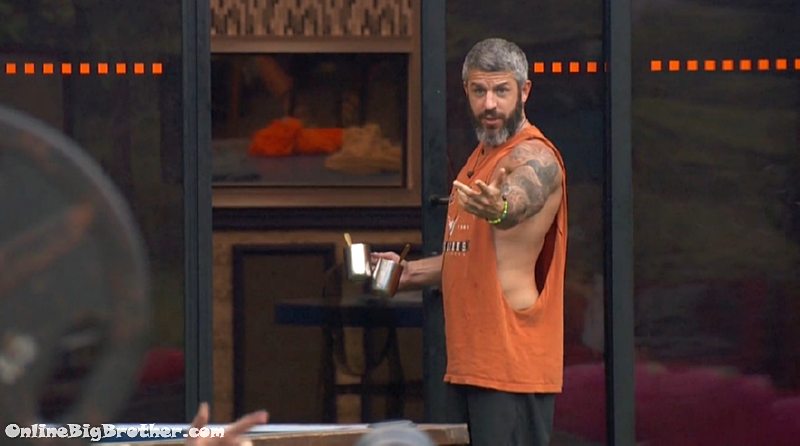 6:43pm Raven, Paul and Josh are in the hammock talking about Kevin. When B2men leaves he walks by Kevin. kevin asks him what he's saying to them.
Kevin – trust me don't come into my face.. I'm not one of these young kids.. I didn't say nothing
b2men – you threatening people again dude…
Kevin – listen I didn't say nothing..
B2men – you threatening people again dude.. get the f* outta here dude.. get the f* outta here..
b2men – you want to me to get a glass for you.. so you can threaten me with it
kevin – I didn't threaten you, don't make stuff up about me
b2men – you threaten me.. don't raise your voice to me
Kevin – Don't make stuff up about me .. i never said nothing to you ..
Kevin – I've been out here all day never said a word to him, asked him if his brother is graduating..
Kevin – I didn't threaten him.. he said I said things about him..
B2men and raven leave..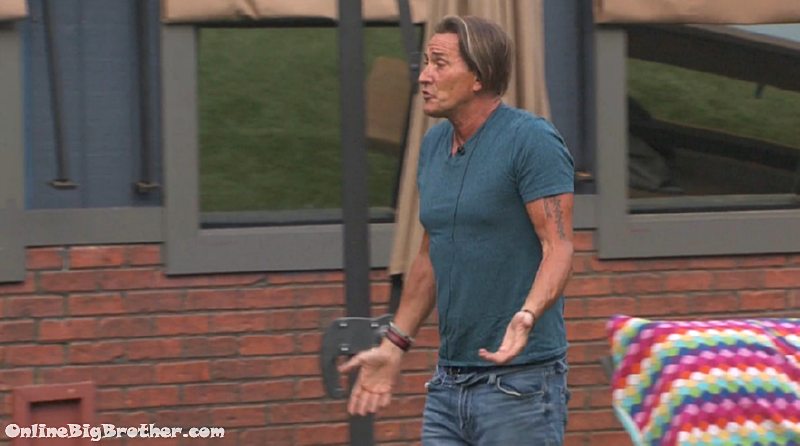 kevin tells Josh and Paul "I told him to stop talking about me.. jason asked me if I talked to him in the Paul.. "
Kevin says he told MAtt that Jason is saying Matt claims that Kevin "said something" to him. When Kevin confronted Matt matt said "It's f*ing big brother"
kevin – I said don't swear at me.. I never threatened him..
7:00pm Feeds are cut..
7:35pm feeds still down..
8:00pm Feeds still down
8:30pm Feeds still down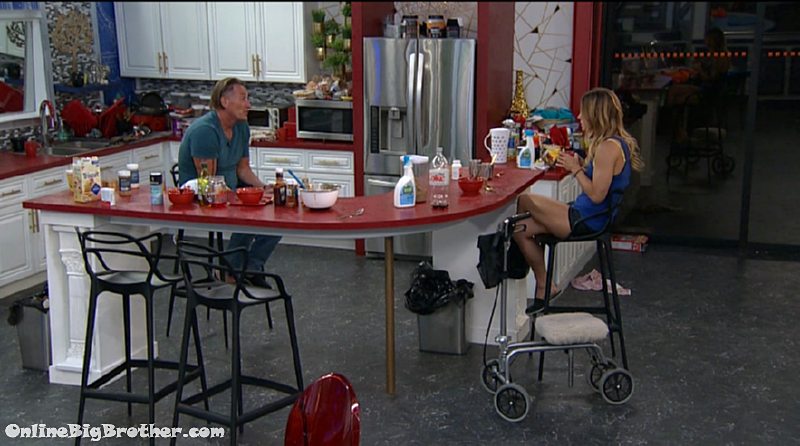 8:33pm Feeds back
Xmas – Kevin i'm only going to say this once and I want to you read between the lines.. you're not alone
Kevin – can you ask them to not yell at me anymore..
Xmas – I won't touch any of your sh1t
Kevin knows it's Raven or Alex messing with stuff.
Xmas doesn't think raven would do that.
Kevin thinks Alex threw out the slop to get him mad at Raven.
Kervin says Alex is a bully he's not scared of her.. he got sucked into an argument.
(sounds like he got in a fight with Matt and Alex. CBS blocked the feeds of Matt and Alex attacking/fighting Kevin)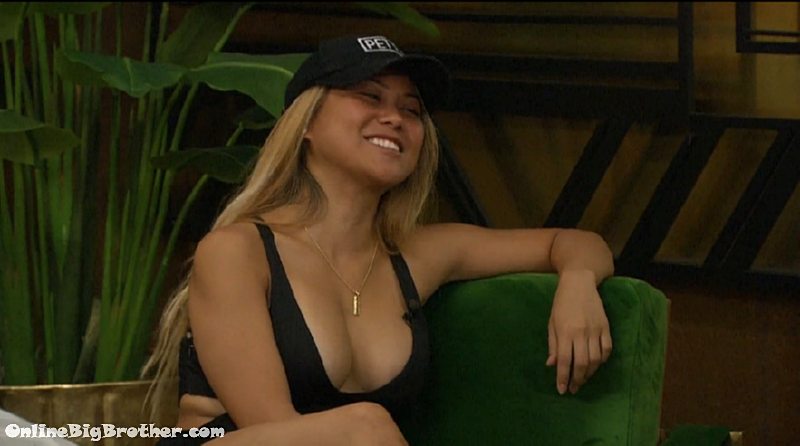 8:38pm HOH Alex, Josh and Jason
Talking about Kevin probably talking sh1t about Alex to jessica and the other side when they were here.
Alex – I can't wait until next week when he tries to get back with us
Alex – for christ sake Kevin can you stop with the shuffle
Josh – there's been intense things said this season
Alex – no
Alex – he tried to push my buttons and I let him know..
They wonder if the feeds were recorded during the fight they just had.
JOsh – I'm going to send Kevin clips of him talking sh1t of me..
Alex – if we get in a fight again.. you'll have to say something..
Josh – Matt got heated man
Jason – f* matt
Alex – I don't care what he said that's good TV
Josh – do you think people are liking our season or hating it
Alex – no idea
Jason – It's getting pretty petty
Josh – it's getting intense ..
they think next season everyone will get a Petty hat..
Alex – kevin's head looked like it was going to bust off..
Josh – who would have thought cool kev..
Jason wanted to take MAtt out and punch his teeth in, Jason knew that was what Matt was trying to do.
(so they finally did it they got Kevin to crack)
If you plan on buying anything from Amazon. Use this link Amazon home
Doesn't cost you anything and we get a small cut.
Links to the ranking system
Rank your house guests here
For those of you that like Statistics here are some expanded reports.