2:14pm Alex, Paul and Xmas
Alex says that Meghan was telling them that Raven And Paul knew each other before the season started. Apparently Meghan read it in reddit.
Paul says he doesn't know Raven, how does he know a girl from Arkansas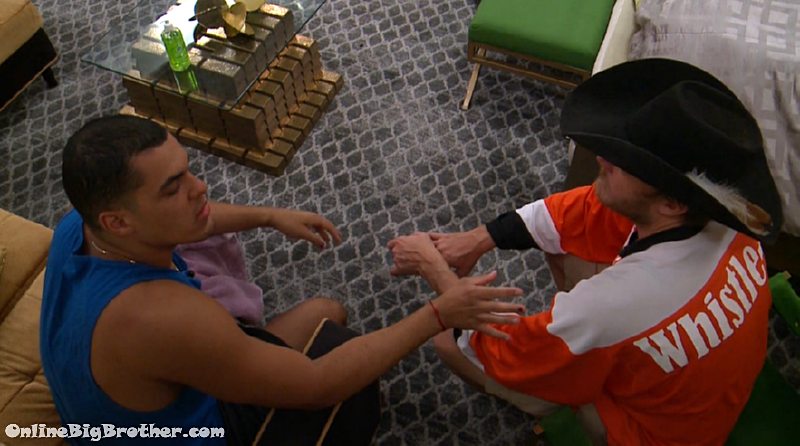 2:20pm HOH Josh and Jason
Jason – I like Kevin.. It's his time to go
Josh – I love Kevin..
JAson – you think I should have put him on the block
Josh – Yes
Jason – would he have gone home
Josh – no
Josh – he's lying to everybody.. Talking sh1t to everybody.. He's walking around trying to turn us against each other
Josh – if Kevin goes to final 2 he is winning against everybody
JOsh is claiming that he was the only person to stick up for Kevin but once he saw how Kevin was acting "I checked out"
Josh – he's trying to turn Tiger against Paul and Paul against Tiger.. Why.. so you can step back (Kevin)
Jason – exactly
Jason – for 2 weeks I've been trying to get Kevin to win something do something..
Josh – he wants to play Derrick's game.. He knows he's loved .. he's got a big family he hasn't pissed anyone off.. He got close to Jessica before she left, he got close to Cody, he got close to Elena/mark..
Josh – he's been playing it safe, that's not my style
Josh – I'm not going to isolate Kevin.. That action he did towards me really upset me.. I bawled
Josh – is scared the living shit outta me it really did
Feeds cut..
Jason – him and Matt were talking downstairs like crazy
Josh – he's shitting on you, he's shitting on Xmas, Paul, he's shitting on tiger.. He's securing those jury votes..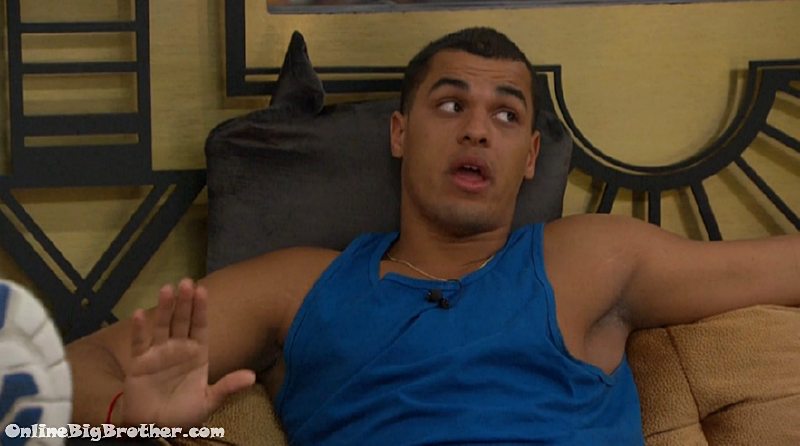 Josh – I specifically placed targets on people because I didn't want my people touched..
Josh says he blew up on Elena to make sure Elena didn't turn the house against her
Jason – everybody is saying Kevin's got to go .. everybody
Josh – there's no way we can turn that around.. It's been 3 weeks of Kevin f*ing it up
Josh – not only has his game turned to shit his personality got really biter
Josh – we love you Kevin you should respect that you made it to day 77.. Literally everyone carried you here.. Protected you
Josh – he has to go .. if Kevin had never turned on us or got in this attitude Kevin was untouchable to me.. Since Kevin started talking bad about me and it was coming back to me.. I'm not stupid
Josh – we can't let him win HOH or it'll be me and Tiger
Jason – he won't win HOH
Josh – next week I'm going to air all his stuff.. It's not going to be aggressive it won't be a fight (somehow I don't see this ending well)
Josh – he knows if he makes to final 2 he wins it..
Jason says he feels bad for not putting Kevin up now.
Josh defends Xmas for flipping out on Kevin for asking her if she's swimming. Josh explains that her foot really upset her because she's a competitor.
Josh – he's that kid in school that literally would take advantage of everybody
Josh – I'm onto it
Josh – he's a taker not a giver..
Jason – he thinks it's funny he gave me a pair a socks with a hole in it
Josh – what has he done for the team
JAson – animosity
Josh – no he ruined the team
Jason – that's what animosity means
Josh – he's turning us on each other ..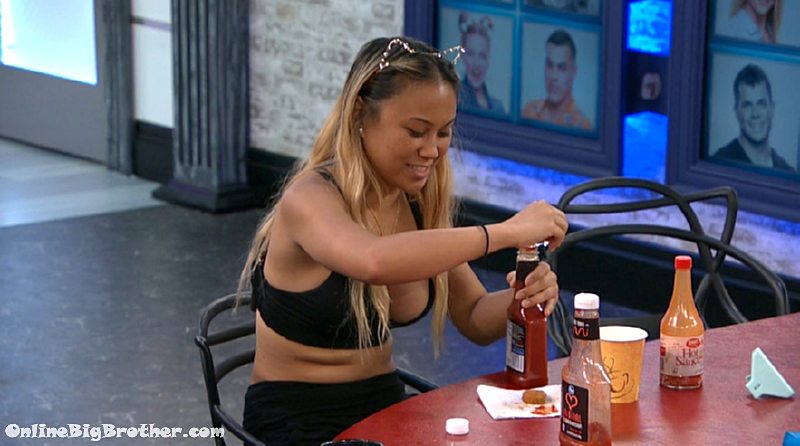 2:37pm Alex and Xmas
Kevin asks Alex where Jason is. She tells him she doesn't know. He leaves..
Alex laughs "he hates me.. Don't f* with me"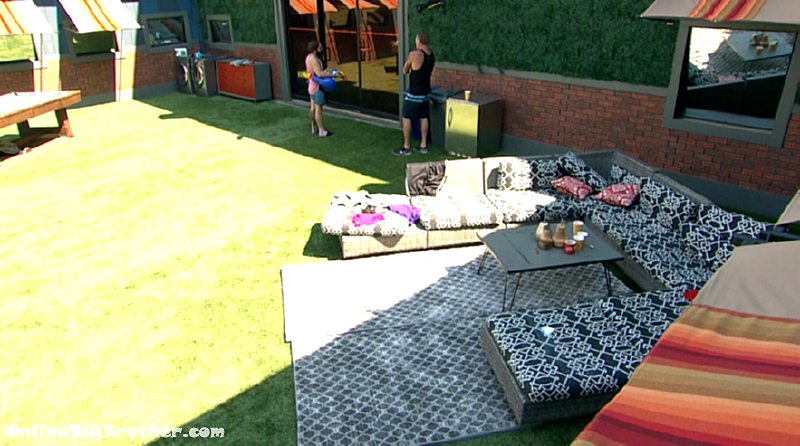 2:45pm Paul and Kevin
Kevin tells Paul he's got no chance to win against Jason and Alex.
Paul – you're speaking to the choir..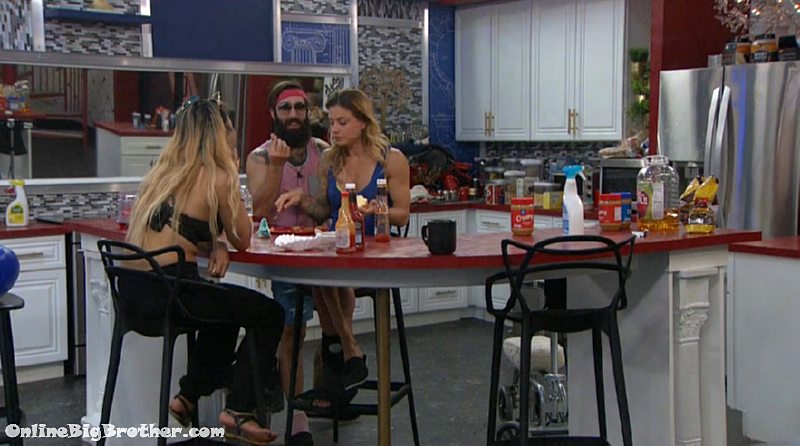 2:47pm Alex, Xmas and Paul
Talking about Kevin of course.. Saying how he's trying to secure jury votes.
Paul tells them that Kevin is now telling him that he won't win against Jason aor Alex.
Paul brings up kevin telling him that in the beginning Alex told him that she reminded him or her boyfriend if he was younger. Kevin wants paul to know why Alex doesn't like him any more
Paul – maybe it's because you're not younger
Paul – pissed
They laugh
Alex – I said his skin looked leathery
Alex laughs
Alex – and he's going to get cancer.. He was not happy
Alex and Paul laugh
Kevin comes in
Alex – you put on sunscreen.. It's hot out there..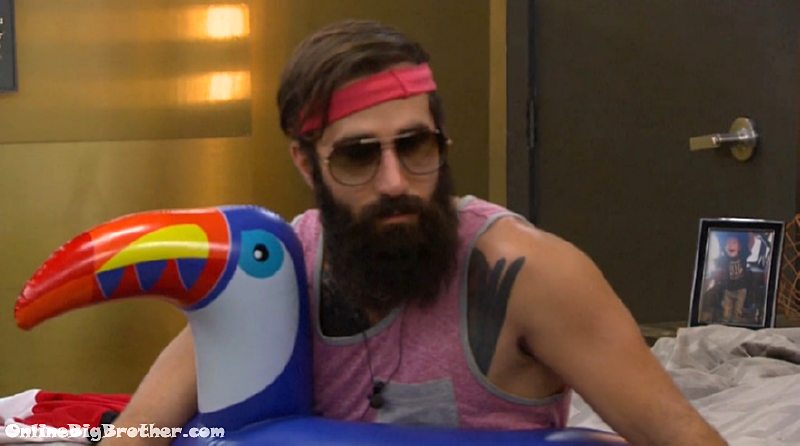 2:50pm Paul, Josh and Jason
Paul- he's trying to secure Jury votes.. He told Matt he's got the 25K
Josh – he's securing his game
Josh – he's a genius.. He's litteraly in the DR shiotting on all of us
Paul – he's trying to win the game and he thinks you are going to take him (jason )
Paul says Kevin told them outside that Paul will never beat Jason and Alex.
Josh – call him out
Paul – it's not the time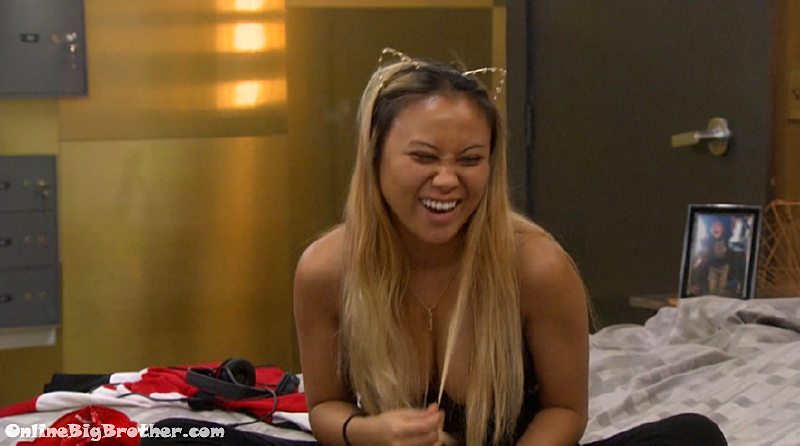 2:57pm Xmas, Alex, Paul, Josh and Jason
Shitting on Kevin..
Paul leaves tells them tells them to lock the door so Kevin can't come in then if they see him come up then open the door. Paul will be downstairs in the kitchen telling him to go upstairs.
Xmas brings up Kevin's leathery skin and getting skin cancer and how Alex called him out on it, "She's like it's already starting"
Alex laughing..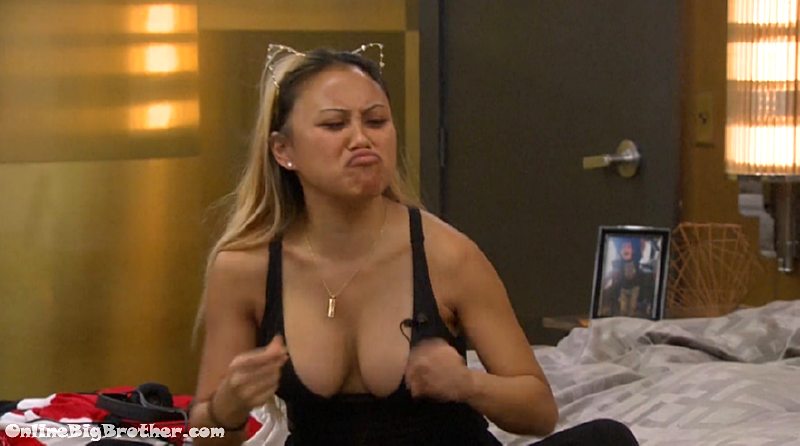 They laugh at Kevin's "Blue steel" look in the mirror. .
Alex – why does he do that.. Why (yeah it's goofy for sure)
Xmas says the jury hasn't seen Kevin unravel like they have
Jason – Raven will tell them .. (not this week)
Alex thinks Raven is going to freak out after Matt leaves..
Xmas thinks Matt has been holding Raven back
They start talking about Raven egging Jessica on.
Alex impersonates Kevin's "Blue Steel" #BB19 @DawgsBigBrother pic.twitter.com/B9kK0bI2yP

— OnlineBigBrother.com (@bigbspoilers) August 29, 2017
3:04pm Alex brings up telling Kevin he reminds alex of her grandfather that passed away from skin cancer.
Jason – I can't do it..
Alex – say she's worried about you..
Alex says that Kevin told them to put up Xmas and Josh because they haven't done anything
Xmas – ummm I've done more than you kevin . (you made a BIG MOVE)
Xmas leaves says she's going to do some damage control on Raven and matt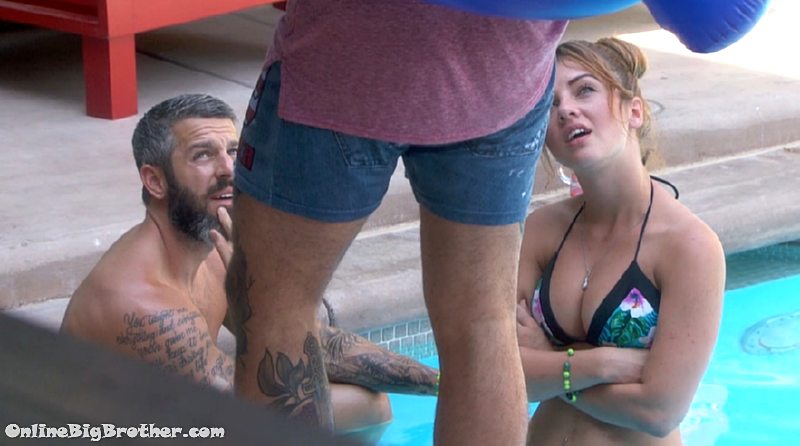 3:07pm Paul, Raven and Matt (alex = potatoe)
Paul says everyone is upstairs scheming against Kevin. Paul says he's convinced potatoehead to throw the HOH to Josh or xmas.
JOsh and xmas are selling to them (alex and jason) that they will take a shot at you (Raven) and Kevin because potatoe doesn't want to get that blood on her hands
Paul – if she takes that shot at you (raven) than you two aren't going to vote for her in the end
Paul – Raven i'm telling you right now this is real.. Josh and xmas are not f*ing stupid they know we don't stand a chance against alex and Jason
Paul – potatoe will not throw it to you (Raven) so you need to get out and once Kevin is out she's throwing it.
Paul – even JOsh and Xmas are saying we can clip Kevin at five because at that point it's f*ing easy as sh1t
Paul – it needs to be Jason, Alex and then Kevin do you agree
Raven – I agree..
Paul says it's hilarious how Potatoe head and Jason are shitting their pants about kevin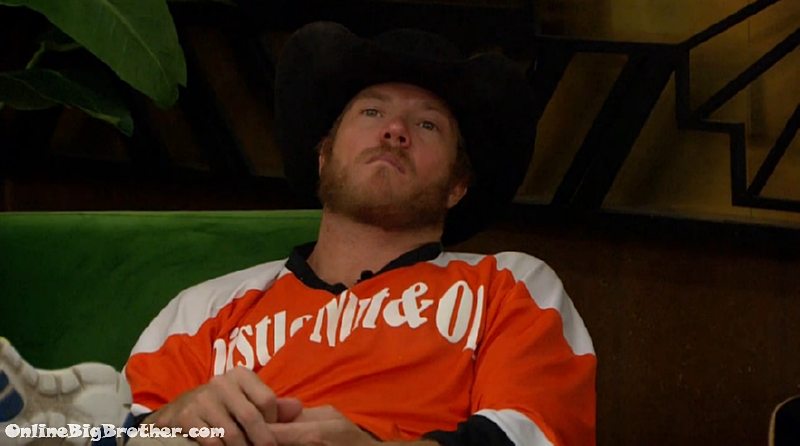 3:15pm Jason, JOsh and Alex
Alex says the plan was to put Kevin on the block if Kevin "wigged out' they would have taken him out but Matt was always the target.
Jason says he would rather send raven out over Matt.
they start talking about Matt not really liking Raven.
Josh – he's ready to go..
Josh wants to play pool and work out tonight
Alex – I hate Kevin
Alex brings up that Raven was saying her looking up was because of her "medical thing"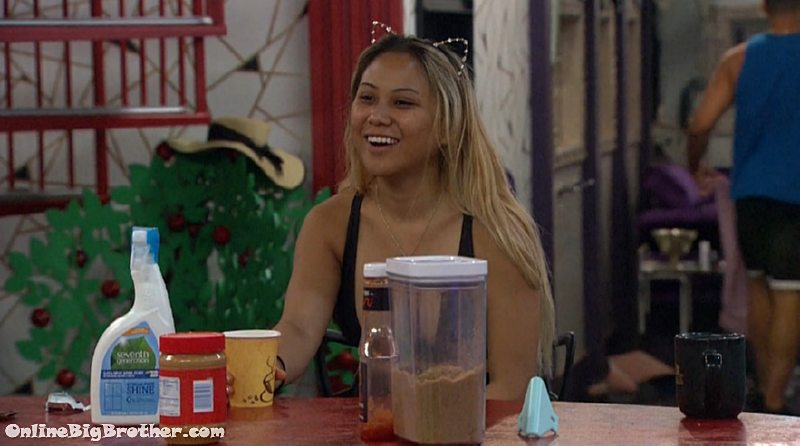 3:24pm Alex and Paul
Alex – next time he asks you why I hate him so much.. ask him
Alex – be like I don't think she does, she says you remind her of her grandfather that died at your age and she's worried about you
Alex – what's she really telling you.. not to mess around with questions.. tell him that her grandfather had alzheimer's and is worried about you
Alex laughs
Alex – he's forgetting things and then like if he says something about putting on sunscreen be like Kevin that sounds like she actually genuinely cares about you and then Flip it all on his head..
Alex – You're about the same age (as her fake dead grandfather).. and all the question she thins you can't keep yo mind straight
Alex – he'll lose his sh1t dude, do it..
Alex – If he says anything about the clothes or the questions.. say she thinks you have dementia..
Alex laughs
Alex – she wants to help you
Alex – if he wants to play ball we'll play ball
Paul is surprised that Kevin isn't talking to them about taking him out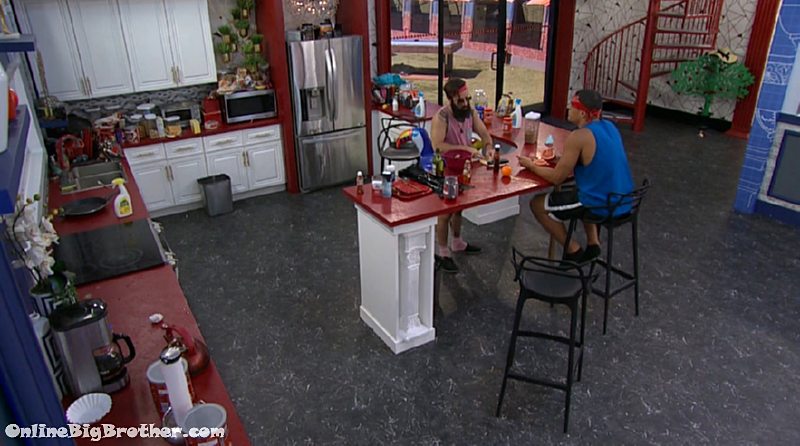 3:33pm Josh and Paul
Josh says everything is going as planned up in the HOH room.
Paul tells him to keep working on it
Josh – you think the blow up on Kevin was too much
Paul – no, perfect..
Josh – you're so happy you're here d1ck face..
Paul instructs him to keep on it trying to get Alex to throw the HOH to Xmas or Josh telling her they will take the shot on Kevin. But really take the shot at jason.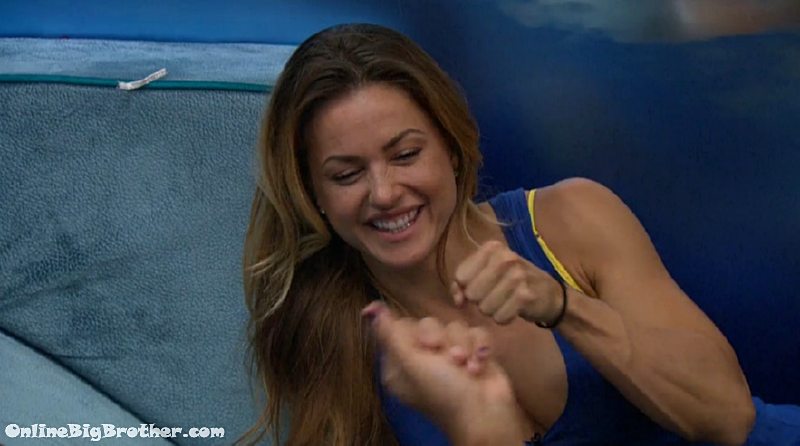 4:05pm Xmas and Josh
They make plans to take out Jason.
Xmas doesn't think Alex will be that mad because they are getting rid of a giant competitor.
Josh says he'll tell them the plan is to backdoor Kevin he'll put up Jason and Alex.
Xmas adds that if they take Alex out Jason will come after them with a vengeance.
Xmas – jason thinks I'm a lump on a log
Josh – they think I'm a dummy
Xmas says Alex thinks she can control Josh she told her. "What a cocky b1tch"
Xmas says jason and Alex have gotten really cocky
Donations help keep the lights on. If you would like to support the site please consider donating.
Links to the ranking system
Rank your house guests here
For those of you that like Statistics here are some expanded reports.