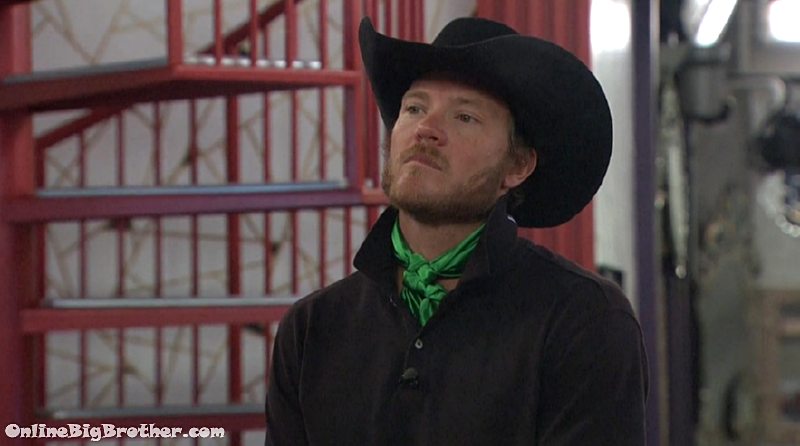 12:10pm Raven, Jason, Matt and kevin
Jason – it's what the game dictates Raven.
Raven yelling at him "at least be honest don't pull the wool over everyone's eyes"
Raven – don't talk about Kevin then agree with everyone.. When Kevin goes in that room.. Just be honest..you know I want you out so we could have spent more time together. And not worry about my leg..
Jason – I never said anything to anyone..
Raven – yes you did
Matt – are you serious.. Your veto speech..
Raven – why did you hug me during the nomination speech whispers in my ear I'm going to pull one of you down.. Don't tell me that.. That's cheating..
Jason – honestly I don't remember saying that
Raven – you did
Raven – every week we've been having a house agenda.. Guys it's nothing personal we're going to do what we say we're going to do
Raven – and you agree to everything
Raven – you've been agreeing this whole.. This whole week.. Just be honest..
Matt – you're a b1tch you're a b1tch, you're a b1tch that's fine.. That's fine.. Everyone saw it .. you are a b1tch you hide in the storage room once again like a b1tch.
Matt – you're true colors are showing..National TV saw it You've been talking sh1t about Kevin all week..
Raven – all week… don't deny.. Don't deny that you whispered in my ear you're going to pull one of us down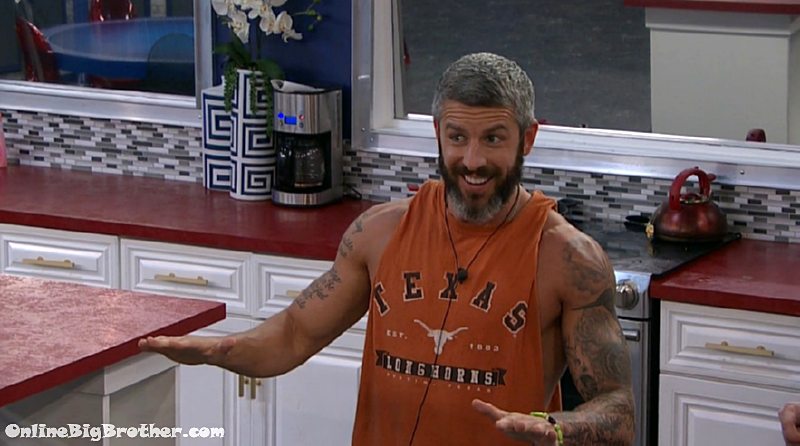 Matt – I can't believe that you have the balls to go into the storage room and hide wit Alex for for 15 mins
Matt – what are yo Mark
Jason – it took her by surprise too
Matt – I would never expect a cowboy like you to be a pu$$y like that …
Jason – I wasn't hiding
Matt – yes you were dude.. little bit1ch dude..
Matt – do you want me to call yo a f*ing lying b1tch on national television dude.. Little b1tch dude..
Matt – that's how you're made dude.. You were hiding from a 105 lb girl it's embarrassing.. you're a little punk b1tch
Jason – I had to take the box back..
Jason – she came in there..
Matt – i'm ready to go home.. You hide in the storage room.. That's punk sh1t… That's mark and cody b1tch sh1t/…
Matt – you're a little punk..
Jason – the greatest insult anyone can get is when you have something someone else wants.. And they don't have the respect to be cordial then, when did either one of you ever come to me and ask me what the plan was..
Raven – are you kidding me
12:16pm Jason, Raven and Matt
Raven asks him why would she want to ask him the plan when he whispered in her ear that Jason's going to pull one of them down.
Jason – I don't remember saying that
Matt flips out..
Matt- OH MY GOD YOU'RE SUCH A B1tch PUNK… .. .OH MY GOD you're embarrassing yourself at least be a man dude.. (can get b2men tattooed on your arm)
Matt – strap on your balls uncross your legs and be a man
Jason – I really don't remember saying that..
Jason says the house agenda was to get Matt out.
Jason – no my agenda..
Matt – did you not tell her you were going to pull one of us off.. It's s simple yes or no.. don't tell me you don't remember.
Matt – Don't be a b1tch dude…
Jason – NO i didn't say that
Jason – it's easy for you to say I said that just like it's easy for me to say I didn't say that
Jason – no one is going to know
Matt going on about Jason hiding in storage.. Now it's 20 minutes.. Matt goes back to calling him a little b1tch..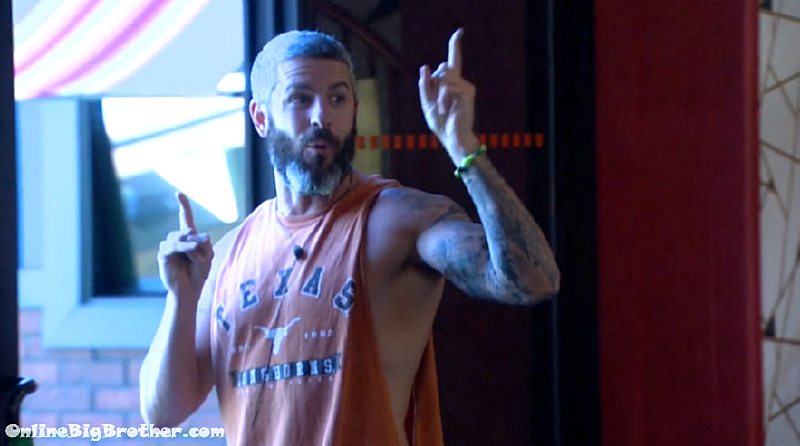 Matt – I can't wait until your wife sees that.. hiding in the storage room for 20 minutes Pu$$y
Josh – don't make it personal..
Matt – yes or no were you in there for 20 minutes
Jason – yes
Jason – there was 5 people in there.. I didn't have a chance to come out
Matt – now you're being a even bigger pu$$y
Matt goes on about Jason not being a man not having balls.. Hidding.. Etc..etc.
Josh is getting in between them.. Trying to cool things down. Matt and Raven are freaking out. Jason is calm and cool.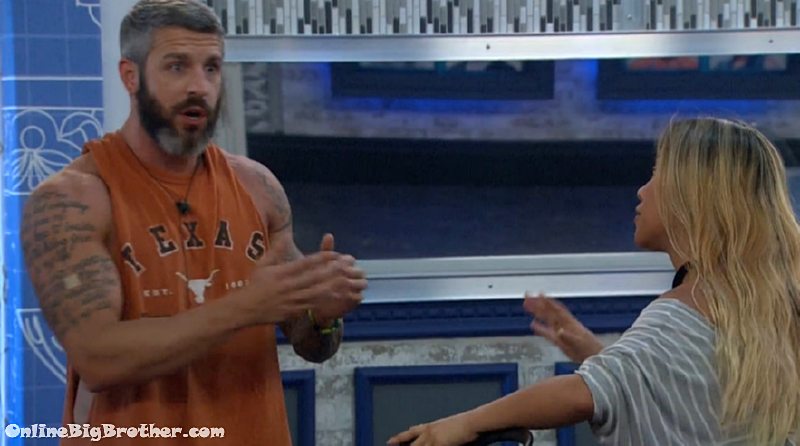 Alex comes back says Jason wasn't hiding she pulled him in there she wasn't happy with his decision either. She was arguing with Jason because she didn't agree with his decision.
Matt – I don't care…
Matt says Cody had a set of tescitcles, Jason does not.
Jason explains the 20 minutes was for people to put their thoughts together.
Raven – you made a speech and said it was the house agenda you didn't say my agenda..
Jason – on what planet do you guys think that the people I spend my time with will be the people I exposee.
Jason – why do you think you're less expandable than Kevin or Josh
Raven – you threw kevin under the bus that's shitty
Raven – I would never throw him under the bus even if I go home..
Jason – guess what they are still here…
Matt complainingk about throwing the safety competition so they could get Cody out and volunteering to be on the block for the group..
Alex leaves.. "I still hate Kevin"
Matt says JAson's core values are Lie and Hide..
Alex – that's not what we were doing.. Kevin is still my target in this game..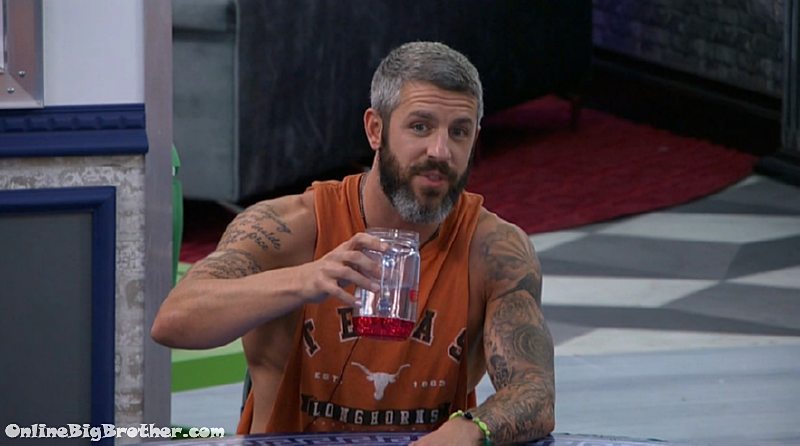 12:36pm Matt brags that he's going to eat and take the penalty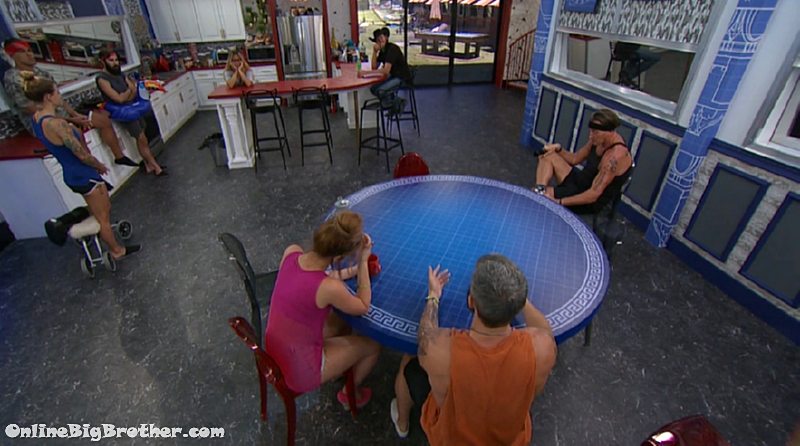 12:38pm Matt going on and on about jason being a b1tch, pu44y, boballs etc..
Matt – man you're such a punk dude
Jason tells him he's not going to get in an argument with MAtt not matter how hard Matt trues. It's not going to work on him.
12:42pm Raven – on my pacemaker that I need to live.. I didn't vote matt out.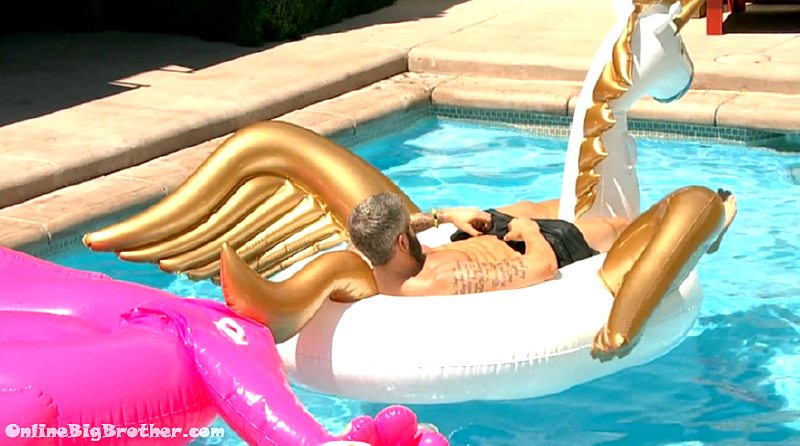 Matt alone..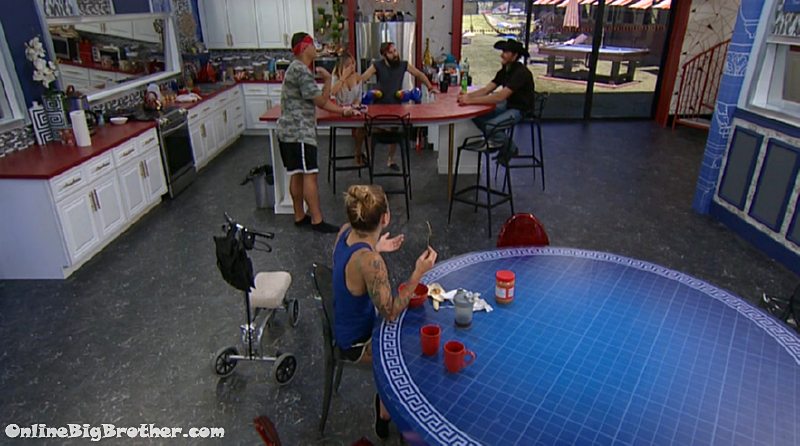 12:57pm Kitchen After the dust settles Raven called into the Dairy room Matt hides on the unicorn floaty. The rest of them in the kitchen.
Jason – I thought I would be better at the attack..
They say he was very composed.
They all agree Matt was trying to get Jason to lose it
Jason – I botched every question..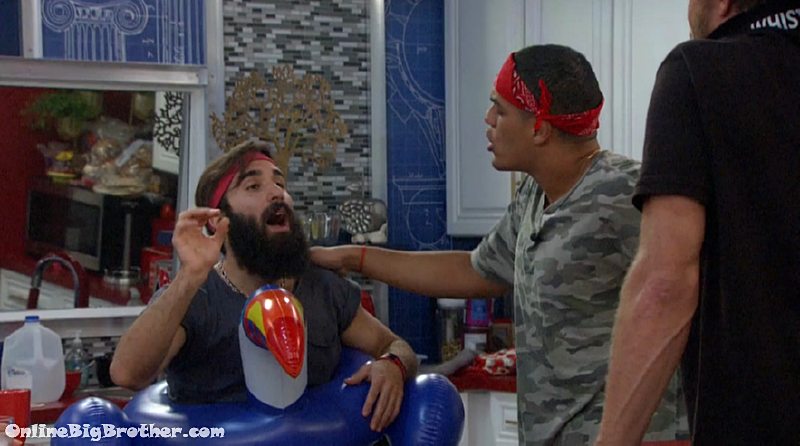 1:17pm Paul, Alex, Josh and Jason
Paul is saying they should let Josh or Xmas get the HOH.
Paul tells them to all the blame oni Kevin he's shady as sh1t.
Josh says Kevin is a 45 year old coward. Paul and Josh say that Kevin is ridiculing all of them behind their backs..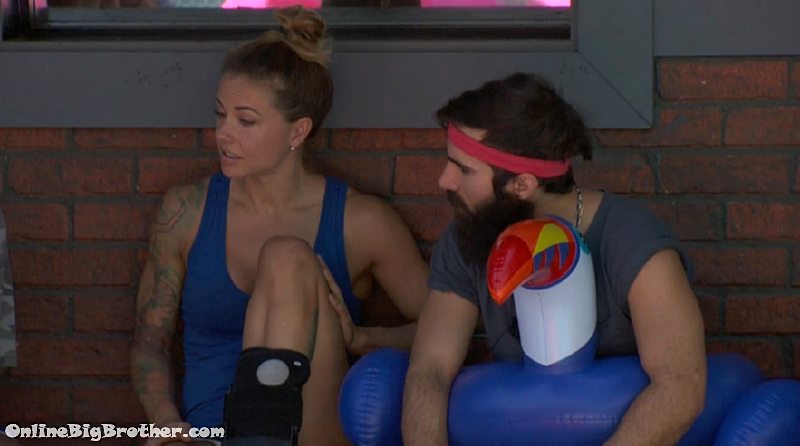 1:35pm Alex, JOsh, Xmas, Raven and Paul.
Xmas and Paul egging Josh on to go up to the HOH and get under Kevin's skin.
Donations help keep the lights on. If you would like to support the site please consider donating.
Links to the ranking system
Rank your house guests here
For those of you that like Statistics here are some expanded reports.