POV Holder:
Tim
Next POV
May 7th
POV Used
Yes
POV Ceremony
May 1st
HOH Winner:
Kelsey
Next HOH:
May 9th
Original Nominations:
Cassandra and Tim
Current Nominations:
Joel and Cassandra
Last Evicted Houseguest
Paige, Sharry, Christine, Kelsey, Loveita, Dallas, Mitch, Raul, Maddy, Jared, Nikki
Have Nots
No more havenots
Watch the Big Brother Canada 4 Live Feeds anywhere in the world with HideMyAss VPN.
ALLIANCES IN THE HOUSE
There will likely be a lot of alliances during the season – keep track, read our alliance help guide.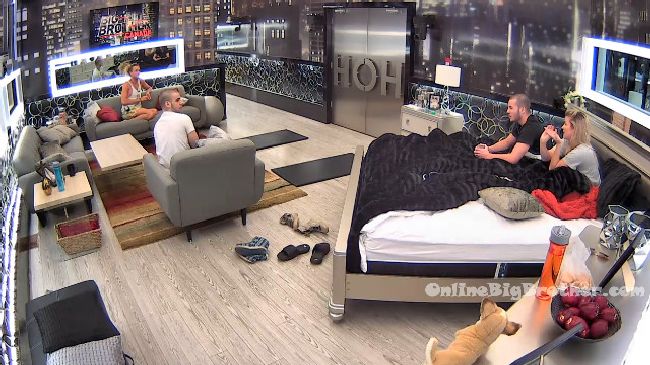 11am HOH room – Tim is talking to Phil and Kelsey about keeping or getting rid of Cass. Tim says that if Joel makes it to the end he will win the show. I'm not thinking strategic from here on out. I have a weird thing with Joel now where next week I either take him out or I take him to the end and beat him. And make sure people know what he did. Tim asks so the only worry is will Cass and I help each other to get to the end. Kelsey says We're going off a liars word right now but Joel is also a liar. Nick says I would have a very hard time if Cass got us out. Tim says then lets get her out then. So the only problem is if she won the veto and didn't send me home or if I won the veto and didn't send her home. I am telling you that I would send her home. Tim says I am not going to play my way the whole game and then switch to playing her way of being deceitful. The ends don't justify the means to me. Its not at all costs. Cass has always been if I'm no use to her she would get rid of me. When I won the veto she was like you're dead to me. Nick says that's what I'm worried about her doing next week. Tim says I think she is repairing bridges. Kelsey says so you're saying if Cass stays you will go against her next week. Tim says yes I will vote her out over you two. Kelsey asks and if Joel stays you'll work with him? Tim says I don't know. Nick says my first thought was get Cass out. Tim says I would feel more comfortable getting Cass out next week and who ever wins the veto would do it. Kelsey asks why do you feel less comfortable with Joel? Tim says because there's more unknowns. I'm still getting over what he did this week. Tim, The Brothers and Kelsey all agree to hear out Joel before they make their final Decision on who goes.
Tim, Kelsey and the Brothers agree on a final 3 deal. They all put their hands in a circle and throw throw their hands up in the air. Tim says the treaty of the final three. Kelsey says 1, 2, 3 threesome!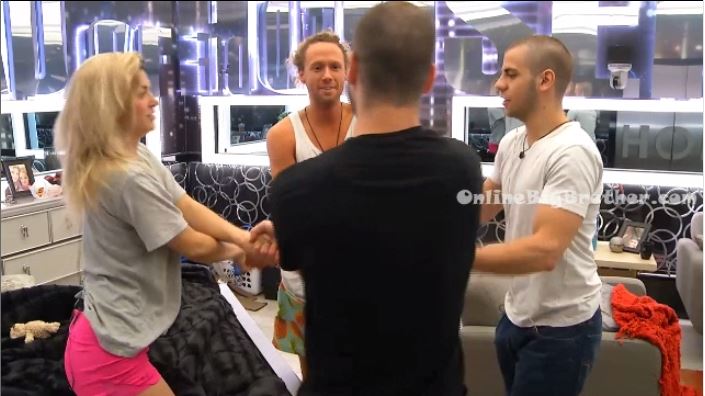 FINAL 3 DEAL – "Treaty of the Final 3"
Tim, Kelsey & The Brothers@bigbspoilers #bbcan4 https://t.co/RlJcbe4JUf pic.twitter.com/BCFjviV9KE

— Dawg (@DawgsBigBrother) May 4, 2016
12:30pm – 12:55pm In the bedroom –
Joel talks to Cass about how he has to campaign. He says its 50/50 at the moment and how he wouldn't feel right about not trying. He wonders what they will be voting on .. integrity or who has more jury votes. Which ever one of us makes it .. It will be all on me to win my way to the end of the game. Cass says same as me. Right now I am completely alone in this game. Joel says I am too. Joel says I don't know what other campaign I could have. I definitely can't go to anyone privately any more. Twistos Twist would be great about now. There hasn't been a twist in awhile. Cass asks would you vote me out over the brothers? Joel says if there was a twist tomorrow I would go back to the freak show.
1:20pm Tim, Cass, Kelsey and the brothers have lunch. Joel is in the diary room.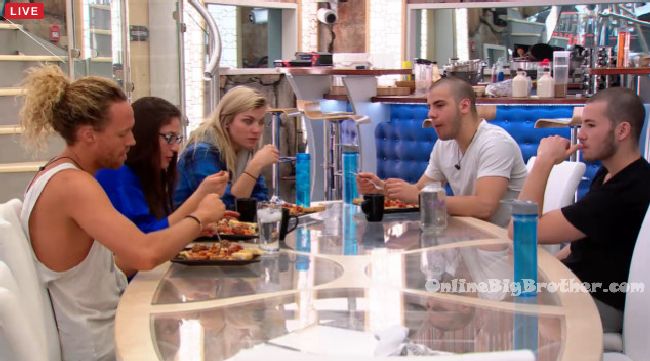 2:25pm – 3pm HOH room – Kelsey comments on how they should talk to Joel. She tells Tim to go get him. Tim says he doesn't want to. Cass says she'll go get him. She heads out and Joel goes into the diary room. In the bathroom – Cass tells Tim to help her in the conversation. Tim says he will.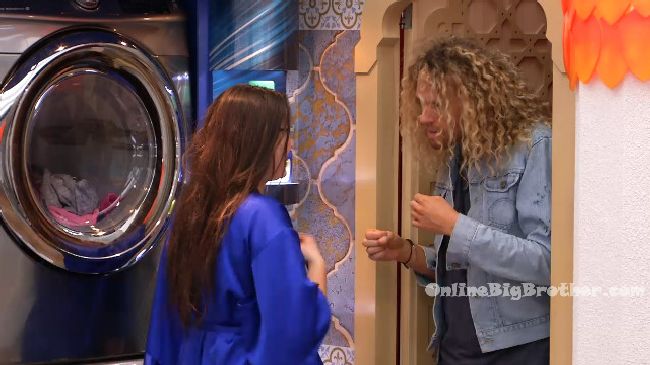 3:20pm – 3:30pm Joel comes up to the HOH room to talk. They tell him that their minds aren't made up yet. Nick tells Joel that Cass came clean about everything she lied about and now its your opportunity to own up to what you've done. Kelsey says that Cass has given them reasons why they should keep her. Joel says he needs a few more hours to figure out what he's going to say. Phil says I think honestly is the best policy in either of your campaigns. Nick says and that you stick to it. Phil tells Joel to not act defeated. Joel says he's not .. its been hard to process what's happened the last few days.
3:40pm – 4:50pm Tim, Kelsey and the brothers do a clothing swap. Joel didn't want to be a part of it because he only had a limited amount of clothes. (He gave up his clothing in the veto comp)
5:50pm Joel is still practicing his campaign speech. He says he doesn't want to forget anything.