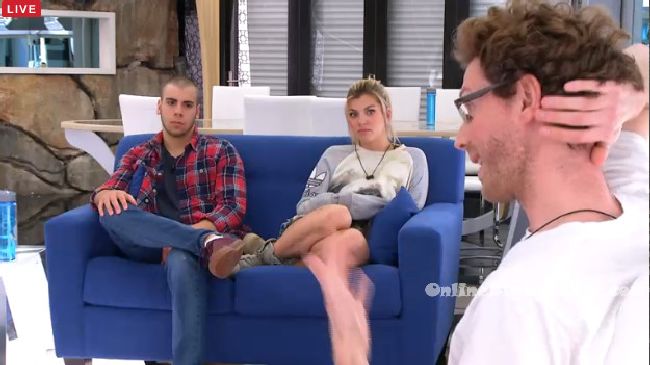 6:25pm – 7:10pm
Joel tells everyone he is ready for the meeting. Joel says obviously my back is up against the wall. I am going to give you reasons why you should keep me over Cassandra. I am going to touch on as many points as possible and I have a lot of points to get through. Yesterday my game was exposed. I don't have anything else to hide from here on out. I understand everyone feels deceived. Its fair to say at one point everyone has felt deceived throughout the game. From a personal stand point .. you probably want someone who doesn't cause as much drama in the house. A bunch of game related factors that might come into play .. one of them is trust. Yes my stuff has boiled to the surface now but Cass has been given a number of opportunities to come clean. Does Cass deserve a second, third, or fourth chance. Kelsey says you just haven't been caught all the times. Nick says lets push through. Joel says in terms of competitions .. I think its fair to say Cass and I have preformed equally. So that's a white wash. I don't think it is fair that this person will get this vote, this vote or this vote. People might think Joel back stabbed them and not give me the vote. If you think you want someone around that played a good game, I think you would keep me. Someone who really played a good game deserves to go further. If Cass is a goat that won't get the jury votes people might think to take her which takes up someone else's spot. I think Cass and I are not huge competition threats but it might be harder to get Cass out in a final 4 situation. I know a lot of people were very very hurt and I apologize for that. Nick asks what Joel's plan is going forward in the game. Joel says I am alone in the game. I would like to be with yourself and Phil. Kelsey asks what about Tim and I? Joel asks and I have the veto? Joel says I would probably take out Kelsey. I feel like you and I .. I have burned more bridges with you. I would want to rebuild that but I think its too late for that. Kelsey says and because the brothers and I are working together so you would want to get me out. I'm your target next week? Joel says if I win the veto, then yes. The conversation turns to Tim asking Joel what he would have done in the last 2 vetos had he won them. Joel admits that he wanted to get the brothers out but now wants to work with them. Kelsey says why would I want to convince these two (brothers) to keep you when you want to get me out.
Sign up for a 6 month subscription and watch the rest of Big Brother Canada 4 AND Big Brother 18 with HideMyAss VPN.
Help Support Online Big Brother
Show your support and appreciation: Support OnlineBigBrother.com
Show your support by giving a TIP! Any amount is greatly appreciated!
[polldaddy poll=9404266]
Share it YO!!
Tweet