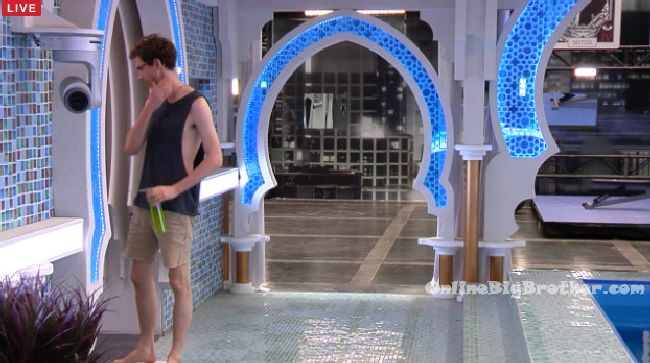 4:20pm – 4:30pm By the pool –
Cass tells Joel not to be upset. Joel says I'm going home. Kelsey wants to keep you. The brothers are probably going to keep you. There is nothing I can say. There are just as many reasons for me to lose as there are for me to win. Cass says you will have the votes. You have Nikki's vote. Joel says you'll stay and I'll go because I'm the f**King moron that can't think of what to say. Joel says I legitimately swear on my dead brother that I don't think I have the votes to annihilate anybody. When Cass leaves Joel tells Big Brother that he wants inside the house to pack his things and leave. Big Brother blocks the feeds.
5:55pm By the pool – Tim says it seems like Joel is only happy when he thinks that he is staying. Cassandra says yeah. Tim says you planted some seeds, a lot of seeds. If you over water when you put the seeds in the ground, they don't grow. Cassandra says I can see Nick's wheels spinning when he watches us together. Tim says well then go! Cass says one of us has to win HOH and one of us has to win veto. If you win both, you keep me off and I vote one of them out. Cass says if I stay this week.. that's insane that we both got out of it. Tim says yeah that's pretty funny.
6pm – 6:15pm Joel didn't self evict Joel talks to Phil in the bedroom and asks him if he knows how he is voting. Phil says he doesn't know. Joel ask how do you not know? Phil says its a long time till Thursday. Phil tells Joel to campaign and then gives him pointers. Pour your heart into Kelsey. Come clean about anything you've done. Put your game face on.
7pm – 7:40pm
Joel asks Nick if he is pissed at him. Nick says its just a game. Joel them campaigns to Nick. Nick says he looks at everything and needs to mull it over at this point. Joel says its unfair to assume someone would have more jury votes over someone else. Everyone has an equal shot at this point. Nick says the jury votes don't even factor in it for me. Joel says look at what I've done in terms of my actions and what I've done. Nick asks if Joel had the veto in final 3 who would he take if it was between Kelsey and them? Joel says he would take them (Brothers). Nick says he feels like he's been burnt by both sides (Joel & Cass).
Sign up for a 6 month subscription and watch the rest of Big Brother Canada 4 AND Big Brother 18 with HideMyAss VPN.
Help Support Online Big Brother
Show your support and appreciation: Support OnlineBigBrother.com
HELP keep the spoilers coming. Show your support by making a donation.
[polldaddy poll=9404266]
Share it YO!!
Tweet