POV Holder:
Tim
Next POV
May 7th
POV Used
Yes
POV Ceremony
May 1st
HOH Winner:
Kelsey
Next HOH:
May 9th
Original Nominations:
Cassandra and Tim
Current Nominations:
Joel and Cassandra
Last Evicted Houseguest
Paige, Sharry, Christine, Kelsey, Loveita, Dallas, Mitch, Raul, Maddy, Jared, Nikki
Have Nots
No more havenots
Watch the Big Brother Canada 4 Live Feeds anywhere in the world with HideMyAss VPN.
ALLIANCES IN THE HOUSE
There will likely be a lot of alliances during the season – keep track, read our alliance help guide.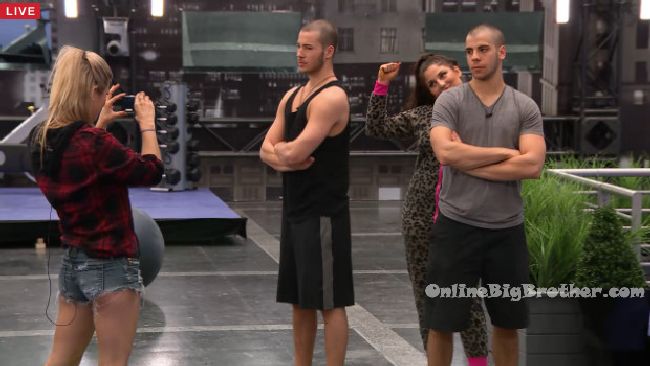 10:45am – 12:40pm Its a quiet day in the big brother house. The house guests have the HOH camera to take photos with around the house. The brothers take a photo of both of them kissing Kelsey's cheeks that "Jealous Jared" would love. Nick picks up Joel in a photo. The brothers then get Cassandra to give them the double backstab. Phil shoves his face in Cassandra's boobs. Big Brother calls Kelsey back to the diary room to return the camera. Tim tells Nick that maybe he when he comes back to Canada he will land in Ontario so that Nick can help get a van ready for him to drive across Canada in. Tim them starts telling the others stories / legends from Australia. Tim asks them what they would buy if they won the 100k that would symbolize winning. Phil says I would get a tattoo of a quote. The house guests continue to chat about random things while they suntan.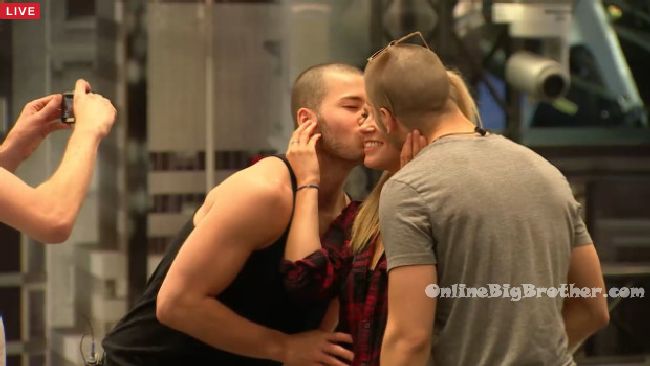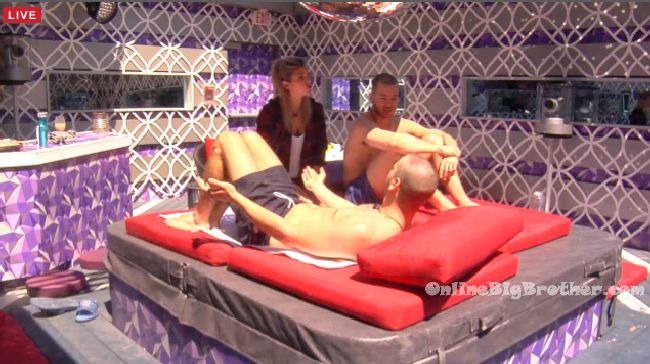 12:50pm Alone in the hot tub room, Kelsey tells the brothers to open their minds a little bit. This entire time its been Joel that's been the snake. Phil says Joel can't win competitions. Nick says if Cass stays we go home. Kelsey says no you won't. Joel has been the one the entire time. Kelsey says if Joel wins the final veto he will take you or Tim. Nick says if we're here we're bring you. Phil says we won't hold it against you but it will suck. Nick says I think you've been manipulated and you don't even know it. Kelsey says I have never looked at Cass and said I'm keeping you. Joel standing at the end with you he will probably win. Phil says I told my brother I am not talking game till I leave this house. I believe what I believe. Kelsey says Cass cannot win a competition to save her life. Joel is the underdog that people would want to see win. Phil says she lied to my face! Kelsey says HE (Joel) LIED TO YOU THIS ENTIRE GAME!! Phil says if you want to do it you can do it.


Kelsey talks to Cass alone in the hot tub. Cass tells her that if I stay you will not go home next week but if Joel stays you might go home. Tim will work with Joel if he stays. He has always been his favourite to win. If you keep me safe I will vote out Tim over you. Kelsey asks will you vote Tim out over the brothers? Cass says next week if you want me to vote out Tim over the brothers I will. I will even say that in front of Tim because I need to look out for my own game. He used the veto to save himself and I need to do the same. Cass says I am at rock bottom and I know I am going home. Cass says Joels been playing everyone in this entire house. Kelsey says if I was in jury I wouldn't vote for him but there are a lot of people that will. Cass says if I am up next to Tim at the end he will beat me. If you keep Joel he will get rid of you because he wants to be in the final 3 with Tim and the brothers. Phil joins them. Cass says she knows she is going home and how she shouldn't have used the veto on Tim. Phil asks so you're saying you're not going to work with Tim any more. Cass says I need to look out for myself. Kelsey says Joel has lied the entire game, he's just done it better than Cass. Cass says if you save me this week and I win the veto next week I will owe you. If you and Tim are on the block I will save you because I need to do one thing that is true in this game. Tim will cut me in a second. Phil says Tim and Cass could be fake arguing. Cass says Tim thinks everyone is taking him. Phil says if you or TIm win veto next week, we are going home. Tim joins them. Phil asks if Tim and I are on the block will you vote him (Tim) out over me? Cass says yes, we're not together any more. Phil says I am voting to evict you. I can't vote to keep you. Tim says he (Joel) gave us the information for her (Cass) to make those moves. Phil says you're protecting her already. Phil tells Cass that she needs to convince Nick too and he is harder to convince. You laughed in my face last week. Kelsey says yeah you f**ked up. Cass says it was an uncomfortable laugh.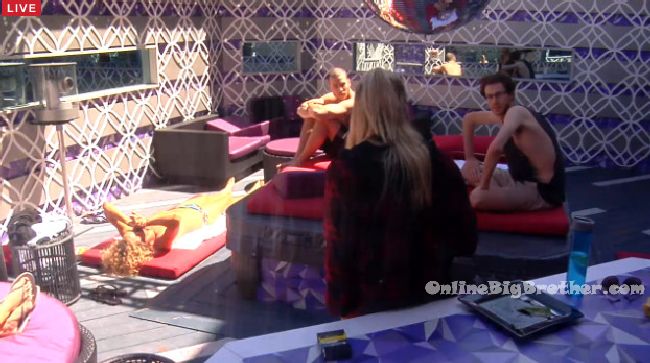 1:55pm – 2:25pm Joel joins them. Cass says that Joel said he would take Tim to the final 2. Joel says I did not say that. Cass asks you didn't say that to me on the couch last night? Joel says no. Tim says you'll never get to the bottom of it .. its like a rabit hole. Phil tells Joel if you want to stay, you need to campaign as well. Kelsey explains how Joel has deceived everyone. Kelsey says you told us that you wouldn't use the veto and then you told Tim and Cass that you would use it. Kelsey and Cass start calling Joel out for the things he's said and done. Joel denies everything. Tim says we showed blind loyalty and saved Joel over Nikki and when it came down to Joel showing us blind loyalty this week he didn't. We should have kept Nikki over Joel. Phil tells Cass to campaign to Nick. Tim says put on the waterworks they might believe that. Tell them about how you used to watch the show with your dad! Sorry, I'm being mean now. Tim says everyone in the Threek show agreed with every decision. Kelsey tells Joel she doesn't respect how he's let Cass take all the blame.
3:45pm HOH room – The tides are starting to switch in Cass's favour. Cass tells Nick and Phil that if they vote to keep her she will keep her word to them. Cass says if I get the veto I will vote Tim out. Nick says its not just about Tim, its about voting to keep us. Cass says she will.
Big Brother puts the house guests on an out door lock down. They all join Joel in the hot tub room. Joel gets up and leaves. Tim says I think I respect that less than a liar. Someone that plays the pity card. Kelsey says