4pm Cass talks to Tim about what she will say when she puts Jared up. Tim says something about how everyone always looks for an easy option and this is the first time its not. Jared makes people feel like he will be able to look after them. You're the first person that's not thinking that. Cass says you, me and Joel are the only people that are willing to do what we want. Tim says point out his strengths and show the emotion of how hard it is. You're not a black widow spider that just kills and eats the head off.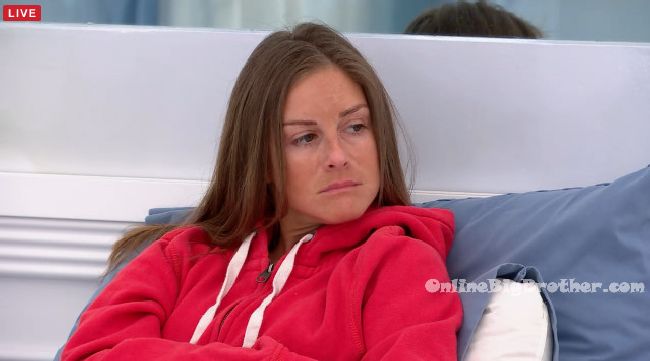 5pm – 5:40pm Nikki complains that everyone is acting weird around her and how they stop talking when she comes into a room. Tim reassures Nikki that he, Joel and Cassandra are voting to keep her. Nikki says they're being f**king vile! I'm trying very hard not to lose my tongue. Nikki says who the f**k do the brothers think they are .. they JUST got off the block! Nikki says they won't win this show! I just don't like being the outcast. I've been the outcast most of my life. Tim says I know… but we're keeping you here. Nikki asks why did big brother .. why are they so desperate to keep those f**kers (Jared & Kelsey) in the house? Tim says because they're America's sweethearts. Nikki asks really!? Nikki says when they're nice to me .. I haven't got a problem but not they're acting like c**ks! She ain't borrowing any of my stuff again. F**k her! That dress she borrowed, she hasn't even washed it. Tim talks about his parents. Jared and Kelsey join them.
6pm – 6:20pm Big Brother blocks the feeds.
6:55pm Still blocked..
7:15pm Nothing yet..
10:16pm No feeds never

Please Note: The live feeds will be off for the rest of the night. Thanks for your patience. #BBCAN4

— Big Brother Canada (@BigBrotherCA) April 25, 2016
Watch the Big Brother Canada 4 Live Feeds anywhere in the world with HideMyAss VPN.
Share it YO!!
Tweet