Want to watch the Big Brother Canada 5 live feeds but live outside of Canada?
Bypass the geoblocking with HideMyAss VPN and be Canadian Anywhere: VPN Help Guide
The general consensuses before the feeds went down is Cassandra is going home. Ika etc, are playing it up that Cassandra might be staying. They are going to blame it on Dre etc that they didn't have the votes. This is to cover them in the case that Cassandra comes back. Feeds went down around 10am not sure if they'll be back before the show.
Spoiler!
Cassandra was evicted 11-0
Karen and Ika in the bathroom
Karen is in her corner favorite Corner. Just like my guinea pig Karen has a corner in the bathroom where she spends most of her time.
Karen says she hopes Ika wins the HOH today..
They agree to both try "so hard'
Ika says if it's the two of them remaining on endurance she'll throw it to Karen. Karen says no Ika should get it because she hasn't gotten it yet.
Ika – Sindy is also really good at endurance
Karen – that's ok
Ika – I feel she'll keep us safe
Karen – I do too
Ika says for now Demetres will keep them safe for now, "I think he knows we kept him safe week 1"
Karen – I really like that kid
Ika is going to avoid eye contact with Cassandra.
Karen – She thinks Dre is the most solid.. Dre is the most Sketchy because she got caught and she's trying to blame me..
Karen – she threw me and Gary under the bus to Jackie of all people..
Karen – this is a tough game
Karen – CAss was too sketchy with Dallas and JAckie.. why
BAck in the bathroom Ika and Karen.. Karen still in her corner.
Ika says she didn't like the people in her season that is why she was a b1tch to people.
Karen – when I first saw you I was scared to sh1t.. I thought you were queen ICEA .. oh my god i'm playing with her.
Karen – if you descent outside the ranks you're throat gets cut
Karen – the dre thing is really freaking me out that she went to Jackie
Ika reminds her to make sure Dre doesn't know they know.
Karen says Neda is the best strategic player that has ever played this game
Ika – that is why we have to vote with her..
Karen says Cassandra was the one that went to Neda and said "lets throw up Karen and Jackie"
Ika – she thought she could trust Jackie more than she can trust us
French connection and Ika (game talk starts near the end of the video)
Dre asks if Demetres wins will he put them up?
Ika – no, it will be Dillon that will do that..

Ika and Dre
Ika – just win HOH please..
Ika says Gary is pissed at her becuase of something Cassandra said.
CAssandra comes in "I love you girls I just want to say thanks for having my back"
Ika says it's been hard. Dre leaves.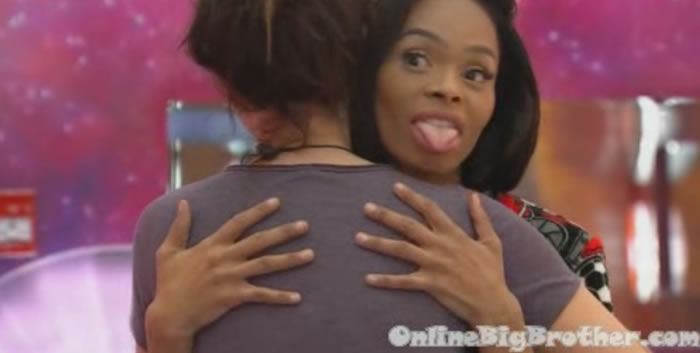 Ika tells CAssandra that Demetres told Ika "Fine if this is what you want to do Ika this is what I'll do" (keep Cassandra)
Cassandra – really
They hug Cassandra lets out a giant sigh of relief
Ika – as of right now it's decent but we have to touch base again.. you know how these people are .. Do your makeup and stay quiet.
2:13pm Feeds come back Showing Cassandra, Dre and Jackie getting ready for the show.

Kevin and William cuddling..
2:34pm Storage room
Gary – I think Ika's doing it
Cassandra – I love you guys..
William comes in.. Cassandra says she has the 6 votes they just need to confirm..
Cassandra – confirm with Ika..
CAsasndra says nobody is talking about it today
Gary says they worked yesterday "like pigs"
Cassandra – I love you I'm going to sit quietly in the corner all week
Gary – Yes.. and practice it right now..
(Still don't think Cassandra is staying.. )