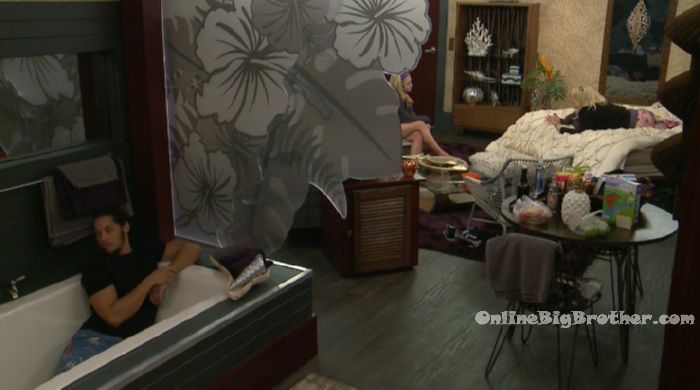 9:15pm HOH room – Kryssie is talking to Morgan while Justin listens from the HOH bathroom. Kryssie tells Morgan – Scott is looking pretty backdoor-able … so do I give him what he wants. I think of all the girls you have the best social game. Morgan – I think people for get that this is a social game. Kryssie – you hugged me after Shane left. I won't forget that. Whatever happens this week, its not personal. You told me week 2 that I was safe. I can tell you right now I have no intention of getting you out. Morgan – thank you. Kryssie – I'm not going to be that HOH that lets it go to my head. Just know whoever I put up it might be a pawn scenario.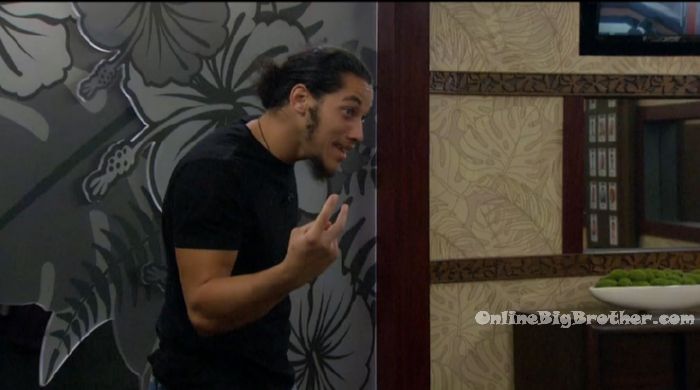 Morgan leaves. Justin comes out from hiding in the bathroom and says that was awesome. She's a really good person. Kryssie – you know I brought your name up for me and for you. Shelby knocks on the door. Justin hides again. Shelby tells Kryssie – I just wanted see where your head was at. Shelby – I don't want to go home. I hope at least I have the chance to fight in the veto. I have reasons why I should stay. I'm not the smartest person, I'm not the strongest person… I'm not a comp threat. I'm on slop this week so America doesn't like me. I'm a good person to keep around because… Kryssie – so basically you're a good person to get rid of later so don't get rid of me now. Shelby looks at the house guest wall and says you kind of have to put up 2 from our side. Kryssie – what about Justin. He plays the middle. I think he's more on your side. Shelby – no, way. He referred to your side of the house as his side. You're one of the people that he values the most in the game. Kryssie starts talking about Scott and how he tried to get to know him. Shelby and Kryssie agree they'll talk tomorrow. Shelby leaves. Justin – that poor girl. I feel so bad about her.
Watch the BBOTT Live Feeds FREE for 1 WEEK!
Click here for your: FREE Trial!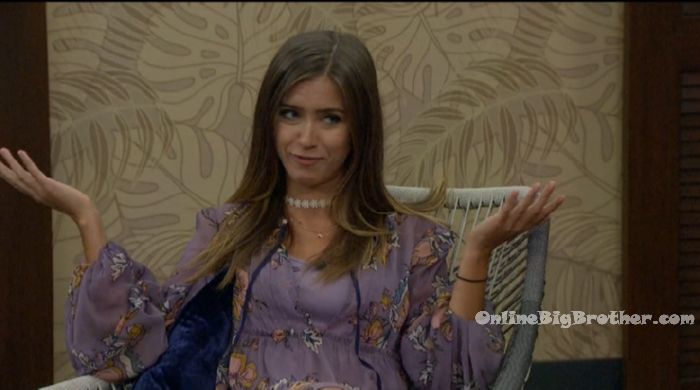 10:20pm Whitney talks to Kryssie. Kryssie – If for some reason I have to put you up, you're not going anywhere. If I do put you up, I'll make sure its a zero vote for you. I think Scott is the obvious choice. He basically insulted me as a game player and begged me to put him on the block. He said he backdoored Shane so you might as well put me up on the block. And then he told me that because I have a bum knee I am no threat to him physically so I am no threat to him at all. Whitney – is her writing his death sentence? Kryssie – Alex offered me a deal and Scott didn't. I want to see what the care package is. Whitney if I got it and had anything to do with the HOH I would tag team it with you. Kryssie – you and I have a lot to prove and I would like for you to stick around. Kryssie – I think Alex has a good chance of getting it (America's care package) because they would think it would be hilarious for us to have to work together. Whitney leaves and says bye Justin. Whitney leaves. Justin says that's my girl. Kryssie – did she catch eyes' with you? Justine – yeah.
Kryssie – If anyone asks… you were only up here for with her. Justin – I don't think she would tell anyone.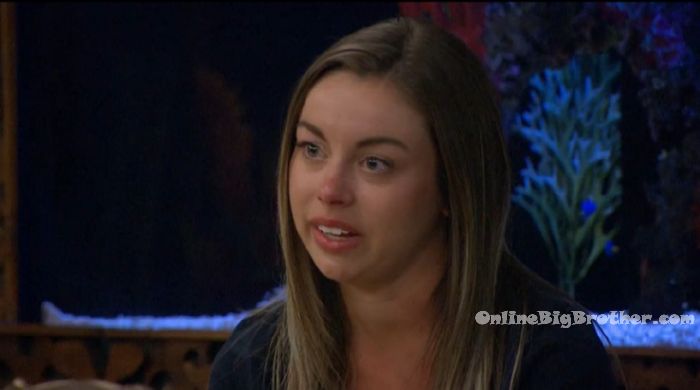 10:45pm Lounge room. Justin joins Alex, Morgan, Shelby and Whitney. Scott asks how it was listening in on everyone's HOH conversation. Justin lies and says he was just there for Whitney's conversation. Scott – Whitney told us you were there for everyone's conversation. Justin laughs and comes clean about listening in on their conversations. Justin – well you guys are beautiful. Y'all said good things about me. I was just waiting for someone to drag my name through the dirt. Whitney – I should have been the one to do it.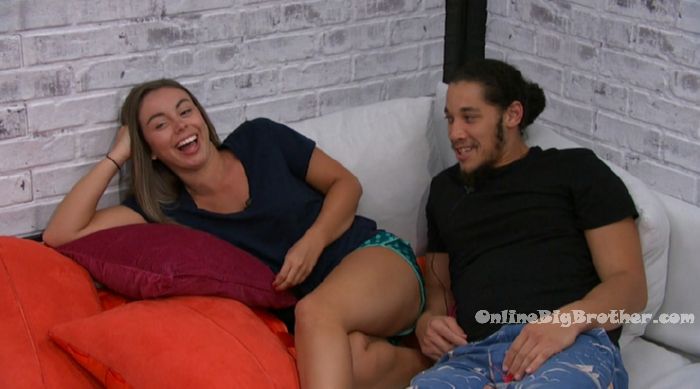 11:30pm Morgan, Alex and Whitney are talking. Morgan – I think Scott went up there and strategically said what he said. Like he whats her to backdoor him so she won't. Scott has been sketchy. Whitney – he says he doesn't have a strategy .. he always has a strategy. Whitney – its huge that we know Justin was up there because he was going to deny it. Morgan – I do want to go up to Justin and say I don't have a problem with him. Whitney – Jason, Justin and Scott are in the best position in the house. Justin joins them. Shelby – you tried to lie about being up there for our conversations. Kryssie said you, Jason and Scott had an alliance so I had stayed up there to try and find out more about that. Justin asks who said that!? Shelby – Kryssie did .. you were there for it! Justin – I don't have an alliance with anyone and I definitely don't have one with Scott. Shelby – then I'll have to sit here all night and try and figure out why someone would say that.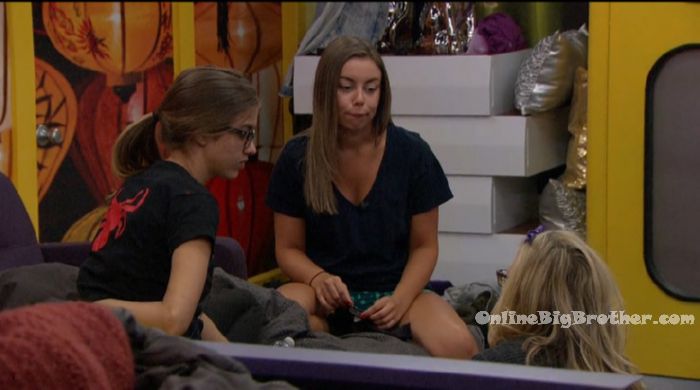 12am Morgan, Jason, Whitney, Danielle, Kryssie, Justin and Alex are hanging out in the kitchen chatting about random things.
12:45am Morgan and Alex talk. Morgan – did you make a deal with her for a veto? Alex – no. I told her I would throw all the comps next week. I don't want power. Morgan – the only thing I said .. she said week two I told her she was safe. I think I am safe this week. I'm going to throw Shelby under the bus to keep you. I'm going to have to bargain hard. Scott said that for a reason (telling Kryssie to put him up). Scott needs to go.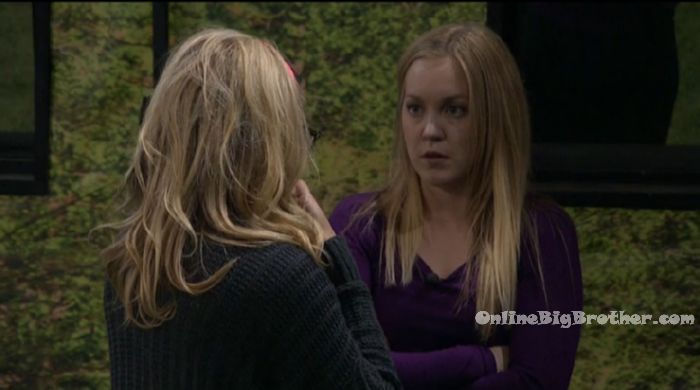 1:10am Whitney tells Morgan – if I won the veto and you were up there, I would pull you down. Our hope is that only one of us goes up. Morgan – lets figure out who gets the care package .. then reconvene and then figure out what to say to Kryssie.
Watch the BBOTT Live Feeds FREE for 1 WEEK!
Click here for your: FREE Trial!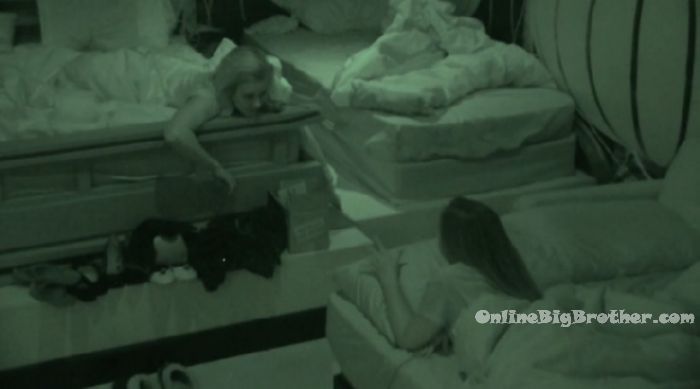 In the kitchen – Danielle, Neeley, Jason and Kryssie are making up screen plays about the house guests while they look at the memory wall.
2:20am All the house guests are sleeping..
1:09pm Alex wins the Care Package
[polldaddy poll=9552715]
[polldaddy poll=9552723]