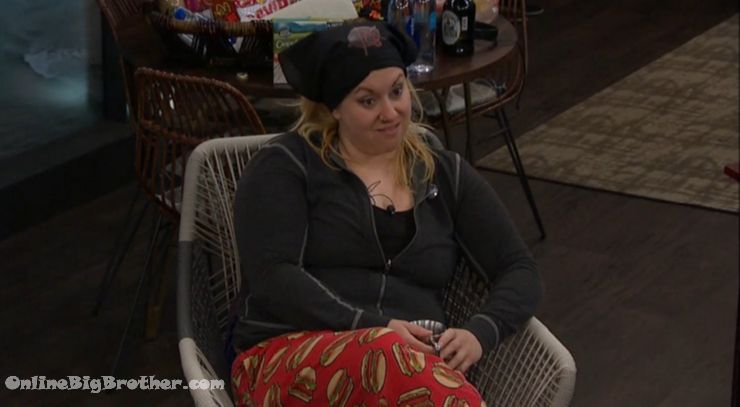 10:41am HOH SCott, Neeley, Kryssie and Jason
SCott walks into the HOH "I have a couple points I'd like to make"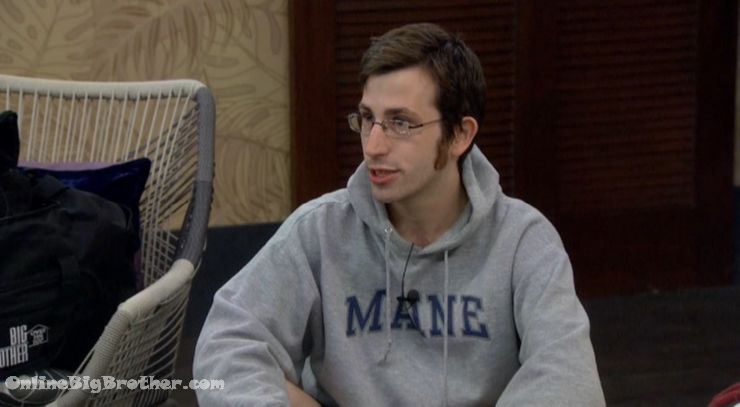 One – I Backdoored Shane so if you really want true revenge, you might as well keep me off the block and Backdoor me
Two – I was one of the first America's Have nots so you might as well leave me me off the block and let me potentially be america's nominee.
Three – Obviously congratulations on winning the HOH Comp, you have a bad knee I don't consider you too big of a threat competition wise. You are not 1 of my top targets.. Also if you take out all the people in the house that are less likable than you are than you won't have a shot at winning this game.
Scott – Even if you have good personal relationships with people in the house you need to keep people around you can beat wit America.
SCott – I am someone you would have a pretty good match up.. Some of the people you are working with none of us would have a chance beating them in the final 2
Scott – Enjoy your morning..
Neeley – you don't got tea to spill on your alliance
Scott says he's got nothing "That ain't me"
After Scott leaves the bitching starts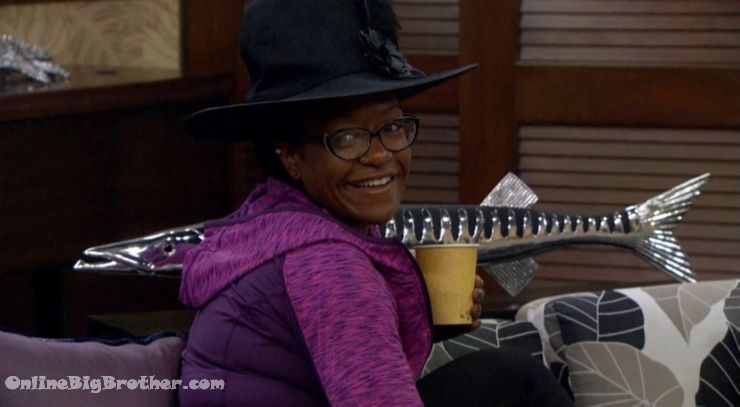 Neeley – he threw us low key under the bus
Jason adds Scott is going to try and get her to take them out because she has no chance to beat them in the fnal 2.
Kryssie says she wouldn't be upset if she lost against Jason, she would be "Flipping tables" if she lost against any of those 'Jack bags"
Jason – he's a jack bag..
Jason calls Scott's campaigning a comedy routine
Jason says the password to entering the room is "Who's your target"
Jason says if you leave the people in the game are hated will not be good the fans will turn on you.
Jason points out that Scott won a Care package he's liked from America
Kryssie says scott doesn't have charisma
Neeley says Alex has no personality "why did they cast her on this show"
Neeley impersonates Alex..
Jason laughs
Jason says Scott is arrogant says he thinks he's hot shit and Jason wants to "pull his wig off"
Jason says Alex is "Actually" smart and calculating. Adds that Alex' social game is lacking.
Danielle comes in
Jason says Scott is doing comedy routines,
Jason – he basically said keep me and all my terrible C**NT friends and take your own people out cause they actually have a soul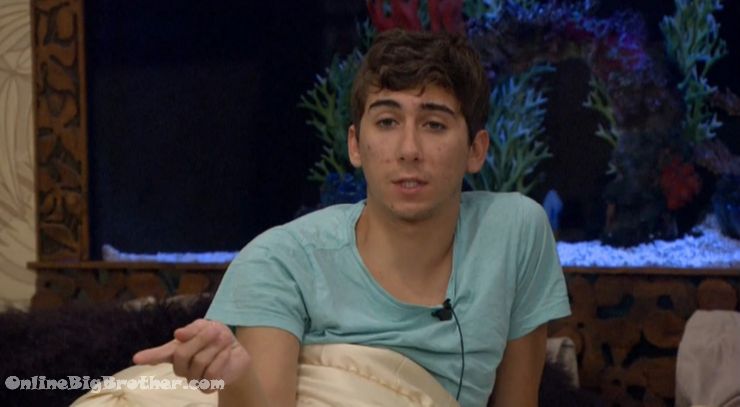 Jason goes on about all Scott wanting is TV time..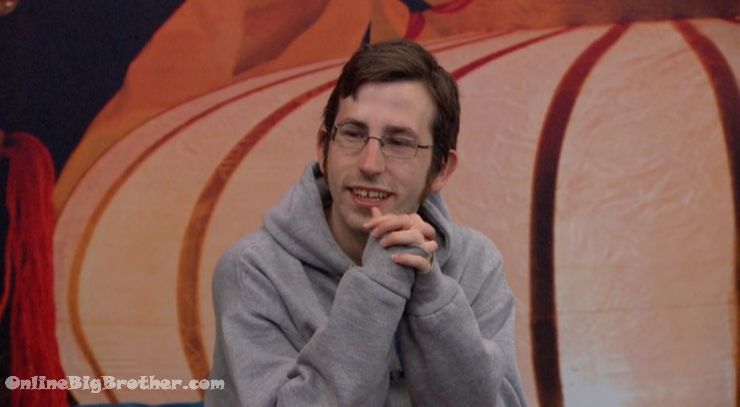 10:54am Scott and Whitney
SCott relays to the ball smashers what was discussed upstairs. Says he's working the angle that America decides who wins this season so keeping unlikable people in is a good game move.
They talk about how Shen never came up with any deal he spent all his time coming up with a speech.
Whitney – just sending yourself out the door if you don't try
Scott says their side has fight in them that's what he likes about them, "We don't just b1tch and moan.. we got fight.. we got some fire"
Scott says his biggest mistake right now was siding with Shane and voting out Corn.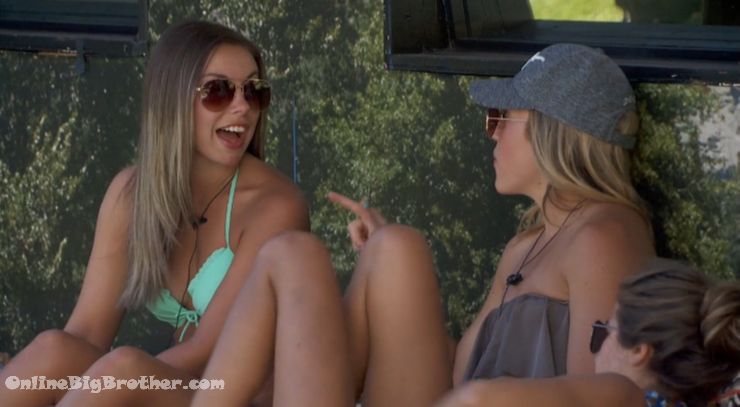 12:55pm Shelby, Alex, Whitney and Morgan
Whitney says she wasn't comfortable sleeping with Monte she not comfortable sleeping with Justin.
Morgan – I really don't care who I sleep with when there's a clear divide..
Morgan mentions that Justin was trying to hold her hand while he slept beside her
Shelby – that's weird
Morgan – I was like OK
Shelby – why doesn't he go for Neeley it seems like she's into him
Alex – honestly she would be totally into it
Shelby – she was grinding on him the other night.. twerking on him.. go for Neeley.. he said he liked Big Booties
Whitney – she she walked out with her new wig, I was sitting beside him on the couch He was like Oh my god I hate it
Shelby – it looked so bad so cheap and ugly
Morgan – do you think Kryssie has a crush on Neeley
Whitney – YES..
Morgan – thank you
Whitney – I thought that you guys.. or maybe she's just trying to kiss her ass
Morgan – some of the comments just strike me.. OK
They wonder why Neeley's real job is..
Shelby mentions how when people say they are smart and confident they usually aren't it might be the same thing with Neeley always saying she's genuine and real
Whitney – people try to talk themselves into something they are not
They are surprised that Scott said the things he did in the HOH.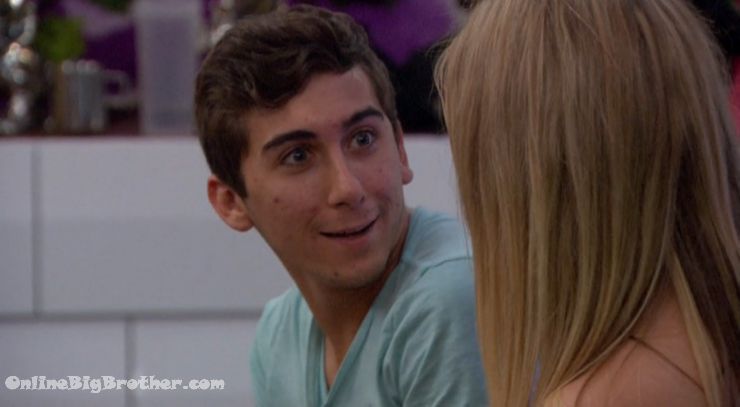 1:44pm Alex and Jason
Alex says she's pretty sure it'll be her and Scott this week
Jason – i'm trying everything but theses girls are stubborn .. Scott did the worst campaign ever. .he insulted her and told her to target me and Neeley and then insulted her again.
Jason says the best thing that Alex can do is paint the target on "Whoever"
Jason – she feels it's too obvious to put up Scott.. she thinks America might put him up she might put up a random.. Morgan.. she's being very tight lipped.
Jason – I'd like to keep you guys safe..
Alex says Scott is "All over the place"
Justin joins
Alex – I have never put either one of you up and I had so much pressure
Jason – there will be pay back for that don't worry
Alex – I'll throw comps.. I want to be here..
Alex – if I stay I will not be a threat to the LNC
They have a laugh at Scott's campaigning.
Jason says Scott has HOH itis still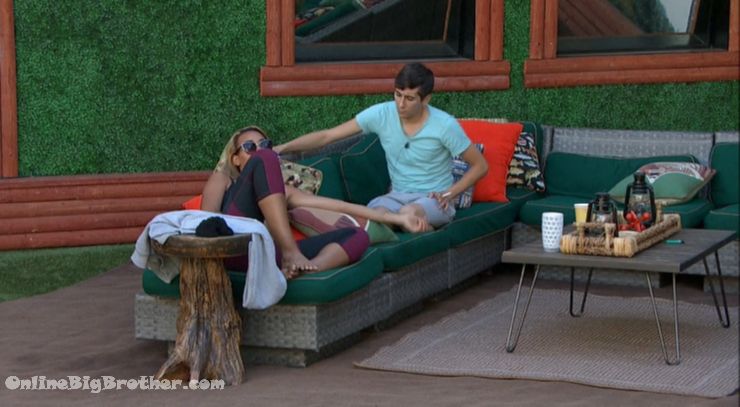 2:30pm Jason and Danielle
Jason says Alex is ready to throw Scott out. Jason brings up talking to Alex in the Tokyo room. Says he doesn't think she's the mastermind of that side it's Scott. Adds that they won't get a better deal with "The other ones"
Jason wants Scott out over Alex.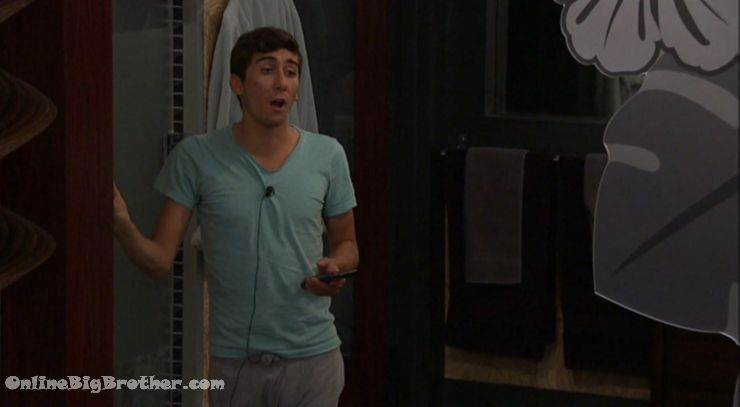 2:44pm HOH Jason, Kryssie and Justin
Jason says Scott is the mastermind but removing Scott doesn't "Reshuffle" the girls but removing Alex does. Says they will either combust or Morgan/Shelby will be the queen.
Kryssie and Justin say they don't trust Alex to throw the next HOH.
Jason agrees, mentions how Alex is the best in comps out of all the girls.
Jason thinks Scott's campaigning is to make him look "dumb as shit"
Kryssie – it could be he's dumb as shit
Jason – yeah he's dumb as shit
Jason says it's a fail for the week if they can't get rid of Scott or Alex.
Kryssie says Whitney is the only one that was honest to her.
Justin brign sup how last night Whitney said she was afraid she didn't want to go home
Jason – Well…. welcome to the our last 3 weeks Whitney (ZOMG)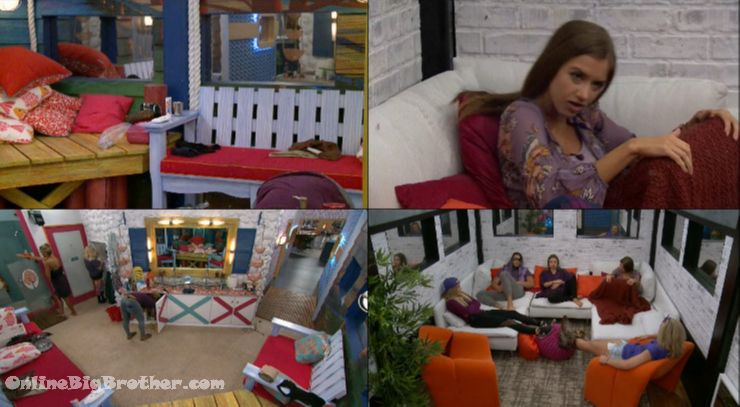 3:40pm Chit chat zone..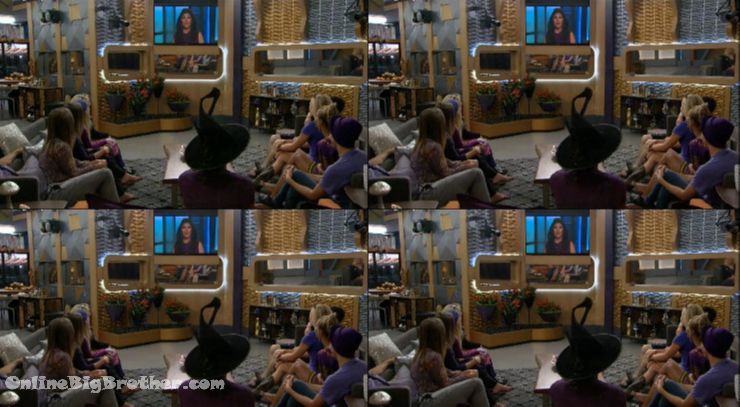 Julie Chen tells them there will be a final 3
6:20pm More backyard chit chat…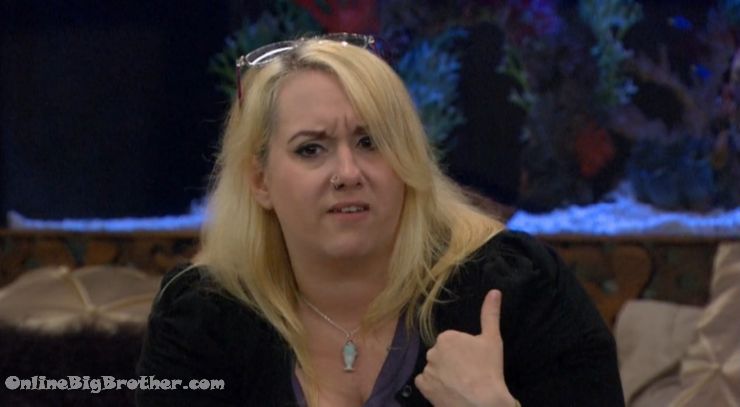 6:50pm Kryssie and Alex in HOH
Kryssie accusing Alex of bullshitting her when she was the HOH.
Alex says she had to do that to "preserve the peace in the house"
Alex apologizes
Kryssie accepts the apology..
Kryssie says her and SCott are "Broskies" who is her "arch enemy"
says he back stabbed her after giving him game advice for 2 hours. She says Scott is so self absorbed.
Alex says the only reason why Scott was working on their side was she was being lied to about the Monte vote.
Kryssie's side was telling Alex to put Scott up so they could vote him out but the plan was always to get Monte out.
Alex – Once Shane confirmed that it was a lie
Kryssie is claiming she never lied to her
Kryssie – I'm here to win …
Kryssie says she's keeping the players that deserve to be here.
Accuses Alex of ignoring her the last 2 weeks. Says when Scott won the HOH she jumped on him like they were dating for the last 3 years.
Alex says she was told she's going home from Kryssie's side so she was happy to be safe.
Kryssie – not by me
Alex says if she stays off the block next week Neeley and Kryssie are safe next week and she'll 'Throw all the competitions" (LOL sure)
Alex – I want to get to know you better and play this game.. you're not my target.. I didn't have anything to do with Shane going home I was just being loyal.. I know you have trust issues with me and even if you put me on the block I respect that decision.. I am willing to work with you I won't target you or Neeley..
This conversation was cut short because of the 7pm daily episode..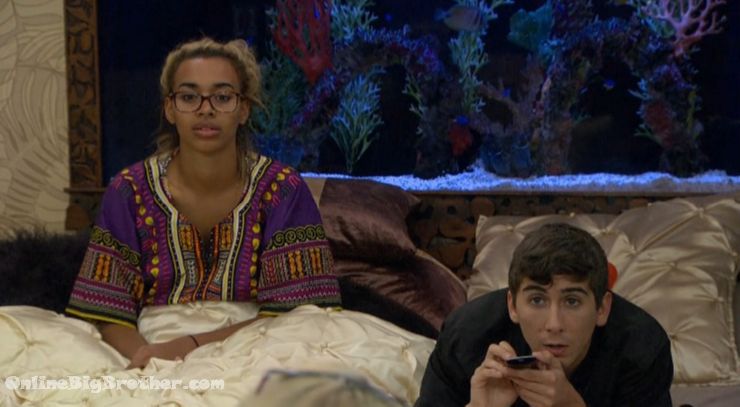 7:27pm HOH LNC
Kryssie going over what Alex said.
"I took every opportunity to let her know she's a piece of shit"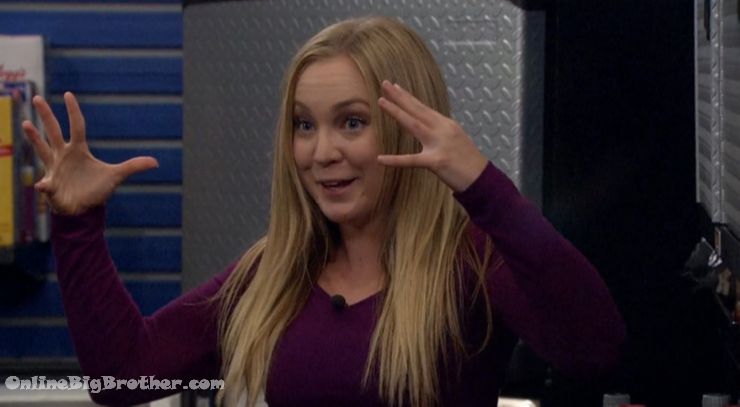 7:27pm Storage room Alex and Whitney
Alex goes over her conversation with Kryssie.
Morgan comes in
Alex – she said she's making nominations based on have nots..
Whitney – oh shit
Alex – I think she's crazy
Whitney – she's completely lost in this game.
Alex – she's like I don't take anything personally in this game,… In my head I'm like you take everything personally..
Alex – she's making it seems like how you play as a person
Alex – I don't know where casting found this girll
Whitney says Kryssie has no idea about the show.
Shelby comes in ..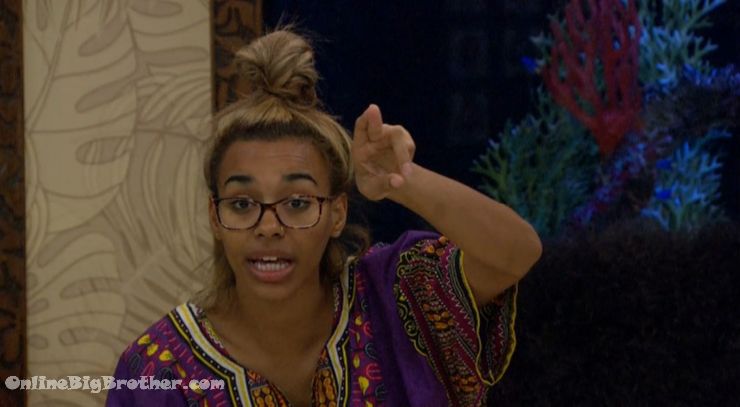 7:52pm HOH Kryssie, Neeley and Daneille
Danielle says the second Jason can flip he will flip. thinks once they get Scott out Jason will jump ship with Alex.
Neeley agreeing with every word Danielle says, 'Ya ya.. we'll get picked off"
Kryssie – I'm more than happy getting rid of Alex this week
Neeley says Morgan will flip with them she's the one Neeley wants to work with over the other girls.
Danielle thinks they need to get Alex out. Neeley agrees.
Neeley calls Morgan and dumb ass
Kryssie says Shelby is build on toothpicks and bullshit
Daenille wants to tell Alex to throw Veto and they can backdoor her anyways.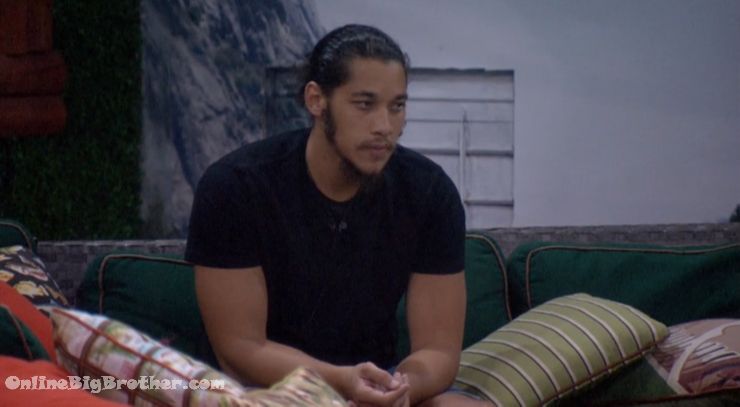 8:08pm Backyard Justin and Jason
Jason says final 4 he's got to win or he's evicted.
Justin – I don't tell nobody nothing..
Justin – I don't talk game with none of them..
Justin – I want Alex to stay up in this bitch
Jason agrees, "I would rather her than Scott"
Justin – I need to get Neeley outta this ass
Justin – I really need to get them hoes out of here. (Neeley and Danielle)
Jason tells him they are still solid once they get a whiff of something changing they flip.
Justin – they think it's me leaking info but hit's you … you crazy f***
they laugh..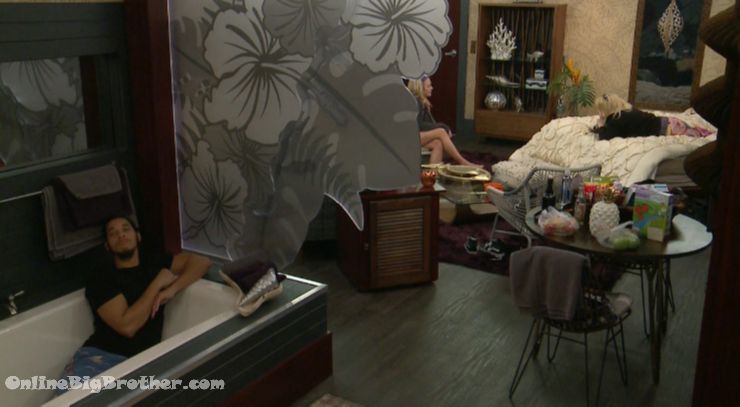 9:13pm Morgan and Kryssie HOH (Justin listening in from the bathroom)
Morgan saying that she's not targeting Kryssie..
Kryssie goes on about being clumped with a bunch of people 'By default" because she's different..
[polldaddy poll=9552715]
[polldaddy poll=9552723]